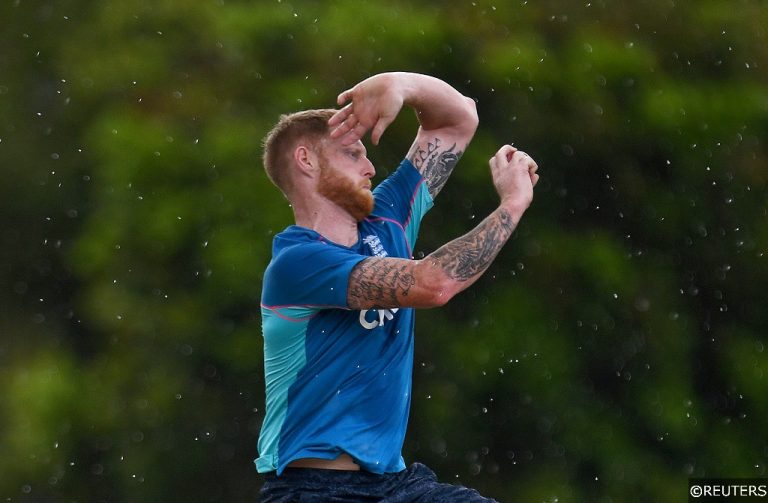 November 25, 2021
Show Bio
Content Editor at Free Super Tips, Alex was born in the shadow of Old Trafford and is an avid Man Utd fan. After graduating from university he combined his love of football, writing and betting to join FST and now closely follows goings-on in all of the top European leagues.
Free Super Tips caught up with Graham Gooch this week ahead of the 2021-22 Ashes series, touching on hot topics such as England's batting line up and Joe Root's future as England captain should he not lead the team to an Ashes win in Australia.
What is ultimately the most important factor if England are to regain the Ashes in Australia?
I think it's the ultimate test for an Englishman is to win in Australia because it's the hardest assignment.
To play Australia down there, you're not only playing the 11 guys on the field, but you're playing a fair proportion of the public as well.
When you're in the hotel, the guy who serves you breakfast or the guy who serves you a drink at the bar.
I'm not saying they're unwelcoming because they're not but you're up against all of them, every news bulletin will be pumping the Australian tyres up.
They'll try to find chinks in the English team's armour for sure.
There are two things to winning down under, you've got to meet the technical challenge, the cricket challenge but you've also got to meet the 'in your face' challenge.
The aggression and the style of cricket that Australia play which is full on and it's been a successful brand of cricket down the decades.
You can't take a backwards step, you have to stand up to that challenge as well as the techniques of scoring runs, taking wickets and taking your catches.
I am concerned about our preparation, and this happens on most tours now because of the schedule and cutting down the amount of time away for the players and families.
I don't think we've got it right, to win in Australia, the first thing you need to get right is the warmup matches.
We're playing a warmup match between ourselves, but it's not a serious match.
They're all mates, they're trying to put one over on each other, but it hasn't got that bite or realism where your first-class international record is on the line.
If you're playing New South Wales, Victoria, Queensland, or Western Australia, then that's a much more tested challenge to how they play cricket over there.
You can't replicate that in a warmup match between yourselves, it's not a serious match.
I'm not saying that the players won't be trying to take wickets and score runs, but there's no edge to it.
Our last win in 2010/11 we had three warm up matches which we won two of them and it put us in the right frame of mind for the challenge ahead at the Gabba.
We had to bat out two days in that test match and Alastair Cook, Andrew Strauss and Jonathan Trott all scored hundreds.
England have to put themselves in the best position possible because the Australians will fancy themselves at the Gabba.
If you go 1-0 down in that first match, then it's a long road back.
How confident are you in England's batting line up ahead of this Ashes series?
I've been more confident in the past when we had Cook and Strauss opening the batting.
Out of Crawley, Burns and Hameed, I believe Crawley is the best player out of the three because he has the most potential.
I'd be surprised if he starts, I think he'll be challenging Dawid Malan for the number three spot.
I think he's the best player in terms of what he can offer going forward and technique wise.
I am concerned about the techniques of Burns and Hameed; they have had some good games in the past but I can't say I'm confident.
I can't say I'm confident that we aren't going to be 20 for 2 every time and if we're exposing Malan and Root early on, then it's going to be a struggle.
I'm not confident if I'm totally honest, I hope they can do well and withstand the challenge to score big runs in Australia.
They're good lads and they're working hard to fight for the shirt, but that's not the point and the question mark is are they good enough?
Having played in Australia and being a batting coach for England in the past, what would be your one piece of advice for the batsmen ahead of the first test?
You don't take a backwards step that's for sure because Australia will come hard at you with the ball and verbally.
They try to undermine you, I'm not sure where sledging is at the minute in the game
because you've got to be careful.
Australian players aren't shy at saying something, they talk to each other the way bowlers would to the fielders to try and undermine you.
You've got to stand up to that challenge, take a step forward and take the game to Australia.
I think when we won that great series in 2005, we took 20 Australian wickets in the first test and we lost.
But Michael Vaughan and his team changed their attitudes to the game and they took Australia on from that second test match at Edgbaston.
You've got to have a go forward attitude, you can't sit back to see what might happen as the game goes on and see if you're still in it going into the latter stages.
They need to take it to Australia in every single session.
What is unique about captaining England in Australia and what are the main challenges facing Joe Root?
Whoever is captain of Australia, that bowling attack will be instructed to target Joe Root.
They will target the England captain because their method has always been to undermine his performance.
That will influence the rest of the team and it's a good tactic, so they'll get stuck right into him.
Joe's a world class player, he's shown in every format that he can succeed because he's adaptable.
He has the skills and has the mentally, but he has added pressure because he knows we don't have the strongest batting line up.
He's batting with that pressure of having to succeed more often than not.
How vulnerable is Joe's position if he can't lead the team to a series win; will a respectable performance be enough?
I think he could be in a vulnerable position, but there's not a lot of choices there and I still think he's the best choice for the job.
He's a decent captain, when things go well, they get all the plaudits, and they get slated when things go wrong.
He might not have made all the right decisions in recent times, but who does?
He has to lead from the front and direct his guys in the right way to get them to play aggressive cricket, to take on Australia and to play them at their own game.
If England can get enough runs to be in the game, then they've got a chance.
Our bowling attack isn't too bad, we'd like another quicker bowler like Jofra Archer to give us more pace and depth in that department.
I think our bowlers can hold their own, we have some tall guys who can get the ball to bounce.
We've only really got a holding spinner with Bess or Leach, so I imagine they'll look to Root to do that role and allow the bowlers to get a rest.
There are selection issues, they'll either go with four quick bowlers which I include Ben Stokes in that and Joe Root doing the spinning.
Or they'll go with the four quicks and Leach and if they go that route then Woakes will have to play as he's a decent batsman.
How much of a boost is Ben Stokes return to the team?
I think it's a magnificent boost because he's one of the best all-rounders in the world and he's capable of performing.
The downside is he hasn't played much cricket and we don't know how much bowling will be in his legs.
The warmup matches won't be the best preparation for someone like him.
He is our second-best batsman though, technically wise.
He's scored hundreds in the past, he has a good technique but whether he bats at five or six will depend on the amount of bowling he's asked to do.
I would prefer him to bat six because I think he should play as part of a four-man bowling attack, but his role needs to be defined.
I would like to see him used in a more attacking role and a more aggressive role in four or five over spells.
Trying to bowl as quick as he can and try to be a bit of an enforcer because that's the type of bowler we're missing with no Archer.
Mark Wood will play some part, but he's had injury issues, so he won't play them all.
That's how I would like to see Ben Stokes used, not as a stock bowler who just gets through his overs, he needs to have a defined role.
If I was captain, that's the role I would use him in, but he's got to be fit enough to do that.
Will he be fit enough to get the best out of him or is it a risk to bring him back into the side?
I think he'll come in bodily refreshed because he hasn't played cricket for many months.
Whether the amount of work in the nets and these warmup matches will be enough for him I don't know.
You get into the rhythm by playing games, you don't quite get that feel good factor in the nets from my experience.
It comes from being in the middle, scoring runs, hitting the ball to the boundaries, taking wickets and being under pressure in a match environment.
We'll have to wait and see on December 7th, but if he's fit, he takes the field.
How much of a miss will Jofra Archer be on the bouncy pitches in Australia?
If I was captain of England then Ollie Robinson plays in his place, he's got to be a definite.
He's tall and he's the right type of bowler to play in Australia, he hits the pitch hard, and he has the right attributes to be successful.
Stokes will play as part of that attack and then it's either one of Jimmy Anderson or Stuart Broad for me, I'm not sure they'll play together.
Woakes would come into it for me because he swings the ball and he's decent with the bat.
The problem in Australia is you use the Kookabura ball, and it swings around and stays hard for one session the majority of the time.
After that you need people who can get wickets with the old ball and be able to reverse the ball.
I don't think a spinner will take many wickets; they'll be a holding spinner like Ashley Giles was in 2005.
Simon Jones and Andrew Flintoff took a lot of wickets during those periods in 2005 and it's a bit of a concern to figure out who can do that role in this series especially when I don't see the spinners taking many wickets.
Does Tim Paine stepping down give England more or less of a chance of winning the Ashes?
I think it affects them a little bit because they would have a plan going into the series just like I think England will have.
England will already have an idea of what their team is going to be, and I believe it'll be the same with Australia.
They will have a settled team and there will just a straight wicket keeper change for Paine if he doesn't play.
I don't think it'll be that much disruption for them, and I actually think if he plays that will galvanise them.
One of them has been targeted in the media for whatever has happened and that I think will bring them together more.
If anything, it might have more of an effect if he's removed from the XI and someone else is brought in.
How important is it to not let Steve Smith settle?
We've not been able to unsettle him so far in the past.
He's a phenomenal batsman, when I first saw him play, he was batting at seven and bowling a bit of leg spin.
You could have never predicted that a guy with this loose technique was going to be a heavy run scorer.
Credit to him, he's been a brilliant player, he knows how he can get runs, he knows his own strengths and weaknesses and you need those attributes as a run maker.
He's been a thorn in England's side, and they have Labuschagne as well who originally got his chance because of an injury.
He looks a really good player and he's really established himself and then Warner is the other senior player.
It's difficult to predict with Warner because he has struggled in the past and they've got a few inexperienced players in the mix as well.
I don't think it's the greatest batting line up, but Steve Smith is the key, if you get him you take away a big part of the equation.
We need someone to be able to find a way to pierce through his defences.
Who do you think will be the top runscorer and top wicket-taker for each team and why?
Well, it's Root for England, I don't think you can look further past him, but I hope it isn't because it'll mean someone else is doing well.
Australia is more difficult; it'll be Smith or Labuschagne and I think Smith will have a point to prove in this series.
He's been in great form the past few Ashes series, so it's hard to bet against him, so for the batting it's the two obvious ones.
The bowlers are difficult, Wood will have to play because we need his pace, but I think Ollie Robinson will be the most successful English bowler because the conditions suit him.
Jimmy Anderson will be Jimmy Anderson and Broad will have a big part to play also.
It's more difficult to say with Australia, but if I had to pick one it would be Josh Hazelwood because he's a similar player to Robinson.
What's your score prediction for this Ashes series?
I was with my friend John Emburey who said 4-0 to Australia and he's flying out there for it.
I don't want to sit on the fence but a lot of it is on the first match.
If we go down in the first game, then I think Australia win at least three games and ultimately the Ashes.
I don't think we'll win at the Gabba, but India did manage it last time out.
If we can get through that first game then it could go either way by one match, but historically England are undercooked for the first test match.
With the preparation I see it being the same, but I hope I'm wrong, but I can't see us winning the series with this preparation.
What have you made of the racism stories at Yorkshire and Essex in recent weeks, is this a chance for cricket to get its house in order?
I think it's very sad for the game and I think it's distressing for those affected by these things historically, both now with the news coming out and in the past.
There's no room for any discrimination or racism within the game, and that applies to any sport and life in general.
I hope that once all these investigations have taken place, they can put in new procedures and policies in place for more inclusion.
You hope that some good can come out of this distressing news that is hitting the headlines every day.
I would say sorry to anyone who has suffered any forms of discrimination because it's not right and it shouldn't happen.
Hopefully we can find a better way in the future.
What do you feel needs to be done to tackle racism and discrimination in cricket?
They've released a policy statement which will go to each county and local cricket club around the country.
I don't think it's completely a cricket issue, it's a society issue and I don't think it'll be a surprise if these stories come to the surface in other sports as well.
I think we need to put our house in order, there needs to be inclusion in selection policies and coaches that run teams.
But the key is education, everyone has to be educated.
Do you think this is a distraction for England's preparations for the Ashes?
I think all the talk of whether the series will go ahead and where they're going to stay at the start was a distraction.
You want to be focusing on what you need to do when you're out there from a cricket point of view, so it would have been a headache for the team.
I don't know how much this news will be talked about within that England squad right now.
But it can't be ignored completely because this is a much bigger issue than simply playing cricket in the Ashes.
What are your thoughts on franchise cricket and the impact it is having on the sport?
I think the hundred was a success and I think if the ECB put that amount of money into Twenty20 and county cricket, then that will be a big success as well.
The amount of marketing, budget and advertising that was put into that meant it was never going to be a failure.
Whether there's room for T20 and hundred cricket going forward remains to be seen.
There were some good ideas in the hundred, but the cricket is basically the same style wise.
All franchise cricket and short form cricket dilutes test match cricket because players are retiring early and taking the white ball option.
A lot of them don't want to play the long form game because not playing test match cricket means they don't have to play first class either.
It's getting away from the traditional game and I'm someone who enjoys all forms of cricket.
I go to lots of T20 games at Essex, but it's not the same as test match cricket and I hope it survives.
I will admit it is under pressure though.
---
Why not check out our selection of betting tips for the US market? We offer NBA Tips, NHL Tips, MLB Tips and more!