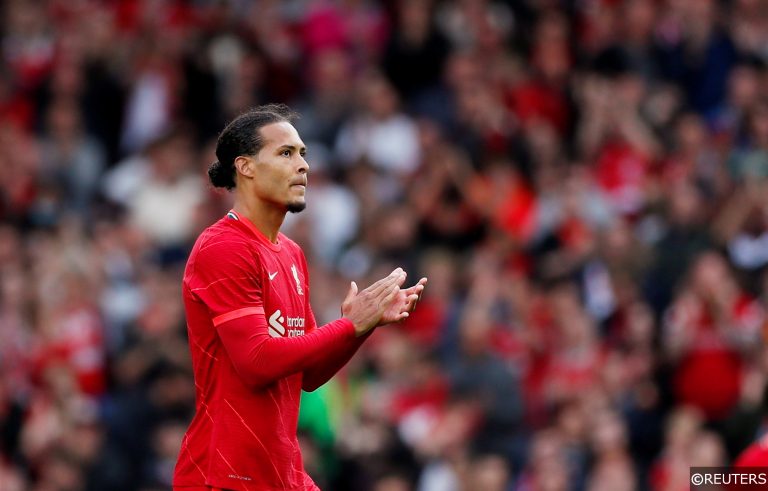 Content Editor at Free Super Tips, Alex was born in the shadow of Old Trafford and is an avid Man Utd fan. After graduating from university he combined his love of football, writing and betting to join FST and now closely follows goings-on in all of the top European leagues.
FST caught up with Didi Hamann this week ahead of Liverpool's clash with Manchester City to talk about the Premier League title race, why Sancho isn't clicking at Manchester United, the underperforming London duo of Spurs and Arsenal and all things Germany.
---
Do you have any predictions for Liverpool's game against Man City at the weekend?
I wouldn't read too much into the Champions League performances ahead of this one.
Paris played ever so well against City and Liverpool were in full control against Porto.
Regardless of the upcoming games, I think Liverpool are looking really strong at the moment.
I know City have scored a few goals in some games, but in recent weeks they haven't found it easy to score.
I just feel this Liverpool team with Fabinho back in midfield, Van Dijk being back, Gomez being back and Matip as well, I just feel it's Liverpool's game to lose and I think they'll win on Sunday.
How important is this game in terms of the title race?
Liverpool are one point of City at the moment, so it's a chance to go four points clear.
I know it's early in the season, but I think psychologically it's a big thing because these two teams have dominated the league in the past two or three years.
When you've got a cushion or a slight advantaged then it does make things a bit easier.
The both of them are the front runners and have both been outstanding in recent years.
Whoever wins, it'll be a big confidence boost to them beating their main rivals for the title, especially for City after that defeat against Paris.
This game will have a bigger impact on the teams psychologically rather than the points at stake.
After Manchester City's performance at Chelsea, do you put them as title favourites? Or do you think Liverpool will come back?
I'm not sure Manchester City will be able to play that way against Liverpool.
I think Liverpool's attack is more versatile than Chelsea's and Liverpool have a title winning team.
I know Chelsea won the Champions League, but it's a different format, Liverpool won the Champions League without winning a Premier League title.
Usually, the best team win the Premier League and that's not always the case with the Champions League.
I'm not sure whether Chelsea have that championship winning side, I know they brought in Lukaku who will score plenty of goals.
But I don't think Chelsea are in the same league as Liverpool, so if City do have a similar performance then they won't have it easy at Anfield.
Should Klopp buy from outside to replace Wijnaldum?
You always have to look at the owners because they don't want to spend stupid money on players.
You have to look at what Klopp has done in the past, he sold Coutinho for £140million and one or two others for decent price tags.
The net spend will be a lot less compared to other teams, but you have to credit Klopp for what he's done at Liverpool.
If the owners say there isn't much money to spend on transfers, then you just have to accept it.
I think they could do with another player because Wijnaldum was a huge player.
He was very reliable, and he chipped in with a lot of goals, so I do think should look to bring somebody in, in January.
Then again, Keita has showed a bit of form for the first time since he's come to Liverpool, so can he step into the role and play 20/25 games a season where he can really perform.
If players like Oxlade-Chamberlain other players can step up then it shouldn't be a problem.
The front four are looking good, Jota and Firmino are both scoring and really it was only the injuries that let Liverpool down last season.
With Van Dijk being back, it's obviously a massive boost for the defence, but it also allows Fabinho to play in holding midfield.
On Sunday, we'll see the two best holding midfielders in the league come up against each other in Fabinho and Rodri, so it should be intriguing.
If Liverpool lose Salah in the same way as Wijnaldum, will that affect Klopp's commitment?
It's a double blow if you lose a player these days as a free agent.
I don't know the market value of Salah, it's probably £100 million plus or close to that fee so you don't want these things to happen.
These rumours have been around for a number of years now, so I don't really know what he wants.
Obviously, if he doesn't want to stay and he fancies a new challenge then I'm a big believer that if someone wants to leave, if the price is right then you've got to let them go.
If somebody doesn't want to be at the club then I always feel it's to right thing to say what price you want to allow that player to leave.
Salah has been a brilliant player for Liverpool, and they wouldn't want to lose him on a free.
If he did decide to go, then they need to make sure they get a decent amount of money for him and spend it on bringing in another quality player.
As good as Salah is, it's an opportunity to bring someone else in to step up if he was to go.
I hope he does stay, but if the price is right and he wants to go then the club should make it happen.
How important is it for Germany that Ilkay Gundogan didn't retire this season? Is he as highly regarded in Germany as he is by Man City fans?
He isn't with me.
He's an outstanding Manchester City and he fits perfectly into the system that Pep Guardiola uses.
He's technically perfect and hardly gives the ball away, he scored a lot of goals last season but he is an average national team player.
There are a few younger players coming through in Musiala and Wirtz who would be better suited to playing more games.
The manager persuaded him to carry on which I didn't really understand, but he knows more than me.
I'm not sure how many caps he has exactly, but there's only a few where he's shined the way he does for Manchester City.
It's a blow when he's out for Manchester City, but I don't believe it is for Germany.
Why hasn't Jadon Sancho been given a chance at Manchester United yet?
I don't think he's done anything of note at Manchester United yet and it's hard to understand why.
I think the jury is out on him, I don't know when it'll click for him or whether it will click for him.
I question if there's something else that is troubling him so far and it's hard to point your finger on it.
He had a lot of consistency in his young age at Dortmund and that was the most impressive thing about him, he rarely had off games.
His consistency was remarkable in Germany and he's playing with much better players now so it should make him better.
It's hard to explain why it hasn't worked so far, but I'm still a big fan of his and I hope it does click for him.
We're seven or eight weeks into the season and it's not like he doesn't know what the Premier League is about.
I know he hasn't played in the Premier League before, but he'll know what the intensity is like, so it's surprising to see.
Bruno Fernandes apologised for his penalty miss against Villa, is football going too soft with these sorts of apologises on social media?
It's nonsense.
I would have never blamed my teammate for making a mistake, whether it was the goalkeeper or someone missing a penalty.
If someone did something stupid like getting themselves sent off for digging another player, then yeah you should be told off for that and you should apologise.
To apologise for a missed penalty is just nonsense, I don't understand why players do it.
They should just be apologising to their team in the dressing room and then it's done with.
I don't get it, the one thing you don't want to hear on a professional pitch is sorry because you should only do that if you make a mistake on purpose or do something stupid.
But, to apologise for a penalty is just nonsense and I don't really get it.
What do you make of Tottenham right now? Kane and Son look shell-shocked and there seems to be a lot of problems on the pitch in recent games.
It started with all the transfer talk around Kane, I don't think he looks a happy camper at the minute.
I wouldn't be too harsh on those two, because if you look at Kane and Son for the past three or four years, they've carried that Tottenham attack.
I think Spurs have overachieved in the past and it's largely been down to those two, so I wouldn't be too harsh on them.
This Tottenham team just isn't as good as the teams they've had in the past.
They're a hard watch at the moment and I feel sorry for the fans because with Pochettino, they've been in the Champions League and got to a final and they were challenging for the Premier League title.
At the moment, they look a million miles off.
Did people write Arsenal off too early or are these past three victories merely papering over the cracks?
It was a different game, coming into a North London derby doesn't mean an awful lot because you always step up in these types of games.
They were really poor at the start of the season and it depends what people mean by written off.
I don't think they'll be challenging for the top four because they're too far behind the top teams, but they'll probably finish somewhere in the top eight.
Brighton have made a great start to the season, could Graham Potter do a job at a bigger club?
Other clubs will be looking at him because Brighton have been brilliant.
They could have gone top, but they grabbed that late equaliser and they've been a breath of fresh air.
They have a very solid structure with the chairman at Brighton and Graham Potter has done a brilliant job so far.
We know how hard it is to compete in the Premier League when you look at teams like Arsenal and Spurs who have been way off it.
For a club like Brighton, although it's early, to be up there after six games is remarkable.
We all know football changes daily and you never know what might happen, but if a big club changes their manager, then Potter will certainly be on the list.
Leeds are still winless in the Premier League so far, do you expect them to turn it around or continue to struggle in their second season back in the division?
We've seen it before that the second season is a lot harder, we saw it with Sheffield United last year.
I think they have a structure and system that Bielsa plays which means they always have something to fall back on.
I think they'll get out of trouble sooner or later, the team I did worry about before the season is Newcastle.
I really think it'll be edgy for them; they didn't get dragged into the battle last season, but with the way things are looking so far, I think it'll be difficult for them this year.
What do you make of the standard of referees nowadays? Has VAR highlighted their flaws or is it the technology causing them confusion?
I always said with VAR that when you start to challenge subjective decisions then you'll cause more issues.
It's very fair that you get decisions that are 100% certain and VAR should stick to the decisions that are 100% wrong and that the referee didn't see.
If we start going into subjective decisions made by the referee and them being told to overturn it or look again, then it's never going to work.
I think the confusion will be too much, it worked well to a certain extent in the Euros because VAR rarely came into the games.
I think in the domestic games they look for too many things like little fouls in the build-up three or four phases of play ago.
We should leave that out, in other sports like American Football the on-field decision stands if it's close and I think that's how it should be in football.
If it's a blatant mistake, then VAR should get involved.
I would be tempted to say that Aston Villa's goal at Manchester United was offside because if you stand in front of the goalkeeper then you're involved and active.
These are the decisions that they've got to get right.
VAR will be here for the long haul; we've lost a lot in terms of emotions in a game because players don't want to celebrate.
I think we've lost a lot and gained a little, it's something that probably should never have been brought in.
The way it is at the moment, I don't think it's going to work.
How do you think Marcel Sabitzer will integrate into Bayern Munich and what role he play?
If everyone is fit then he probably won't play, but there's a lot of games and Bayern did lose some players in the summer.
He's a very reliable player, he's versatile and can play in a lot of positions.
Robert Piers came out and said he hasn't seen a more consistent and solid team as Bayern Munich at the moment which I'd have to agree with.
They look very good under Nagelsmann and when it comes to the business end of the Champions League, I think Bayern Munich will be there.
Has the acquisition of Sabitzer given Bayern the proper amount of depth given Sabitzer's ability to play multiple positions?
We see these types of players every year and how important they are to teams.
There's been a lot of football over the past 18 months with the packed schedules for international players and the World Cup in Qatar next year.
It can take it out of you, there will be injuries, there will be suspensions, so you need one or two players for every position.
Bayern have that, they may be one or two players sort, but the advantage they have is in the Bundesliga they have games wrapped up by minute 60 so they can conserve energy.
How do you think Julian Nagelsmann has looked so far with Bayern and do you expect Nagelsmann to stick with Bayern's standard 4-2-3-1 formation?
He likes to change it around, but I think that's his preferred formation at the moment.
They had a manager who was very well liked by everyone at Bayern Munich, so it's never easy to follow somebody like that.
But what I have to say is, Leroy Sane for the first time in years is now looking like the player he can be.
Guardiola and Flick didn't manage it, but Nagelsmann looks the right fit because Sane has been brilliant the past few weeks.
I think Nagelsmann improves players and that improves the team which is hard to do with the talent Bayern Munich have.
I think he's done a brilliant job in such a short space of time.
Can Leroy Sane get back on track with Bayern or is this just what he is as a player now?
It's the first time in years that he's been playing to the standard we expect of him.
He had a quiet start at City, but in his second season he really showed some quality and he was one of the young stars of the season.
He picked up a bad knee injury and it's taken him a while to come back, but for the first time since then I feel he can really be the player that can make the difference.
Last season they played Paris in the Champions League and Sane looked like the only one who was up to par, and this is why he was bought.
He was bought to make the difference in terms of quality and deciding games and he hasn't done that as a Bayern Munich player yet.
This is the first time watching him where I feel he realises that he needs to be on the top of his game consistency to be classed as a world class player.
What should Bayern's plan be at striker after this season? Extend Lewandowski? Chase Haaland? Another player?
I think Lewandowski can still score goals for another two or three years.
He got a few years left on his contract, so I don't think there's any urgency to renew, but I think he'll be around for the next two years at least.
You don't really want to give a 33-year-old a four or five year contract, so I understand why it hasn't been extended yet.
I don't think they'll be able to bring in Haaland because I don't think Bayern Munich can afford him.
The financial power the English clubs have will be too much, but at the moment I think Bayern will be pretty relaxed about the situation.
If you ask me now, then I believe Lewandowski will finish career at Bayern Munich.
Can Omar Richards play for England as a Bayern Munich player? Can he be a first team regular there?
He's had some minutes in pre-season before the international players came back, but what I hear from the Bayern Munich camp is he's developing well.
Sometimes people hype up players for the future and some don't quite hit the mark, they do play but they can't perform to those expectations.
The most important thing for him is to be coached in the right way and the management staff around him at the moment are perfect for that.
I think he has some way to go before he can prove to be a regular at Bayern Munich, but he's definitely got the ability to do so.
Is Florian Wirtz ready to leave for the Premier League? Would he suit Man Utd or Arsenal? Should he stay with Bayer Leverkusen?
He's a brilliant player, a different player to Havertz, but he's playing very well so far for Leverkusen.
The only thing he lacks is a yard of pace, but I think he makes up for it with the positions he takes up.
He's stepped up so far, you can see he's a leader in this team with his performances in the early weeks of the season.
I don't think I've seen a better central midfielder at his age in decades, that's how good I think he is.