We're just 10 days away from the start of a brand new Premier League campaign, and you can be sure that the successes and disappointments from last season will be quickly forgotten as we get swept away by another whirlwind of top flight drama.
But just how different will the 2019/20 Premier League table look compared to last year's offering? Aside from the disappearance of Huddersfield, Fulham and Cardiff and the entry of Aston Villa, Norwich, and Sheffield United, of course.
Can Manchester City make it a hattrick of title victories, or will Liverpool somehow manage to improve on what many considered a near flawless showing last year? How will Chelsea fare without Eden Hazard and under inexperienced fan-favourite Frank Lampard? Will Sheffield United be equipped to cope with the rigours of top flight football? What about rhetorical questions? Will we ever stop asking them?
Anyway, back to the point. Here's our take on what the Premier League table might look like in May: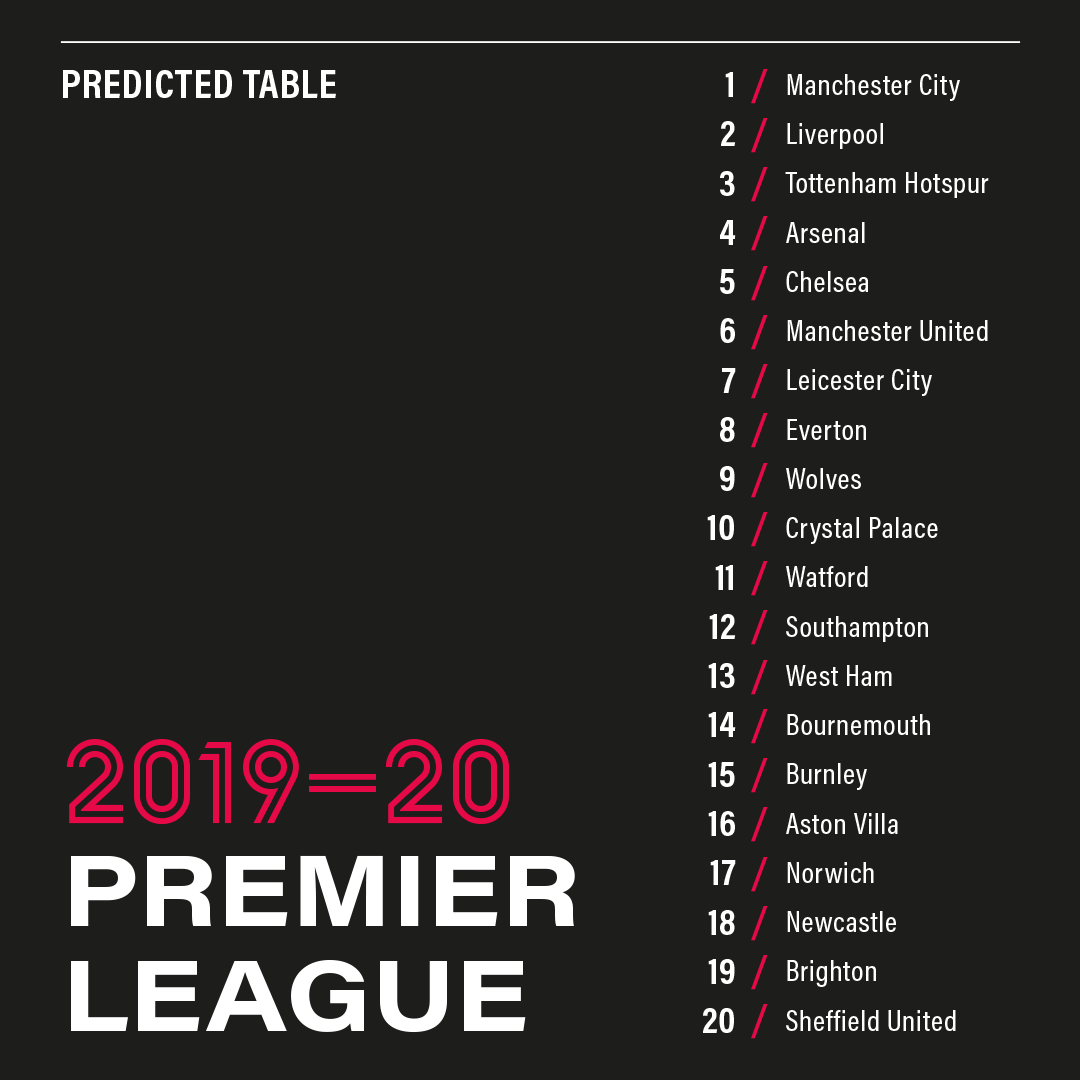 Premier League 2019/20 Winners: Manchester City
We're predicting a 3rd consecutive title victory for Pep Guardiola's seemingly unstoppable sky blue army. The Citizens proved that they can handle the pressure of a title race last season as they ended the season by winning 14 games on the bounce to edge Liverpool's prying fingers off the trophy. They might not have splashed the cash as much as in previous years this summer, but then again they simply don't have to.
Talented midfielder Rodri is an excellent acquisition that has flown under the radar a bit, coming in as competition, cover, and long term replacement for the vastly underrated Fernandinho. The rest of the squad looks pretty settled, and it helps that they have such incredible strength in depth.
You can read why we're tipping them for the title in our Premier League Winners and Top 4 Predictions here.
Premier League 2019/20 Top 4
2nd – Liverpool
It's hard to imagine any of the other top 6 clubs bridging the gaping chasm that has opened up between Man City and Liverpool and the remainder of the top flight. Liverpool finished a massive 25 points clear of 3rd placed Chelsea last season, and while they haven't yet made any significant signings their first team squad is looking every bit as good as Manchester City's.
The depth of the Liverpool team is a worry, but they are still streets ahead of their nearest competitors and look set for another silver medal.
Click here for all our analysis for Liverpool's 2019/20 season.
3rd – Tottenham Hotspur
A trademark Tottenham collapse in the second half of the season saw them relinquish what looked to be a certain 3rd place finish in the table, but they still clinched a 4th successive top 4 finish and look in prime position to open up a lead on the rest of the top 6 this season.
They have added Tanguy Ndombele to their midfield options and look like they mean to do more business before the transfer window closes. Meanwhile, Chelsea have lost Eden Hazard and Maurizio Sarri this summer and are in the midst of a transfer ban, while Manchester United's mammoth rebuilding job hasn't even put foundations down yet. Arsenal, while talented and improving, still have some major concerns at the back and are seemingly going to lose Laurent Koscielny.
Click here for our thoughts behind our Tottenham Hotspur predictions for the coming season.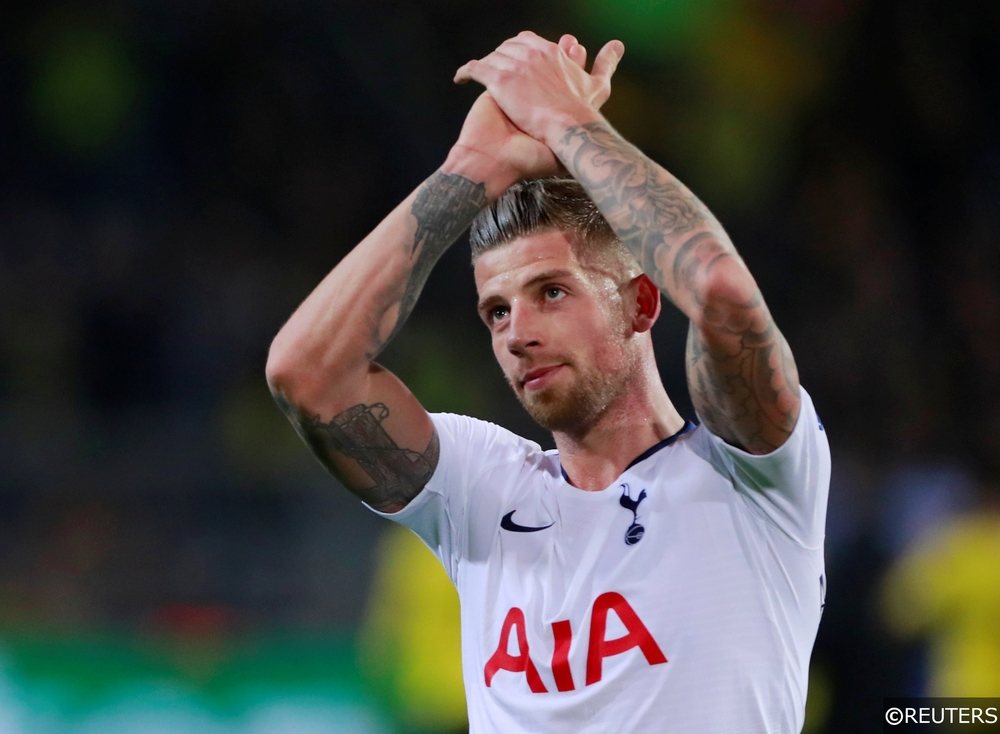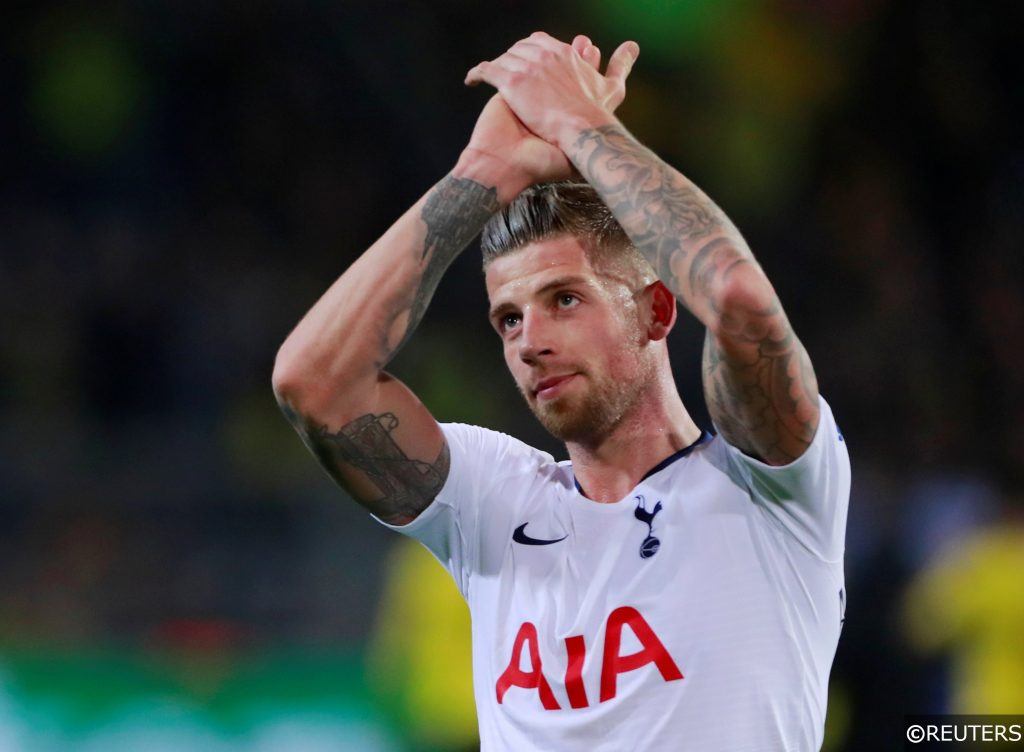 4th – Arsenal
Arsenal may have their problems at the back, but the absurd talent at the other end of the pitch should do enough to help end their top 4 exile. Pierre-Emerick Aubameyang and Alexandre Lacazette proved a deadly partnership last season, and with the incoming Nicolas Pepe heading over to the other flank the Emirates could turn into a goal factor over the next few months.
The Gunners only narrowly missed out on the top 4 last season, and with Chelsea undergoing a period of change and Manchester United still struggling to rebuild their underperforming squad, Unai Emery should be able to lead them back into the Champions League.
Check out all our reasoning for why we're backing Arsenal to claim a top 4 spot here.
Other Notable Finishes
7th – Leicester
The title of 'best of the rest' might not seem to carry much weight in the Premier League, but a 7th place finish usually comes with an added benefit – European football. With the FA Cup and Carabao Cup often heading to a team in the top 6, that means 7th place finishers usually have the opportunity to make a name for themselves in the Europa League, and that makes it a battle worth fighting.
Wolves won that war last season in an impressive debut campaign, but their rode their luck with a pretty small squad and somehow managed to avoid an injury crisis. Leicester have a much deeper squad to rely on, and they improved dramatically once Brendan Rodgers came in earlier this year. It could be a close fight between them and Everton, but we fancy The Foxes to triumph.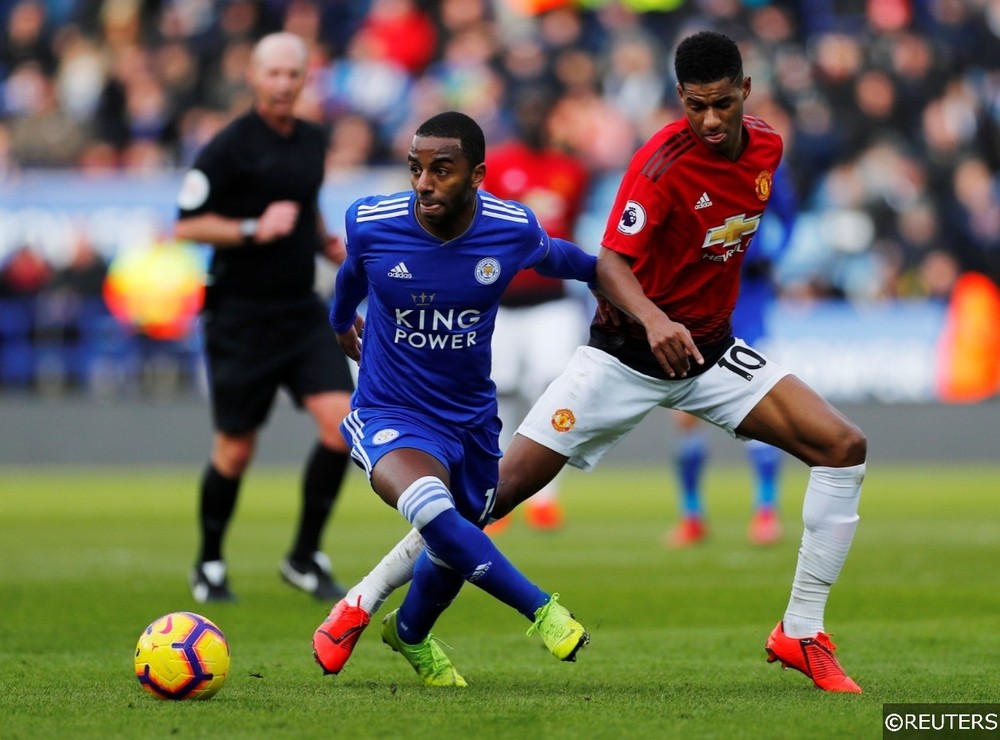 18th – Newcastle
The Magpies were led to a relatively comfortable mid-table finish under Rafa Benitez last season, but it was clear that the squad as a whole needs a lot of work. Unfortunately, Mike Ashley has done the wrong work, first letting Benitez go and then allowing their only two attacking threats, Salomon Rondon and Ayoze Perez, leave shortly after.
They have signed Joelinton for a club record fee, but the young Brazilian hasn't exactly been prolific in the Bundesliga and relying on him to recoup the goals lost by the departure of Rondon and Perez could prove too big of a burden to bear.
Click here for all our Premier League relegation predictions and betting tips.
20th – Sheffield United
It's been a jubilant few seasons for Sheffield United fans, with the team soaring up from League One to win 2 promotions in 3 seasons. Now, they're playing alongside the big boys, and nobody is under any illusions that it will be easy.
The Blades simply don't have a strong enough squad to challenge in the Premier League, and while Chris Wilder has worked wonders with them it would be a big stretch for him to avoid relegation this term. He hasn't been given a mammoth budget like Aston Villa have, and we foresee a difficult season and a rock bottom finish.
Remember, you can check back on Free Super Tips every day for daily accumulator tips and match previews.