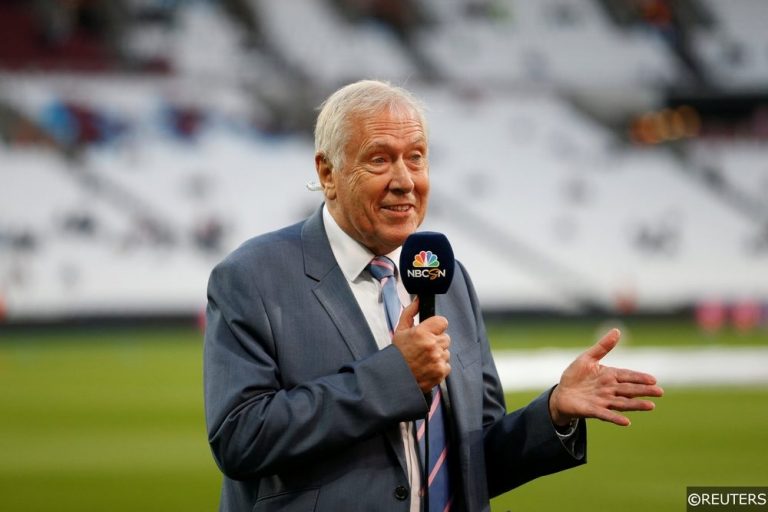 Simon Winter
@simonjwinter
Born in the south east of Ireland, Simon put his life-long love of football to good use when he started a successful independent blog in 2010. That opened up an alternative route to a career in journalism, and having had work published across a number of sites and publications, Simon joined the staff at Spotlight Sports Group in 2018.
In the next part of our funny football quotes series, we focus on the men behind the mic and the peddlers of punditry.
If you haven't read our collection of classic football quotes from coaches and managers in the first part of our series, you can check it out here.
Even though much of the commentary you hear can often be more inane than insightful, the good stuff when it arrives, can be iconic enrichments of magic moments.
Some of the most hilarious soundbites and best football quotes have also come from the men in the gantries and studios in stadiums across the world. You can read lots of them below.
Read More: Check out our dedicated Premier League page with match previews, predictions and free betting tips here.
Funny football quotes: Commentators & Pundits
"For such a small man, Maradona gets great elevation on his balls."
David Pleat
The lad got overexcited when he saw the whites of the goalpost's eyes."
Steve Coppell
"He's pulling him off! The Spanish manager is pulling his captain off."
Irish commentator George Hamilton
"That was only a yard away from being an inch-perfect pass."
Murdo MacLeod
"The World Cup is a truly international event."
John Motson
"He's not only a good player, but he's spiteful in the nicest sense of the word."
Ron Atkinson
"They've picked their heads up off the ground, and they now have a lot to carry on their shoulders."
Ron Atkinson
"If history repeats itself, I should think we can expect the same thing again."
Terry Venables
"I'd love to be a mole on the wall in the Liverpool dressing room at half-time."
Kevin Keegan
"They've flown in from all over the world, have the rest of the world team."
Brian Moore
"The winners of the Champions League stand to make £10m in prize money – that's before any money they can make on programme sales, hot dogs and the like."
Brian Moore
"It's headed away by John Clark, using his head."
Derek Rae
"If ever the Greeks needed a Trojan horse, it is now."
Gerald Sinstadt
"And now that the formalities are over, we'll have the national anthems."
Brian Moore
Read More: Unbelievable tech-ers: Why tech equals success for Premier League shirt sponsors
"Tottenham are trying tonight to become the first London team to win the cup. The last team to do so was the 1973 Spurs team."
Mike Ingham
"And Seaman, just like a falling oak, manages to change direction."
John Motson
"It was the game that put the Everton ship back on the road."
Alan Green
"The Uruguayans are losing no time in making a meal around the referee."
Mike Ingham
"He's 21 this year. Last year he was 30."
David Coleman
"Madrid are like a rabbit dazed in the headlights of a car, except the rabbit has a suit of armour in the shape of two precious away goals."
George Hamilton
"There'll be no siestas in Madrid tonight."
Kevin Keegan
"In some ways, cramp is worse than having a broken leg."
Kevin Keegan
"He's showed him the left leg, then the right. Where's the ball, the defender asks? It's up his sleeve."
Clive Tyldesley
"Jari Litmanen should be made compulsory."
Ron Atkinson
"The ball goes down the keeper's throat where it hits him on the knees to say the least."
Ron Atkinson
"It slid away from his left boot, which was poised with the trigger cocked."
Barry Davies
"He had an eternity to play that ball, but he took too long over it."
Martin Tyler
"John Arne Riise was deservedly blown up for that foul."
Alan Green
Read More: International break boredom? Not on Football Index!
"The Everton fans are massed in the Station End, and Lee Carsley is attacking those fans now."
John Murray
"The ageless Teddy Sheringham, 37 now…"
Tony Gubba
"I'd say he's the best in Europe, if you put me on the fence."
Sir Bobby Robson
"The atmosphere here is literally electric."
John Motson
"Brazil – they're so good it's like they are running around the pitch playing with themselves."
John Motson
"The Arsenal defence is skating close to the wind."
Jack Charlton
"They've missed so many chances they must be wringing their heads in shame."
Ron Greenwood
"Football's football: if that weren't the case it wouldn't be the game that it is."
Garth Crooks
"If there are any managers out there with a bottomless pit, I'm sure they would be interested in these two Russians."
David Pleat
"Venison and Butcher are as brave as two peas in a pod."
John Sillet
"Most of the players will be wearing rubbers tonight."
Gary Lineker
"They've come out with all cylinders flying."
Luther Blissett
"Fiorentina start the second half attacking their fans; just the way they like things."
Ray Wilkins
"It's sometimes easier to defend a one-goal lead than a two-goal lead."
Mark Lawrenson
"There won't be a dry house in the place."
Mark Lawrenson
"The candle is very much in the melting pot."
Alan McInally
"All the cul-de-sacs are closed for Scotland."
Joe Jordan
"The club has literally exploded."
Ian Wright
"If Glenn Hoddle had been any other nationality, he would have had 70 or 80 caps for England."
John Barnes
"You either win or you lose. There's no in between."
Terry Venables
"Roy Keane, his face punches the air…"
Alan Brazil
"He hits it into the corner of the net as straight as a nut."
David Pleat
"This is a real cat and carrot situation."
David Pleat
"Not only has he shown Junior Lewis the red card, but he's sent him off."
Chris Kamara
"Let's just close our eyes and see what happens."
Jimmy Greaves
"Every time they attacked, we were memorized by them."
Charlie Nicholas
"You could visibly hear the strain in his voice."
Mike Parry
"The Belgians will play like their fellow Scandinavians, Denmark and Sweden."
Andy Townsend
"Gary Neville was palpable for their second goal."
Mark Lawrenson
"He's got a knock on his shin there, just above the knee."
Frank Stapleton
"Now they have got an extra yard of doubtness in their minds."
Chris Kamara
"Peter Beardsley has got a few tricks up his book."
Ian Snodin
"Peter Shilton conceded five, and you don't get many of those to the dozen."
Des Lynam
"Manchester United are looking to Frank Stapleton to pull some magic out of the fire."
Jimmy Hill
Make sure to keep an eye out for the next installment in our funny football quotes series.
Follow Free Super Tips on Twitter to stay up to date with our daily tips and predictions or browse more football content on our website: