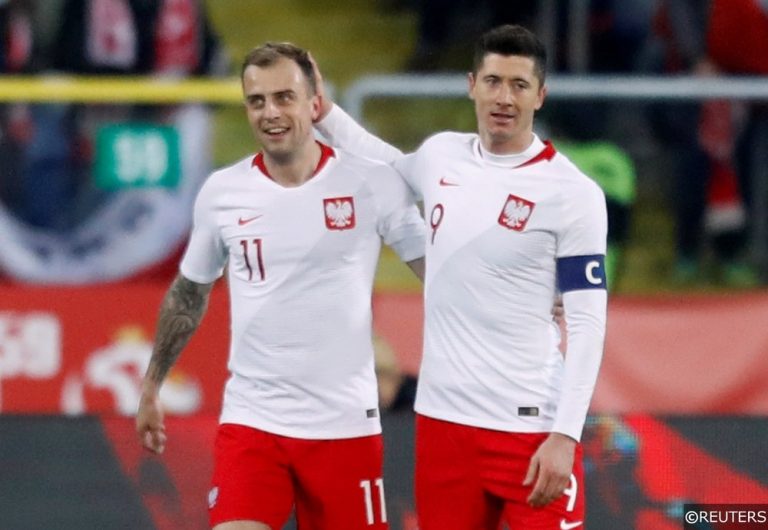 September 15, 2018
Show Bio
Before becoming a Sports Journalist for Free Super Tips, Aaron spent three years studying Sports Journalism at the University of Sunderland while taking in the Black Cats' 'glory years' under Martin O'Neill. Now back in Northern Ireland he turns niche stats into predictions for FST, while he's one of the few people on this island who is equally comfortable at Windsor Park and the Aviva.
In Tuesday night's friendly with the Republic of Ireland, Poland started a forward with one of the best hit-rates in Europe this term. Now, that's nothing new for the side led by Robert Lewandowski. However, on this occasion they were starting with Genoa striker Krzysztof Piatek, who is enjoying an incredible start to the campaign.
Piatek has impressed many in recent weeks, and has a solid scoring record dating back two years. However, the striker has just burst on to the scene for many. Can he live up to the record of Poland's current main man Lewandowski? Does the Bayern Munich striker already have someone ready to pick up his mantle? Here is everything you need to know about Poland's latest scoring talent.
Read More: Our Piatek Prediction for Genoa vs Bologna
Who is Krzysztof Piatek?
The 23-year-old forward made his international debut against the Republic of Ireland, following an excellent start to the season. However, he had already made a big impact in his homeland before breaking in to the side. Piatek scored 21 times for Cracovia Krakow last season, which saw him depart Poland with an impressive strike rate. He scored more than a goal every other game in the last two years, which led to a move elsewhere.
However, that record wasn't enough for the forward to join Lewandowski in their World Cup squad this summer. He was named in the preliminary squad for Russia, but he didn't make the final 23. A poor summer for Poland has them searching for other options, making Piatek a perfect option. He's pushing to become a regular feature in the national side, but he needs to emerge from the shadow of Lewandowski.
Flying Start in Serie A
After two high scoring seasons with Cracovia, Piatek became the latest player to make the switch from Poland to Italy. However, Piatek stands out among them after just three games with Genoa. His £3.8million switch to the Grifone in the summer went under the radar, especially given that the club had sold Pietro Pellegri to Monaco for over £20million. A cut of that brought the Polish forward to Italy, and he's been a revelation.
Piatek opened his Genoa account two minutes in to his debut. The forward went on to rack up four goals in that meeting with Lecce, which led them to a 4-0 Coppa Italia victory. Doing that against lower league opposition was a strong start, but not enough to convince everyone. His form continued in to his Serie A debut, where he scored six minutes in to his first clash.
Genoa's winning start came to an end at Sassuolo before the international break, but Piatek's form continued. He struck twice for the Grifone in their 5-3 defeat, taking him to seven goals from three games. That was more than enough to earn him an international debut. Given that start, it was a surprise that he didn't feature in their Nations League visit to Italy last week.
Manager Davide Ballardini has been reluctant to raise Piatek's profile too much. However, the boss knows that he has bags of potential.
"I'm almost afraid to talk about Piatek, because it's just inviting pressure on him, but he really seems to be the complete package. I get the feeling he can truly become an important player, but I'm trying to whisper it rather than shout from the rooftops."
Also See: Serie A Sunday Preview
Giants Already Taking an Interest
Piatek is only a month in to his first season at Empoli, but he's already being linked with a move elsewhere. Reports suggest that Barcelona are keeping tabs on the forward, who could be a potential successor to Luis Suarez at the Nou Camp. While they don't have similar skill-sets, it shows just how highly rated Piatek is, and how far he could go.
The forward is likely to cost a lot more than the £3.8million Genoa invested in him. If he can continue to impress at the Marassi, then plenty of Europe's superclubs are going to be after his signature. Just as Lewandowski begins his final years at the summit of European football, a new Polish poacher is emerging.
Like Suarez, Piatek doesn't have identical skills to Lewandowski. However, he could be his successor as one of the most prolific forwards on the world stage, and the future Poland number nine. The Genoa man lacks the pace of many of the world's most lethal forwards, but he has an impressive finishing ability which could take him all the way to the top.
We've all heard the stories about Lewandowski's near moves to small clubs, like how he came close to a switch to Ewood Park before going to Dortmund. We can't see the same thing happening to Piatek here. He's already gone under the radar to Genoa, and he's worth keeping an eye on going forward. Keep up his current form, and we'll be seeing him at the top sooner rather than later.
Follow Free Super Tips on Twitter to stay up to date with our daily tips and predictions or browse more football content on our website: