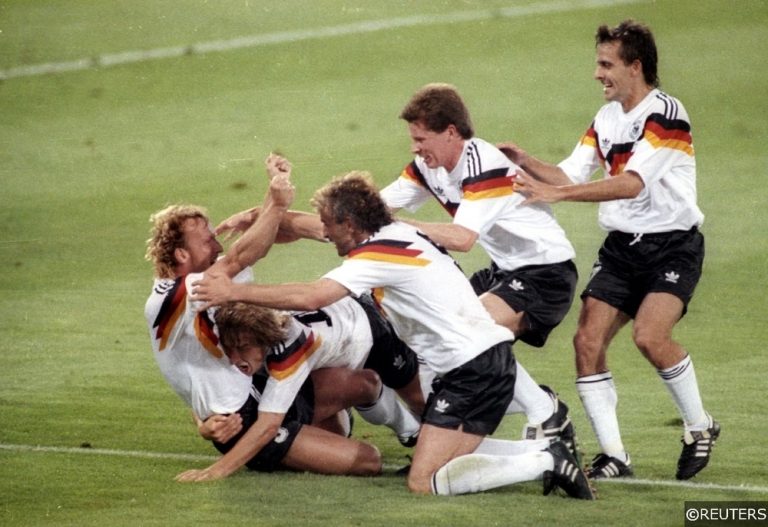 A lifelong Birmingham City fan, Tom relocated to Germany for five years after graduating from university, where his interest in the Bundesliga developed. He began writing about and betting on German football for FST in 2016. He's also an avid fantasy football player and closely follows the Premier League and European competitions.
Next up in our Best Ever World Cup XI series, we focus on the current champions, Germany.
Commonly referred to as Die Mannschaft (the team) by their followers, Germany are the second most successful team in World Cup history, having won the competition roughly once every 20 years since 1954 (1974, 1990 and 2014 being the others). Another this year would see them joint with 5 time winners Brazil.
Germany are a footballing powerhouse and their triumphs over the years haven't come from a couple of individual performers. Instead, a near unmatched flow of footballing talent has seen Die Mannschaft make a name for themselves by achieving success in a typically German way. Movement, team spirit and efficiency are the core pillars of a footballing philosophy that favours tactical discipline and methodical play, rather than tricks and flair.
Comparing players of different generations can at times be very tricky – almost impossible, in fact – as things like tactics, equipment and rules change over the years. But some names get remembered for a reason. So which players have been the best cogs in the German machine?
Free Super Tips puts together our all-time best Germany World Cup XI.
Read more: Germany's Potential Starting XI for World Cup 2018
Goalkeeper – Oliver Kahn
1995 to 2006 – 86 caps – 0 goals
Kahn, also know as the "Titan", was an absolute colossus in goal and voted as the world's best goalkeeper three times (1999, 2001, 2002) over his 21 year career. He was among the best for both club and country, but had the misfortune of playing in an era where Germany's outfield players didn't match him in terms of class and consistency.
His performances in goal for Die Mannschaft at the 2002 World Cup saw him single-handedly, or rather double-handedly, carry his country to the final. Though the Germans couldn't hold out against the might of Brazil, Kahn became the first and only goalkeeper to be named player of the tournament (Golden Ball) at a World Cup – a testament to how good Kahn was in his prime.
FUN TRIVIA: Kahn's goals conceded against Brazil in the 2002 World Cup final (2) were twice as many as he conceded over the rest of the competition (1).
Left Back – Guido Buchwald
1984 to 1994 – 76 caps – 4 goals
Guido Buchwald was a center-back by trade, so is played out of position in this formation – there has been way too much defensive quality come from Germany over the years!
His best international performances were at the World Cup in Italy in 1990, where he became known as "Diego" for his iconic runs up the pitch – such a run helped him set up Jurgen Klinsmann's opening goal in the round of 16 match against the Netherlands. Ironically, he also had Argentina's very own Diego (Maradona) well and truly in his pocket for all 90 minutes of the 1990 World Cup final, which Germany won 1-0 to claim their third title.
Read more: Argentina's Greatest Ever World Cup XI
Center Back – Franz Beckenbauer
1965 to 1977 – 103 caps – 14 goals
Franz Beckenbauer is the player credited with creating the modern sweeper role – a role also known as the libero. His nickname, the Kaiser, derives from his elegant style, dominance and leadership on the field – and probably in part that his forename is reminiscent of those old Austrian emperors.
Beckenbauer won both the European Championship (1972) and World Cup (1974) with Germany, as well lifting the Ballon d'Or twice individually (1972, 1976). He remains a hugely influential figure in the footballing world and is one of only six honorary captains of the German national team.
He's arguably the greatest defender of all time.
FUN TRIVIA: Beckenbauer actually began his international career in midfield before converting to central defense. 
Center Back – Jürgen Kohler
1986 to 1998 – 105 caps – 2 goals
Kohler was a physically strong center back, famed for his defensive perception, anticipation and marking. His unbreakable composure meant he was also reliable in possession and his ability to play the ball out of defense – the cornerstone of the team.
Kohler was an undisputed starter at six consecutive major tournaments and was part of both Germany's 1990 World Cup winning team and captain of the side that won the 1996 European Championship.
Right Back – Philipp Lahm
2004 to 2014 – 113 caps – 5 goals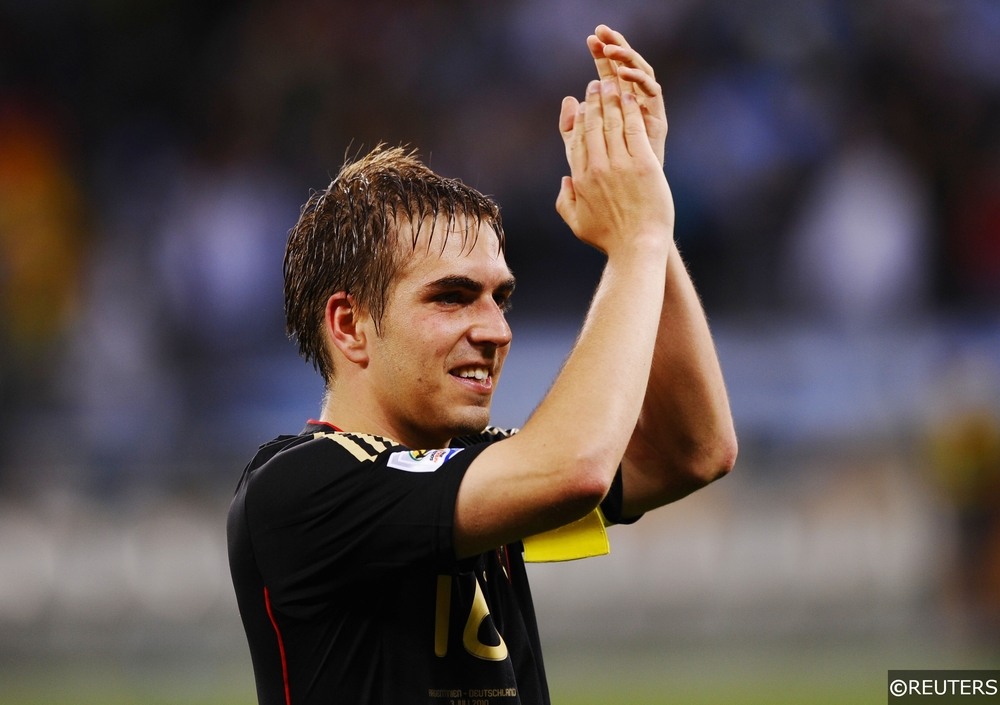 Lahm was the best full-back of his generation. He was all class. He made tackles without aggression as he was talented enough to reclaim the ball through precision – in fact, Lahm was never sent off over 540 appearances across all competitions. He was also a very versatile player, something that proved invaluable to both Bayern Munich and the German national team.
Domestically, he won almost everything the game had to offer before his retirement at the end of the 16/17 season. On the international level, he was a key man in Germany's 2014 World Cup winning squad and holds the record of playing in five consecutive semi-finals at major tournaments. He held such a perfect sense of tactics that he was essentially the extended arm of the coach. Only two men (Ballack and Matthäus) have captained Germany more often than Lahm.
FUN TRIVIA: Lahm was given the nickname the "Magic Dwarf" thanks to his ability and small stature.
Read more: Can Germany win back-to-back World Cups?
Central Midfield – Günter Netzer
1965 to 1975 – 37 caps – 6 goals
Often called Germany's first pop-star footballer, the stylish midfielder yet another German with a huge range of talents. Netzer was not only a dream playmaker who understood the game as if he had the whole 90 minutes planned before kick-off, but he was also an engine on the pitch and one of those natural born leaders.
Netzer was a highly intelligent player, capable of beating defenses with powerful runs as well as picking out players at distance with pin-point long balls. He was the face of the legendary team that won the European Championship in 1972 and the World Cup in 1974, though his international career was hampered through injury and Germany's surplus of midfield maestros. He was runner-up to Franz Beckenbauer in the 1972 Ballon d'Or.
Central Midfield – Lothar Matthäus
1980 to 2000 – 150 caps – 23 goals
Matthäus is the most-capped player in the history of the German national team and was their midfield dynamo for one and a half decades until retreating into the sweeper role. He is the only outfield player who saw action in five World Cups, one of which he won (1990), and the only German to ever be voted FIFA World Player of the Year (1991).
Lothar Matthäus' run in the opening match of the 1990 World Cup against Yugoslavia is to German fans what Diego Maradona's solo run through the England defefense in 1986 is to the rest of the world. In the 1990 final, those two footballing legends met, though Matthäus did not step up to take Germany's World Cup winning penalty. He has collected a huge list of honours, both as part of a team and individually.
FUN TRIVIA: Lothar Matthäus still holds the record for most matches played at World Cup finals (25).
Central Midfield – Bastian Schweinsteiger
2004 to 2016 – 121 caps – 24 goals
Dubbed the "Midfield Motor", Bastian Schweinsteiger is Germany's fourth most-capped player of all time. Over his 12-year international career, he largely operated in the center, but was versatile enough to also provide an option on either wing. His fearsome shooting from range, delivery from set-pieces and boundless energy saw him become one of the most well-rounded midfielders of his generation.
He was voted as Germany's best player in 2013 and was called "the brain" behind the 2014 World Cup winning team by current coach Joachim Löw. His inclusion in the 2014 squad was his sixth call up for a major tournament and he went on to represent Germany in EURO 2016 for a seventh time, his first as captain.
FUN TRIVIA: Schweinsteiger was known affectionately to fans as "Schweini" or "Basti", the latter to distinguish him from his elder brother, Tobias, who was also a professional footballer.
Read more: Where are Germany's 2014 World Cup winners now?
Forward – Gerd Müller
1966 to 1974 – 62 caps – 68 goals
Gerd Müller is arguably the greatest German attacker of all time, scoring 68 goals in just 62 appearances. Among players with more than 50 caps, only Hungary's Sandor Kocsis has a better goals per game ratio on the international stage. He became the first German to win the Ballon d'Or in 1970.
His most important goal was that which put Germany 2-1 ahead in the 1974 World Cup final against Netherlands – the Germans held that scoreline out to full-time for their second World Cup title. He wasn't one for famous runs or fancy tricks, but he was there when it mattered. And he scored when he wanted.
FUN TRIVIA: Müller retired from the national team at only 28 years of age, having won both the European Championship (1972) and World Cup (1974).
Forward : Karl-Heinz Rummenigge
1976 to 1986 – 95 caps – 45 goals
Unlike Gerd Müller, who was a natural born goal scorer that loved to pounce on chances made for him, Rummenigge was a much more rounded footballer. He managed to score 45 goals during his 95 appearances for Germany – a solid return by anyone's standards – and he was just as lethal domestically, winning the Bundesliga "golden boot" three times.
One of the most fearsome strikers of his era, the two time Ballon d'Or winner (1980 and 1981) was an all-around centre-forward, with dribbling skills and a natural eye for goal being among his many strengths. He was also a wonderful technician that liked to venture out into wide areas, take players on and score goals from outside the box.
Forward – Miroslav Klose
2001 to 2014 – 137 caps – 71 goals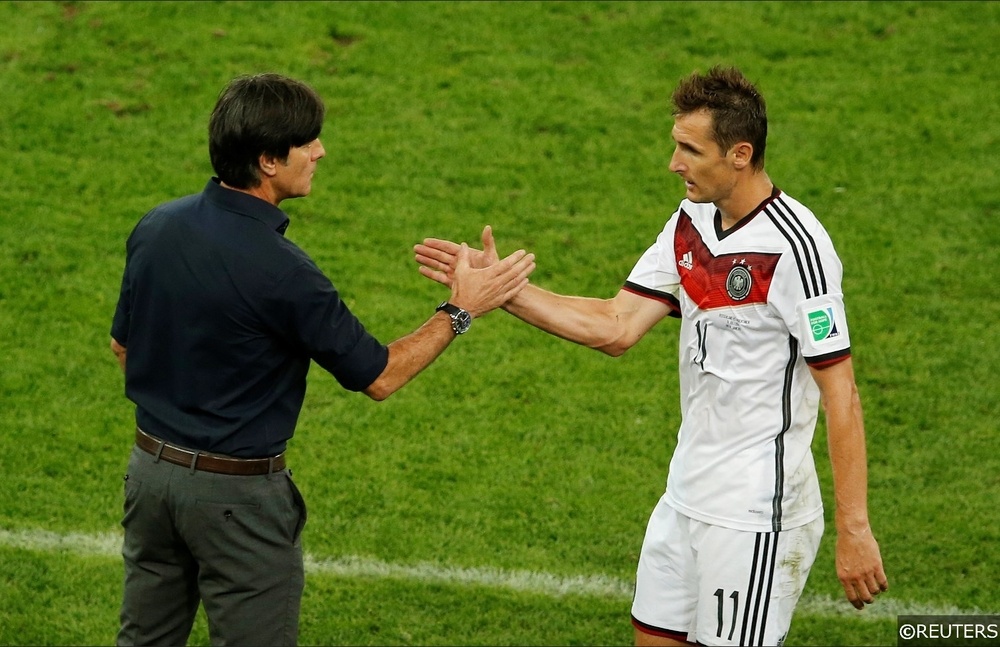 If this was based purely on ability, Miroslav Klose probably wouldn't get in Germany's best ever XI. However, his international records makes him impossible to ignore. Klose is not only Germany's all-time leading scorer with 71 goals, beating Gerd Müller's goal-scoring record (68 goals) for (West) Germany, but he also broke Brazilian Ronaldo's record as the highest scoring playing ever in FIFA World Cup history (16 goals) in 2014.
FUN TRIVIA: Klose represented Germany four times at the World Cup, finishing no lower than the semi-finals in any (1x World Cup winner, 1x runner up, 2x third place).
Read more: Can Germany fill the boots left by Miroslav Klose?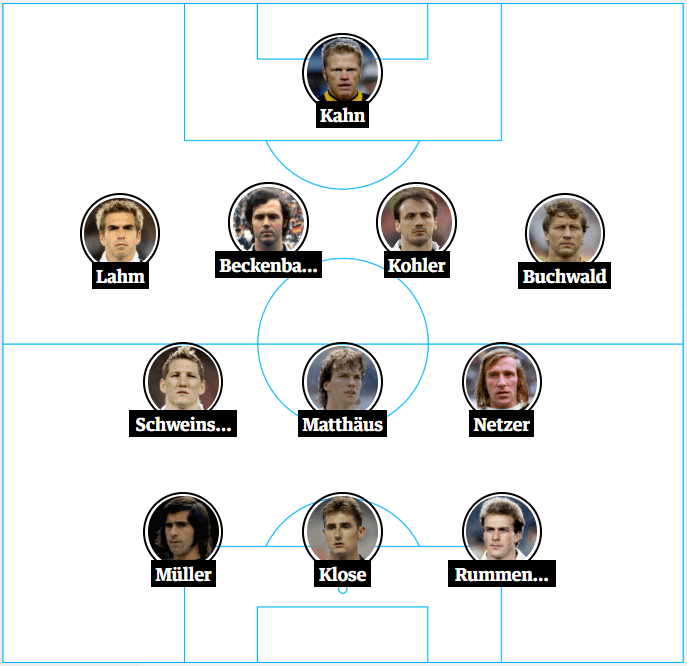 Let us know if you would make any changes to Germany's Best World Cup XI over on our Twitter page.
Follow Free Super Tips on Twitter to stay up to date with our daily tips and predictions or browse more football content on our website: