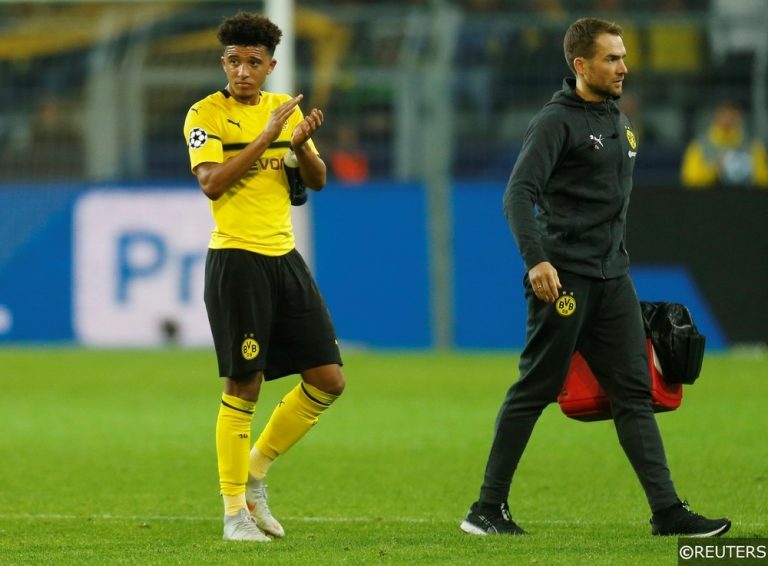 A lifelong Birmingham City fan, Tom relocated to Germany for five years after graduating from university, where his interest in the Bundesliga developed. He began writing about and betting on German football for FST in 2016. He's also an avid fantasy football player and closely follows the Premier League and European competitions.
Ole Gunnar Solksjaer has named Jadon Sancho as one of his top priority signings for the summer transfer window, as he continues to focus on building a young, British core at Manchester United.
Bundesliga giants Borussia Dortmund have put a £120million price tag on his head, however, and Solksjaer will also have to fight off interest from Chelsea and Liverpool.
According to reports, the Red Devils are in pole position to secure the wonderkid's signature this summer, but three factors will help boost their chances.
Read our article detailing our five favourite Football Manager 2020 wonderkids here.
More Money
Sancho's £190k per week at Dortmund is nothing to shake your head at, but a look at Man United's payroll shows why they will be a more desirable destination than Liverpool and Chelsea for most.
At Old Trafford, Martial is on £250k a week, Pogba £290k a week, and David de Gea £375k a week. You'd have to expect Sancho would be offered towards the upper end of that range.
At Chelsea, Kepa and Kante are the highest earners at £150k a week and at Liverpool, Salah, Firmino and Van Dijk are the three highest earners on £200k a week, £180k a week, and £180k a week respectively.
First-Team Football
Needless to say, all the media attention that Sancho is drawing isn't without reason.
Sancho has been very much the one to watch over in Germany for the past few years and this season has contributed a whopping 14 goals and 15 assists.
United's front line is lacking someone of this consistency and it's hard to imagine that Solksjaer wouldn't be happy to guarantee him first-team football across all competitions with players like Daniel James and Anthony Martial being hit or miss.
To read about more in-form players, check out our '7 Highest Scoring Teenagers in Europe' article.
Champions League Football
The England international has also expressed a desire to carry on his upward curve by continuing to feature in the Champions League.
Should the season continue, Liverpool would have some appeal there as the new champions (well, you'd expect so).
However, United will have to get the better of Chelsea as the season draws to fulfil that last requirement, as they currently sit three points behind Frank Lampard's side in the Premier League.