In The Mixer: Experts have their say on Haaland's next move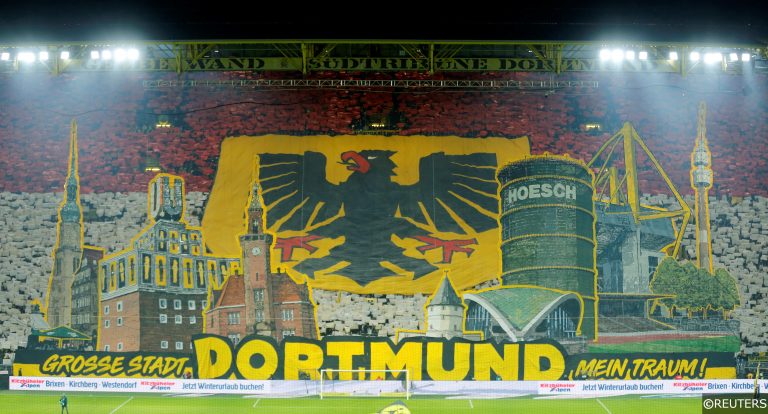 Gareth Freeman
@TheGFreeman
December 14, 2021
Show Bio
Sports Journalist at FST, Gareth qualified as a journalist after graduating from university and spent over a decade as a freelance broadcast journalist, commentator and tipster before joining FST. Now living in Manchester, he is a long suffering Bolton Wanderers fan who also enjoys boxing, the NBA, tennis and rugby league.
In The Mixer is FST's weekly column where we catch up with seven experts in football betting and get their opinion on the hot topic of the week.
This week the future of Borussia Dortmund star Erling Haaland comes under the microscope. We've given our experts a bit of licence to play around here by asking for where they think he will fit in best as well as where his most likely destination may be.
Haaland seems set to see out the season with BVB before moving on next summer so there could be a few twists and turns in his potential mega move along the way, There is also the small matter of trying to secure some silverware in what is almost certainly his last season with Dortmund.
---
---
Man City the frontrunners
Liam Flin
Sports journalist at Racing Post
Rumours of a £64 million release clause in Erling Haaland's contract at Dortmund suggest he could be a bargain buy but his potential new club will still need the financial firepower to offer him a sizable salary and Man City could fit the bill.
Physicality is one of the Norwegian's greatest strengths and he should therefore have few issues adjusting to the Premier League.
Of the clubs linked with his signature, City are arguably the most in need of an out-and-out striker and he could be the ideal player to polish off the sweeping moves of their star-studded midfield.
Sergio Aguero spent a decade in Manchester and they could be after a younger forward like Haaland to follow suit and dedicate their future to the club.
Alex Wrigley
Sports editor and journalist at Free Super Tips
There are only a handful of clubs in the world with the wealth to lure Erling Haaland to their club and agent Mino Raiola seemingly made that pool smaller by naming Manchester City, Barcelona, Real Madrid and Bayern Munich.
Barcelona surely can't find the funds in their current situation and Real Madrid's focus is firmly on fellow boy-wonder Kylian Mbappe. Bayern Munich would be an interesting move with Robert Lewandowski getting on in years, but I have the feeling he'll end up at the Etihad after Guardiola's failed attempts to land Harry Kane in the summer.
Ian Wilkerson
Sports journalist at Racing Post
Players of Haaland's calibre are only going to be within the sphere of clubs of a certain stature, and the situation is quite interesting as the financial situation at Barcelona would probably take them out of the running.
It would be a huge statement if he were to move to Manchester United but a team in such a transition may not be a good fit for a player who probably feels he has outgrown Dortmund.
Manchester City looks a more likely destination and I was surprised they were so heavily linked with Harry Kane last summer when the Norwegian would represent better value for money.
Tottenham have probably had the best of Kane while Haaland has scope to improve even more, bearing in mind he is seven years younger. He'd be the perfect fit for City and the Citizens would be the perfect destination for him too.
Could Haaland follow in Lewandowski's footsteps?
James Mason
Sports journalist at ICS
While there has been much talk of a move to the Premier League, I think it would be best for Haaland to stay in the Bundesliga and make the switch over to reigning Bundesliga champions Bayern Munich.
The Bavarians have a habit of plucking the best talent from Borussia Dortmund. You only have to look at how well Robert Lewandowski has done since making the same switch and it seems sensible for Haaland to follow in his footsteps.
Haaland would learn a lot from Lewandowski, who is now 33, and this would be a perfect bit of business from Bayern as they look to bring in a long-term replacement for the Poland international.
Manchester City would be another good option for Haaland and the lure of playing in the Premier League may prove difficult to resist. However, the fact Pep Guardiola looks likely to leave when his contract expires will be a turn off for Haaland, and he may just decide to continue tearing it up in the German top flight.
Joe Casey
Sports journalist at Racing Post
There has been much talk of Manchester City as the obvious destination for Erling Haaland, but I'm not sure that City's style of play would suit the Norwegian and vice versa.
Haaland is often at his best when he is able to use his pace and power to get in behind, something that happens rarely for the Citizens as teams sit so deep against them.
Also, before the signing of Jack Grealish, it hasn't been Pep Guardiola's modus operandi to go after the most sought after players with the biggest price tags but rather signings such as Joao Cancelo, Rodri and Bernado Silva.
I think the logical answer is closer to home. Bayern Munich have made a habit of plucking the best players from their Bundesliga rivals and with Robert Lewandowksi in the veteran stages, I could see them going for Haaland.
PSG & Real in the mix
Aaron Rogan
Sports journalist at Free Super Tips
Mino Raiola named Man City, Bayern Munich, Real Madrid and Barcelona as the clubs Haaland could go to, but what if he ends up at none of them? He doesn't strike me as a Guardiola signing, Barca will struggle to afford him and Real Madrid have their sights set on a cheaper free transfer for Kylian Mbappe.
Of course, PSG won't look to just get by with Lionel Messi and Neymar. They clearly don't need a transfer fee for Mbappe to fund another superstar move given their resources and I'd expect the French side to make a statement signing if they lose one of their big three.
Warren Ashurst
Sports journalist at ICS
Although Haaland's game suits the Premier League, I'm not sure his style would compliment Man City and I think Harry Kane remains a better option for Guardiola.
There is no chance Barcelona can afford him in the foreseeable future, so that would leave perhaps four or five teams that could persuade him to move on this summer.
Dortmund will do all they can to block a move to Bundesliga rivals Bayern, while only the sale of Kylian Mbappe would leave the way clear for a switch to Paris.
With Karim Benzema now 33 and with Real Madrid desperate to get back to the top of European football tree, Haaland would seem the perfect fit. A move to the Bernabeu would guarantee regular Champions League football and almost certainly extend the gap between Real and Barca.
Henry Hardwicke
Sports journalist at Racing Post
When you think about the amount of clubs with the financial clout that will be needed to match Erling Haaland's demands it's a fairly small pool. Chelsea have paid big bucks for Romelu Lukaku, Liverpool don't have the finances and Manchester United missed out on the Norwegian when he joined Dortmund. Man City seems the most likely destination of the Premier League clubs and they are clearly short in the striking position.
However, I have a feeling Real Madrid could make a move. Clearly, Real have financial issues, but when has that ever stopped the Spanish giants from signing the world's biggest stars? Martin Odegaard, Raphael Varane and Sergio Ramos left last summer and if the likes of Gareth Bale and Eden Hazard followed suit next year that could free up the funds for a big-money move for Haaland.