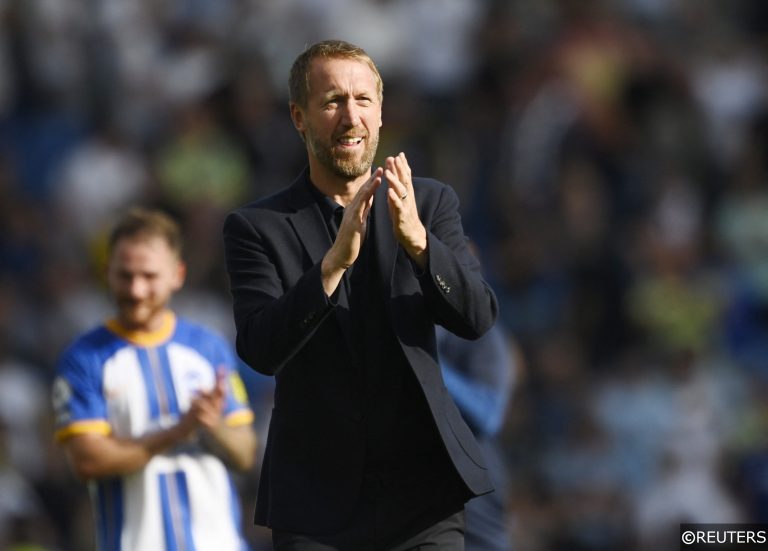 Gareth Freeman
@TheGFreeman
September 13, 2022
Show Bio
Sports Journalist at FST, Gareth qualified as a journalist after graduating from university and spent over a decade as a freelance broadcast journalist, commentator and tipster before joining FST. Now living in Manchester, he is a long suffering Bolton Wanderers fan who also enjoys boxing, the NBA, tennis and rugby league.
In The Mixer is FST's weekly column where we catch up with eight experts in football betting and get their opinion on the hot topic of the week.
Chelsea's decision to axe Thomas Tuchel last week came as a shock to most but the swift appointment of Graham Potter suggests the club had been mulling a change at the top for a little while at least.
Potter arrives after an impressive spell in charge of Brighton and this week we asked our team of experts for their thoughts on Chelsea's latest manager.
---
Potter has the tools to succeed
Aaron Rogan
Sports journalist at Free Super Tips
Much has been made of Chelsea's track record with coaches, but that short-term thinking doesn't just go one way. Thomas Tuchel's career is littered with short spells at clubs, most of which ended on bad terms.
There have been rumblings about issues between Tuchel and individual players for most of the year, so this decision doesn't seem as reactionary as it's been made out.
Potter's first job will be to win over the players, but they've been crying out for more attacking freedom so that shouldn't be hard for him to do. The new ownership have promised an end to the hiring and firing policy – it's not exactly ideal when they're chasing a profit – so I'm inclined to believe Potter will get time.
Rob Eddy
Sports journalist at ICS
I would like to think so as he seems eminently likeable and understated while he has been building his career playing an attractive brand of football.
Yes, Chelsea have had a history of reacting swiftly to poor results but there is no guarantee that – despite Tuchels's dismissal – will continue under the new ownership, who may have had Potter ear-marked early on.
Time afforded depends on results though and an early test against Liverpool, with a double header soon to follow against AC Milan which could ultimately determine Champions League progression is hardly ideal but it could also be the making of him at Stamford Bridge.
It will be interesting to see how Potter is able to cope with any disharmony, against him or among the players, in a dressing room full of egos but there is certainly enough talent in the squad for him to be successful and I fancy he can unlock the best out of the Blues and rubber-stamp his growing reputation.
Gareth Freeman
Sports journalist at Free Super Tips
I don't think there are any serious questions over Graham Potter's ability as a coach as he's impressed in every job he's had so far. If given time at Stamford Bridge, I see no reason why he won't be a success but the big question is – will he be afforded that time?
Chelsea's new owners were pretty ruthless when axing Thomas Tuchel, a manager who guided the club to Champions League success in 2021, but you would expect them to show a bit more patience with Potter. The former Ostersund, Swansea and Brighton boss is their choice, whereas Tuchel was a coach they inherited, so hopefully they give him some leeway if results and performances don't immediately improve.
I am quietly confident he will be a success at Chelsea but that all depends on whether he is given the time to bring in his own players and implement his own ideas.
---
Time may not be on Potter's side at Chelsea
Mark Langdon
Head of sports content at Spotlight Sports Group
I have my doubts, not because he is a bad choice on paper to replace Thomas Tuchel, but more that he could easily be sacked before being able to mould the team into his image.
Potter looked ready to take on a big-six role and he has a lot of the stylistic attributes needed for a top job. He is tactically flexible and with a clear gameplan but of all the elite Premier League jobs this is the one he seems least well matched too.
I don't see him being given time like Mikel Arteta for instance and there is also a question mark as to whether Potter's magic will quickly work in a more difficult dressing-room full of overblown egos.
Chris Rivers
Sports journalist at Racing Post
It would be a nice story if Graham Potter did succeed at Chelsea given how he's worked his way up the coaching ladder but the reality is he faces an uphill struggle.
It took Potter quite a while to get Brighton playing how he wanted and they went through some lean periods during his reign where Seagulls supporters openly questioned if he was the right man to be in charge.
Potter was given plenty of support by Brighton but life at Chelsea will be very different with the new Blues ownership proving to be just as ruthless as the last regime when axing Thomas Tuchel.
Potter needed time and patience to make Brighton an effective unit but will find both those key ingredients in short supply at Stamford Bridge.
Joe Champion
Sports journalist at Racing Post
If he starts well, then I expect he will be a success, but that's easier said than done and time appears to still be a valuable commodity at Stamford Bridge.
Roman Abramovich was quick to make managerial changes and the evidence suggests that Todd Boehly is cut from the same cloth as far as patience is concerned.
The Blues were busy in the transfer market and the raw materials look to be there for Potter to make a go of it. But given his lack of top-level experience, a slow start could soon see the pressure begin to mount.
However, he's clearly a tactically astute coach who did excellent work at Brighton, and a new-look squad should be eager to buy into his methods.
Aaron Ashley
Sports journalist at Racing Post
I have little doubt Graham Potter is a top-class technician but history suggests he may have to hit the ground running and I'm not sure he will be able to implement his slick style in quick time.
During Potter's tenure at Brighton they had an identity and attacked the transfer window with clear strategy, unearthing hidden gems for a low cost before moving them on for the big bucks.
At Chelsea, however, money's no object and he's dealing with big egos that have worked under some of the most successful managers in world football.
Patience will be required and I hope he's given the respect he deserves, but Chelsea demand immediate improvement and he's expected to transform a squad that he's had no input with.
Tom Hill
Sports journalist at ICS
If Chelsea suddenly change their managerial approach, then Graham Potter has proven that he can excel at the highest level. His meteoric climb through the coaching ranks is remarkable, but he has just joined a club that takes no prisoners regarding its managerial decisions.
While it would be great to see an English coach given time at one of the top-six clubs, he may struggle to handle the numerous egos within the dressing room. Potter is now in uncharted waters, and Brighton's best spell under his stewardship came in the last few weeks.
Getting to that level has taken numerous mediocre seasons, and some long runs without success; any repeat of that and he will be the latest manager to be dumped on the scrap heap by the Chelsea board.
---

Build better bets with our free betting tips, predictions and accumulators, every day.
More betting news:
Women's Super League 22/23 predictions & outright tip
Betting Academy: See our complete guide to football betting
Midway Mega – 60/1 Acca backing four half-time results
Here at Free Super Tips we have you covered. We provide you with detailed match analysis and betting tips from all the top leagues around the world, with our Premier League Predictions, Champions League Predictions and Europa League Predictions among our most popular.