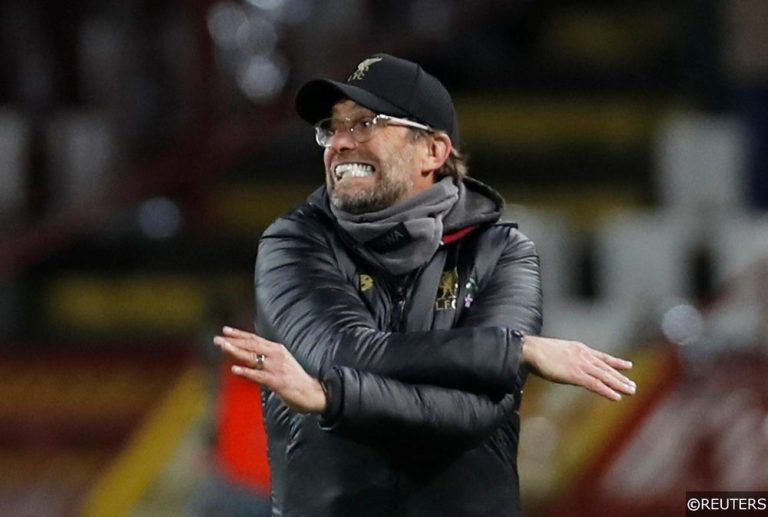 December 24, 2018
Show Bio
A lifelong Birmingham City fan, Tom relocated to Germany for five years after graduating from university, where his interest in the Bundesliga developed. He began writing about and betting on German football for FST in 2016. He's also an avid fantasy football player and closely follows the Premier League and European competitions.
Liverpool fans were given an early Christmas present on Saturday as Crystal Palace pulled off a shock win at the Etihad against Manchester City to leave the Reds four points clear at the top of the table.
Jurgen Klopp and co. can enjoy Christmas Day knowing they are in a very promising position in their bid to win the club's first league title since 1990.
However, there are some omens to suggest it may be wise for supporters not to over-celebrate this achievement just yet.
Ominous signs
History has shown that the team which sits top on Christmas Day usually goes on to win the title…
But twice in the last ten years, there has been an exception to this rule… and it was Liverpool both times.
Should #LFC fans be worried?

🙈🙈🙈 pic.twitter.com/0hr8vlaDcL

— Football Super Tips (@FootySuperTips) December 24, 2018

Liverpool only lost two games all season in 2008/09 but still finished four points behind eventual champions Manchester United despite beating them 4-1 at Old Trafford near the end of the campaign.
And their most infamous collapse undoubtedly came in 2014, with the Reds losing 2-0 at home to Chelsea thanks in part to a Steven Gerrard slip before throwing away a 3-0 lead in a 3-3 draw away to Crystal Palace – also known as 'Crystanbul'.
Liverpool were also unable to capitalise on being top at Christmas in the 1996/97 season, where the emergence of strike duo Owen and Fowler ultimately ended in disappointment…
Fourth time lucky?!

2018/19 is the first ever Premier League season to see three teams go into Christmas on 40 points or more… and it's the first time it's happened in the English top flight in 33 years.
Last time it happened? 1985/86.
Manchester United, Liverpool, West Ham, Chelsea, Sheffield Wednesday and Everton all managed it that year… and guess who went on to win the title? Liverpool.
Interestingly, the last time Palace beat City was 28 years ago – when the Reds last tasted top-flight glory too.
So maybe there is no reason for Liverpool fans to be worried after all…
Let us know what you make of Liverpool's chances to win the Premier League over on our Twitter.