On Saturday evening, local antagonists and bitter rivals United and City will wage war on an Old Trafford battleground for points and pride in the 183rd Manchester Derby.
The feuding neighbours have had an almost complete role reversal over the past decade, with City careering past United to claim dominion over Manchester, leaving the Red Devils to feed off their scraps as plucky underdogs.
However, this weekend, in something of a rare occurrence, United will kick-off the Derby one point and one place ahead of their territorial adversaries, and the hosts' promising recent record against City will make them confident that they can hold on to that advantage.
The Citizens will cross town priced as heavy favourites to win however as United once again reprise their roles as Derby long-shots on Saturday.
For a detailed analysis of this weekend's contest, check out our Manchester United vs Manchester City predictions.
---
Solskjaer and Guardiola go head-to-head
Only two managers have ever beaten Pep Guardiola three times in single season. Jurgen Klopp did it with Liverpool against Manchester City in 2017/18, and Manchester United's much-maligned boss Ole Gunnar Solskjaer completed the same hattrick last term in 2019/20.
United started last season's Derby blitz almost a year to the day in December last year, when a ferocious display of first half counter attacking saw them race into a 2-0 half time lead at the Etihad, before Solskjaer's charges survived a late City onslaught to claim three points and to ease the growing pressure on the Norwegian manager.
Ole and Pep locked horns again a month later when United and City were paired together in the Carabao Cup semi finals, though the Citizens showed their mettle with a 3-2 aggregate thanks largely to their 3-1 first leg triumph at Old Trafford.
United upset the odds to claim a return fixture victory at the Etihad Stadium through a solitary Nemanja Matic effort, though City progressed and eventually lifted the cup.
In March earlier this year, Solskjaer and United recorded their third victory of the campaign against City in front of the last packed house at Old Trafford just before the onset of the COVID-19 pandemic.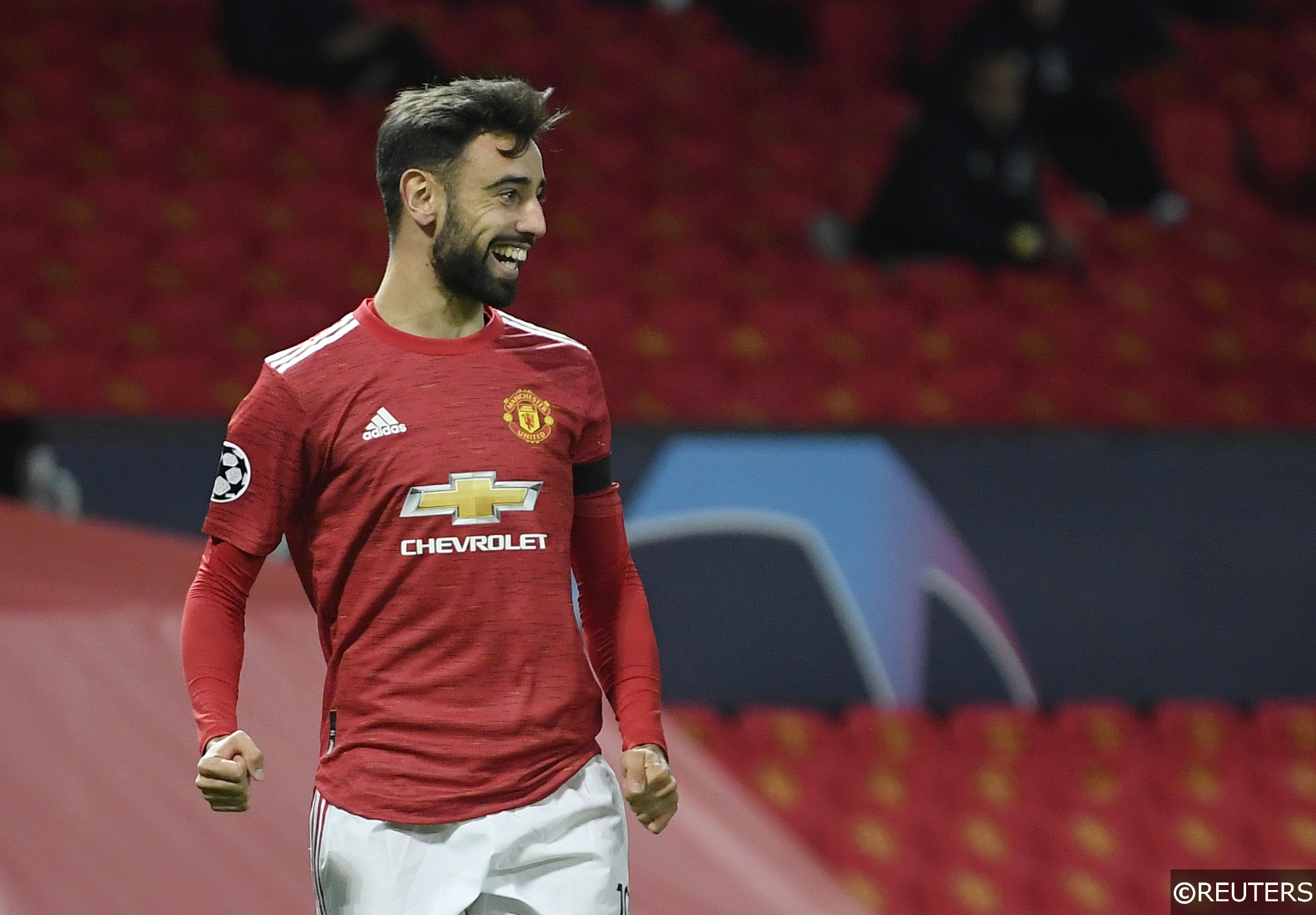 An early piece of ingenuity from Bruno Fernandes and an injury time long range punt from Scott McTominay helped United to a 2-0 triumph over their sky-blue peers.
In total, Ole Gunnar Solskjaer holds an impressive 60% win rate in games against Pep Guardiola, a figure that dwarfs Liverpool supremo Jurgen Klopp's 45% equivalent figure against the Catalonian boss. Guardiola's long-term nemesis Jose Mourinho has won just 29.1% of his encounters with the ex-Barca manager.
However, before you take screenshots to Twitter, it's important to note that Solskjaer has faced Pep far fewer times than the managers in the aforementioned comparisons.
The Norwegian has come up against Pep and City just five times in his career, while Mourinho and Klopp have come up against Guardiola 24 and 20 times respectively. With nine victories against him, Jurgen Klopp, in fact, has got the better of Guardiola more often than any other coach in the City boss's career.
---
Manchester's future striking stars?
With Pep Guardiola confirming that Sergio Aguero won't start against Manchester United despite his goalscoring return from injury in midweek, the attacking lineup on Saturday is set to be packed to the brim with potential.
Gabriel Jesus is likely to spearhead Manchester City's attack, and with Edinson Cavani and Anthony Martial injury doubts the onus will fall on Marcus Rashford and Mason Greenwood in the red of Manchester United.
That's a combined age of just 65, with none of that trio over the age of 23. Is this the future of the Manchester derby attack?
For Manchester United, it certainly seems that way. Rashford and Greenwood scored a combined 27 Premier League goals last season and, while Greenwood has flown somewhat under the radar so far this season, Rashford has continued delivering with nine competitive goals and four assists.
Gabriel Jesus is more of an enigma though. The Brazilian netted 14 goals in 34 league outings last term but only has two in five so far this season. Statman Dave isn't convinced he's up to replacing Aguero either.
Speaking to FST, he said: "Looking at the goals per game in the Premier League, Gabriel Jesus's goals per game is around 0.4 while Sergio Aguero's is 0.7. Aguero has the best minutes per goal ratio in Premier League history.
"What Aguero gives Manchester City is that ability to get shots off in really tight areas, his touch, his close control and his ability to put the ball in the back of the net."
"For me, Manchester City need to go out there and sign a bigger striker; more of a natural number nine. We're looking at a Calvert-Lewin who can bring the ball down, that can hold up play but also get in the box. OR someone like Erling Haaland over at Borussia Dortmund."
---
Man Utd's and Man City's penalty pandemic
VAR, and by extension penalties, have been the talk of the town in the Premier League this season, and when the subject of penalties come up a mention of Manchester United is never far behind.
Turns out it's with good reason as well. Since the start of last season no other Premier League club has won more than Manchester United's 18 penalties, but Manchester City aren't far behind either. They have the third most penalties won in that period, placing the ball on the spot 13 times.
So, unfortunately for everyone, we can expect yet more tedious talk of soft penalties and VAR again on Saturday.
---
More FST News: 
Weekend lookahead with Statman Dave
Three Premier League clubs among the favourites as Europa League enters knockout phase