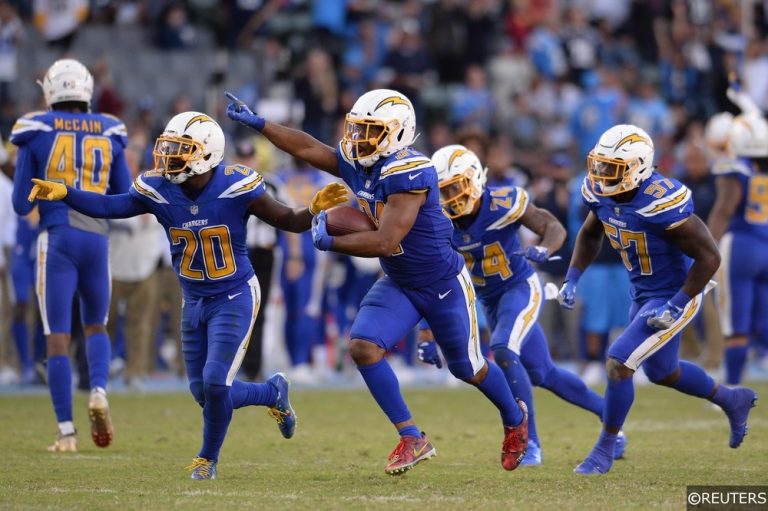 The NFL season is winding down as Week 16 approaches this weekend. The AFC and NFC playoff races are both heated with competition and it will be interesting to see which teams can pull through and secure the final postseason spots. But for others, the offseason can't come soon enough as it provides these teams a chance to rebuild through the draft and free agency. To prepare you for the madness surrounding the playoff hunt, we have ranked every team in the NFL to show you where your team stands as the regular season winds down to a close. (All records as of December 2th, 2018)
Biggest Rise (since Midseason Rankings): Indianapolis Colts (Up 19 spots)
Biggest Fall (since Midseason Rankings): Carolina Panthers (Down 14 spots)
The Top 10
1. Los Angeles Chargers (11-3)
Up 5 spots since midseason rankings
With all of the other top teams taking turns cashing in bad performances every other week, it's hard to not consider the Chargers the best overall team in football. They have the 2nd best offense in the NFL according to DVOA and QB Philip Rivers is having arguably the best year of his career. They have plenty of talent at the skill positions but will need to stay healthy in order to contend for the Super Bowl. The Chargers' defense is also finding its form as their coverage and pass rush have gotten better as the year has gone on. The comeback win over Kansas City this past week was beyond impressive given the injuries and officiating that they had to overcome.
2. New Orleans Saints (12-2)
Down 1 spot since midseason rankings
The Saints have been in a funk lately, which is why they have to be put below the Chargers at the moment. Oddly enough, the defense is carrying the team right now as they have given up 17 points or less in six straight games. This is a great sign for Saints' fans because it means they can win sloppy games (like the Carolina victory) when the offense isn't necessarily clicking. Once the Saints figure out how to get out of their offensive slump, they will be the most feared team in football yet again.
3. Kansas City Chiefs (11-3)
No change since midseason rankings
The loss of RB Kareem Hunt cannot be understated and it could be the reason the Chiefs fall short this year. Although they have plenty of other backs, its hard to replace an All-Pro running back like Hunt. But the Chiefs still have plenty to work with offensively and as bad as the defense is, they still do have one of the best pass rushes in football with Dee Ford, Justin Houston, and Chris Jones leading the way. The Chiefs' incredible #1 ranked DVOA offense gives them a chance against anybody, but their defense has been especially bad in the second half and this might end up costing them in the playoffs.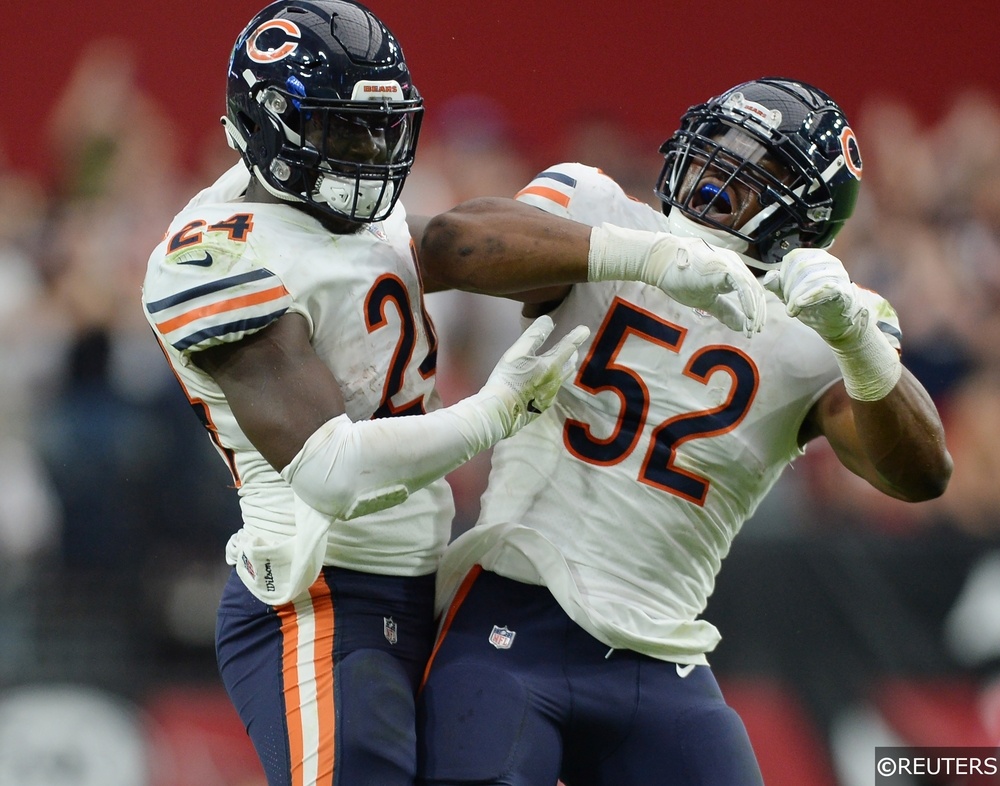 4. Chicago Bears (10-4)
Up 10 spots since midseason rankings
It feels weird putting the Bears this high when they have Mitchell Trubisky under center, but their defense alone warrants the ranking. The Bears are solid at every level defensively, which has enabled them to be the best defense in the league against the pass and run according to DVOA. The offense isn't great but they do have a solid running game and HC Matt Nagy's creativity helps cover up some weaknesses in their offense. All in all, the Bears have the recipe to winning in the postseason: run the ball and play great defense.
5. Los Angeles Rams (11-3)
Down 1 spot since midseason rankings
Problems in Los Angeles have arose the past couple of weeks as the Rams' offense seems to have taken a step back. QB Jared Goff doesn't look nearly as good if the running game can't get going and on the defensive side of the ball, people are finally beginning to see that CBs Marcus Peters and Aqib Talib are both extremely overrated. The Rams' problems at linebacker and in the secondary are finally taking center stage, so this is putting even more pressure on an already over-relied on defensive line. There is plenty of talent on this squad, but they'll need to get over this hump if they want to be Super Bowl contenders.
6. Houston Texans (10-4)
Up 4 spots since midseason rankings
After losing their first three games, the Texans have gone on a tear as they've won 10 of their last 11. Defensively they are great against the run and DE JJ Watt has returned to form. But the most impressive story has been the resurgence of QB Deshaun Watson, who has led the Texans to the 11th best DVOA passing offense in football. All is good in Texans' camp when they don't turn the ball over, but it will be interesting to see how this young group handles pressure and adversity in the postseason.
7. Indianapolis Colts (8-6)   
Up 19 spots since midseason rankings
Indy being this high might surprise a lot of people but according to weighted DVOA, in which recent games matter more, their offense and defense are both ranked 9th overall. The defense's 'bend don't break' identity has served them well, as they don't allow many big plays and their linebackers have enough speed to close down on underneath routes. Now that the offensive line and running game have emerged as solid units, the biggest concern for Indy is playing on the road, which is where QB Andrew Luck has shown some inconsistency. Otherwise, this Colts' squad is a scary team to face if they can win out and take the last AFC Wild Card spot.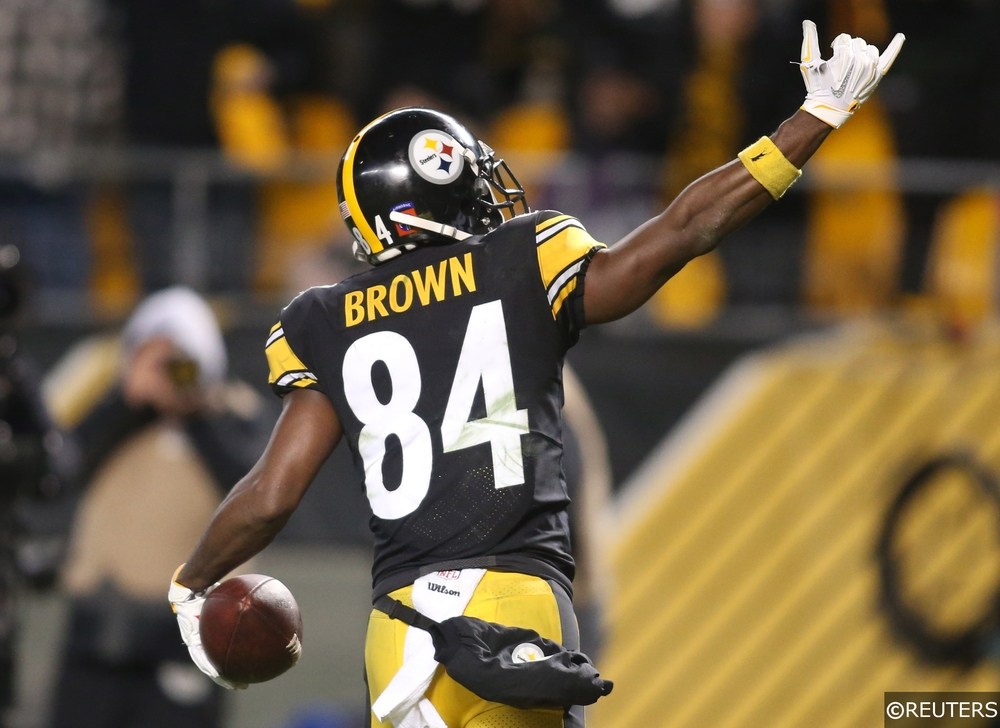 8. Pittsburgh Steelers (8-5-1)
Down 3 spots since midseason rankings
Last week's win over the Patriots was a huge confidence boost for this Steelers group, especially given how inconsistent they've been this season, but we'll find out even more about this squad when they travel to New Orleans this weekend. For now, the offense is always a threat as long as Big Ben takes care of the football, as Antonio Brown and Juju Smith-Schuster are one of the best WR duos in the league. Their pass rush has also stepped up as they are tied for the second most sacks in football. The X-factor down the stretch will be whether their elite offensive line can stay healthy to open up running lanes and protect Roethlisberger.
9. New England Patriots (9-5)
Down 7 spots since midseason rankings
Its been a tough few weeks for New England as they've dropped back to back games against the Dolphins and Steelers, and now they will have to get over losing WR Josh Gordon, who will be sidelined for the rest of the season to address some personal issues. Teams are finally starting to realize that pressuring QB Tom Brady is the key to beating this side, but the more alarming sight has been the defense. They can't generate a pass rush and rank 19th in weighted DVOA defense. Of course they are still the Patriots and won't go down easily, but it looks like there are some definite weaknesses that can be exposed with this year's Patriots team.
10. Seattle Seahawks (8-6)
Up 3 spots since midseason rankings
Somehow, someway, the Seahawks are looking at the playoffs this year thanks to HC Pete Carroll, the front office, and QB Russell Wilson. Seattle is usually built on their defense, but this year its been their #1 ranked rushing attack that is getting it done. Wilson is also having a great year and leads the league in big-time throw percentage as measured by Pro Football Focus. Seattle is a scary team to face in the postseason and have the chance to make some noise if their young defense can step up.
The Mid-Tier
11. Baltimore Ravens (8-6)
Up 6 spots since midseason rankings
QB Lamar Jackson has been a substantial upgrade at the position for Baltimore and HC John Harbaugh has done an excellent job with their new scheme. The Ravens' rushing attack not only helps them succeed offensively but also allows them to control the time of possession to keep their defense off the field. And when their defense is called upon, it shows up in a big way. Baltimore's defense ranks 2nd in pass defense and 6th in run defense according to DVOA but they do have a problem forcing turnovers. Trouble will arise if the Ravens get down early and it forces Jackson to win the game with his arm, as he has not yet proven himself as a viable passer in this league.
12. Minnesota Vikings (7-6-1)
Down 5 spots since midseason rankings
If they can hold onto the final playoff spot, the Vikings will be a scary team to face in the Wild Card round. Their defense is returning to form and the offense is very talented but has been inconsistent this season. It will all come down to whether QB Kirk Cousins performs like the man he's paid to be. The Vikings' surely can make some noise with the amount of talent they have but the offensive line will have to step up as well.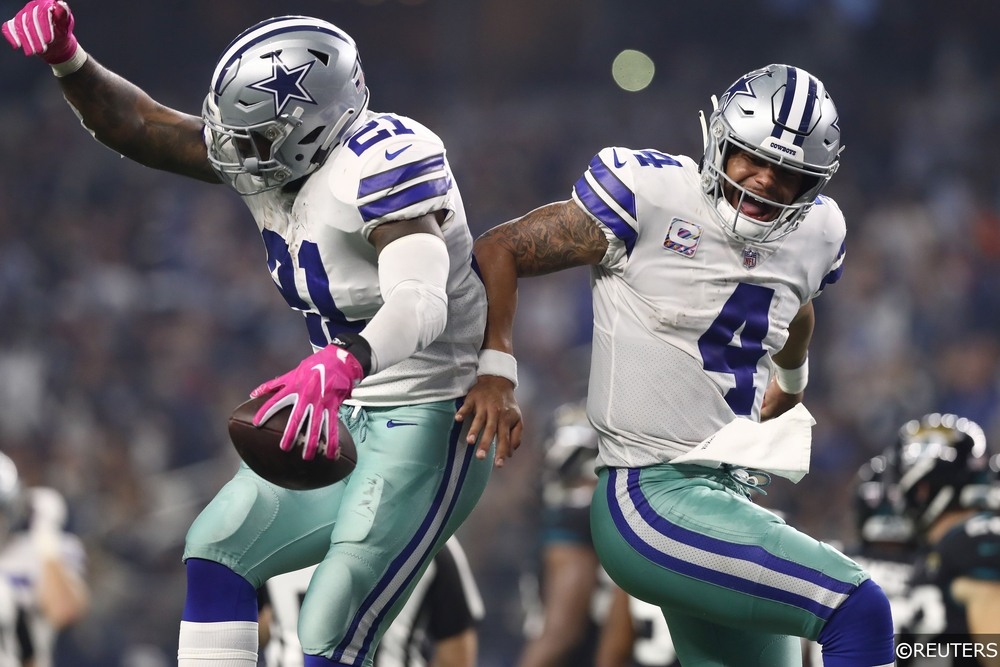 13. Dallas Cowboys (8-6) 
Up 8 spots since midseason rankings
The Cowboys loss last week was a wake-up call to Cowboys fans across the country. Yes, the defense is good but not as good as advertised. On offense, QB Dak Prescott has finally come back down to Earth and HC Jason Garrett has reverted to not giving RB Ezekiel Elliot the ball (for reasons that cannot be explained). The Cowboys have played well against good competition and the acquisition of WR Amari Cooper has helped the offense, but this isn't the year for Dallas to take their next step.
14. Philadelphia Eagles (7-7)
Down 6 spots since midseason rankings
Having Nick Foles under center seems to have bolstered the Philly offense, but their secondary is still a big issue. The running game has virtually disappeared and up until last week the WR corps wasn't being fully utilized. As of now, its going to be tough for the Eagles to sneak in the playoffs, but they do have one of the best defensive lines in football that can help them stay in games as the season winds down.
15. Tennessee Titans (8-6)
Up 3 spots since midseason rankings
The Titans have been a hard team to get a read on this year as they have been one of the more inconsistent teams in the league. QB Marcus Mariota has still not proven himself as a passer, but it seems the offense has finally adopted their identity of being a run-first football team. RB Derrick Henry has been a workhorse the past few weeks and should continue to find success. Tennessee's defense is decent, but needs more playmakers in order to get to the next level.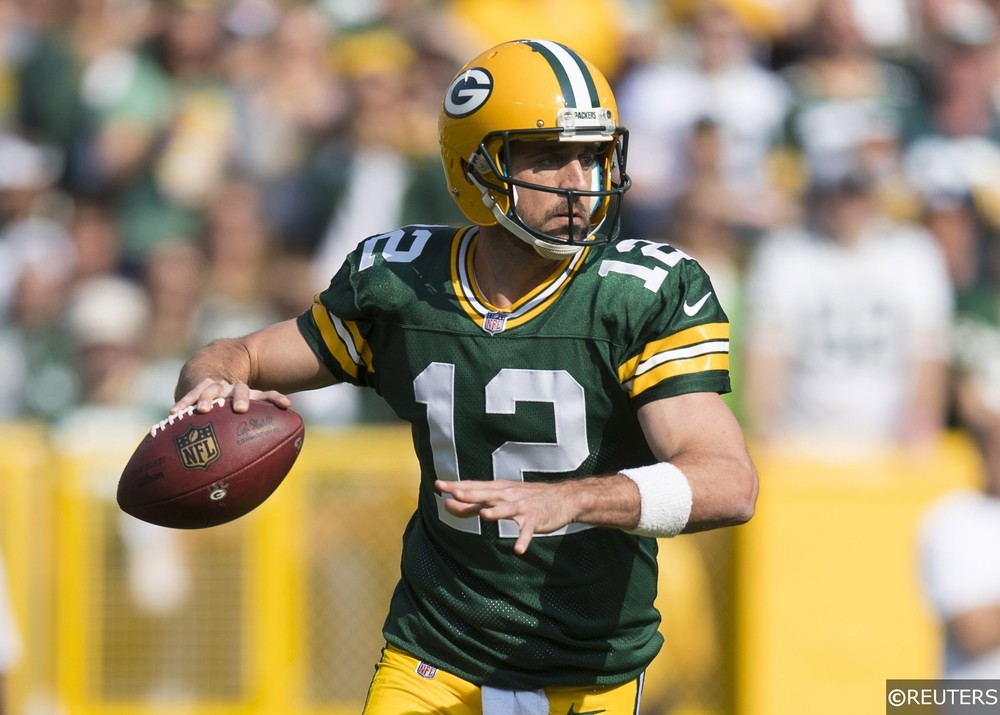 16. Green Bay Packers (5-8-1)
Down 7 spots since midseason rankings
It's been a tough year for the Pack and QB Aaron Rodgers probably wishes former HC Mike McCarthy was fired sooner. But as of now Green Bay is officially out of playoff contention and riddled with injuries on both sides of the ball. One bright spot defensively has been rookie CB Jaire Alexander, who has had an excellent year for the struggling Packers' secondary.
17. Cleveland Browns (6-7-1)
Up 5 spots since midseason rankings
There is a lot to be excited about in Cleveland as the Browns keep finding ways to get it done. QB Baker Mayfield is having by far the best season out of the rookie QBs and its helped Cleveland win four of their last five games. There is plenty of young talent between RB Nick Chubb, CB Denzel Ward, and others and they should help lead this Browns' team to more success in the future.
18. Miami Dolphins (7-7)
Up 1 spot since midseason rankings
QB Ryan Tannehill has been great since returning from injury, throwing 8 TDs and just one INT in that span. But the offense has had to deal with a lot of injuries and the defense needs a lot of work. Even so, the Dolphins still have a small chance to grab the last AFC Wild Card spot and it helps that they'll have the Jaguars and Bills to finish up with.
The Lower Tier
19. New York Giants (5-9)
Up 8 spots since midseason rankings
RB Saquon Barkley has been incredible but once he gets shut down the Giants' offense has a lot of trouble moving the ball. Despite QB Eli Manning being past his time, WR Odell Beckham Jr. is still having a good season, but the problem is the Giants don't seem to have a quarterback ready to take over for the aging Manning. On defense, they have a ton of work to do to fix up an aging unit that faces a tough test against the Colts this weekend.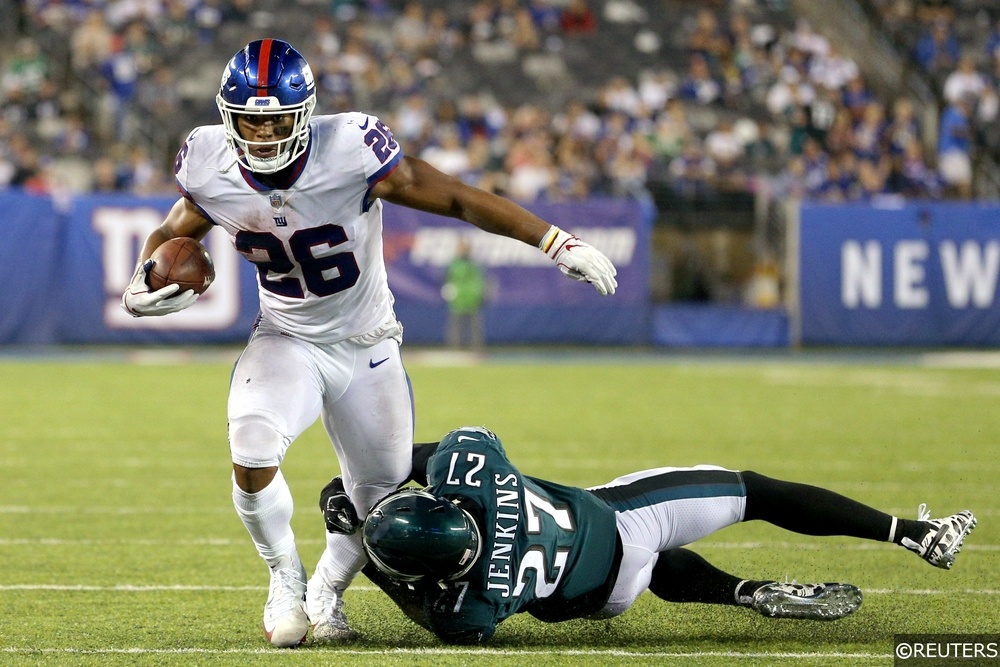 20. Tampa Bay Buccaneers (5-9)
Up 5 spots since midseason rankings
For half of the season, the Bucs seemed to switch QBs every other game between Jameis Winston and Ryan Fitzpatrick. Winston has been leading the group as of late and hasn't been too bad, but the Bucs are still struggling to get any stops defensively. Besides a solid pass rush, the Tampa Bay defense is horrible against the pass and run which is why they find themselves with only five wins. But the talent on offense is there to build upon as long as Winston can stop turning the ball over.
21. Atlanta Falcons (5-9)
Down 10 spots since midseason rankings
What a shocking year its been for the Falcons. QB Matt Ryan hasn't played well in OC Steve Sarkisian's system and production has been slowing down as the season progresses. To be fair, injuries have taken their toll on this Falcons' squad. RB Devonta Freeman's absence took away a steady running game and LB Deion Jones' early season injury took away the heart of their defense. Either way, there looks to be a lot of change on deck within the organization this offseason.
22. Buffalo Bills (5-9)
Up 9 spots since midseason rankings
The Bills are just one win away from surpassing their preseason team total which was set at 5.5. Most of the money was on the under, but thanks to an incredible defense and work-in-progress offense, the Bills still have two chances to grab win #6. Rookie QB Josh Allen has been inaccurate but has shown off his arm strength and surprising running ability. The MVP of this team has to be the defense, which ranks 2nd overall if DVOA weighted defense and has been especially great at home in Orchard Park.
23. San Francisco 49ers (4-10)
Up 7 spots since midseason rankings
QB Nick Mullens has been a pleasant surprise for the Niners, who have found ways to stay competitive in most weeks, especially when they are at home. There is plenty of talent across the offensive line and skill positions so the future does look bright for the Niners. But the downfall has been their defense, which has improved over the past few weeks but is still one of the worst units in football.
24. Denver Broncos (6-8)
Down 1 spot since midseason rankings
Another team that has been brutally inconsistent this year. One week they'll beat the Steelers but then the next they'll get worked by the 49ers. The defense has been good, but they have had some issues in the secondary since losing CB Chris Harris Jr. to injury. The same goes for the offense, which has had to pull multiple receivers up from the practice squad. Its been a tough year for QB Case Keenum but RB Phillip Lindsay has added a nice boost to the running game. Some of the blame for the poor season has to be put on HC Vance Joseph, who's playcalling and in-game decisions have been horrible enough to possibly cost him his job.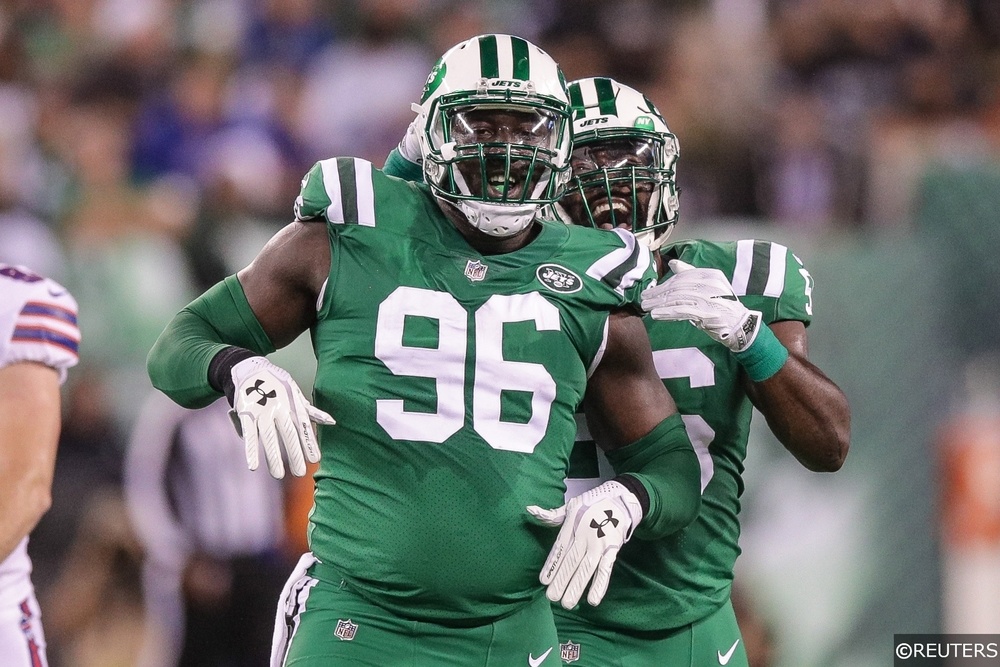 25. New York Jets (4-10)
Up 3 spots since midseason rankings
Rookie QB Sam Darnold has surely has his highs and lows this season, but recently its been more of the former. The Jets played well against a great Texans team and could've came away with the victory if there was anyone in this world who could cover WR DeAndre Hopkins. The defense has been poor at times but S Jamal Adams has proved that he needs to be in the conversation when talking about the best safeties in football.
The Bottom Dwellers
26. Carolina Panthers (6-8)
Down 14 spots since midseason rankings
QB Cam Newton has been shut down for the rest of the season because of his shoulder injury, which is why the Panthers are so low on this week's power rankings. To be fair, Newton wasn't having a great season anyways but backup QB Taylor Heinicke starting is still a huge downgrade. Throughout the second half of this season, the Panthers' offense is too over-reliant on RB Christian McCaffrey, so much so that McCaffrey has basically turned into the de-facto top receiving option with TE Greg Olsen out. Add on that the defense has been miserable against the pass, and you can see why the Panthers' hot start came to a scorching halt.
27. Washington Redskins (7-7)
Down 11 spots since midseason rankings
Many forget that the Redskins are still in the NFC playoff hunt, but chances look slim with 4th-string QB Josh Johnson under center. He played decent last week given that he hasn't started in the NFL in 7 years, but he won't be able to do much with a banged up Redskins' offense. Although the defense was supposed to be great this season, they have greatly disappointed against good competition, and it has cost them a couple wins that should've gone their way.
28. Detroit Lions (5-9)
Down 4 spots since midseason rankings
The once great aerial attack that the Lions have been built on has suddenly vanished due to injuries, poor offensive line play, and poor quarterback play. Even though Detroit is missing their starting RB and #1 wideout, the offense has still been poor under QB Matthew Stafford during the second half of this season. Stafford only has 3 TD passes in his last 5 games and their 31st ranked DVOA defense isn't helping out.
29.  Cincinnati Bengals (6-8)
Down 14 spots since midseason rankings
It's quite impressive that the Bengals' have six wins based on how poorly they've played this season. QB Jeff Driskel has taken over at the moment and has been very underwhelming, but there is a bright spot in the offense with RB Joe Mixon. WR AJ Green has been in and out of the lineup which has allowed WR Tyler Boyd to shine even in a down year for the team. There are a ton of issues on defense that need to be figured out as they have given up the most yards in the NFL this season. That won't win you football games.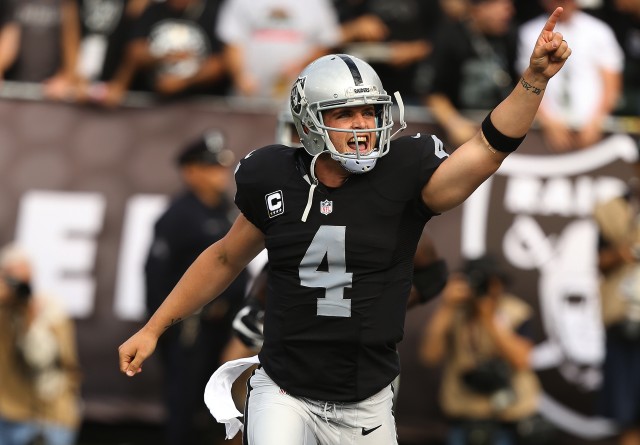 30. Oakland Raiders (3-11)
Up 2 spots since midseason rankings
Their upset win over the Steelers a couple weeks ago was great, but the Raiders are still a mess. There is not much of a running game and what used to be a great offensive line is near the bottom of the league in effectiveness now. QB Derek Carr has been inconsistent at best and the defense has been just terrible. HC Jon Gruden has 9 first-round draft picks to work with, so Raiders' fans will be hoping they can get a couple saviors in the upcoming draft.
31. Jacksonville Jaguars (4-10)
Down 11 spots since midseason rankings
In the past three weeks with Cody Kessler at quarterback, the Jaguars have only scored one offensive touchdown. Let that sink in. RB Leonard Fournette hasn't been much of a help as he's been in and out of the lineup with injuries and their WR corps, which had a lot of potential, seemed to flop in the spotlight. But the craziest part of the Jags' season has to be the demise of their defense. Part of this falls on the fact that they're on the field so often because of Jacksonville's horrible offense, but its still been a letdown year for last year's best defense in the league.
32. Arizona Cardinals (3-11)
Down 3 spots since midseason rankings
The Cardinals have the worst offense in the league by far and rookie QB Josh Rosen has been horrible to be quite honest. RB David Johnson hasn't found much success since teams are just stacking the box on him, and the defense has a couple good players but has gotten gashed a couple times. With the first pick in the 2019 NFL Draft, the Arizona Cardinals select…
Free NFL Predictions, Picks & Betting Tips
Follow Free Super Tips on Twitter to stay up to date with all of our daily predictions or browse more sports betting content on our website: