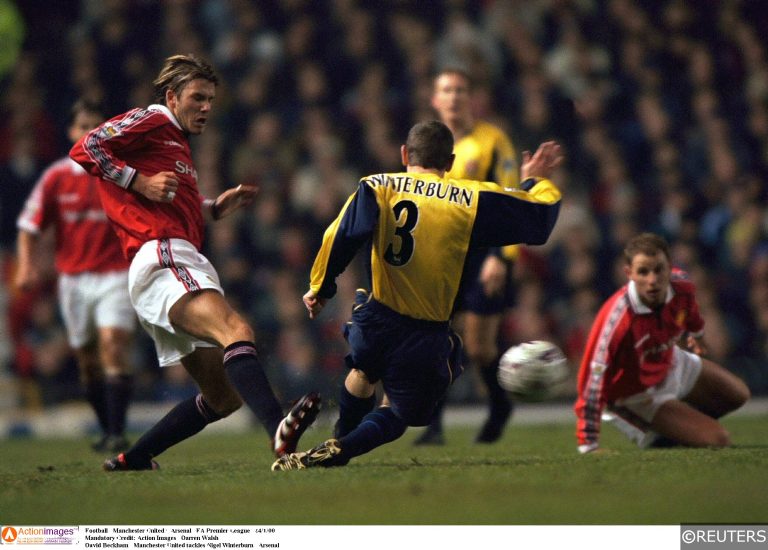 With Arsenal still sitting at the top of the premier league table after 7 games, we caught up with ex-Gunner Nigel Winterburn to discuss their chances of winning the title this season.
---
What have you made of Arsenal's start to the season sitting top of the league ahead of the international break, how impressive was that game against Brentford?
Well, we saw last year what Brentford did to Arsenal.
We can talk about the covid situation and Arsenal's line up that day, but I've said before it was a good opportunity for Mikel Arteta to work on this team without having any European football last season.
It gave him time to work with the squad and they've now added in certain areas to help with his vision.
Let's be fair, Arsenal came up short last season in games and ultimately the top four race.
The position they got themselves into after that start, they should have got into the top four.
The form fell away at the end, but they've reacted by adding quality to the squad.
What I like about the additions of Jesus and Zinchenko are not only the players themselves, but the mentality they bring to the football club.
In training and in games, at this moment in time is showing through.
Arsenal are playing some really good football and the team is looking strong.
People keep saying they haven't played anybody yet, but this league is so competitive that if you are 10% or 15% off your game, then you get beat.
So, it's alright saying it, but you've got to go out there and beat these teams and Arsenal have done that so far.
They've beaten Crystal Palace and Brentford who were games they lost last season, so Arsenal deserve to be where they are at the moment.
Mix that in with what has been a strange start to the season for other clubs, then it's looking good at this moment in time.
What changes have you noticed in this Arsenal side compared to last season?
I think they're keeping the ball better; they move it better and they move it quicker.
They've got lots of pace up front, they can press high if they need to and you can see that Jesus is usually the trigger for that because he's so lively.
He's so strong as well and just occupies the opposition back line so well and it's complimented with the wide players in the team in Saka and Martinelli.
Odegaard has played really well too, there's good combination from the back going forward.
Listen it's not all been perfect, but the good periods for Arsenal, they've dominated teams and got the goals they've deserved.
So, I think they're just playing with a new confidence and belief which is really nice to see.
Are Arsenal in a genuine title race, and will Mikel Arteta be telling his players they are in one?
I don't know what he's telling them, but it's working.
At the start of the season, I still thought that top four would be their aim.
It's still very early to decide whether Arsenal will have that consistency to potentially be in that conversation.
No one would have put them in that bracket, everyone would have said it was between Manchester City and Liverpool.
Liverpool have been way off from where they were last season so far and Manchester City seem to be rolling along nicely.
If Arsenal can get anywhere near Manchester City, then they're going to be close to being second.
At the moment you don't want to get carried away and say that they'll challenge for the title.
I say that because even with the additions, we were well away from that level last season.
But you have to take your opportunities when they open up for you and at the moment Arsenal are doing that.
If anybody slips up, then you've got to make sure that you're the team that can take advantage of that.
We've done it so far, but we're only seven games in so it's very early to come to any conclusions.
We've then got the disruption of the World Cup, so I think the first thing Mikel Arteta will be looking at is making sure Arsenal are in a strong position come the World Cup.
Then you can go again, if we're top or in and around it points wise, which is looking likely right now, then I think you can start getting excited going into the second half of the season.
The team are doing a great job and I don't think talking about titles at the moment is right because it's so early.
But what we can say right now is what Mikel Arteta and Arsenal have done so far this season is very impressive.
Is top four still the aim for this team or should they be looking at a potential cup trophy to add to a top four finish? Would it be disappointing if they didn't win a trophy?
I think clubs like Arsenal are always aiming to win trophies, but you're always realistic of positions you put yourselves within seasons.
League titles haven't been realistic for Arsenal in the last few seasons for sure because they haven't been strong enough or anywhere near it.
I can understand why people are getting excited at the moment, but for me I keep saying what I said at the start of the season which was a top four position.
At some stage, if you're inside the top four there will come a time where you can put pressure on the leaders.
I do believe that at some stage, but you look at the cup competitions and I've said before that it's important that Arsenal go a long way in at least one, if not two of those cup competitions.
I think that is realistic, at the moment you'd say if we won a cup competition, finished in the top four and finished closer to the league winners, then that's a sign of progression for Arsenal.
But I think as the season goes along, you can change your objectives and as things start to play out you can see what is realistic and what isn't.
Ethan Nwaneri became the youngest player in Premier League history on Sunday, have you heard anything from within the club about his development?
To be honest I haven't heard a lot about him.
This season I've covered the U21 game against Brighton, but he's sort of just popped up out of nowhere.
In the eyes of the supporters, we don't know much about him because he's still a kid.
Obviously, there is huge hope for his development, but at 15 people have to be very careful with him that the hype isn't something he becomes enrolled in.
You've just got to let the boy play football and enjoy himself.
He came onto the pitch, so it shows that Mikel Arteta has some belief in him.
There's a lot of good young players coming through, but you've got to look at the history of the Premier League to say how many young kids come through to the first team on a consistent basis.
How many, from a percentage wise, stay at a big club and play a lot of games for that club?
The percentage is miniscule, it's ridiculously low so you've just got to let the boy play and not get carried away.
There's obviously something there, but we'll see the majority of his development in the junior levels rather than in the first team.
He may come in occasionally, potentially in some of the cup games, but I don't like the overhype of players sometimes.
Yes, we can get excited when its players coming through your club, but they've got to have a natural progression.
Some can physically come into the team quicker than others, but others need more time to develop so let's just wait and see.
It's a great achievement for the young man, but in real terms he hasn't achieved anything yet.
I would think his long-term aim will be to make a significant number of appearances for Arsenal's first team.
When you get to this step, a lot of players think you've made it once you get to the first team.
But in fact, when you get into the first team and start playing consistently, that's only the start of your journey.
Then you've got to prove to everybody that you have the talent, desire and belief that you will stay there.
A lot of players at a young age, it seems to affect them.
Some will still have good careers elsewhere and be successful in their own right, but to be at the very top it's all about your own attitude.
People underestimate the mental side of the Premier League as well; you have to be able to cope with the ups and downs along the way.
It's about you as the individual and how you deal with these things, you can have all the hype, but if your level drops the criticism will come.
Players have a lot of things to deal with, but I think a prime example of how it's done is Bukayo Saka.
What that young man has done and achieved already shows the younger players what levels you need to reach.
After that, then you start to think 'yeah we've got a player here'.
William Saliba is winning a lot of plaudits for the way he's slotted into the team, how important is it for Arsenal to tie him down after the summer interest around him?
Saliba is still interesting me because he arrived with a huge reputation.
For whatever reason things didn't quite work out as quickly as a lot of people would have hoped.
It looked like he was going to leave in the summer, but he's been very impressive since he came into the team.
He can read the game very well, he's quick and looks like a good defender, so I think it's important that Arsenal do not let that contract get into next season.
If they do, then they'll end up putting themselves in a whole lot of trouble.
I don't think it's difficult because you ask the player if he wants to stay, if they do then you sort out the contract.
For me I don't understand why these things can be so complicated now.
If you're enjoying your football and enjoy where you are, then sort the contract out and get it done as quickly as possible.
I don't really see the difficulty in that, but we have seen in the past that it can be complicated with some players who let their contracts run down.
Maybe it's just because it was so different from when I was playing, I always found it quite simple.
I wanted to be at Arsenal, so any contract offered I signed up until the point you feel that your time is coming to the end which is what happened.
For someone young like Saliba, he's getting a lot of game time, he's enjoying his football so don't let that contract run down and cause issues down the line.
Money isn't everything, enjoying what you do is really important, and Saliba is currently a big part of this Arsenal team so I wouldn't expect any problems.
What did you make of Fabio Viera coming in for the injured Martin Odegaard? Did he impress you against Brentford?
He was impressive.
We saw in the Europa League that he looked a little bit off the pace and that's just because he hasn't had a lot of game time.
He had that injury and of course he's a new player so there's a new system and way of playing to learn.
I fully understand that and why he wasn't quite up to speed in his first start the other week.
But I thought his performance against Brentford was impressive and I'll admit I wasn't expecting it from what I saw previously.
It looked like he might need a little bit of time to settle in, but it was a good performance.
He looks confident on the ball; he can pick out a pass and of course it was a wonderful finish at Brentford.
We're looking for that on a regular basis now and that will be what he'll be hoping for.
Arsenal's next game is up against rivals Spurs after the international break, 1st vs 3rd how do you see this game going, will we be in for an entertaining game?
I don't think anyone is surprised at my prediction for the game.
Also, history tells you that Arsenal at home have got a fabulous record, so I back my team to win as I always do.
We've had some sensational games between the two over the years and I just hope Arsenal put in the level of performance that we know they're capable of.
Hopefully they make sure my weekend will be a happy one.
Who is better placed to finish above the other considering how the two teams are looking so far?
Tottenham finished above us last season, so I can't argue with that fact.
Yes, Tottenham have made strides forward since last season, Arsenal have dropped from where they were at one point.
Arsenal now look as if where the fans expect the team to be.
At this moment in time, I'm not interested what Tottenham are doing because they're still not winning any trophies.
The only thing I'm interested in is where Arsenal go this season and I have to say so far I am excited to see what they can achieve.
Of course, there will be blips along the way, but I'm hoping we see a much stronger response to these blips than last season.
That will be the key to watch from Arsenal because they will lose games, hopefully not too many, but can they bounce back with a victory is the important question.
I felt at times last season we weren't good at doing that and we fell away at the end where the points total was poor in the last few games.
I'm happy with how Arsenal are looking and of course I will always predict that Arsenal will finish ahead of Tottenham.
Of course, I would or I would get slated every time I went to the Emirates, but I think people know me well enough that I would never predict that.
It's just not in my blood to predict such things.
Would you make any changes to the starting XI for the North London derby providing everybody is fit? Who misses out?
From the Brentford I would assume that Odegaard would potentially come in for Viera.
Other than that, I don't see many other changes if everyone's fit.
I thought Tomiyasu would come in at right-back, but Ben White's done a fabulous job there.
He's cool and calm on the ball and I think he's made a great start to the season.
His level of performances is stopping Tomiyasu from getting back into the team, so that's why I don't see many changes.
I would only suggest that Odegaard comes back in because of the way he's been performing.
Zinchenko maybe if he's fit at the moment, but I was pleased for Kieran Tierney at Brentford because he had a good game.
I thought he looked a little off the pace when he first came back in and he looked back to what I would expect from him last weekend.
That would be the only other change that could happen, but I think Zinchenko still has a couple of weeks to go in his recovery, so it could look close whether he would be ready or not.
That's a potential change, but I would definitely say Odegaard comes back in.
The way Zinchenko has been playing, he controls the game from left-back when he steps inside to central midfield which Tierney will be asked to do more of.
But Zinchenko looks a lot more comfortable in that role currently whereas Tierney wants to be further out wide and getting crosses into the box.
It'll be interesting to see how that develops, but the only changes I see happening are Odegaard and Zinchenko if they're both fit.
Ben White has had a solid start to the season, are you surprised that he hasn't made the most recent England squad? What are your thoughts on that decision?
I am surprised, but I never try to predict what England managers do with players.
But I am surprised, he was initially in the last squad so if he was in the last England squad, I don't understand why he wouldn't be in this squad.
Unless Gareth Southgate has left him out because he wants to look at other players.
Ben White hasn't made that many appearances for England, so I would think he deserves a look in, so it's a surprising decision to me.
Especially when you see some of the players in that squad and the club form they're currently producing.
But we've seen this with Gareth Southgate, and I've spoken about it on different occasions when we talk about Jordan Pickford.
People were criticising Pickford and saying he should be left out, but I've always said you've got to look at it from Gareth Southgate's point of view.
When he's come in and played for England, he's never done anything wrong so how do you leave him out.
So, there is going to be a lot of debate over the next 10 days, especially if England don't pick up their form in the next two games.
England have dropped off a little bit in terms of performances and what we expect to see.
It's going to be interesting watching those games and the reaction of the supporters during and perhaps after.
Bukayo Saka seems to go from strength to strength for Arsenal, is there now an argument that he should be first choice in Gareth Southgate's plans?
Well, he's certainly putting himself in the conversation week after week.
His stats are very good in terms of assists and goals, I actually thought there was a little dip in the first couple of games, but he's found some rhythm in the past two fixtures.
It was only a slight drop because the performances are still there, and I don't think it was ever a massive worry for Arsenal.
The level of consistency that this young man has shown game after game for three and a half seasons or so is astonishing.
It's just so impressive that he seems to be up there at that level, it's always a 7/10 or above.
Occasionally it might drop to a six but it's never a five or a four.
That's what is so impressive about Saka, and I think he probably does deserve to be starting for England on a regular basis.
But we'll all have a debate on England squads, managers and players who deserve to be starting.
But Saka is right up there and there's no doubt that he will play a lot of games for England.
Is it a bit worrying that a lot of the players who Southgate has chosen in the past aren't in the greatest of form going into the World Cup in two months' time?
It's probably the wrong question to ask of me because I tend to focus on what's going on in the Premier League than the World Cup.
But in my mind, it's because I'm thinking the World Cup is in the summer when in fact it isn't actually that far away!
I would say it is concerning right now because players we've been relying on aren't in the best form.
Some are not playing; some are not near the form we would expect so it is concerning.
Let's see what happens in these next two games and if the team can put in some good performances, but there will be a lot of debate after these two games.
Unless England win both these games impressively, I still think there's a whole lot up for debate for who should or shouldn't be in the squad and who should start when we get to Qatar.
Are West Ham going through a bit of a blip or should there be cause for concern right now with the results they're getting?
Well yes, I know we talk about it being early in the season and I think they will be fine in the end, but they're struggling right now.
You can't get away from that and the longer you struggle, the harder it is to build momentum up going forward.
Even if you nick the odd win, you need to back it up by winning the next one to get that confidence up.
If you have a poor run of results and you lose after winning a game, it's almost as if you feel like 'here we go again'.
They've got the squad to turn it around very quickly, but it's no good in me just saying that they need to do it.
I think they're well off where they have been in the last two seasons and David Moyes is going to have to get that sorted out very quickly.
The atmosphere in the home games last season was sensational and West Ham will need those supporters behind them.
It's been a tricky start and if I'm honest I didn't see it coming, but they have to start picking up results and quickly.
If they miss out on European football this season, does that make it harder to keep hold of Declan Rice next summer?
I would say so because most players want to play European football, obviously most would say they want the Champions League over the Europa League.
We're just assuming that Declan Rice would want that, I think he is happy where he is so people will just assume he would want to leave if West Ham don't get European football.
It will only happen if either his contract runs out, which I'm not quite sure on how long he has left or somebody meets West Ham's valuation of him.
At this moment in time, a lot of clubs would struggle to meet that valuation of what West Ham think he's worth.
It's an intriguing situation, he's part of that squad who need to pick up their form and pick up their results very quickly.
Unfortunately, if they don't pick that form up soon, we've got that World Cup break and they could find themselves in a precarious position.
I think it's so important to make that fast start because a lot of clubs could end up playing catch up after the World Cup.
For some clubs the disruption might be too much this season.
Pierre Emerick-Aubameyang made the switch to Chelsea in the summer, what were your thoughts on him moving there?
It didn't surprise me if I'm honest.
Listen there was issues at Arsenal, they let him go and all of a sudden, he's moved back to the Premier League.
Whether he was surplus to requirements or he didn't think he would get enough game time at Barcelona, who knows.
They might have needed to free up space for other players, so here he is at Chelsea back in the Premier League.
He came back to a manager he's played under before, so it made sense, but unfortunately that manager has now gone.
It's just a case of clean slate and go again.
He had a good period at Arsenal, but it went sour towards the end, but he's got to try and rebuild himself at Chelsea who have had an interesting start to the season.
It'll be a case of can Aubameyang get himself back to the striker he was at Arsenal where he was getting 20 Premier League goals a season.
That's what he will want and what Chelsea will want, obviously from my point of view I hope that doesn't happen because it means they'll be moving up the league.
He's got a new manager to impress, he's got this injury to shake off fully which could play on the back of his mind.
Hopefully it heals quickly, and he can fit into the system that Graham Potter wants to play and then we can see what he does.
We all know what he's capable of on the pitch, but as we know you may have to juggle the other side of it to make sure he fits into all of the managers plans.
We've spoken about Graham Potter in the past and making a move to a bigger club, how big of an opportunity is it for him at Chelsea and how do you think he'll get on?
It's huge for him.
You can't get away from what Chelsea have achieved in recent seasons and years because they've won a lot of trophies.
It's a big risk because history tells you that managers don't last very long at Chelsea, so that's what will be intriguing for me.
He's got a good style of play but recreating it at Chelsea is another question and there will be more pressure on him.
Let's be fair though, he did a great job at Brighton and he's certainly someone who deserves this opportunity.
I think everyone will be watching closely to see what he can do with this Chelsea squad.
He might make a couple of changes in January or next summer, but we live in the here and now so we're looking to see what he does straight away.
It'll be interesting to watch, but I think he deserves the opportunity.
But sometimes when you get it, you've got to grasp it and how long he lasts in the job will be interesting because as I said, history tells you managers don't stay very long at Chelsea.
---

Build better bets with our free betting tips, predictions and accumulators, every day.
More betting news:
Huge 551/1 double tip for this week's golf events
In The Mixer: Expers' insights into England's World Cup hopes
Premier League sack race predictions, odd, & betting tips
Here at Free Super Tips, we cover the entire English Football League. Make sure to check out our Championship Predictions, League One Predictions and League Two Predictions, all covered by our betting experts.