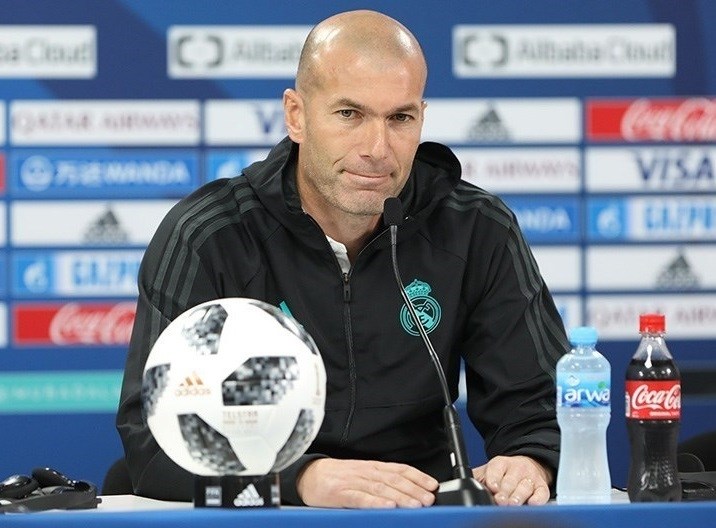 Simon Winter
@simonjwinter
Born in the south east of Ireland, Simon put his life-long love of football to good use when he started a successful independent blog in 2010. That opened up an alternative route to a career in journalism, and having had work published across a number of sites and publications, Simon joined the staff at Spotlight Sports Group in 2018.
(Feature image credit: Tasnim News Agency [CC BY 4.0 (https://creativecommons.org/licenses/by/4.0)], via Wikimedia Commons)
Less than a week after winning the Champions League for the third successive year, Zinedine Zidane has resigned from his position as Real Madrid manager. With the last echo of celebratory fireworks still audible in the streets of Concha Espina and Padre Damián, Zizou has called time on his relationship with Los Blancos, ending a 17-year association with the Spanish giants.
In the hastily arranged press conference, Zidane listed his reasons for leaving, saying: "This is my decision. Maybe it's a mistake. But I feel it's time. If I don't think that we can keep winning then it's time."
Of course, bowing out at the top is the smartest way to leave a reputation unblemished. However, it's also one of sport's most difficult escape routes. To sever ties at the peak of a career takes a psyche capable of conquering an ego engorging itself on success. Because of that ego, bowing out at the top in sports is a rare occurrence.
Zidane has first-hand experience of what it's like to egress the hard way.  Zizou's last act as a professional footballer was his infamous head-butt on Italy's Marco Materazzi in the 2006 World Cup Final. That split-second violent act is remembered as vividly as anything the brilliant Zidane did with a football. The moment was even immortalised in bronze in central Paris as a "tribute" to the Frenchman.
Read more: 5 Biggest Shocks in World Cup History
Maybe the trauma suffered in Berlin was one of the major motivations behind Zidane's decision to take his medals and run from the Santiago Bernabéu? Maybe he's seizing the chance to walk off into the sunset instead of slinking out the back door?
As Harvey Dent said in the Dark Knight: "You either die a hero or live long enough to see yourself become the villain".
Zidane was Real Madrid's 14th manager since the turn of the millennium eighteen years ago. He played under six of those managers himself between 2001 and 2006. Zidane would have been fully aware of just how precarious his position was. There is no hot-seat at Madrid, nobody sits in it long enough for the temperature to rise.
Zidane's competence as a football tactician has been questioned, though maybe the key to success at Real Madrid is not found on the drawing board. Maybe the key is simply maintaining a status quo within a squad of unrivalled ability. Perhaps preventing the vipers from spitting at each other while keeping them inching in the same direction is something Zidane excelled at.
But harmony can only ever be manufactured for a short time at a club like Real. Eventually the vipers will start to devour each other whole.
Cristiano Ronaldo has already been hissing in the press, two-goal hero Gareth Bale's future is also uncertain. With Sergio Ramos, Marcelo, Luka Modric and Karim Benzema all in their early 30s, this Real team might have run its course completely. Champions League success this season just about glossed over a disastrous league campaign by their standards. Real finished 3rd and seventeen points behind Barcelona.
Read more: How Important is Cristiano Ronaldo to Portugal's World Cup Hopes?
The impending re-build required at Real will be a turbulent one and really, who could blame Zidane for not wanting to be part of that? It could very well transpire that he has squeezed every last drop of silver out of an ageing team this season.
In calling time on his own Real Madrid career, Zidane becomes the first manager under Florentino Perez' presidential tenure to leave the club on his own terms instead of being forcefully removed. He leaves as the first manager to win three Champions Leagues/European Cups on the trot in the competitions' 63-year history. Nine titles in two and a bit years. 104 wins from 149 games. There are worse ways to go.
Possible Successors
Speculation about the identity of Zidane's possible successor is already rife. The bookmakers' early favourite is Arsene Wenger, though it feels unlikely that Perez would choose to appoint a manager who hasn't won a domestic league title since 2004. Tottenham Hotspur's Mauricio Pochettino's name has also been thrown into the ring, but with the ink still wet on his new long-term deal, the timing just isn't right.
Antonio Conte has been listed among the options available to Real, though his reductive tactical philosophy would be certain to lead to a fractious relationship with the notoriously impatient Madridistas.
The list of managerial candidates is a short and uninspiring one and following the unprecedented success Real achieved after their promoted from within, maybe some further introspection is required.
Real Madrid club legend Guti has been working with the youth teams at the club since 2013. Born in Torrejón de Ardoz, just 20km east of Madrid, Guti made over 500 appearances for his boyhood club in a career spanning fifteen years.  His status among the club's supporters would help to offset any worries about his lack of experience. With Real's Zidane gamble having paid off immeasurably, keeping things in-house again could make the most sense.
But maybe the most important question of all isn't who should be chosen to take over? Maybe instead we should be asking who would actually want to take over? Who wants to follow the act that brought the house down? Who wants to be tasked with taking over an ageing squad demotivated by their own successes?  Who wants to sit on a lukewarm throne with a poison chalice? Suddenly it looks as though the biggest job in football has become the least attractive one.
Read more: World Cup 2018: Leaving the past in the past; Argentina's final curse
Follow Free Super Tips on Twitter to stay up to date with our daily tips and predictions or browse more football content on our website: