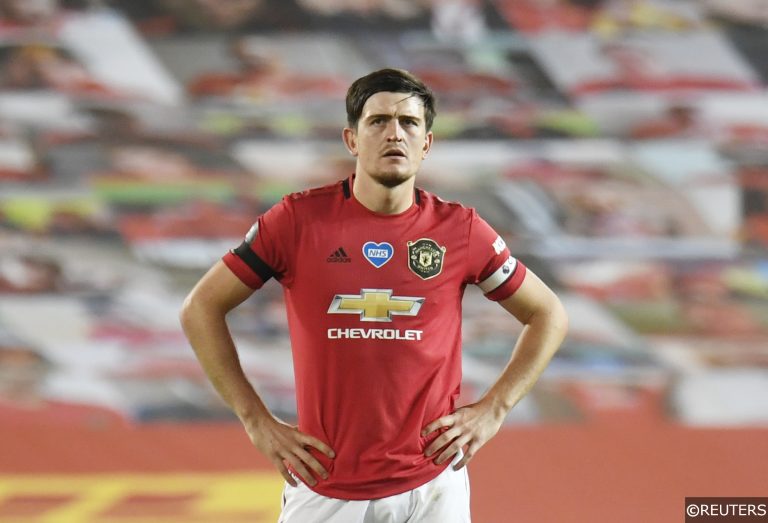 Simon Winter
@simonjwinter
Born in the south east of Ireland, Simon put his life-long love of football to good use when he started a successful independent blog in 2010. That opened up an alternative route to a career in journalism, and having had work published across a number of sites and publications, Simon joined the staff at Spotlight Sports Group in 2018.
When you score an own goal at any level, it feels as though you are mainlining liquid mortification. When a player puts through his own net in the Premier League, that embarrassment is magnified times infinity.
However, along with being a nightmare scenario for the individual player, our research shows that committing football hara-karri has a huge impact on the team's overall chances in a game.
Over the weekend, fans were treated to three prime examples of the kind of power that own goals can wield.
On Saturday, a calamitous Ben Godfrey og doubled already relegated Norwich City's deficit in their final home game of the season at Carrow Road against Burnley, while James Justin's unfortunate own goal for Leicester against Tottenham on Sunday after just six minutes set the Foxes up for their harrowing 3-0 reverse at Tottenham.
Later the same day, Manchester United skipper Harry Maguire diverted the ball past David de Gea against Chelsea to complete a miserable day for the Red Devils against Chelsea in the FA Cup semi-final at Wembley.
Often, own goals are viewed as misery compounding moments that solidify that horrible feeling that Lady Luck has nipped off down the shops for the day, but we've discovered that they have a genuinely potent momentum shifting capacity too.
Keep up to date with all of our latest match previews and betting tips on our Premier League predictions page here.
Premier League Own Goals 2019/20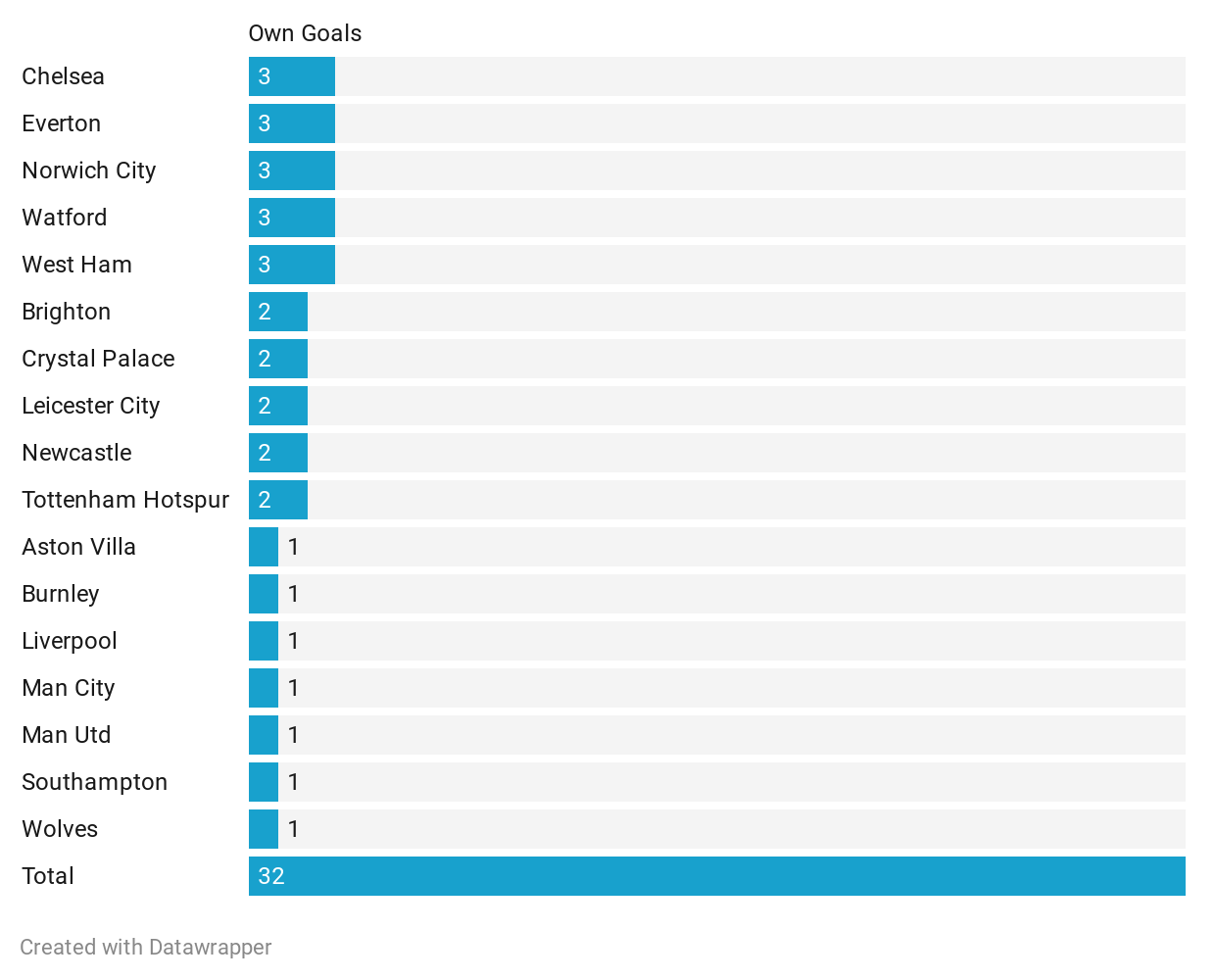 So far this season, a total of 32 own goals have been scored in Premier League fixtures, plundered at the wrong end in 31 separate games.
With three own goals each, Chelsea, Everton, Norwich, Watford and West Ham top the pile for sporting self-harm in 2019/20, and all but three of the division's 20 clubs have dabbled in the art of self-destruction at some point since August.
Sheffield United, Bournemouth and Arsenal are the only clubs that have avoided the ignominy of scoring an own goal ahead of the campaign's final flurry of fixtures.
The season's 32 goals were hit by 32 different players, though somewhat unsurprisingly, 20 of them were scored by Premier League defenders, with Chelsea starlet Tammy Abraham and Burnley slugger Chris Wood the only centre-forwards to notch at the wrong end.
The Effect Of Own Goals on Results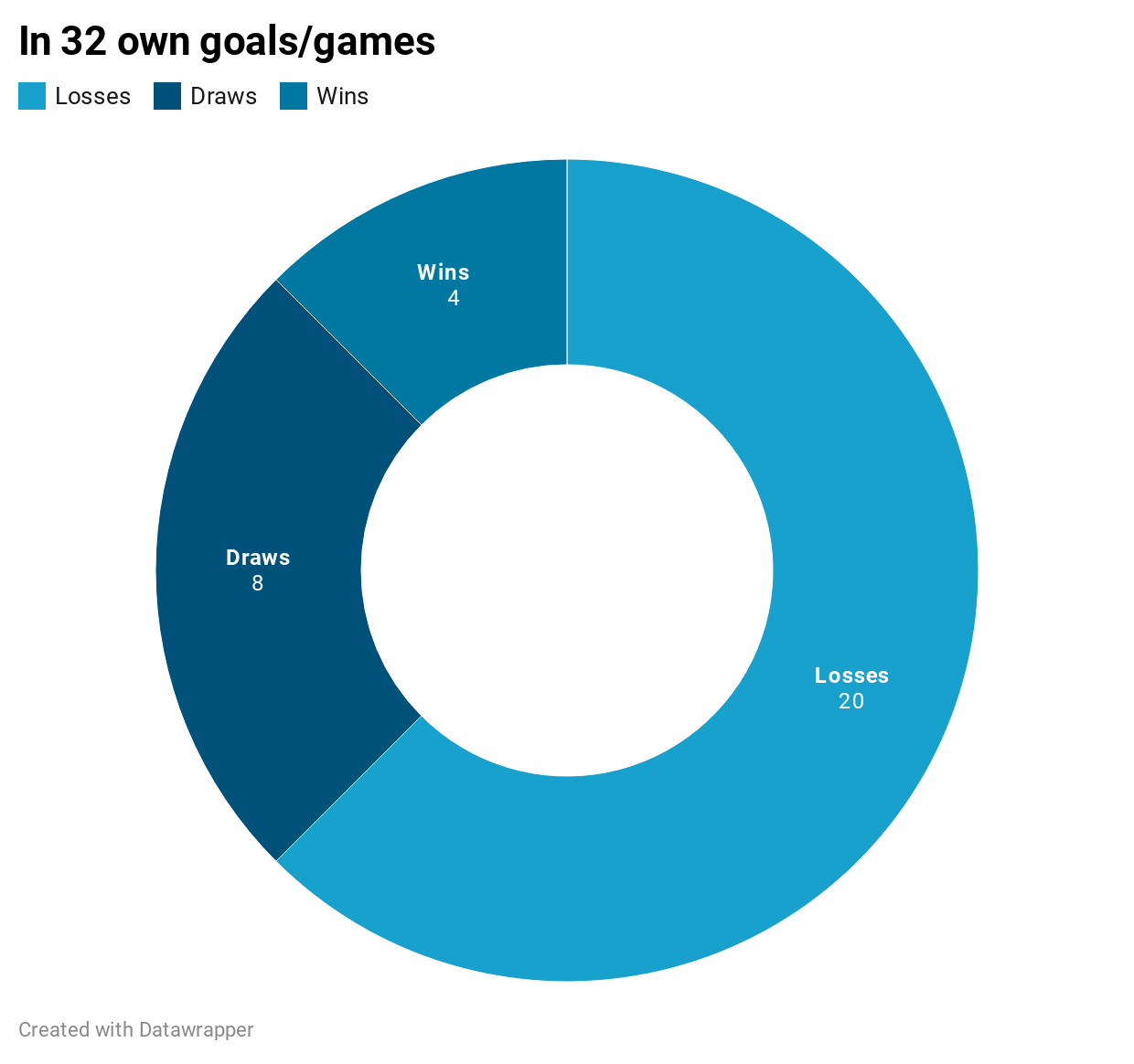 Ok, here is where things get a little more interesting….
In the Premier League fixtures where an own goal was scored this term, the team that scored the OG went on to lose the game a massive 20 times. Eight og-marred contests finished level, while only four og-scoring teams out of 32 recovered to win their games.
Those statistics suggest that own goals have the power to completely pull the rug out from under a team, burying their prospects with one mis-timed shank of a clearance.
In total, the side that scored an own goal this season failed to win 87.5% of the Premier League fixtures they were involved in – a figure that pushes the incredible momentum killing effect of the own goal into clear view.
It seems that the psychological tide-shifting ability of own goals can have huge negative impact on a team's self-belief and outlook for the rest of a particular game.
This season, remarkably few teams have shown the ability to absorb a confidence-shattering blow that an own goal can have.
Chelsea were already four goals to the good at Molineux on September 14th last year before Tammy Abraham, who had already bagged a hattrick for the Blues, scored past his own keeper in the 69th minute.
Brighton put Adam Webster's 20th own goal leveller at home to Everton on October 26 behind them to eventually oust the Toffees 3-2 at the AMEX Stadium, though they needed an injury time own goal winner from Lucas Digne to seal the points.
Tottenham bounced back from conceding a Toby Alderweireld own goal after just nine minutes on February 16th to beat Aston Villa 3-2 at Villa Park, while Southampton were already two goals to the good when Jan Bednarek did the unthinkable at Vicarage Road on June 28, though the Saints steadiest themselves to win 3-1.
Applying the power of the own goal to the betting markets
Essentially, what the data and patterns show, is that a team scoring an own goal at any point during a Premier League fixture is likely to lose the game and almost certain to drop points.
Our research shows that just 12% (four) of the 32 teams that scored an own goal in 2019/20 recovered to win their respective games – and that should prove a really valuable piece of information to be armed with when dabbling in the in-play markets.
So there you have it – own goals aren't just spectacularly embarrassing moments, they have the power to almost completely cripple the conceding team's chances of winning the game. Better keep Phil Jones in the stands Ole.
More FST news
Road to the final paved as Champions League and Europa League draws confirmed
Betting behind closed doors: How lockdown has changed football
FST's top 10 Premier League signings of the season