With Premier League football shelved for the foreseeable future, the time feels right for some retrospection, analysis…….and maybe even a little grassing up.
From tactical fouling aficionados and less subtle hatchet men to elbow swingers and aerial aggressors, every Premier League club has a dusting of players that regularly blur the lines between competitiveness and downright dirtiness.
Some of those who fall into the aforementioned nefarious categories have reputations and records that reflect their on-the-pitch personas, though others have such a profound mastery over the game's dark arts, that they seem to be able to their weight around with relative impunity.
Well we say no more! We're here to shine lights, apportion blame, attach labels and point out the Premier League's most potent merchants of misconduct from the still to be completed 2019/20 season, as well as the ones getting away with it.
Last year, we discovered that Glenn Murray was the division's most subversive aggressor – the Seagulls' hitman was booked just once for every 19.6 fouls he committed last term.
The veteran centre-forward will be quite the act to follow. Check out this year's research below.
Looking for more stats themed articles? Read our 'Facts and Stats from the 2019/20 Premier League Season that Shouldn't be True' now!
Highest Number of Fouls Committed 2019/20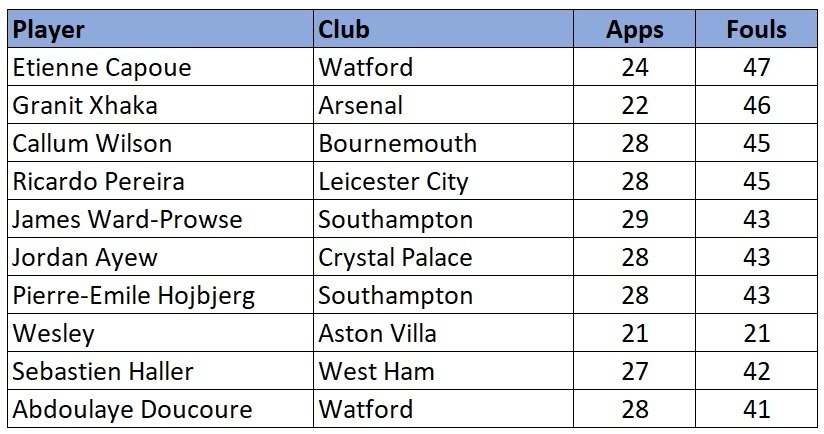 Marauding Watford midfielder Etienne Capoue committed more total fouls than any other player in the Premier League before the 2019/20 season was cut-short by the escalating health crisis.
Capoue stopped his opponents illegally 47 times in 24 Hornets' appearances overall – a figure that puts him just one ahead of Arsenal enforcer Granit Xhaka in the race to be crowned the Premier League's most prolific challenge mis-timer.
In something of a surprise entry, Bournemouth poacher Callum Wilson comes in at number three alongside Leicester fullback Ricardo Pereira. Both players fell foul of the referee on 45 separate occasions between August 2019 and March this year.
Other notable entries include Southampton pair James Ward-Prowse and Pierre-Emile Hojbjerg, who committed 86 fouls between them while patrolling the Saints' midfield.
It's in that midfield battle-zone where 50% of the Premier League's most prolific foulers are found, with 40% of the most potent infringers up front and just 10% in defence.
Last year, Scotland was the best represented country in the division's top ten fouls list, with James McArthur, Matt Ritchie and Callum Paterson making the cut, however, this year France snatches that particular title, with three players (Etienne Capoue, Abdoulaye Doucoure and Sebastien Haller) all kicking their way into contention.
Highest Number of Yellow Cards 2019/20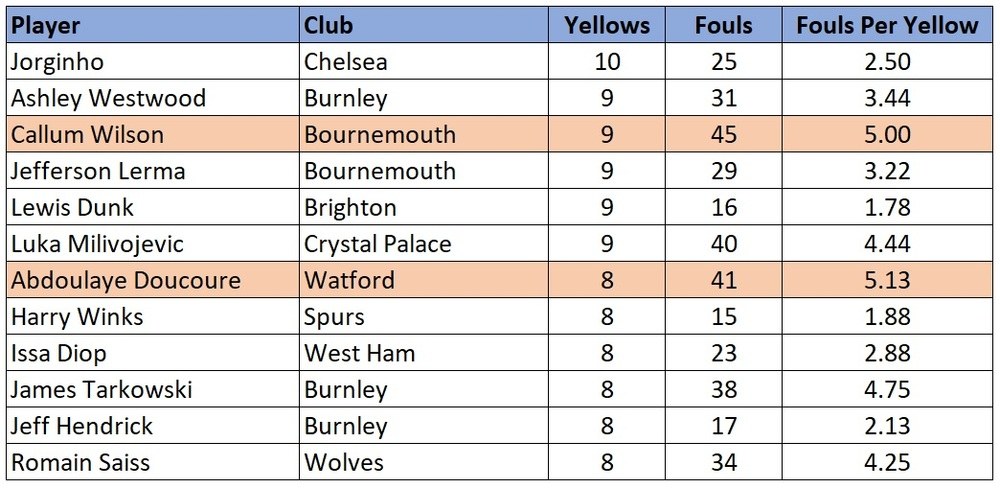 Now, here is where things start to get a little more intriguing….
Like last year, our list of the Premier League's most booked players of 2019/20 had to be stretched to 12 to accommodate all the recipients of eight yellow cards this term, but immediately we can see that only two (highlighted) of the division's most frequent foulers are among their number.
Bournemouth striker Callum Wilson and Watford midfielder Abdoulaye Doucoure have seen their numerous transgressions suitably punished by the officials, though the rest of their cynical counterparts seem to have escaped similar punishment in terms of cards and cautions.
Chelsea's metronomic tempo setter Jorginho was the only Premier League player to reach the double-digit bookings mark by the time the season was put on ice, and the 28-year old picked up his 10 bookings despite only committing 25 fouls in total.
That's a little under half the number of fouls committed by Etienne Capoue, who has been booked just seven times in comparison.
If Jorginho is feeling a little bit sorry for himself, then a glance at Lewis Dunk's stats might make him feel a little luckier. The Brighton centre-half has been shown yellow nine times in 2019/20 despite giving away just 16 fouls all season. That works out at a booking for every 1.78 fouls conceded.
Tottenham's Harry Winks must feel similarly put out, having amassed a meaty eight yellow cards despite fouling his opponent just 15 times in total all season.
Winks has been linked with a summer move away from North London. Want to keep on top of the latest transfer rumours? Check out our daily transfer update here.
That's great, but who is getting away with it?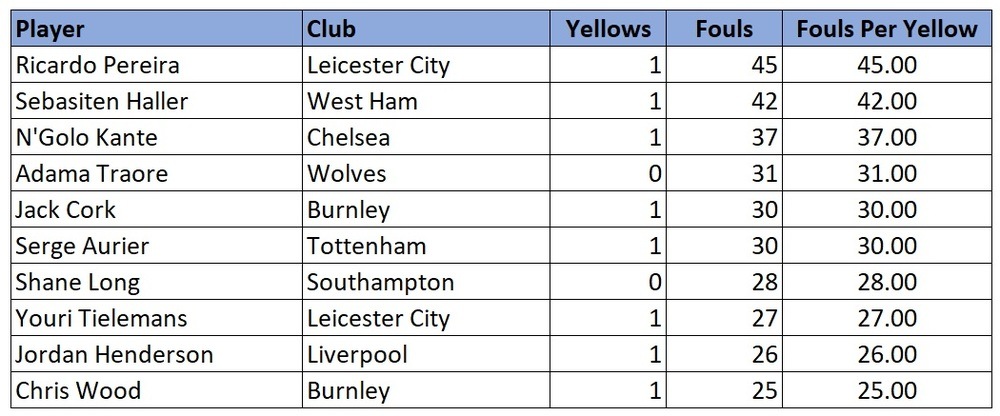 Before we jump in with two feet into our naming and shaming routine, it's probably only fair to acknowledge that some fouls are much worse than others, and that one dreadful, dangerous tackle is far more damaging than 10 little nibbles and minor transgressions.
In truth, many of the players on our final list are probably more guilty of being consistently irritating rather than genuinely dirty, though their fouls to punishment ratios are still unreasonably unbalanced.
We're not sure which of the aforementioned categories Leicester City full-back Ricardo Pereira falls into, but the flying Portuguese fullback has definitely been allowed to foul his way through the league with relative liberty this season.
The 26-year old racked up 46 fouls in his 28 Premier League starts for the Foxes – a total that ranks him near the top of the division's dirtiest combatants. Yet, the booking the former Porto star picked up against Aston Villa in December remains his only card of the entire season.
Who are you paying Ricardo and how much are you paying them?
West Ham forward Sebastien Haller is almost matching Pereira stride for stride in the getting away with it stakes. The Frenchman was booked early on in his Irons career in the club's October defeat to Crystal Palace, but despite committing a total of 42 fouls, Haller has somehow avoided being reprimanded since.
Other noteworthy entries include Wolverhampton Wanderers winger Adama Traore, who comes in at number four in the getting away with murder rundown.
The tricky to contain enigmatic wide attacker seems to be fouled quite a bit himself, but the numbers suggest that he has been allowed to give plenty back without being pulled up for it.
Central midfielders N'Golo Kante, Jack Cork, Youri Tielemans and Jordan Henderson all look like they have been engaged in season-long fouling sprees completely unchecked, while Chris Wood and Shane Long have been giving it to anyone who looks at them sideways with similar impunity.
Shane Long is out of contract with Southampton in June and could potentially leave before the current season finishes. Read more about the Premier League players out of contract in 2020 here.
How can I use this information in the betting markets?
Alongside enabling supporters to eye up the players on our list with "I'm on to you" stares during games, our information can also be applied to some of the more popular Premier League betting markets when play resumes later this year.
If you are dipping your toes into the "player to be booked" markets, the data tells us that you're probably best served to hone in on the competing teams' midfielders in a given fixture.
55% of the most carded players in the 2019/20 Premier League's top 20 are central midfielders, while just 25% are centre halves in comparison.  The rest is made up by strikers (10%) and fullbacks 10%).
In terms of the individuals, Jorginho's standout record has its own significant sub-stat. Eight of the midfielder's bookings 10 bookings were picked up in Chelsea's fixtures away from Stamford Bridge.
Well – there you go. Hopefully you can turn our information into some winning bets while you watch Ricardo Pereira, Sebastien Haller and the rest of the league's free-wheeling dispensers of pugnacity enjoy knock their opponents around unpunished.
Remember to check out our free bets section to find all of the latest bookmaker offers and promotions!