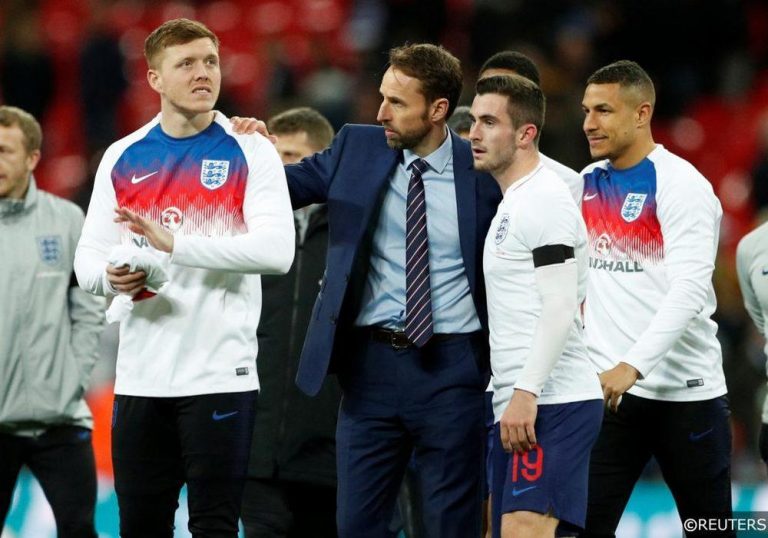 With a little under a month to go before Gareth Southgate submits his provisional England squad list for the 2018 World Cup, the battle for a seat on the plane to Russia is starting to intensify. Southgate can register the names of up to thirty five players on May 14th, before he must whittle it down to his preferred twenty three on June 4th. The competition for each available position is stiff, though one role in particular is likely to be causing Southgate a serious selection headache. As things stand, England will be heading to the World Cup without an established, first choice goalkeeper.
The quartet of goalkeeping candidates for England's number one spot this summer have markedly different strengths alongside their varying degrees of experience. Deciding on who gets handed the gloves against Tunisia on June 18th is arguably the biggest decision Gareth Southgate will have to make. The right man between the sticks provides the platform for success further up the pitch, though the wrong selection can rapidly infect the rest of team with an unshakeable nervousness. Let's take a closer look at England's goalkeeping hopefuls.
Check out our free Premier League predictions, previews and expert betting tips
Joe Hart – West Ham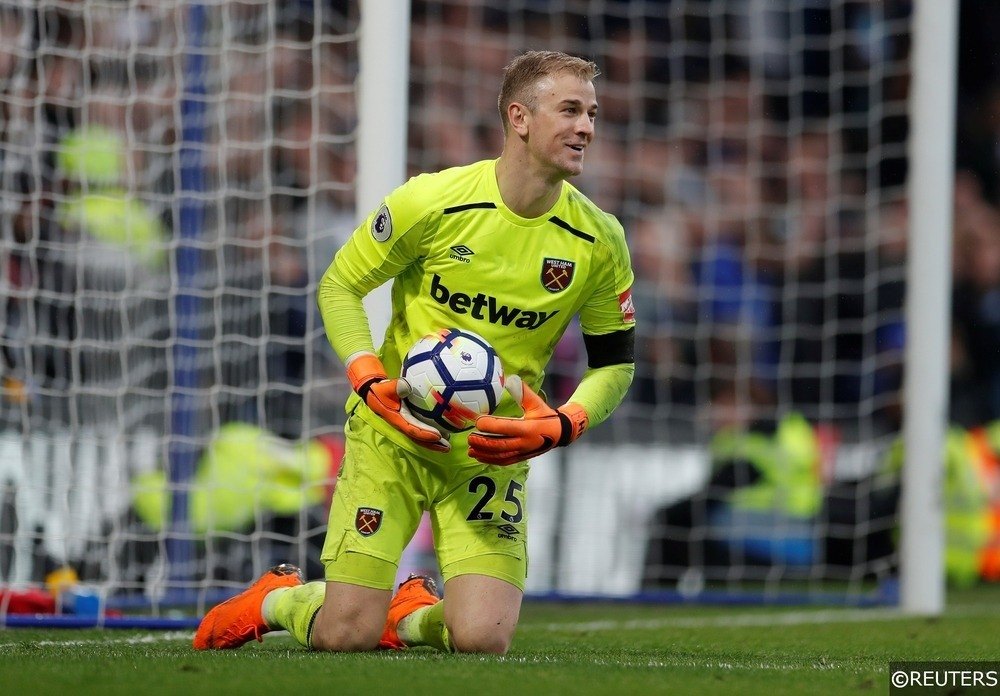 Having made seventy five international appearances since his debut against Trinidad and Tobago in 2008, Joe Hart is England's second most capped goalkeeper ever. Once widely expected to go on and surpass Peter Shilton's record breaking one hundred and twenty five appearances for the Three Lions, Hart has suffered a spectacular fall from grace over the past two seasons. We can trace his demise back to 2016, when Hart was almost immediately ousted from his long held number one position at Manchester City by new boss Pep Guardiola for a perceived inability to distribute the ball accurately with his feet.
Hart made the decision to move on loan to Torino in Italy, where his performances quickly drew the ire of the Il Toro support. His inconsistent Serie A displays didn't affect his status as England's main man however, and Hart started each of Southgate's first seven matches as England manager. Hart returned to the Premier League with West Ham last year, though the thirty one year old hasn't made the impact he would have hoped to.
Hart has made just nineteen Premiership appearances for West Ham this season and has been unable to fully establish himself as the Hammers first choice goalkeeper ahead of Adrian. With just four clean sheets to his name, Hart's reputation has taken another battering in 2017/18 and it looks as though Southgate has been paying closer attention this time. Hart has started just one of England's five games since October in a noticeable shift in Southgate's goalkeeping favourites.
However, in terms of experience, Hart is way out in front when compared to England's other options and that should at least secure his inclusion as a back-up Southgate's squad. Alongside his huge haul of international caps, Hart has made over forty appearances in the Champions League and his big-game knowhow will be a huge well of expertise for the younger keepers to draw upon.
Verdict: In the squad as a back-up option.
Nick Pope – Burnley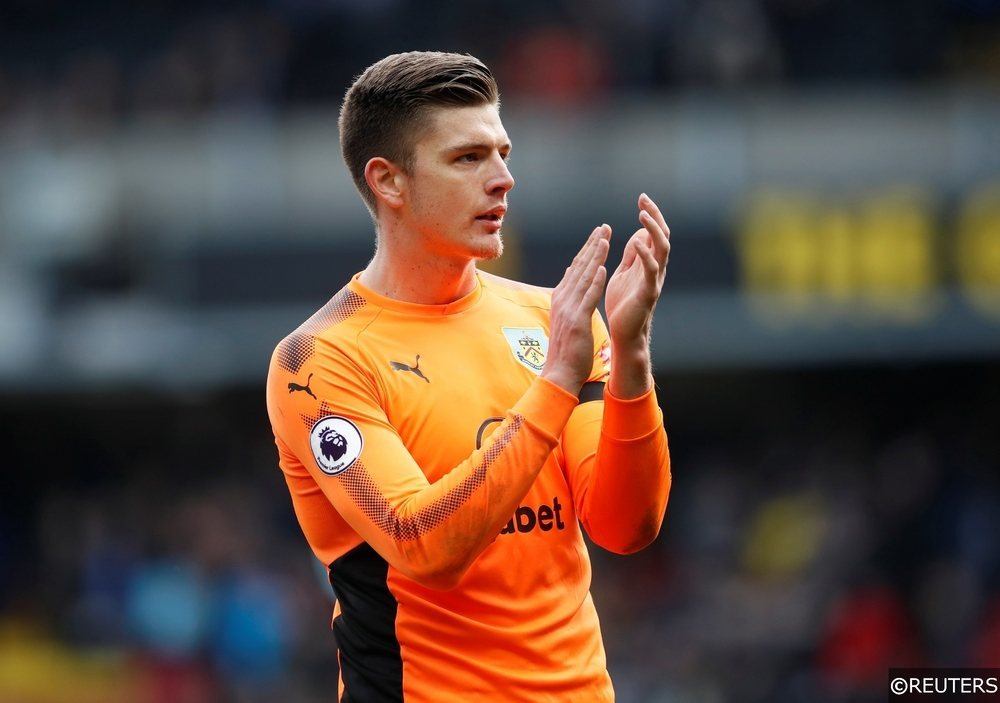 At 26, Nick Pope has certainly left it late in his career to have a breakout season, but the former Charlton Athletic stopper has had a fantastic campaign in 2017/18. Pope was called up to the England squad for the first time on March 15th, though he didn't feature from the bench in either of the friendlies against the Netherlands or Italy. In what has been a phenomenal Premier League season for Burnley in general, Pope has been one of the stand-out performers. Pope was handed a starting berth at the Clarets in early September last year after another England hopeful, Tom Heaton, dislocated his shoulder.
As all good goalkeepers do, Pope grabbed his chance with both hands and he has kept ten clean sheets in his thirty two league starts in 2017/18. Statistically, Pope has been posting some sensational numbers for Burnley. He has saved 78% of the shots on target Burnley have conceded, a total only bettered by the superhuman David de Gea at Man Utd. His high percentage of saves leaves the other England candidates in the dust – Jack Butland (67.7%), Jordan Pickford (63.7%) and Joe Hart (53.5%) don't come close to matching Pope's ability to keep the ball out of his net.
The irony of having such a late career breakout season is that Pope's age might actually count against him. If Pope was a fresh faced twenty year old he would have almost certainly been brought to Russia as a third choice to gain valuable experience for his next decade as England's number one. However, both Jordan Pickford and Jack Butland are younger than Pope.
When it comes to selection criteria, Gareth Southgate has always maintained that a player's current form matters more than his reputation or age, and on that basis alone Pope would be nailed on to make the final cut for the World Cup. However, the concern is whether Pope's performances are a genuine reflection of his ability or if he is being carried by a wave of positive momentum through what's been a superb debut season at the top level. Could a player with zero continental club or international experience be trusted to perform under the immense pressure that comes with playing in a World Cup?
The same doubts could be raised about Jordan Pickford and Jack Butland however and Pope's performances this season have arguably outshone both of them.
Verdict: In the squad as a back-up option
Jack Butland – Stoke City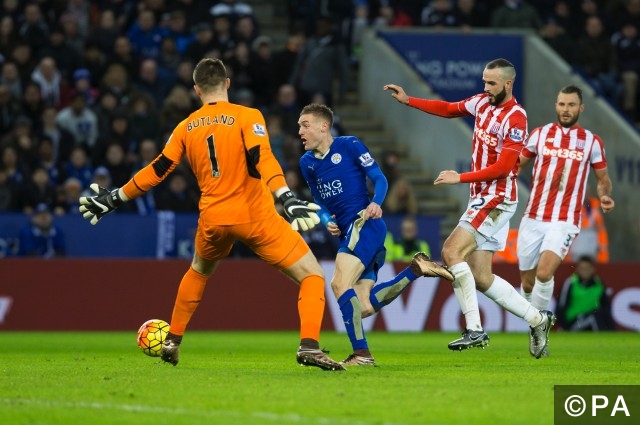 Playing for a Stoke City side that look destined to be relegated to the Championship in May, Jack Butland has done more than most in the Potters' fight to beat the drop. Stoke have the worst defensive numbers in the Premier League and have shipped sixty five goals in their thirty five fixtures so far this term. Butland has conceded fifty nine of those goals in his thirty one Premiership starts for Stoke, though without his heroics, that total could have been considerably higher.
There were one hundred and eighty three shots on Butland's goal across his thirty one appearances, the highest total in the division. To his credit, Butland saved one hundred and twenty four of those efforts on target, which incidentally is also the highest total in the league. Butland has been incredibly busy between the sticks for the Potters, making on average 3.31 saves per game. He has had to get through more work than England's other goalkeeping options (Pickford 3.03 and Pope 2.78 and Hart 2.46), though that shouldn't come as too much of a surprise given the ramshackle backline he has to play behind each week.
Butland has been on the international scene for most of his career, winning England caps from under sixteen right through to senior level. He was cruelly denied a place in England squad for Euro 2016 after he was injured in a pre-tournament friendly against Germany and Butland will be desperate to be involved this time around.
Even with his impressive personal stats for the season considered, Butland will be finishing the 201718 campaign on a real low with relegation looking inevitable. Will he be able to cast aside that disappointment to recover his mental strength and enthusiasm inside the space of a few weeks and in time for the World Cup?
Verdict: Doesn't make the cut
Jordan Pickford – Everton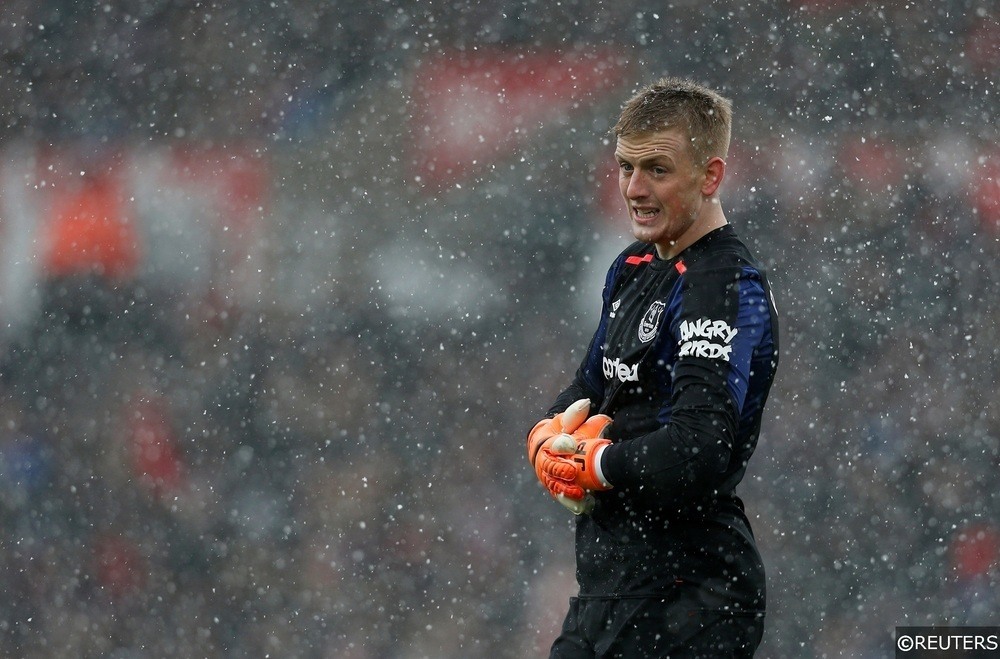 "He is a very agile goalkeeper, quick around his goals, he is capable of making big saves, his distribution is excellent – a really outstanding distributor of the ball with his feet which is how we want to play." The last piece of the Gareth Southgate's glowing endorsement of Everton's Jordan Pickford might be the most salient compliment and a huge hint about the destination of England's number one shirt this summer.
The England manager has been very deliberate about how he wants his England team to play. Southgate favours a more technical approach, with possession based build up play preferred to the traditional direct English style. To properly execute that game plan, England must have a goalkeeper who is confident and assured with the ball at his feet and Pickford fits the bill.
A product of the Sunderland academy, Pickford was a regular in England's underage set-up from the age of sixteen, appearing at every level until his senior debut against Germany in November of last year. Everton made Pickford the most expensive British goalkeeper of all time when they paid £25m to bring the twenty four year old to Goodison Park last summer.
Pickford has made thirty four league appearances in his debut season for the Toffees keeping eight clean sheets in the process. Only Jack Butland has had more shots to deal with in the Premier League this season than Pickford, but the difference in the actual goal concession numbers between their respective clubs is testament to the game-changing ability Pickford possesses.
His reputation as an agile shot-stopper had been established at Sunderland, though his natural leadership and organisational skills have also bubbled to the surface more and more this season. Nothing seems to faze Pickford and he has shown plenty of backbone to go along with his lightening quick reflexes in an Everton team who have had their share of troubles in 2017/18.
Southgate has started Pickford in two of England's last four matches, suggesting that he is leaning more and more in the direction of the Everton man. At present, Pickford ticks more boxes than any of Southgate's other options and the 2018 World Cup in Russia should see him firmly established at England's number one goalkeeper.
Verdict: England's number one
Four Becomes Three…
With Gareth Southgate keen for England to play out from the back, Jordan Pickford stands out as the ideal candidate to start at the World Cup in Russia. Of course, a goalkeeper's primary job is to keep the ball out of the net and Pickford excels in that area too. Really, Pickford picks himself and the tougher decision will be Southgate's choice on who to bring to Russia as Pickford's understudies.
Even though Joe Hart has already been deemed unsuitable for one possession-based team in Manchester City, his inclusion in the squad would add a wealth of top level knowhow to an inexperienced, youthful looking England squad. Hart has played at four major international tournaments for England, making him one of the most seasoned players available to Southgate in any position. With the make-up of any successful squad often dependent on finding the right blend of youth and experience, Hart should be drafted into enhance the latter.
Left with a straight choice between Jack Butland and Nick Pope, Southgate is likely to opt for the Burnley man. While Butland will be finishing the club season on a low note, Pope's morale will be at the exact opposite end of the spectrum. The explosion in his confidence and consistency of his displays makes him virtually impossible to leave out.
Our expert World Cup betting tips and predictions will be posted in the very near future!