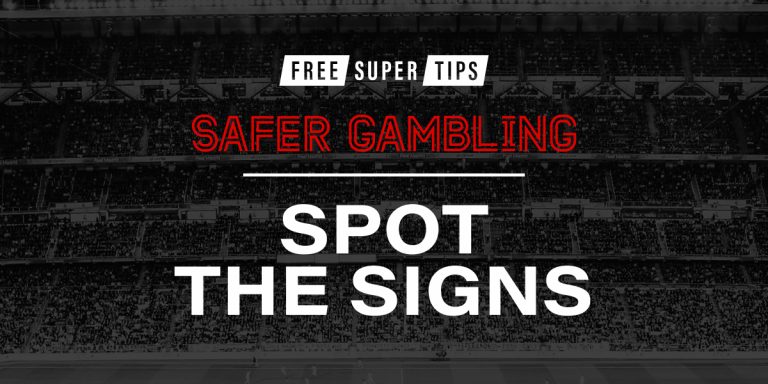 November 15, 2023
Show Bio
Content Editor at Free Super Tips, Alex was born in the shadow of Old Trafford and is an avid Man Utd fan. After graduating from university he combined his love of football, writing and betting to join FST and now closely follows goings-on in all of the top European leagues.
Safer Gambling Week runs from 13th to 19th November this year and Free Super Tips would like to use this opportunity to continue our commitment to safer gambling and promote a safer and more responsible gambling environment for everybody.
Gambling addiction is a very serious concern to both the individuals involved and society as a whole. It's also something that often gets overlooked, but not any more.
Gambling should be an enjoyable and fun pastime, but it's not without its risks. An estimated 340,000 people in the UK identify as having a gambling problem but many more fly under the radar.
Some of these people may not even realise they have a gambling problem, while others may recognise the issue but don't know where to turn to for help, and that's where this series comes in.
Did you know: One in 10 people in the UK have experienced the problems that gambling can cause.
What can you expect?
We'll start with a simple but often overlooked one: how to spot the signs of a gambling problem. This is key to reducing the harm for those who might be vulnerable without even knowing it yet.
After that we'll focus on the myriad of tools and services available to get help before discussing some tips that can help everybody gamble more responsibly.
Finally we'll round the series off with some first-hand experience, talking to people who identified they had a gambling addiction, sought help and came through the other side.
---
How to spot the signs of a gambling problem
Gambling problems can come in all shapes and sizes, but there are some common signs you can watch out for to ensure your gambling remains a safe and enjoyable experience.

Firstly, you can take this excellent how safe is your gambling test. After that, consider the below questions. If the answer to any of these is yes, it might be time to look at some of the safer gambling support available:
Do you spend excessive time or money gambling?
Do you find it difficult to limit or stop your gambling?
Do you forego other responsibilities or hobbies in order to continue gambling?
Have your personal relationships ever suffered due to gambling?
Have you ever lied about your gambling?
Do you find yourself chasing losses when on a bad streak?
Have you ever borrowed money to finance your gambling?
Do you ever feel depressed because of your gambling?
If none of these apply to you, that's great!
But maybe some of them struck home. Maybe you do find yourself glued to the bookmaker's website in the early hours of the morning or chasing losses after a bad run of bets. Maybe your relationships are suffering and, instead of being enjoyable, you think of gambling as a burden that you just can't seem to shift.
If that is the case, it's important to remember that there is help out there. There are services that can guide you and tools that can help you. A good starting point is begambleaware.org
---
SG Week 2023: Training Sessions and Workshops
Leading charities, GamCare and YGAM, who provide SG help and support, are also running workshops and training sessions right throughout Safer Gambling Week 2022.
The workshops are particularly focused on parents and professionals working with younger people (teachers, youth and health professionals), and their aim is to provide information that can help those young people to better understand the high risks and pitfalls associated with gambling.
The sessions also aim to provide people with the steps they can take to help them gamble in a safer way, as well as the tools and services that are available to help manage their gambling behavior.
To find out more about these workshops and training sessions click here.
For more information about Safer Gambling Week, visit the initiatives official website here
Free Super Tips are committed to keeping gambling fun and enjoyable by helping people to stay in control and gamble more safely. You can read more about our own Safer Gambling guidelines here.
---
 If you are concerned about your gambling, more details on actions to take can be found at safergamblinguk.org. You can also contact GamCare free on 0808 8020 133.