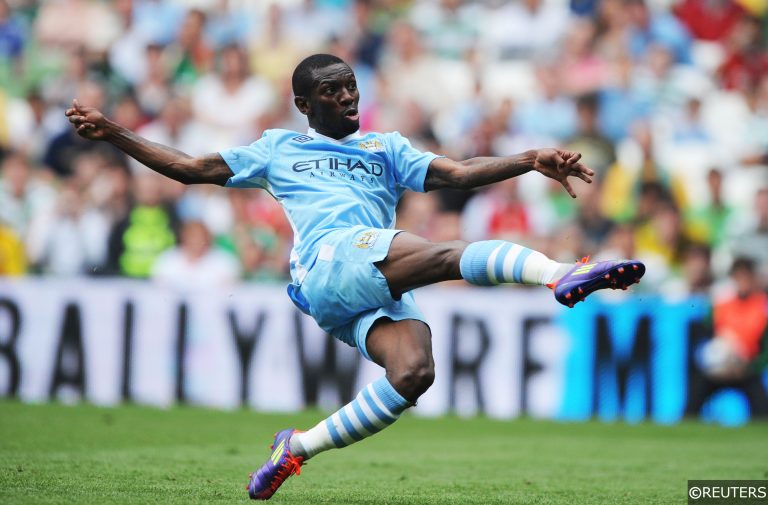 Content Editor at Free Super Tips, Alex was born in the shadow of Old Trafford and is an avid Man Utd fan. After graduating from university he combined his love of football, writing and betting to join FST and now closely follows goings-on in all of the top European leagues.
FST caught up with former Man City, Chelsea and England winger Shaun Wright-Phillips ahead of this weekend's Manchester derby to chat about the Blues' struggles, City's chances and new Leeds boss Jesse Marsch.
---
Will Edouard Mendy have been annoyed with Thomas Tuchel's decision to replace him for the penalty shoot-out at the weekend?
I wouldn't necessarily say annoyed, I think he'll be more hurt than anything.
Especially on the back of him coming off the back of one of the biggest penalty shootout wins in his career in the AFCON final.
It's a massive tournament for the countries that compete in AFCON, so for me coming off the back of that and probably being Chelsea's man of the match within the Carabao Cup final; to then be substituted came across in a couple of ways.
He either wasn't capable of winning it for Chelsea in the penalty shootout or Tuchel thinks Kepa does a better job, but as a player looking at that, you'd be disappointed in that.
Romelu Lukaku hasn't quite hit the ground running since his return to Chelsea, will he come good, or can you see him moving on?   
I think Lukaku will definitely come good, I think he's proved that over his whole career; his stats and numbers speak for themselves.
When he first came back to Chelsea, he started like a hurricane against Arsenal, he basically man-handled their back four on his own.
As the season's progressed, Chelsea don't seem to be playing that same way as they did against Arsenal where Lukaku is constantly involved as the focal point going forward.
When he came on in the Carabao Cup final, he actually showed how to get the ball into him.
That was the first time in the game that Chelsea got clean through behind Van Dijk and Matip.
It was the first time Chelsea managed to get the striker in that position and for me it should have never been disallowed his goal.
That's a different subject, I don't understand what's offside and what isn't anymore, and I don't personally think it should have been disallowed.
But I think he will come good, Chelsea just needs to play in an attacking way that implements him into the play.
I'm not saying it has to be built around him, but he needs to be involved.
Of course, that doesn't just come from the manager and the players around him, he's got to understand what they need from him too.
Where do you see Armando Broja playing next season – do you think Chelsea will give him a chance or can you see him maybe landing somewhere like Arsenal?
I'm not too sure where he'll end up, from what I've seen of him; he's a fantastic young talent and it seems like he will have a big future ahead of him especially if he keeps up the performances he's putting in.
It's a tricky one because I know Southampton will most likely want to buy him or take him back on loan.
But there's a new loan rule coming in place next season where you're only allowed a certain number of players out on loan.
The chances are that if they're not in your squad and your loan capacity is full, then you're going to have to sell them anyway.
We can't really tell at this stage what's going to happen, and we don't know where Chelsea will go with it.
Chelsea don't only have him; they've got Conor Gallagher and Billy Gilmour as well who are fantastic talents.
It'll be hard for them to manage just as it will be for most other teams such as Manchester City and Liverpool.
With Jack Grealish and Gabriel Jesus coming back, City have a lot of good options on the wings and upfront. Who would your preferred front three be if City faced a must-win game for the title tomorrow?

If I'm going to with a front three, I'll have to base it on the numbers at the minute.

I think I would go Mahrez on the right, Foden through the middle and Sterling on the left.

If you look at what they've done during the season so far, they're all playing really well, especially in recent weeks.
I know Grealish has had a few injuries, he's still settling in and scored a fantastic goal against Peterborough in the FA Cup.
But those three who I picked are running with seriously impressive numbers at the minute, so right now if I have to pick, I would go with those guys from the start.
As a former winger, what have you made of Jack Grealish's start to life at City?
I think he actually started quite well for somebody that's come from Aston Villa who was so used to getting the ball straight away.
As soon as they attacked, they would look for Grealish and it isn't like that at Manchester City.
It was the same for me when I went to Chelsea, you're not the only player that can do what your own strengths are.
Other players can deliver the same, maybe in a different way, but just as well or even better than you can.
That's not necessarily me saying he's not doing well, we're just not seeing a Jack Grealish who collects the ball, takes on two or three players and either gets a foul or a shot off in this Manchester City team.
Manchester City don't play that way, so he's learning about himself, and I think it's making him a better all-round player.
He's always going to be able to do what his strengths are and what we've seen him do before.
But if he can add other factors, such as the way Manchester City play and rotating across that front three, popping up in positions that Pep Guardiola puts them in, then he will score more goals because all those forwards score goals.
It's only going to benefit him and he's getting there, you can see it already with the goal he scored against Peterborough making that run in behind.
Normally he'd come short for the ball, but he's gone in behind, so you can see he's understanding it.
I think there's still a lot more to come from him, but I think he's done ok so far.
Raheem Sterling continues to prove the doubters wrong – have you noticed any changes in his game this season that's seen him turn his form around?

It's just the fact that his chances are now going in.

That's one thing you can never knock Raheem Sterling for, even when he's going through a quiet spell, he still gets into the positions.
He might have been taking a touch extra, his shot gets blocked, or he misses the chance, he still gets himself into the positions which is always the hardest part.
The part missing for him was hitting the back of the net, which we know he can do over the past four or five seasons.
It didn't happen for him at the start of the season, but it's just a testament to his character both on and off the pitch.
The goal that actually broke that quiet spell was from an attacker who looked full of confidence.
It wasn't an easy chance he took from the pass from Cancelo, but he still slotted it right in the corner.
For me, he's just back to where we expect to see him, all players at that level have these dips from time to time.
Look at Ronaldo, he's had a quiet spell, so it can happen to these sorts of players.
I think the criticism comes from the markers he's laid down previously.
People will say because he doesn't score one game that he had a bad game, but that's not how football works.
Karim Benzema made a good point a while ago; the quote was along the lines of people only caring about numbers now rather than the actual performance.
Before you could watch a game and judge someone off their performance to whether they had a good game or not, but now if you don't score or get an assist, then people think you haven't played well.
That's not how football works and if it was then the majority of players wouldn't be playing because they don't put those numbers up on a game-to-game basis.
Cole Palmer and James McAtee have broken through this year. How impressed have you been with them and how do you see their futures at City?
I've been very impressed with them both, especially Cole Palmer.
With McAtee we've just seen flashes of what he's capable of, so the more he plays the better he will become.
I'm a big fan of his, I've seen a lot of his games and highlights in the EDS, so I know what talent he has.
If he can put it onto the stage the same way Foden did, then there's going to be a lot of people scared of coming up against him.
They're both massively in love with the club, they love what they're learning and playing with the players currently at the club.
They've obviously seen the path that Foden has taken with Guardiola and where it's taken him in this team and his career so far.
They both know that there is a pathway into the first team, which first and foremost for a player coming through the academy is the main thing.
There's a goal to get into the first team and it's possible in this current set up, so from that side it's fantastic.
On the flip side, there will be younger players who are thinking there are players who are approaching their primes in their positions.
When I came through, the wingers were going on 30, but now there's players in elite form and coming into their pique which is difficult for a young player.
I think they will get their chances, but it's just a matter of taking those chances when they arrive.
What threats concern you about this United team?
There are a number of threats in this Manchester United team, but I still believe that City will win.
I think the combination of Elanga, Sancho and Ronaldo work a lot better than Rashford or Lingard coming into that front three.
I think there's more link up and interchanges between those three, they can play cute little one-twos around the corner which we weren't seeing before.
I think Manchester United play a lot better with that front three.
The positives for City are that I don't think this Manchester United team are sure whether they're playing high press or counterattack.
The team they have is stacked for counter attacking football, but we see them press at times which I don't personally think they're ready for and that's when space opens up.
Their defenders can become isolated if that happens, but the one thing about them is they will create chances because of the type of players they have.
After the recent run of poor performances do you give United any hope of beating City?
I hope City roll over them if I'm being honest, but derbies are almost like a cup final.
Especially in the first 15 minutes because I played in teams at Manchester City that were nowhere near the level of the Manchester United team.
But those first 15 minutes we had them on the back foot a lot of the time, but eventually the quality would overpower us in the end.
The tables have turned nowadays, but derbies in general it's anybody's game.
If you're half off the pace, then you can lose the game.
With the way City are playing under Pep Guardiola that very rarely happens, they had a blip against Spurs with the defensive errors which ultimately cost City that day.
But that blips gone, so Man United have missed that boat.
Although I don't think it'll be easy, I still think Manchester City will win the game.
Up next is the derby with United – would any United players get into this City side? 
No not really, I would have said before Ronaldo went off the boil that he could get into a City team.
I haven't seen Bruno Fernandes in the way that we have seen him in the last year, so honestly, I don't think anyone would walk into City's team.
The only one who would be the closest is Elanga right now.
How do you assess Marcus Rashford's season so far and if his form doesn't improve, could doubts emerge over his future at United?
I wouldn't say there's doubts over his future, but there will be over his position in the team.
I've always been brought up on if you're not playing well and somebody else is, then it doesn't matter who you are, you should step aside and wait your turn for an opportunity again.
At the same time, it might be a good thing for Marcus Rashford at the moment, if he doesn't play well he gets highlighted for that.
I think it's a good idea if he's pulled away from the firing line, let him readjust and find his confidence again in training or when he comes on for short spells at the end of games and it'll allow him to just build back into it.
At the start of the season you backed Ben White to be a better signing than Raphael Varane – do you believe you have been proven right and did Manchester United make a mistake bringing in Varane?
When I said it, it wasn't me trying to prove a point or trying to be a smart aleck, it was just the way I saw it.
I've watched Ben White under Leeds and when he went back to Brighton, he defended well in teams that had a lot of attacks against them.
Him going to Arsenal, although they are flying at the minute, the only times where he has struggled is through a lack of concentration.
He doesn't have to defend all the time in an Arsenal team, so his concentration levels need to be higher compared to Leeds or Brighton.
As we saw in the game against Liverpool where Arsenal went down to ten men, they managed to hang on for the draw and he was the focal point in that performance.
He just loves defending and I just felt that when Varane signed, he was coming into a whole new league.
You can't do the heights of your games in Spain and think it'll be the same in the Premier League at Manchester United.
It's one of the most demanding leagues in the world and I just didn't think he was ready for it.
That's only basing it off his first season, which is why I thought Ben White would do better because he's used to this league.
I mean if anyone wants to give me kudos now for that comment, then I'll take it.
Is there anyone you think is deserving of a call up for Gareth Southgate's next England squad who we haven't seen yet?  
Jarrod Bowen for me, he would be straight into that squad.
If you go off the performances of the English wingers this season, consistently for West Ham this season, he's led the line.
Antonio started fantastically well, he's still playing well just not scoring the goals and the person that's stepped up and taken that responsibility on his shoulders is Bowen.
He's shared that workload with Antonio and his performances in general whether he's scored or not have been unbelievable.
For me; he would be my number one pick for the England squad.
The way Southgate seems to have done it since he's taken over is that if you're playing well and keep that form up consistently, then you get picked.
So, by rights, Bowen should go, it's not me saying someone like Rashford shouldn't be involved with England, but it should be based on who is in form and that's Jarrod Bowen right now.
Everyone knows you were quite emotional leaving Manchester City originally, how tough of a time was that for you and how happy were you to have had the opportunity to return?
I didn't really have the choice when I left if I'm being honest.
I was still young, and I didn't want to leave, so I told my agent I didn't want to go but he turned around and said we didn't really have a choice.
It was just laid out for me, so when you don't want to leave somewhere but you end up having to, then of course you're going to be unhappy.
Once it was a done deal I looked forward to the challenge and I loved every moment from my time at Chelsea.
In a way it evolved me as a footballer in general, I wasn't just a winger who would just dribble past people, it allowed to develop different parts of my game.
When I went back to City, that paid off because there were games where I was playing in central midfield.
I just always wanted to play every game which wasn't going to happen at Chelsea, and you can see now in most teams everyone is rotated because there's so many games.
I think Mourinho hit that space a lot quicker than managers did at the time.
More managers seem to do that now when they have depths in their squads.
What convinced you to come back to City? Being a player who played at both Maine Road and the Etihad, do you feel like Manchester is home from home for you?
I've always called Manchester my second home and my mum loved it there as well as the whole family really.
The whole club is general is still run similar to when I was there as a player, there's still all smiles, everyone's so nice and taken care of.
The one thing that always attached me to the club was how much work they do in the community.
That was before the influx of money, money had nothing to do with it, they've always done right in the community in Manchester.
You're quite closely linked with the club through media commitments at the moment. How drastically has the whole set-up changed since you first joined the club?
In the premises, when I was younger, we used to rent a leisure centre which was used by universities, and we'd have one pitch to train and the first team would have one pitch to train on as well.
All our training sessions and games were done on one or two pitches.
The big difference in the game in general is that there's more money involved, so they can afford to have multiple pitches and facilities available.
Of course, you think 'imagine if I had this facility when I was younger'.
Everybody says that, but it wasn't the case, so in my time we did the best with what we had and that's the same for my dad's generation and the generation before that.
It's only normal with football, sponsors and endorsements that things improve, and the game is taken to another level.
Even through all of that and the changes, when you go back into Manchester City, it still feels like the same home that I left.
How was your experience under Roberto Mancini? Where does the Italian rank in your career coach rankings? 
He was good, I actually got on with him really well.
His CV and what he did at Manchester City was fantastic.
I don't think at the time we both saw eye to eye in terms of how he wanted me to play and what I was used to doing.
That just happens in football, not everyone is going to play how I want to play and not every manager was going to play me the way I wanted to play.
That was the only thing between us, but we got on really well other than that.
Damien Duff has recently taken over as Shelbourne in the League of Ireland. Did he ever strike you as someone who would suit management? 
I wouldn't say it was someone who wouldn't suit management, I just personally never saw him as someone who would get to that space.
But I don't see myself getting into that space, but maybe in three or four years I could see it completely different.
I feel like that's something that he might have done, he's probably gone away, done his badges in the background so he's got them ready.
When that time comes when an opportunity arises, he's got those badges ready to go into it and it looks like that's what he's done.
You played under Jesse Marsch in the MLS, what can the Premier League/Leeds expect from him as both a person and a coach?
As a person he's very emotionally attached to people giving 110% and that's not just in the game, it's in training as well.
Even when he's in your 5-a-side team, if you don't cover a man by a yard, he'll be screaming at you and then he'll go make a slide tackle to make up for it.
We've always had good chemistry together, so for me he was a brilliant coach to have.
Obviously now his coaching would have evolved because he's not at New York Red Bulls anymore.
He's been to a few different clubs; he's had to learn different tactics and how to combat other things.
When you go into the Champions League, there's a lot of teams who know how to beat the press, so the next question you ask is when that happens, where do you go from there?
I think he would have added that to his criteria and I think he'll do a good job at Leeds because he'll nullify their biggest weakness currently which is the man-to-man marking.
The players were following their men all over the pitch which left massive holes with nobody covering which is where Leeds are being countered.
It got to a point where they just simply conceded too many goals, so he'll come in and try to change that.
I think he'll keep Leeds up; it'll be hard if he doesn't get off to a winning start, but they have enough quality in there.
Especially when Kalvin Phillips comes back and if they can get Patrick Bamford back fit. they'll have too much quality to go down.
Mark Hughes brought you back to Manchester City, are you surprised to see him managing in League Two currently?
I'm very surprised to see him drop to that level, for me he was one of the best managers that I've played under.
Just in terms of the way in which we attacked, the way he utilised players in different positions he makes you improve.
When he was sacked at City, we were still in the top six and we hadn't lost that many games at the time where he got the sack.
I don't think it's fair the way he's been judged at some jobs because like I said I enjoyed working under him and his staff and he was a fantastic manager.
The type of person that he is, he will improve those players and I don't think it'll be a shock to him.
It might be frustrating if he's putting on exercises which the players can't do, but I think he'll enjoy making the team and the players better.
He's the sort of person that just loves football in general and if he can help some of those players improve, then he will do that.
He won't give up on you, if you believe in your qualities, then he will help you shine and get to where you want to be.
You obviously come from a talented family in terms of footballing ability, what's it like having a son who is now a professional footballer? Are you more nervous about how his career will go compared to when you were in the middle of your own career?
Everyone always asks me this question, but I'm quite laid back and relaxed; it's my dad that gets nervous.
I'm quite a chilled person, the only time where it was emotional for me was when I found out he was starting.
I found out he was playing two or three days before which I obviously didn't tell him, I just sorted out my tickets and got myself up there.
But the second game was on Sky Sports, and I actually found that more emotional watching him on TV than I did being at the game.
People found that a bit weird, but he got man of the match, so I was really happy for him.
---

Build better bets with our free betting tips, predictions and accumulators, every day.
More betting news:
FST's Month in Sport with 1,473/1 cross-sport acca
Win tickets and accommodation for Manchester United vs Chelsea
Winning Wednesday for FST as 22/1 acca lands
Free Super Tips is the home of Football Betting Tips. For detailed match analysis, check out our Football Predictions for today's games, or Tomorrow's Football Predictions if you're looking a little further down the road.