Steven Gerrard's First SPFL Game: How Did He Do?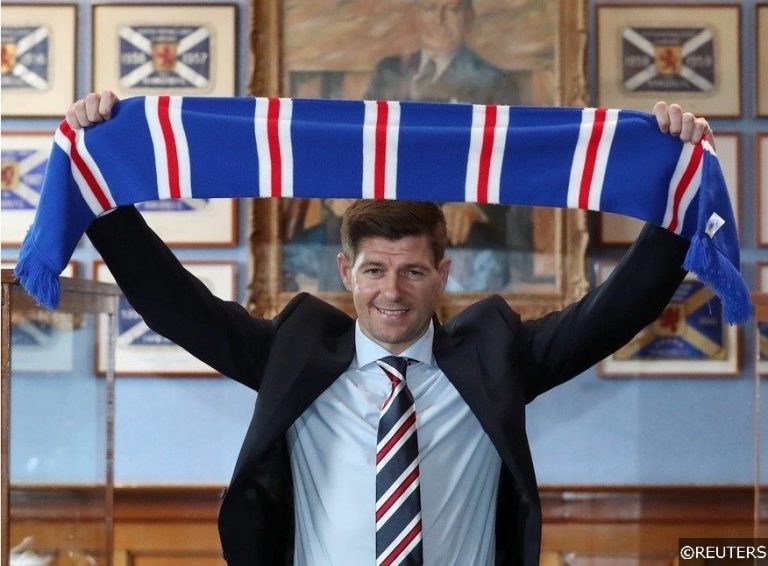 Liverpool legend Steven Gerrard took charge of his first Scottish Premiership match on Sunday, drawing 1-1 against last season's runners-up Aberdeen. Gerrard was appointed as Rangers manager back in May after Graeme Murty was sacked following a 5-0 thrashing from city rivals Celtic.
The game
Gerrard and the rest of the Rangers squad travelled to Pittodrie with the intention of getting the new league campaign underway with a win. Both sides went into the game having played on Thursday night in their respective Europa League qualifiers. Once the game started, Rangers quickly took control of the match and were, for a long period of time, dominating Aberdeen. By the 12th minute, the worse thing that could happen on your managerial debut happened: Alfredo Morelos was shown a red card for violent conduct after lashing out at Aberdeen's Craig McKenna with a kick, which the assistant spotted and proceeded to tell the referee Kevin Clancy. Clancy didn't hesitate and showed Morelos his first ever red card as a professional. As the Columbian striker left the pitch in tears, the balance suddenly changed in Aberdeen's favour as there were just under 80 minutes left of football to be played and Rangers were a man down. Despite the loss of their only striker on the pitch, Gerrard made no substitution and instead surprised us all with a genius tactical move: he quickly switched his formation to a 4-3-2 and told both Jamie Murphy and Josh Windass to come together from the wings to form a pseudo-striker partnership. It worked really well, and after being given and converting a penalty some 20 minutes later, Rangers took the lead and the steering wheel.
Aberdeen were very poor throughout the remainder of the game and couldn't create any sort of chances, so much so that at one point they resorted to simply passing the ball from one side of the pitch to the other without any real intention of putting near Alan McGregor's goal. However, luck was on the Dons' side as a last-ditch attempt in the 3rd minute of injury time brought them level thanks a Bruce Anderson's strike that ultimately denied Gerrard his first ever win in the Premiership.
Despite the disappointing result, Rangers players & fans alike can be proud of the performance they gave and it shows real and great character for the rest of the season. Gerrard's next battle will be against NK Maribor of Slovenia and will prove to be a very difficult task for the ex-Liverpool star- perhaps his hardest tie to date.
The controversy
As is the norm, both Derek McInnes and Steven Gerrard gave their post-match interviews with the media. Whilst Mcinnes' was nothing special nor controversial, Gerrard's had everything. The Rangers boss didn't hold back for an instant and went straight to the point without thinking twice, launching a furious attack on the match officials.
The first point of concern for Gerrard was the issue of Morelos' red card. After reiterating that it's "just his opinion", he claims that his side were "hard done by" because Morelos "was provoked" after being barged twice by McKenna before lashing out at him. Regardless of whether or not the defender barged the Columbian, football is a contact sport and there are bound to be niggles between opposing players. The decision to send Morelos off was, in this writer's opinion, the correct one- seeing as any sort of violent conduct, with or without contact , should be a red card offence, thus meaning that the decision regarding Morelos was the correct one.
The second thing Gerrard talked about was the decision regarding Rangers' penalty- or in this case lack thereof. Gerrard mentioned that "with the penalty there was no attempt to play the ball" and that "if you don't make an attempt to play it, you should be punished". In this instance I have to agree with the manager. Recent changes in FIFA regulations states that a player cannot be sent off if the he commits a foul inside the box and should instead only be shown a yellow card. Neither of these things happened, and instead defender Dom Ball luckily escaped being punished, although Derek McInnes has expressed his feelings about the foul, accusing Windass of going down too easily.
Read More: Scottish Premiership Outright Tips
Conclusions
At the end of the day, Rangers were very unfortunate to not have gone on to win the match. Gerrard heavily blames the referees, but some of his comments have been cause for concern, with many people wondering if the manager has already lost the plot before the season has even really begun. Comments such as "the world was against us today", "it's not just today, I believe it's been happening for seasons" or even that they were "a class above Aberdeen" are totally inappropriate, and statistically speaking it's mostly not true.
In any case, all managers will claim that their side will have been punished by the referees, but in most cases it's not quite what it seems. Gerrard has a long way to go this season, but the important thing for him is that he's managed to secure even more support from the Rangers fans- and it's only the first game of the season.