Football Manager has long been a game that sucks a player in to the point where hours start to feel like minutes and as you look at the clock you say to yourself 'I'll play one more game then save'. With a distinct lack of football in the real world, Football Manager has become even more popular of late and we have come up with a few long term challenges that the hardcore Football Manager fans can really get their teeth stuck into.
The Pentagon Challenge
This challenge has been around for a long time now and is a favourite of many avid Football Manager players looking to test themselves in all of the games' available continents. The premise is simple, win the Champions League in all five continents (Europe, Asia, Africa, South America and North America) in one save, but you must start unemployed with no coaching badges and only a Sunday League reputation.
Difficulty: 4/5
Tips: Start in Asia and load up all available leagues (you can load up the other continents during the save when you are ready to move on) as you will get plenty of job offers. In the early stages of the save concentrate on acquiring your coaching badges they are crucial to you getting a better job which will then enhance your chances of winning the Champions League.
The Journeyman Challenge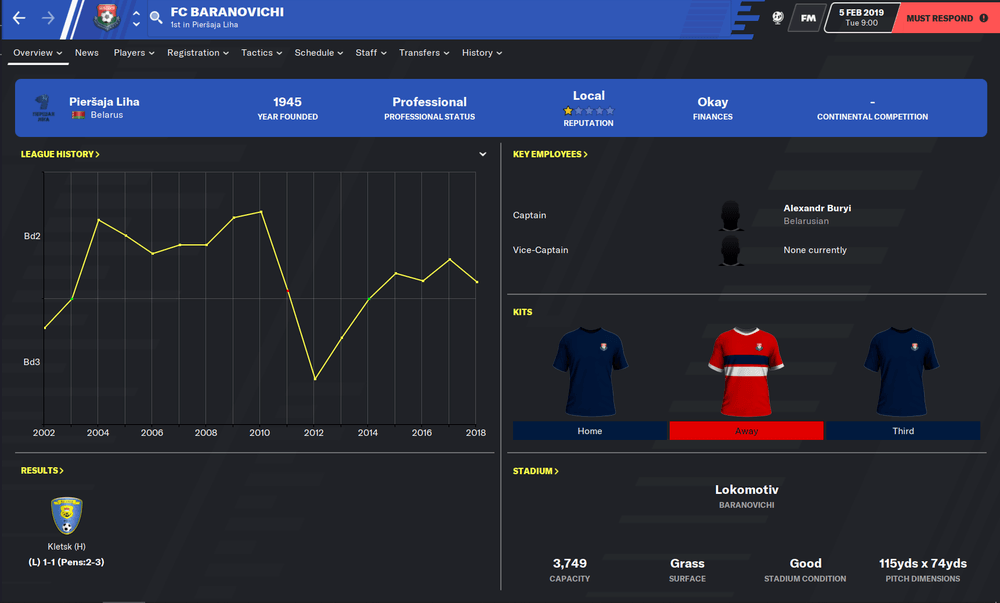 As the title suggests, this challenge will see you moving from club to club on a regular basis until you build up your reputation enough to land a job at a top side where you can compete for the major trophies. With this challenge, you can pick as many and whichever leagues you like but you will be starting unemployed with no coaching badges and the Sunday League reputation much like the Pentagon Challenge, so you will need to load up lower/obscure leagues to land a job. The idea of this save is that you build up your reputation over a long period but the twist is that rather than applying for new jobs you must wait until someone comes in for you, unless you get sacked that is.
Difficulty: 3/5
Tips: Similar to The Pentagon Challenge, loading up an entire continent and starting in a league you've never been in can be fun (as long as your computer can handle it) as well as challenging. Aim to get those coaching badges as they will encourage higher reputation teams to come in for you, providing you're doing a decent job that is. If you feel stuck at a club you can let your contract run out and then apply for a more appealing job.
The San Marino Challenge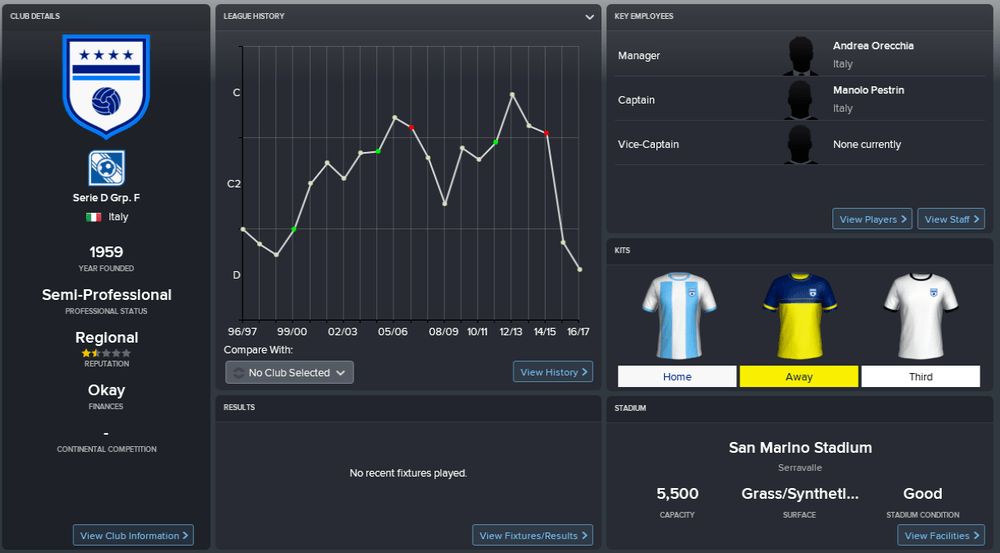 Note:  Additional Serie D database needed, San Marino FC will have to be added to the database after they were dissolved in 2019 and you must load up all players from the nation of San Marino when selecting the database size.
This is one of the toughest challenges out there and only the most patient of Football Manager players will be able to get close to completing it. The idea is to make the San Marino national team competitive, maybe even qualifying for a major international tournament, and in order to do so you will be managing a club side and the national team at the same time. Take control of the San Marino national team and the Italian club San Marino (Serie D). The idea is to enhance the reputation of the San Marino league and its national team by performing well at club level and developing future international players while moving up the Italian leagues.
Difficulty: 5/5
Tips: Doesn't really matter what badges or experience you use as you will be staying with this club and national team throughout, just make sure you play the San Marino youth players that come through the academy and sign any San Marino players you think could do a decent job at international level.
If you are missing your regular football content then you should check out our ultimate Quaranteam guide and if you want to find out just what football matches are still taking place then you can find them all here.