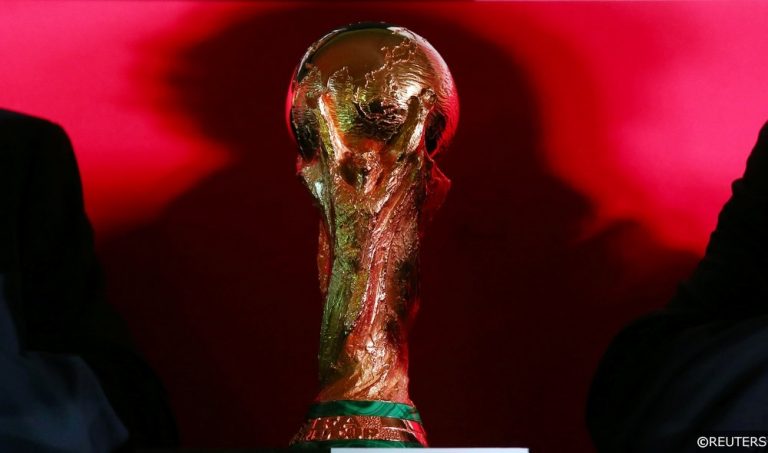 Simon Winter
@simonjwinter
Born in the south east of Ireland, Simon put his life-long love of football to good use when he started a successful independent blog in 2010. That opened up an alternative route to a career in journalism, and having had work published across a number of sites and publications, Simon joined the staff at Spotlight Sports Group in 2018.
The World Cup creates more iconic sporting moments than any other tournament on the planet. From giant-killing upsets and controversy to pieces of skill and euphoric celebration, the World Cup has a habit of carving incident into long lasting memory.
Of course, the real game changers and most memorable moments are the great goals and those who score them.  If goals change games, then great World Cup goals can change lives.
There have been some unforgettable, magical goals scored throughout the history of the World Cup. Let's take a closer look at some of them.
Read more: Weird World Cup: 10 of The Strangest Stories in World Cup History
World Cup 1998: Denis Bergkamp: Netherlands vs Argentina
With the scores level at 1-1 in a pulsating Quarter Final between Netherlands and Argentina at World Cup 1998, extra time looked inevitable. The pace of the game had slowed down quite visibly as both sets of players looked resigned to another thirty minutes of combat.
As Frank de Boer carried the ball forward from defence, very little looked on. The Ajax stopper looked up and pinged a raking sixty-yard pass to Denis Bergkamp who had pulled a little to the right to isolate Argentinean defender Robert Ayala in a one on one situation. With his cushioned first touch, Bergkamp killed the ball stone dead and with his second he nicked the ball through Ayala's legs.
Touch number three sent the ball screaming past Carlos Roa and into the roof of the Argentinean net.  In total it took Bergkamp just 2.5 second to turn De Boer's pass into the game's winning goal. Masterful.
World Cup 1986: Diego Maradona: Argentina vs England
The world was still reeling from his famous "Hand of God" goal, when Diego Maradona picked up the ball just to the right of the centre circle in his own half just five minutes later. With a drag-back and a body swerve, Maradona found an exit through a cul-de-sac, leaving Peter Beardsley, Peter Reid and Steve Hodge in his wake.
The crowd could sense that something special was about to happen and with every forward stride Maradona made, the noise intensified. Diego jinked inside Terry Butcher, before teasing artfully past Terry Fenwick. Now inside the penalty area, Maradona saw the hulking mass of Peter Shilton hurtling towards him.
The Argentinean number ten, swept past the English number one on the outside before holding off Terry Butcher again, eventually finishing into an empty net with his left. It was eleven seconds of performance art and unbridled genius.
World Cup 1978: Archie Gemmill: Scotland vs Netherlands
Scotland needed to beat the Netherlands by three clear goals to have any chance of progressing from their Group at the 1978 World Cup in Argentina. However, against the exponents of Total Football and the Finalists of the previous tournament, winning by that margin was always going to be a huge ask.
With the score locked at 2-1 to Scotland mid-way through the second half, the ball broke to Nottingham Forest's Archie Gemmill out to the Scottish right. Gemmill stretched to knock the ball past the lunge of Wim Jansen, advancing to edge of the Netherland's penalty area.
Two more exquisite touches left Dutch duo Ruud Krol and Jan Poortvleit with grass stained shorts and suddenly Gemmill was through on goal. With ice in his veins, Gemmill clipped the ball nonchalantly past onrushing Dutch keeper Jan Jongbloed, bringing the score up to 3-1.
Any Scottish dreams of progression were dashed when Johnny Rep scored for the Netherlands just three minutes later. The game finished 3-2 confirming Scotland's World Cup exit, but thanks to Gemmill's goal, their supporters still went home smiling.
World Cup 1998: Michael Owen: England vs Argentina
It's easy to forget just how good Michael Owen was when he exploded onto the scene in the late 90s. If you ever need a reminder, then watch this goal. Having lost one of their Group games to Romania, England were matched with international powerhouse and old enemies Argentina in the Last 16 of the tournament in France.
Gabriel Batistuta had given the South Americans the lead from the penalty spot after just six minutes and England feared the worst. Four minutes later, a teenaged Michael Owen, making only his fourth start for his country, was fouled in the area by Roberto Ayala and Alan Shearer dispatched the spot kick to level the scores.
Michael Owen's blistering pace was already causing panic to spread like an infection in the Argentinean ranks and when he controlled a David Beckham pass on sixteen minutes, defensive knees were already wobbling.
In a flash, Owen shrugged off Jose Chamot before streaking past Matias Almeyda and into the box. Own then cracked the ball unerringly into the top corner past Carlos Roa to give England the lead. The wonder goal wasn't enough to win the game however and England were eventually (and inevitably) eliminated after a penalty shootout.
Read more: World Cup 2018: Potential Breakout Stars in Russia
World Cup 1970: Carlos Alberto: Brazil vs Italy
Brazil's triumph in Mexico in 1970 was almost a victory of purity over cynicism. While their opponents repeatedly tried to kick them into submission, the Brazilians danced to their own tune, scoring nineteen times in their six World Cup matches.
Goal number nineteen was one of football's seminal moments and arguably the greatest team goal ever scored. 3-1 up in the Final against Italy, Brazil were already playing with the air of team on the cusp of being crowned World Champions.
With confidence oozing from every Brazilian pour, the players caressed the ball to each other, exhibiting perfection in their touch and fluidity in their movement. Eight players touched the ball before it hit the net for the 4th time  in the 86th minute.
Tostao, Brito, Clodaoldo, Pele and Gerson all exchanged passes, before Cloadoaldo had another go. The midfielder mocked four of his Italian counterparts with dips and feints before helping the ball forward to Rivelino.
Rivelino clipped the ball down the line to Jarizinho who moved inside and centred to Pele at the edge of the Italian box. With a pass that bordered on sporting telepathy, Pele knocked the ball to his right and into the path of Carlos Alberto who had sprinted forward from full back. The skipper thundered his shot first time into the far corner past Enrico Albertosi, to provide a fitting end to a wonderful move.
World Cup 1982: Eder: Brazil vs USSR
Brazil had been trailing in their opening World Cup 1982 Group Game against the USSR, before legendary midfielder Socrates had struck the equalizer from distance on seventy-six minutes. Socrates strike was magnificent, though his team mate Eder stole his thunder with just sixty seconds left on the clock.
Winger Isidoro collected a loose ball on the Brazilian flank before threading a ball centrally to the waiting Falcao outside the USSR box. Falcao's mind looked elsewhere when he casually widened his legs just enough to let the ball run through to Eder who was steaming forward behind him and into a better shooting position.
Instead of controlling the ball in a traditional fashion, Eder flicked the ball up with his left foot, before unleashing a twenty-five-yard volley past the static Rinat Dasayev. What a way to win a football match.
World Cup 2006: Esteban Cambiasso: Argentina vs Serbia & Montenegro
Fifty-four seconds, twenty-five passes, and one unforgettable World Cup goal. Argentina's Group match goal against Serbia & Montenegro was metronomic football poetry, formulated by the mind of Coach Jose Pekerman and put into practice by a star-studded team that would eventually see their promise unfulfilled later in the tournament.
At 1-0, the Argentineans were recycling the ball in the middle third of the pitch, sending their opponents deeper and deeper into a hypnotic state with every completed pass. When Juan Riquelme and Javier Saviola devised and executed a neat one two to open the game up, the Serbia & Montenegro players were too transfixed to react.
Saviola then fired a difficult to control pass in the direction of Esteban Cambiasso, though the midfielder was able to touch the ball forward to Hernan Crespo first time, making it look much easier than it was. Cambiasso continued to move forward, occupying the space created by Crespo's clever run.
Crespo instantly back heeled a return to Cambiasso who smashed the ball high into the net. Argentina scored six before the final whistle that day, though their tournament was cut short by Germany in the Quarter Finals who advanced after a penalty shootout.
World Cup 1994: Gheorghe Hagi: Romania vs Colombia
The Commander, The King, Maradona of the Carpathians – Gheorghe Hagi had many nicknames, though none of them fully do his genius justice. Hagi's left foot could solve a grease-covered Rubick's Cube through a keyhole.
In Romania's opening Group game against Colombia in the 1994 World Cup in USA, Hagi produced a moment of stunning audacity to double his team's lead after thirty-four minutes. While assessing his options from a wide left position, Hagi spotted the Colombian goalkeeper Oscar Cordoba anticipating a cross.
Hagi didn't hesitate and sent the ball rocketing over Cordoba's head and into the far top right-hand corner. Cordoba looked completely flummoxed as he turned to pick the ball out of his net and Hagi celebrated by dancing from foot to foot.
Romania won 3-1, a result that helped them qualify for the last sixteen where they shocked the world by beating Argentina 3-2. Hagi scored the third goal in that game, though he was unable to repeat the trick against Sweden in the Quarter Finals and Romania crashed out on penalties.
World Cup 2014: James Rodriguez: Colombia vs Uruguay
Germany may have won the World Cup in 2014, though on an individual level the tournament in South Africa belonged to Colombia's James Rodriguez.
Rodriguez had already scored in each of Colombia' Group matches before their Last Sixteen clash with South American rivals Uruguay. In the 28th minute with the game yet to burst into life, Rodriguez found a pocket of space, centrally and about twenty-five yards from goal.
When the ball was headed in his direction he was facing away from goal, but Rodriguez controlled with his chest and spun in one movement, catching the ball sweetly on the volley and sending it streaking past Muslera in the Uruguayan goal.
It was a double-take, "did that really just happen"  kind of moment. The only person in the stadium that wasn't in a state of disbelief was Rodriguez himself, whose ordinary celebration belied its extraordinary source.
Rodriguez finished the tournament as its top scorer, netting six times on Colombia's run to the Quarter Finals. Rodriguez' performances earned him a big money move from Monaco to Real Madrid just days after the World Cup ended.
World Cup 1994 Said Al-Owairan: Saudi Arabia vs Belgium
This stunning individual effort is often overlooked when recalling the greatest goals every scored in a World Cup.  The 1994 tournament in the USA was the first World Cup Saudi Arabia had ever qualified for. That generation of Saudi players remain the only group to make it past the Group stages, with their 1998, 2002 and 2006 counterparts falling at the first hurdle.
Said Al-Owairan's goal against Belgium was the only goal in his team's 1-0 victory – a win that sealed their spot in the Last Sixteen. Saudi Arabia had been on under the cosh against Belgium when the ball spun loose to Said Al-Owairan deep in his own half.
In a run equal parts instinct and inspiration, Said Al-Owairan sprinted past three Belgians before wrong footing Rudi Smits at the edge of the penalty area. Keeper Michel Preud'homme tried to close the angle, but he was beaten brilliantly by Said Al-Owairan's finish on the stretch.
In total, Said Al-Owairan carried the ball for sixty-nine metres to write his name into Saudi Arabian sporting folklore. That's where the fairy tale ended however as Saudi-Arabia were beaten 3-1 by Sweden in the first knock out round.
Follow Free Super Tips on Twitter to stay up to date with our daily tips and predictions or browse more football content on our website: