It looked a long time coming after a poor qualification campaign and having limped into the last 16 and indeed Argentina are out of the World Cup after falling to a 4-3 defeat to France in Kazan.
It was a match in which those in light blue at least showed some guts to fight until the end, unlike in the disastrous showing against Croatia, but once again we saw a team lacking ideas, quality and that played right into the hands of the opposition.
In the following article we wrap up our analysis of Argentina's showings and take a look at just why France were able to advance.
For other World Cup content, be sure to check out our betting blog.
Franco Armani:
River stopper Armani has long since been called for by Argentine fans following his excellent showings on the domestic scene but today he crumbled on the big stage, despite impressing against Nigeria last time out.
When you concede four times, the goalkeeper always has to shoulder some blame and indeed, Armani didn't make a single save in the 90 minutes. In all fairness, there was little he could have done for three of the goals but Mbappe's first goal was clearly one he'll feel he should have saved and he looked shot of confidence throughout the match.
Sluggish Defence:
Argentina's defence lacks pace and looked vulnerable every single time the likes of Pogba, Griezmann or Mbappe ran at them. La Albiceleste had struggled to deal with Croatia's counter earlier in the competition and their issues were only magnified further up against the quality of the France attack.
Nicolas Otamendi looked a shadow of the player he is at club level and was fortunate not to see red late on, whilst Gabriel Mercado and Nicolas Tagliafico struggled heavily throughout the match in a defensive sense. Marcos Rojo also had a nightmarish first half, resulting him being hooked at the interval, but replacement Federico Fazio didn't do any better, looking nervy and off the pace throughout the half.
Javier Mascherano:
You cannot doubt Mascherano's commitment but he's simply not cut out for such a high level of football, with the responsibility of holding together the midfield too big of a responsibility given his declining physical attributes.
Mascherano lacks pace and power and is unable to make recovery runs with any efficiency now. This is particularly dangerous against nations like France, who break so well and playing on a yellow card for most of the game, there was little Mascherano could do to stem the flow of French attacks.
Lack of Cohesive Strategy: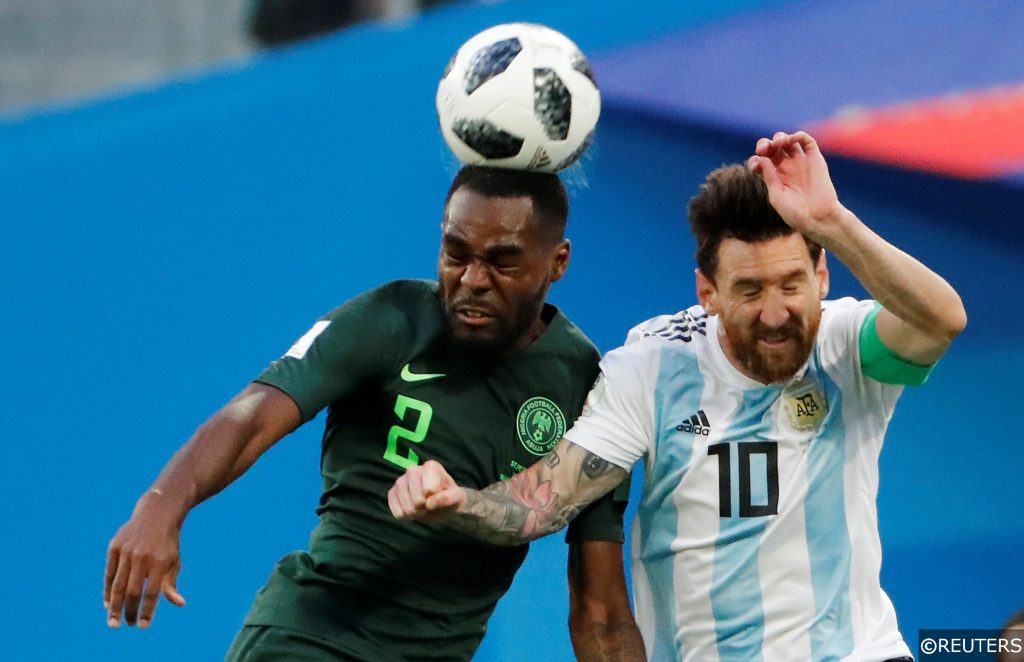 Argentina played directly into France's hands and looked a side lacking an idea of what they were trying to achieve. France conceded possession in order to draw Argentina out; restricting space well and then breaking into the gaps Argentina left with devastating consequences.
Giovani Lo Celso again remained on the bench, leaving Russia having not played a single minute of football, something that baffles given the lack of creativity Argentina displayed throughout the tournament.
He would have been far more suited to the type of game France proposed than Cristian Pavon, who is a player who needs space to function with any real effect and the Boca winger failed to have any impact on the game whatsoever, with France's deep block rendering him useless.
France forced Argentina to go wide and Argentina obliged, pumping the ball into the box aimlessly time after time. If Argentina's plan was to get that ball into the box as often as possible, you'd have to question why Gonzalo Higuain wasn't started, as Lionel Messi certainly isn't fit to thrive under said conditions.
Ultimately, Argentina fell upon their goals by coincidence rather than any real plan and you cannot stumble your way into the latter stages of the World Cup. They were beaten by a side that had a clear and defined idea, that worked very well against a disjointed Argentine outfit.
Jorge Sampaoli: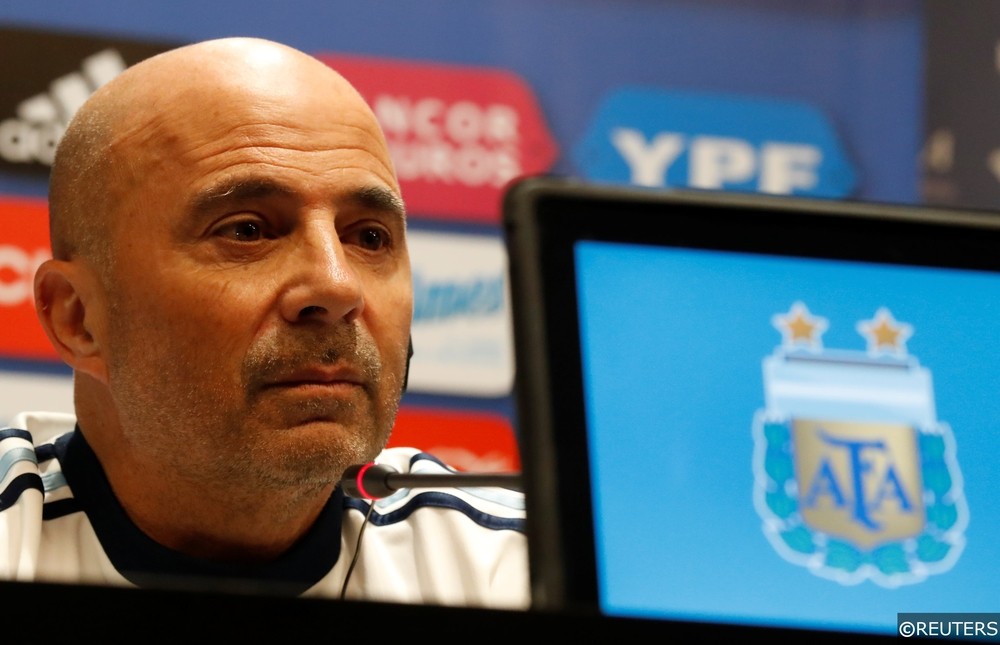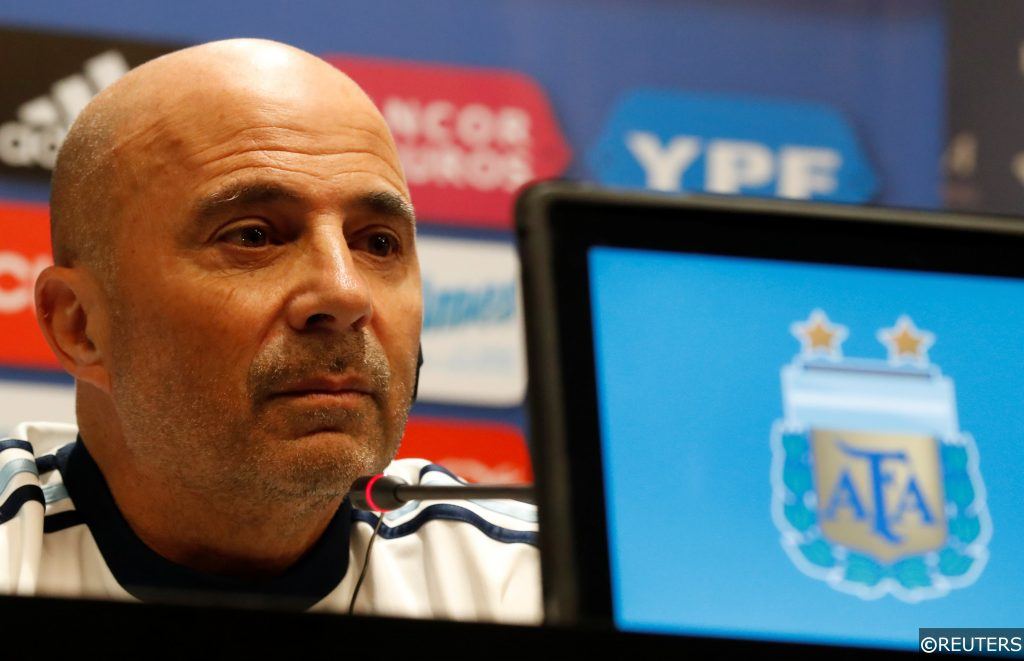 Boss Jorge Sampaoli has to shoulder a large majority of the blame. He came a confident man, tactically superb and with a style of play that looked like getting the best out of prodigal son Lionel Messi.
Instead; Sampaoli has looked a man totally lost in the pressure of the job and has failed to deliver the goods. He's chopped and changed without any real apparent aim, attempting to stumble upon a winning formula rather than creating one.
Sampaoli has not inspired support from the media, fans or players and overall has helped create a volatile camp. It's hard to ascertain what exactly has gone on behind closed doors but it's apparent to all that the group of players were not happy nor comfortable with playing under the ex-Chile boss and his future as boss is surely non-existent.
Overall Conclusion:
Ultimately, Argentina just weren't good enough and always looked like crashing out the first time they met a well-organised unit. The squad of players is not the most talented and expectations always appeared to be set too high, with the weight of Argentina's name clouding the issues they very clearly have.
It was last chance saloon for many of this generation and now all thoughts must go towards the future. In the coming weeks we'll see who is retiring from international football but with the likes of Mascherano, Di Maria, Aguero, Higuain and Messi all rumoured to have played their last game for the national team, any potential re-build with have to be vast.
And said re-build will have to be from the very top to the very bottom. A basic necesity is a competent governing body and in the AFA, La Selección completely lack that, with their own lack of organisation and embarrassing decisions, both internationally and domestically very clearly affecting the team both in the short and long term.
Tomorrow the post-mortem in Argentina will begin and it'll be very in-depth, with few people spared. This group of players have given their country a lot over the years but have ultimately failed to deliver what 43 million people dream of; glory in the form of trophies and big changes have to be made if the new generation are to get anywhere near doing exactly that.
Follow Free Super Tips on Twitter to stay up to date with our daily tips and predictions or browse more football content on our website: