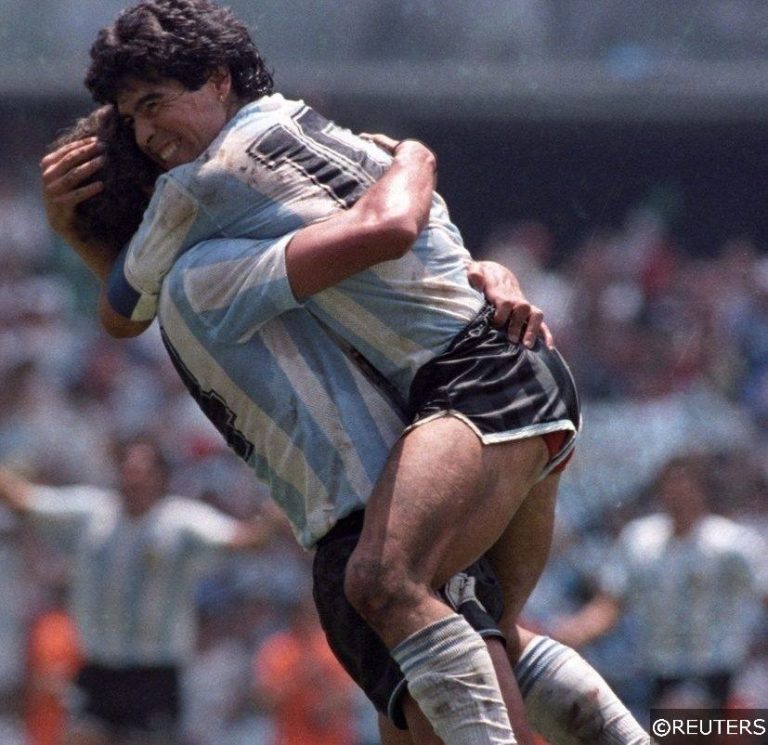 With two World Cups to their name and four final appearances overall, Argentina are clearly one of the planet's real footballing powerhouses. The unmistakable light blue and white shirt of La Selección has provided some of the competition's finest moments, with some of the greatest players to ever grace a football pitch hailing from the South American country.
A mixture of raw, natural talent combined with steely determination raised on cobbled streets up and down the country has given La Albiceleste a real footballing identity and in the following article we look to piece together the men who have helped form that; by naming our All Time Argentine XI.
To see the XI looking for glory this year, check out our Potential Argentina XI feature.
The Team (4-2-2-2):
Goalkeeper: Ubaldo Fillol
Hardly famed for producing world class shot stoppers in the modern era, Argentina certainly possessed one of the greats when they had Ubaldo Fillol within their ranks, who is still renowned as one of the greatest ever keepers to come from South American shores.
Fillol just edges out Amadeo Carrizo, another goalkeeping great, for the sheer contribution he made for the national side. None other than Diego Maradona described Fillol as "the best goalkeeper I've ever seen" and the former River Plate man racked up an impressive 58 international caps. Fillol participated in three World Cups and his performances in the 1978 edition helped Argentina to their first ever world crown; as well as earning himself a place in the team of the tournament.
Did you know: Despite being a goalkeeper, Fillol wore number 5 at the 1978 World Cup because Argentina's numbers were assigned in alphabetical order.
Right back: Javier Zanetti
Not just an Argentina legend, but a man respected in just about every country, Javier Zanetti can be the only pick in this slot. Frighteningly consistent, Zanetti was the perfect mix of talent and application, standing amongst the elite in his position for close to a decade.
Argentina's joint record capped man, with 143 appearances to his name, Zanetti played in two World Cups and was a permanent fixture in the team throughout his career. At club level Zanetti won it all and his quality simply cannot be questioned.
Did you know: Zanetti was nicknamed "The Tractor" in Argentina for his ability to patrol up and down the flank without tiring.
Centre back: Daniel Passarella
Anyone that would create an all time Argentine XI that didn't feature Daniel Passarella would immediately lose all credibility. Widely, and deservedly, considered the greatest centre back the country has ever produced, Passarella played in three World Cups, skippered the team to victory in 1978 and collected 70 national caps.
And Passarella managed to do all of the above from a central position despite being just 5ft 8". He defined the then more popular position of a sweeper and to this day remains one of the highest goal scoring defenders of all time, rattling home just under 200 goals throughout his career.
Did you know: Passarella is also famous, or infamous, for being the River Plate president when they suffered relegation for the first time in 2011.
Centre back: Roberto Perfumo
Despite playing only 37 times for his country, with games far more sporadic in his era, Roberto Perfumo left a long lasting mark on Argentine football that sees him hailed as one of the best defenders to wear the Albiceleste shirt to this day.
Oscar Ruggeri and and Roberto Ayala are unfortunate to miss out but Perfumo more than merits his place in the side and was one of South American football's finest defenders in a career spanning close to two decades.
Did you know: Perfumo was nickname "The Marshall" for his ability to mark the opposition out of the game.
Left back: Silvio Marzolini
Another man without a great deal of caps due to the more sporadic nature of international football in his day; but still regarded back home as the country's finest ever left back; Silvio Marzolini.
Marzolini is not exactly renowned all over the world, as he rejected moves to Europe's top clubs in order to stay with his beloved Boca Juniors; going on to make 387 appearances for the Argentine giants. Marzolini made the team of the tournament in 1966 and was undoubtedly one of the world's finest full backs in his time.
Did you know: Marzolini would later go on to manage Diego Maradona during a brief spell as Boca manager.
Defensive midfielder: Diego Simeone
With 106 caps to his name, as well as 2 Copa America titles and 1 Confederations Cup win, now Atletico Madrid manager Diego Simeone more than merits his place in the side. Although technically gifted, Simeone's main attributes were of combative nature and the leadership abilities he demonstrates now as a manager were always there as a player.
Though perhaps not as talented as Fernando Redondo, who we've left out of our XI, Simeone gave far more to his country and has a far higher status back home as a result.
Did you know: When Simeone was at school, he was asked in front of the class what he would be when he was older. He replied "a footballer" and the the room burst out laughing. The rest, as they say, is history.
Defensive midfielder: Javier Mascherano
Without a shadow of a doubt our most controversial pick, but having recently equalled Zanetti's appearance record, few can put a damper on what Mascherano has given his country over the years.
Mascherano has been an integral part of the Argentina team for well over a decade now, coming within touching distance of several Copa America titles and one World Cup crown, eventually missing out through no fault of his own. The leader of the group that made the final in 2014, 'Masche' will be looking for a fitting end to his international career in Russia.
Did you know: Mascherano is nickname "The Little Chief" for his tenacity and leadership abilities on the field.
Attacking midfielder: Diego Maradona
Needing no introduction whatsoever and arguably the greatest player of all time; Diego Armando Maradona. With god-like status in Argentina, any non-inclusion of Argentina's famous number 10 would be an absolute crime and thus, he goes straight into our side.
Maradona was simply unplayable as he lead Argentine to glory in Mexico 1986 and clips of him running defenders ragged still take the breath away to this day. 91 international appearances, a leader of a generation, there's really much else to say. Diego makes our team every day of the week.
Did you know: in 1998 "The Church of Maradona" was founded in Argentina and has close to 200,000 members.
To learn more about Maradona, we recommend giving our Maradona's legacy piece a read.
Attacking midfielder: Lionel Messi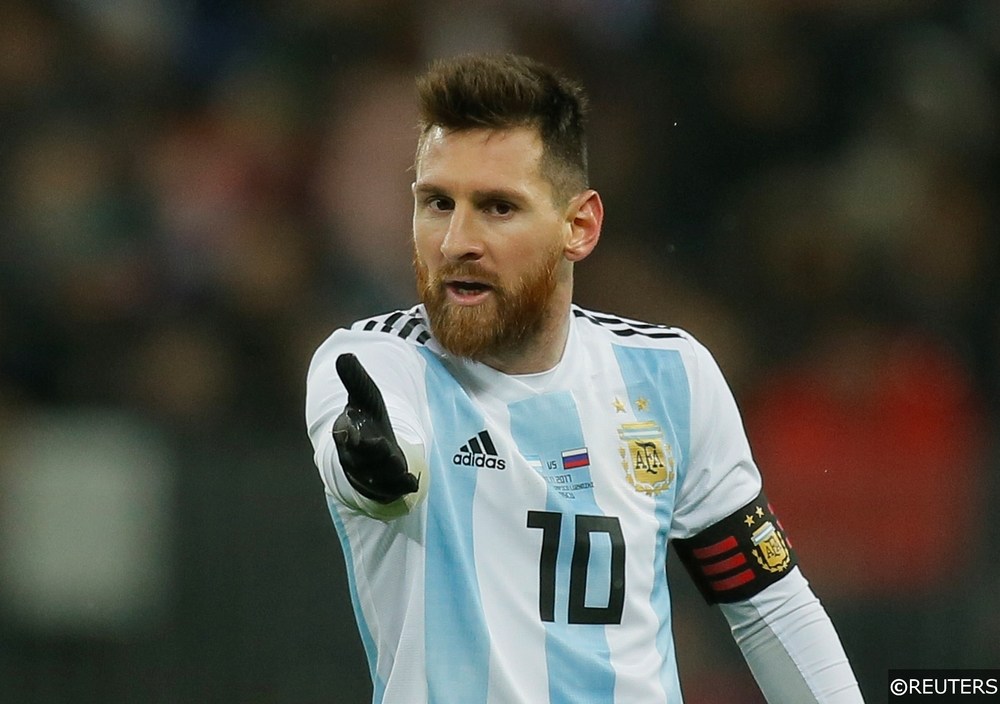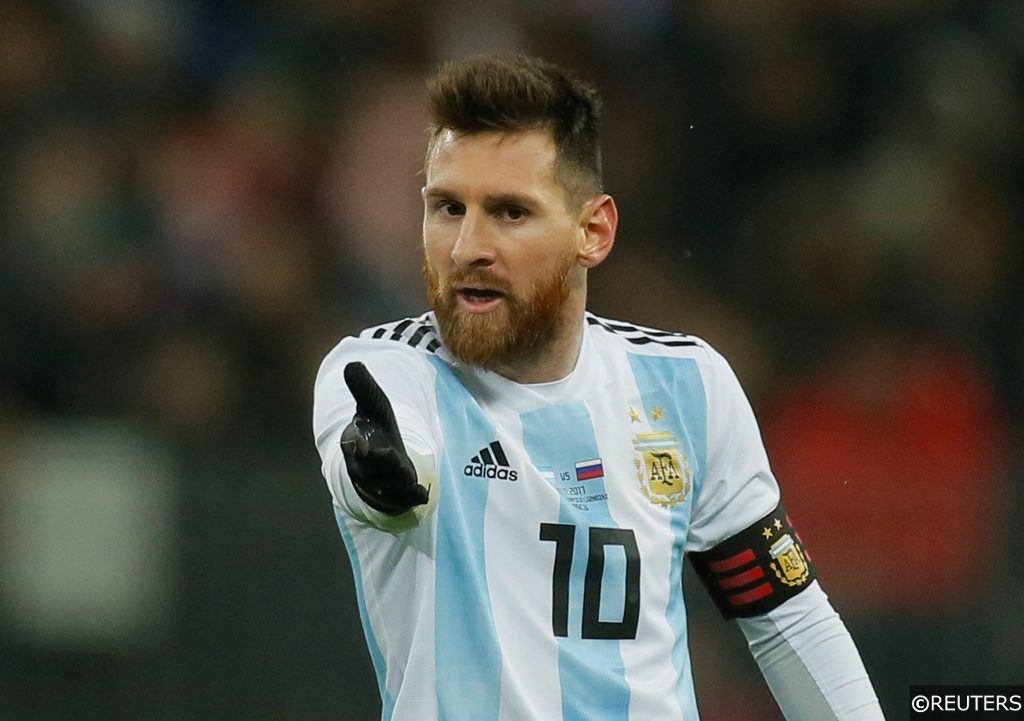 The heir to Maradona's throne, all Lionel Messi is lacking is the World Cup medal Maradona has, because ability wise, there's very little between the two and their styles of play are eerily similar.
Messi, Argentina's record goalscorer, has on more than one occasion dragged his country through important matches single handedly and if it wasn't for the Barcelona man, they probably wouldn't even by at the tournament this year. 124 caps, 64 goals, Messi makes the cut with consummate ease.
Did you know: Despite being an avid Newell's Old Boys fan, Messi has never played a competitive club match on Argentine soil, having left for Barcelona at a young age. Nonetheless, he's stated on numerous occasions he hopes to retire at La Lepra.
Striker: Gabriel Batistuta
Second only to Messi in the all-time goalscoring charts for Argentina, Gabriel Batistuta has to be included. One of the most prolific goalscorers of his era, Batistuta was as complete a forward as they come and at club level was most famous for plunging home 168 goals in 269 games for Fiorentina.
Scoring at a rate of a goal every 1.42 matches with La Selección, it'd take a brave man to oppose Batigol's selection. Playing in 3 World Cups, lifting the Copa America twice and the Confederations Cup once, Batistuta is undoubtedly an Argentina legend.
Did you know: Batistuta was once quoted as saying "I don't like football, it's only my job."
Striker: Mario Kempes
The key man in Argentina's first ever World Cup win in 1978, Mario Kempes cannot be ignored. Kempes plunged home 6 goals on the way to lifting the trophy; two of which coming in the final itself in a 3-2 win over Holland.
With 300 goals in 555 clubs matches, as well as 20 goals in 43 Argentina' appearances, Kempes was one of the greatest goalscorers of his time and rounds of our team nicely.
Did you know: Kempes has a 60,000 seater stadium named after him in his home city Cordoba.
Follow Free Super Tips on Twitter to stay up to date with our daily tips and predictions or browse more football content on our website: