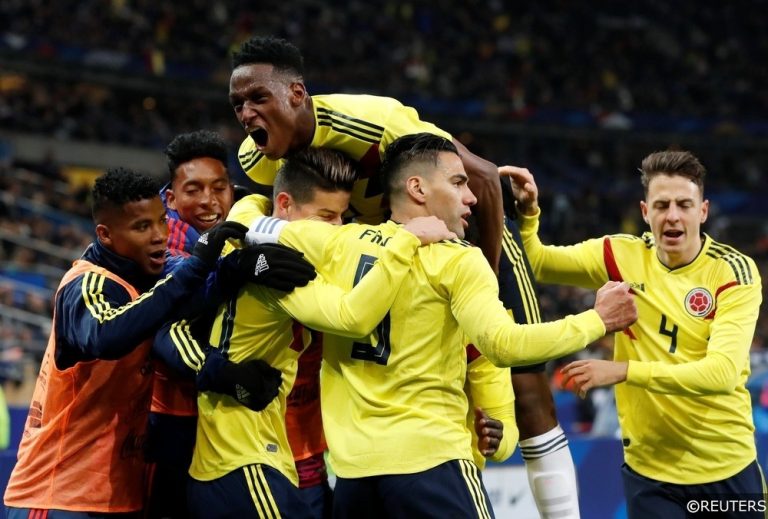 After a heavily rotated England side lost 1-0 to Belgium, their second place finish in Group G was confirmed. It was a result that, rather bizarrely, numerous England fans were happy with, with the Three Lions' potential route to the final now seen as an easier one.
However, next Tuesday's round of 16 clash is by no means a given win, with Colombia set to provide a very tricky test. Los Cafeteros certainly represent more of a challenge than the Japan side England would have faced had they won the group and should by no means be underestimated.
In the following article we take a look at what Gareth Southgate's men have to guard against, based on what Colombia have shown in the competition so far.
Be sure to check out our previews of every single World Cup match!
Colombia's Aerial Threat:
Colombia have looked a real threat in the air throughout the competition so far, particularly at set pieces and as such, England must prepare accordingly. The South Americans have already found the net twice from corner kicks and have utilised them very well.
Juan Quintero's deliveries are normally always whipped into dangerous areas with his magical left foot, but Colombia also like to mix their routines up and sometimes take short corners, as seen in their first goal from a corner in their 3-0 win over Poland.
Centre back Yerry Mina is the main threat Colombia possess aerially in the box and he's notched both of the aforementioned goals so far. Mina is a fast mover in the box and makes intelligent runs to open up space, while he's simply dominant one v one in the air. Mina certainly isn't the only threat Colombia posses when the ball is put into the box however, and England will have to be on the guard throughout the match; as one lapse in concentration could well prove deadly.
Colombia's Dead Ball Specialists:
We've already marked Quintero's ability to deliver a good corner and he's also a free-kick specialist, so England will have to try and avoid giving away cheap fouls on the edge of the box, as the River man is more than capable of taking full advantage.
Quintero is very unpredictable and inventive in the way he strikes the ball. He cheekily rolled the ball under the wall and into the bottom corner in Colombia's opening game, whilst he's also gone close on several other occasions throughout the competition, both on the goalkeeper's side and via going over the wall. James Rodriguez is another fine free kick taker and should he be passed fit for the match, Colombia's free kick arsenal will certainly be stacked.
Colombia's Centre Back Pairing:
The duo of Yerry Mina and Davinson Sanchez have been impressive throughout the World Cup so far and are a large reason in why the side have kept clean sheets in their last two games. Whilst Mina has mainly got the plaudits for his attacking exploits, he's also been dominant at the back alongside Sanchez.
Both men are physically imposing and defend their box well. Looking to get plenty of crosses into the box is simply not a strategy England can deploy, given how well the duo defend aerial balls and thus, Gareth Southgate must instruct his men to try and play through the backline rine rather than directly onto it.
Juan Quintero: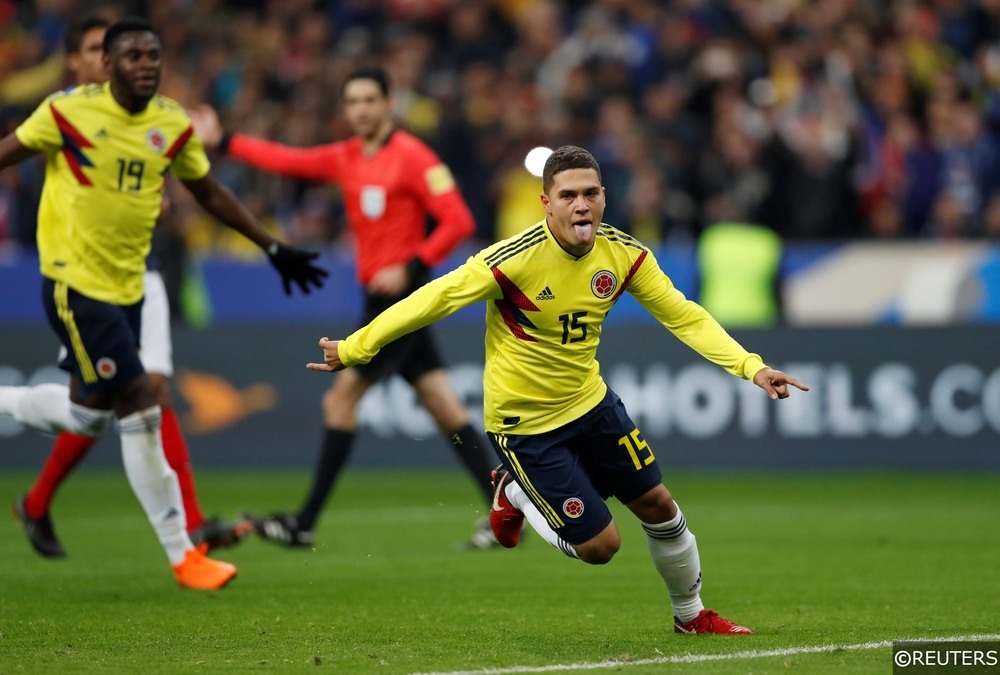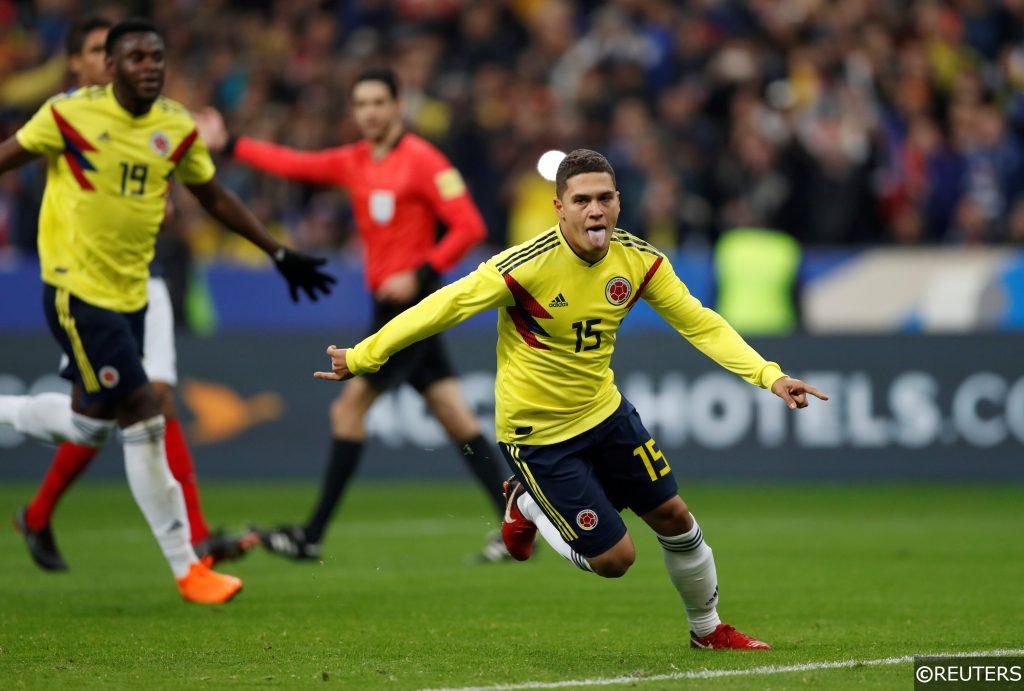 Whilst James Rodriguez's potential absence would mark a huge boost for England's hopes, they'll have to be very aware of the already extensively mentioned Quintero even if the Bayern man does miss out.
We tipped Quintero as a man to watch in our feature on him and also outlined his role in Colombia's win over Poland, and the pint-sized playmaker has undoubtedly been one of the stars of the competition so far.
Quintero is an excellent technician and it's a necessity that England look to restrict the supply going into him in order to stifle his ability to put a mark on the match. If England allow Quintero time and space to dictate the game, he will open it up and punish them; with his unbelievable range of passing one of Colombia's main threats.
Quintero has an excellent understanding with James Rodriguez, so those of an English persuasion can only hope the latter misses out, but Colombia's number 20 will likely be one of the game's protagonists with or without his partner in crime.
Jose Pekerman's In-Game Management:
It's no fluke that Argentine-born boss Jose Pekerman has became the first man to guide the side through consecutive World Cup group stages and Southgate will certainly have to be at his very best to outwit the experienced 68 year old tactically.
Pekerman has been able to establish several different ways of playing and frequently alternates between them in matches depending on the game state, meaning the England bench will have to be very attentive throughout the 90 minutes to note changes in Colombia's strategy.
Colombia are happy and comfortable with trying to dominate possession and control games with their strong technical ability, but they're also very threatening on the break and tend to drop deeper and counter once they have the lead.
Juan Cuadrado is the team's main outlet when looking to do exactly that and he has the pace and ability to capitalize on any space left in England's backline, whilst he also looks comfortable when the team are on top of possession; making him a key man in the transition between each style of play.
On the bench, Colombia also have several more conventional strikers that can allow them to go more direct should they be trailing late on, with both Miguel Borja and Carlos Bacca providing dangerous options alongside the pacey Luis Muriel.
Conclusion:
There seems to be an air of arrogance in England around this fixture and whilst that certainly doesn't stem from the England camp itself, if they do end up underestimating the Colombians as numerous fans and media outlets are doing, they will be made to pay.
Man for man, Colombia have the players to go toe to toe with England and contrary to popular belief, there is no real favourite in this match, with the two nations looking quite even on paper and in what they've displayed so far in Russia.
If England can nullify Colombia's aforementioned strengths then they'll be in with every chance of securing victory; but that's something easier said than done.
Read More: England vs Colombia Predictions, Betting Tips and Match Preview
Follow Free Super Tips on Twitter to stay up to date with our daily tips and predictions or browse more football content on our website: