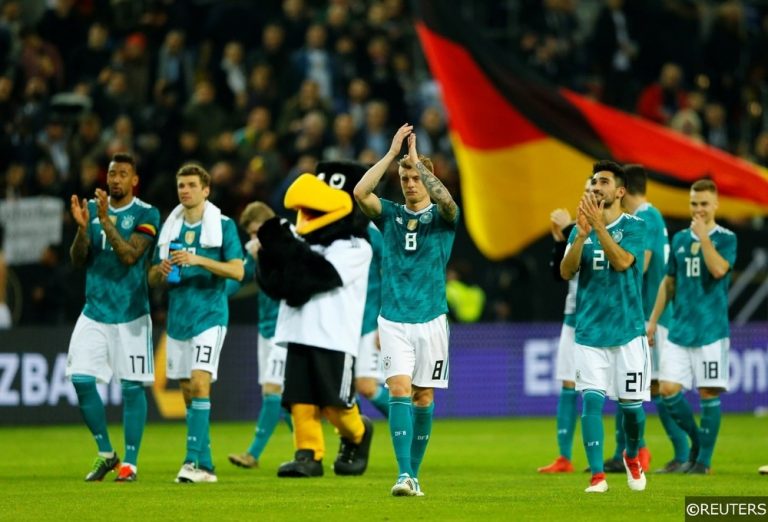 A lifelong Birmingham City fan, Tom relocated to Germany for five years after graduating from university, where his interest in the Bundesliga developed. He began writing about and betting on German football for FST in 2016. He's also an avid fantasy football player and closely follows the Premier League and European competitions.
Reigning champions Germany suffered an unexpected early exit from the 2018 World Cup after being beaten by South Korea in Kazan.
In truth, after Germany's opening two matches it didn't come as a massive shock. You might also have said that it was nothing more than they deserved. Yet you couldn't help but get the feeling that Toni Kroos' 95th minute winner against Sweden in their second group stage match was a turning point for Die Mannschaft.
As it turns out, the disaster that was Germany's 2018 campaign was simply delayed rather than avoided altogether. Things went worse against South Korea than they could ever have imagined. A very underwhelming and uninspired performance saw Germany humiliated and eliminated from the World Cup at the group stage for the first time in 80 years.
So what went wrong for Germany at the 2018 World Cup and where do Die Mannschaft go from here?
South Korea 2-0 Germany
Germany turned up to the Kazan Arena short of direction, belief, desire and of heart. It was the absolute opposite of what we have come to expect from Die Mannschaft. Joachim Löw, who had never seen Germany to anything less than a semi-final spot over his 12-year reign, made five changes to the side that saw off Sweden just a few days prior. Khedira, Hummels, Süle, Goretzka, and Özil were brought in to mix things up, but they started off in the same sluggish fashion.
Germany were slow on the ball in midfield to the point where South Korea were able to exploit them in the counter-attacking fashion Mexico and Sweden did. Going forward, they were lacking the creativity and ability required to find a way through a well-structured Korean defense. Joshua Kimmich's play on the right hand side was not up to the standard of his Bayern Munich form, but then the movement in the middle was not giving him much to work with. Timo Werner and Marco Reus kept swapping and changing positions in a bid to make something happen.
Even after half-time when it was obvious that Germany had to push for a result there seemed a lack of conviction in their play – a sense of disbelief that they could achieve their goal (sound familiar England fans?). There was too much disconnect between players who never quite looked on the same wavelength. Many would be quick to criticize a player like Mesut Özil, but he created more chances in a single match (7) than any other player at the World Cup so far. His passes were misread by his teammates due to a breakdown in communication that seems alien for a German national team.
Hummels' late miss as he connected to the ball with his shoulder rather than his head summed up the embarrassment of Germany's performance. As the game went on, the unthinkable became more and more of a reality as Korea were regularly gifted chance after chance on the break. A sprinkle of dramatic VAR checking – essential to any good 2018 World Cup game – saw South Korea's 92nd minute goal correctly awarded before Son Heung-min sealed Germany's fate in the 96th minute. Seeing Manuel Neuer stumbling around in the opposition half is something none of us will forget quickly!
Read more: How Germany's exit sees Brazil as favourites going into the Round of 16
Final Standings
Germany – of all teams – are leaving Russia with their heads hung low. Die Mannschaft's 2-0 defeat saw them fall behind South Korea on goal difference, meaning Joachim Löw's men finished rock bottom of Group F – something that could have been backed at around 20/1 before the tournament! A group forecast of Sweden (first)/Mexico (second)/South Korea (third)/Germany (fourth) would have been around a whopping 40/1!
Following Germany's horrendous World Cup campaign, one can't help but remember the so-called curse of the reigning champions – something that lies in wait for the 2018 winners! Die Mannschaft are now the fourth World Cup champions in five editions of the tournament to see their title defense fall at the first hurdle (France 1998, Italy 2006, Spain 2010, Germany 2014)!
Read more: A complete guide to the Round of 16 at the 2018 World Cup
What went wrong?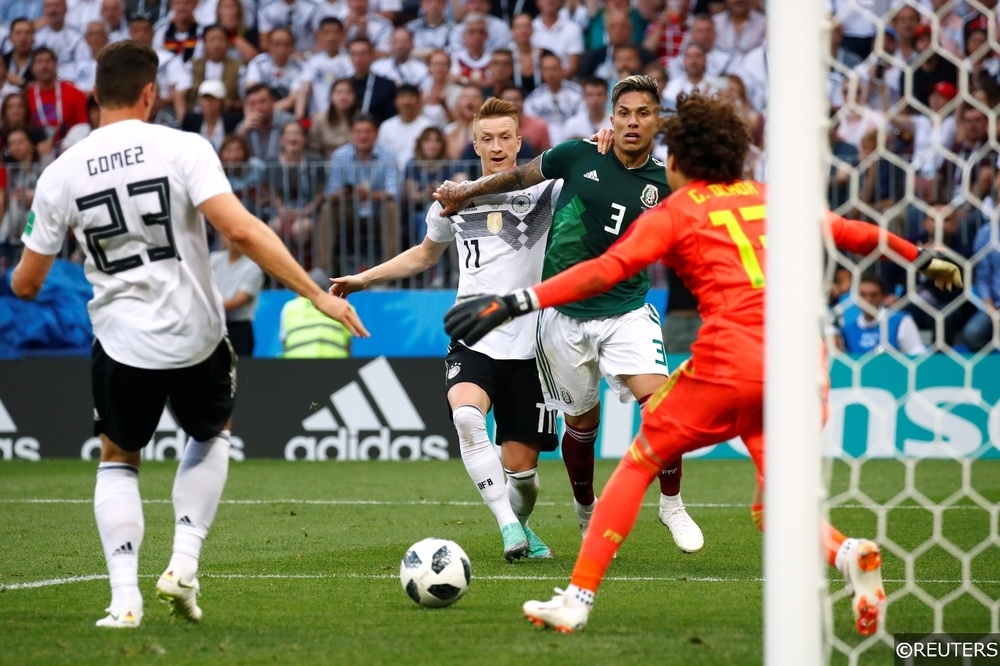 Even before the tournament, there was a lot of self-doubt going around the German camp. A defeat to Austria and an unconvincing win against Saudi Arabia in pre-World Cup friendlies saw tensions rise in the German media, not only in terms of the quality of football, but also in terms of politics. Midfielders Ilkay Gündogan and Mesut Özil, both of Turkish descent, were heavily criticized since meeting with the president of Turkey, Recep Tayyip Erdogan, last month. Gündogan was even booed by German fans in his last pre-tournament outing for the national team.
Rumours were also circulating around a split between the "newcomers" of the 2017 Confederations Cup winning side and the "old guns" of the 2014 World Cup winning one. It's easy to imagine that something like this could occur, with players like Müller and Özil being some of the first names on the team-sheet despite a lack of form at club level. Let us not forget the axing of Manchester City's Leroy Sane from the Germany squad entirely. Multiple players, including captain Manuel Neuer, have denied that any such division exists, but there is that old expression about no smoke without fire.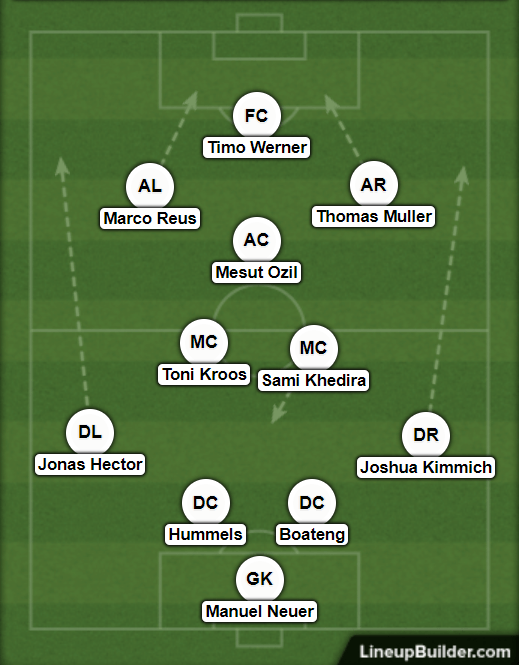 Some would also say that Joachim Löw's tactics are outdated and lacked balance – the latter was much more obvious. Rather than adopting the popularised 3-5-2 which utilises three center backs and two wing backs, he boldly stuck to just four at the back throughout the tournament. With left-back Jonas Hector and right-back Joshua Kimmich pushing high up the pitch, Germany were regularly exposed and caught on the counter time and time again, much to Mats Hummels' criticism.
Individual selections could also be questioned, none more so than that of Sami Khedira. It made complete sense that he was dropped for Sebastian Rudy in Germany's second group stage outing against Sweden, having not been quick or tactically aware enough against Mexico. However, when the starting 11 against South Korea was announced, it was strange to see him brought back in. Sure, he's a key figure and a veteran to the national team, but he set the tone for another poor display on the pitch. Why not use a player like Gündogan if you're going to take him?
Read more: Was Mats Hummels right to criticise Joachim Löw's tactics?
Where do Germany go from here?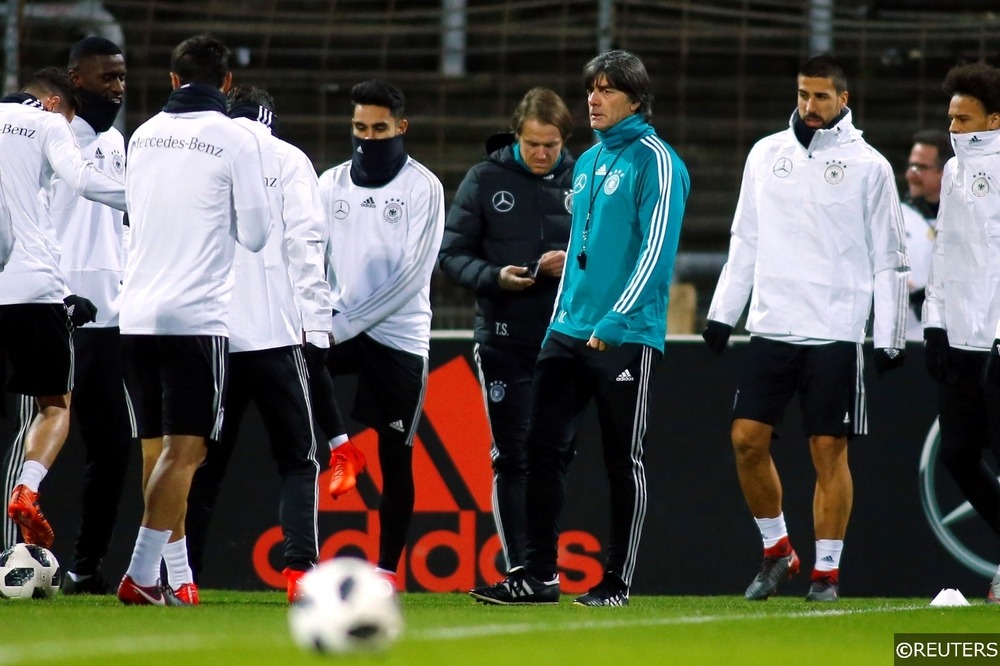 At the darkest of times, Germany's future remains bright, and their 2017 Confederations Cup win shows the quality that lies in wait. However, only four of their starting 11 against South Korea actually featured in the competition last summer (Werner, Goretzka, Süle and Kimmich). Remember too that Germany's U21s won last year's edition of the European Championship, yet none of them were present in Russia either. Why is that? Perhaps it's fair to say that Joachim Löw might have been too loyal to his 2014 winning players (Khedira, Müller and Özil in particular).
You might also say that Germany should have taken in-form Manchester City winger Leroy Sane, who was a surprise omission from the 23-man squad, but that misses the point in two ways. Firstly, because the man who went instead, Julian Brandt, was probably one of Germany's most impressive players – in the 19 minutes he got at the tournament at least. More importantly, this was not down to the absence of any single player.
Read more: Who are Germany's rising stars?
Germany's main absence looked to be in that of leadership and understanding. Since 2014, Die Mannschaft have lost captain Philipp Lahm, World Cup top scorer Miroslav Klose, and key dressing room figures like Bastian Schweinsteiger and Per Mertesacker. All of these players had not only years of experience playing with one another, but were also hugely influential in terms of conducting play across all areas of the pitch. Those that remain from Germany's 2014 World Cup winning squad simply couldn't replicate that on the same level.
Questions now surround the future of head coach Löw, who extended his deal until 2022 earlier this year. Should Germany look to rebuild with him, it would be reasonable to hope that he would move on from the past and start a new-era with Die Mannschaft, focusing on their youth, arguably one of the strongest pools of talent anywhere in Europe. Or should the German FA look elsewhere for a fresh outlook? Liverpool's Jürgen Klopp has been named as the bookies' favourite for the job, while Arsene Wenger and Zinedine Zidane are also among the top contenders if Löw is sacked.
Let us know if you think Germany will bounce back strong in EURO 2020 over on our Twitter page.
Follow Free Super Tips on Twitter to stay up to date with our daily tips and predictions or browse more football content on our website: