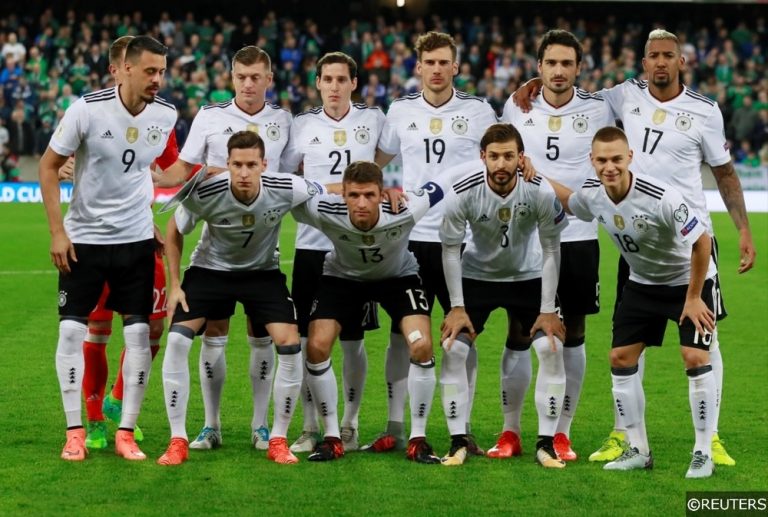 A lifelong Birmingham City fan, Tom relocated to Germany for five years after graduating from university, where his interest in the Bundesliga developed. He began writing about and betting on German football for FST in 2016. He's also an avid fantasy football player and closely follows the Premier League and European competitions.
For the first time since the turn of the millennium, Germany will be headed to the World Cup without the likes of players such as Miroslav Klose, Bastian Schweinsteiger or Philipp Lahm (among others) in their squad. Instead, as the world champions look to defend their title in Russia this summer, Joachim Löw is banking on some newer faces to emerge into the limelight.
Last summer's Confederations Cup showed just how much talent he has to choose from going into the tournament, but will Die Mannschaft's next 'golden generation' be able to live up to, or surpass, their predecessors on the world's biggest stage?
Let's delve a bit deeper into Germany's rising stars…
Read our article on Germany's 2018 squad to see Joachim Löw's full squad selection for the World Cup in Russia.
Timo Werner (RB Leipzig, 22 years old)
2018 replacement for: Miroslav Klose
Prodigal forward Timo Werner has been breaking record after record since debuting for Stuttgart back in 2013. He became their youngest ever first-team player at the age of 17 years and four months, the youngest player to make a Bundesliga appearance soon after that, and within four top-flight appearances, the club's youngest ever goalscorer. Following Stuttgart's relegation in 2016, he transferred to the up-and-coming RB Leipzig, which has proven hugely beneficial to both parties. He led the Red Bulls to a 2nd place finish in their maiden top flight season, scoring 21 goals in 31 outings, and followed that up with 21 goals across all competitions the season after that – including UEFA Champions League and Europa League outings.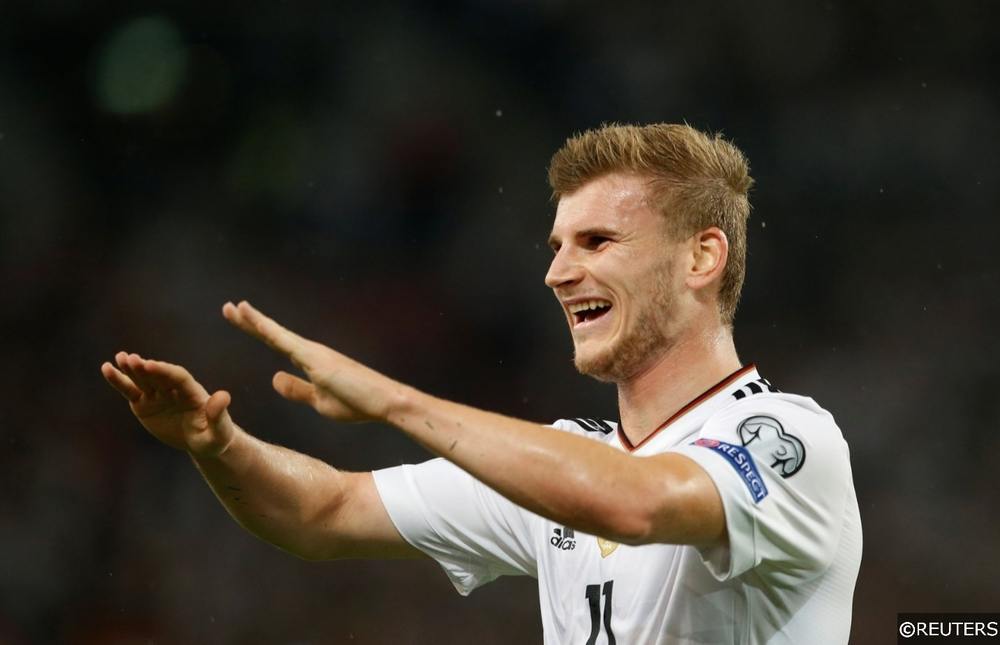 He would likely have scored even more were it not for some minor injuries and a few illnesses, but none of these could stop him breaking yet another record, becoming the youngest ever player to record 150 Bundesliga appearances. A prolific scorer in Germany's youth teams, Werner made his senior debut in 2017 in a friendly against England. Since then, he's featured in both the 2017 Confederations Cup and in Germany's World Cup qualifiers, scoring 7 goals in 12 appearances. Werner also has the backing of Germany's all-time leading scorer Miroslav Klose, who is part of Löw's coaching crew. Klose praises the young German on being "hard to predict and difficult to defend against".
FUN TRIVIA: Werner wasn't just dedicated to football in his early years! He also finished school and passed his final exams at the request of his mother – not many young pros can say that!
Leon Goretzka (Schalke 04, 23 years old)
2018 replacement for: Bastian Schweinsteiger
Fashioned at hometown club VfL Bochum, Leon Goretzka is the latest of young talents who have honed their craft at Schalke 04. Goretzka's arrival on Germany's biggest domestic stage saw him score four goals in 25 league games in his first season to help Schalke clinch Champions League football with a third-placed finish. His performances caught Löw's eye early, though he missed out on the 2014 World Cup due to a late injury and lack of international experience. He did get a trip to Brazil as captain of the silver-medal-winning German Olympic Squad in 2016 though!
His best moment on the international scene came, however, 12 months later in the 2017 Confederations Cup. He set a record by scoring the fastest-ever brace by a German international with two goals in three minutes in the semi-final win over Mexico. Goretzka's displays raised a few eyebrows and his abilities have continued to be showcased through to the 2017/18 season. Deservingly, the Bochum-born midfielder has now secured a move to Bayern Munich and a place in Löw's 29-man preliminary squad for the 2018 World Cup.
FUN TRIVIA: Bochum stated in 2017 that Goretzka "almost single-handedly saved the club from extinction" after choosing to sign a long-term contract with them in 2012, rather than leaving on a free transfer.
Read more about other Potential Breakout Stars in Russia.
Leroy Sané (Manchester City, 22 years old)
2018 replacement for: André Schürrle
Sane's development started at the hands of renowned Schalke 04 youth coach Norbert Elgert, who also launched the careers of Manuel Neuer, Mesut Özil, Julian Draxler and Leon Goretzka. He was undeniably one of Schalke's star performers at the youth level, and quickly rose through the ranks to be promoted to the first team in the summer of 2015. Sane went from strength to strength in Schalke's 2015/16 campaign, and his nine goals and seven assists over 42 appearances paved the way to a first appearance for Germany and a surprise call-up for Joachim Löw's Euro 2016 squad.
It didn't take long for Pep Guardiola, who that same summer had swapped the Allianz Arena for the Etihad Stadium, to make the then 20-year-old the second-most expensive transfer away from the Bundesliga – former Wolfsburg man and new teammate Kevin De Bruyne remains the most expensive! Adjusting to the Premier League and life in England was something that didn't happen overnight, but during the 2017/18 campaign he emerged as one of the best wingers in Europe, notching up 10 goals and 15 assists as Man City rocketed to the Premier League title.
FUN TRIVIA: Leroy Sane has dual German and French citizenship, so could have chosen to play for either side internationally!
Julian Brandt (Bayer Leverkusen, 22 years old)
2018 replacement for: Lukas Podolski
Since being signed from Wolfsburg's youth academy in 2014, Julian Brandt has spent his four-year career at Bayer Leverkusen. Leverkusen sporting director Rudi Völler praised him as "one of the most talented young players in German football" upon his arrival there, and within a month Brandt made his Bundesliga debut. His quick rise through the ranks didn't end there though, as he found himself facing a PSG side boasting names like Ibrahimovic and Thiago Silva just a few days later – talk about being thrown in the deep end!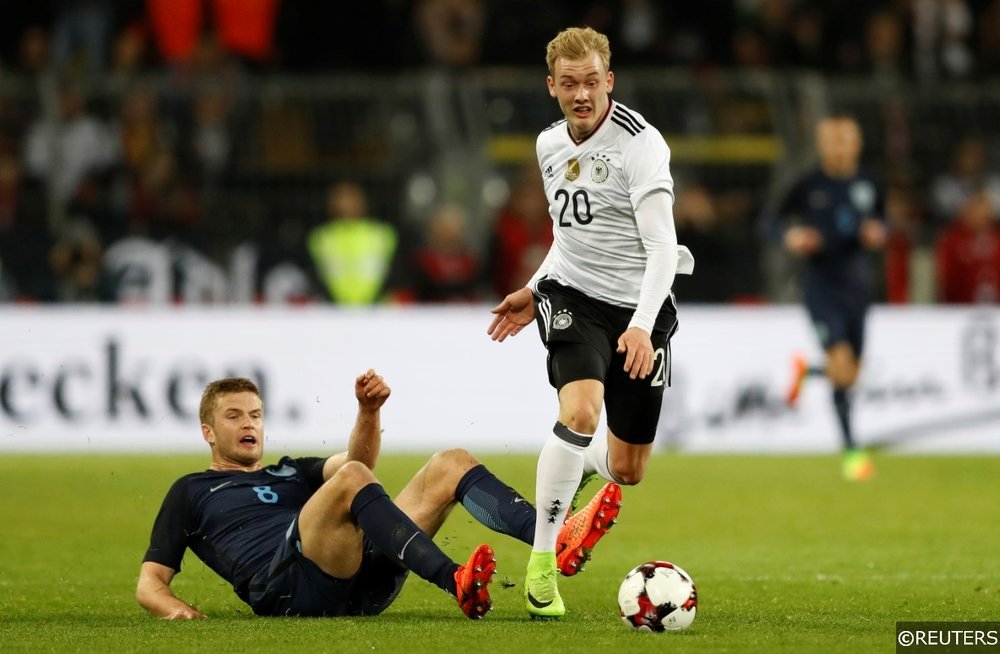 Fast forward a few years and Brandt now has over a century of Bundesliga games under his belt and 14 senior caps for his country, almost half the number of self-proclaimed idol, Marco Reus. His last three years at Bayer Leverkusen have seen him involved in at least 12 goals per season, and his 11 assists in 16/17 were bettered by just five Bundesliga players, including Bayern Munich's Thomas Müller and Arjen Robben. Having scored some scorchers over the course of this season too, the Confederations Cup winner looks a handy option for Joachim Löw to take to Russia.
FUN TRIVIA: Despite his obvious footballing talents, Brandt actually started an apprenticeship as an office administrator during his time at Wolfsburg!
Ever wondered what happened to Lukas Podolski? Find out in our article about Germany's 2014 World Cup winners.
Joshua Kimmich (Bayern Munich, 23 years old)
2018 replacement for: Philipp Lahm
After debuting for the German national team just a month prior to Euro 2016, Joshua Kimmich was named in the Team of the Tournament having helped Joachim Löw's side reach the semi-finals in France. A year later, he became the only player to play every minute at last summer's Confederations Cup where he even wore the captain's armband. To no surprise, Kimmich was voted as Germany's player of the year for 2017 and rose to notoriety as a "Swiss Army knife of a player" due to his versatility – Kimmich is capable of both defensive or midfield roles like legend Philipp Lahm before him.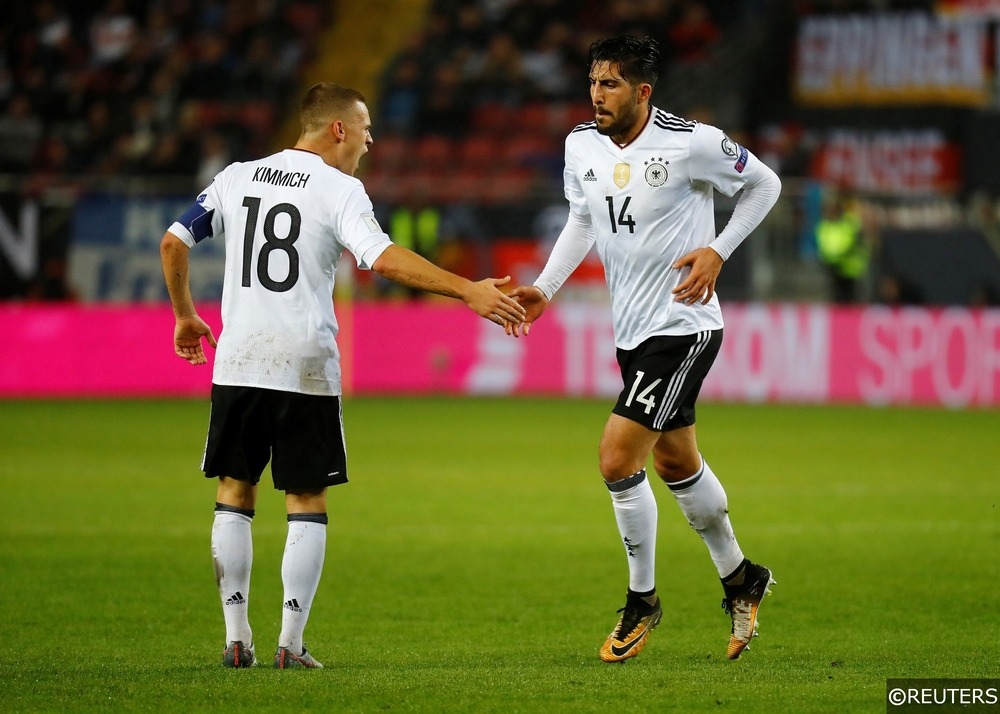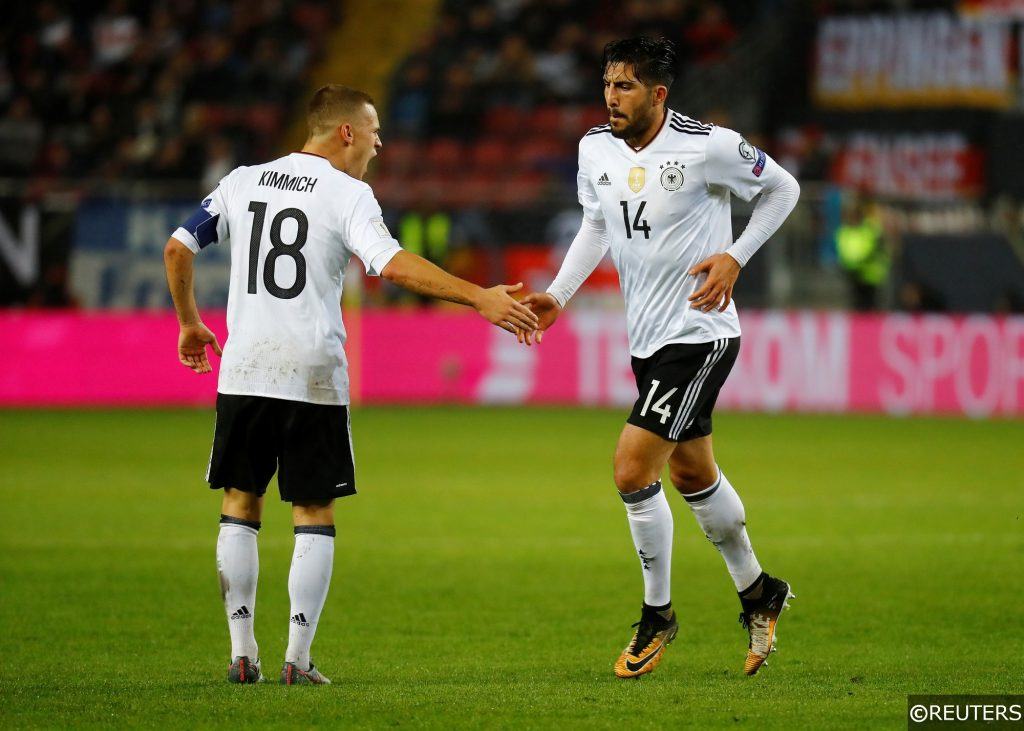 Kimmich was praised by Guardiola as having "absolutely everything" during the Spaniards time managing Bayern, and in the qualifying stages of the 2018 World Cup, Kimmich proved his importance to Germany's national team by breaking Franz Beckenbauer's record of appearing in 24 consecutive international matches. In terms of pure numbers, it's been in the 2017/18 season where the 23-year-old has excelled in his position as a right back. Kimmich managed four Champions League goals on the way to the semis and tallied double figures for league assists to help Bayern retain their Bundesliga title for a sixth consecutive season.
FUN TRIVIA: Kimmich's playing style and position on the pitch may resemble that of Philipp Lahm, but he actually dislikes people drawing that comparison – even when it's meant as a compliment!
Niklas Süle (Bayern Munich, 22 years old)
2018 replacement for: Per Mertesacker
Niklas Süle was an Eintracht Frankfurt and Darmstadt 98 youth player before joining Hoffenheim's academy in 2010 at the age of 15. Just a few years later, Süle made his top flight debut in the closing games of the 2012/13 season. He became a much more prominent figure in the following year with coach Markus Gisdol handing the towering center-back 25 appearances over the course of the 2013/14 season.
Like many of the players above, he went on to add the 2017 Confederations Cup victory to his Olympic silver, and after helping Hoffenheim to a third-place finish last summer, he moved to Bayern Munich in a double deal along with Sebastian Rudy. Now with 9 international caps, Süle is quickly becoming an imposing figure of Germany's back line, excelling in both tackling and passing. He should be Löw's first-choice back up for Bayern teammates Mats Hummels and Jerome Boateng in Russia.
FUN TRIVIA: During his early years, Süle was contacted by the Turkish FA to see whether he would consider playing for them on the international level. As it turns out, the Frankfurt-born center back is actually of Hungarian not Turkish heritage!
Follow Free Super Tips on Twitter to stay up to date with our daily tips and predictions or browse more football content on our website: