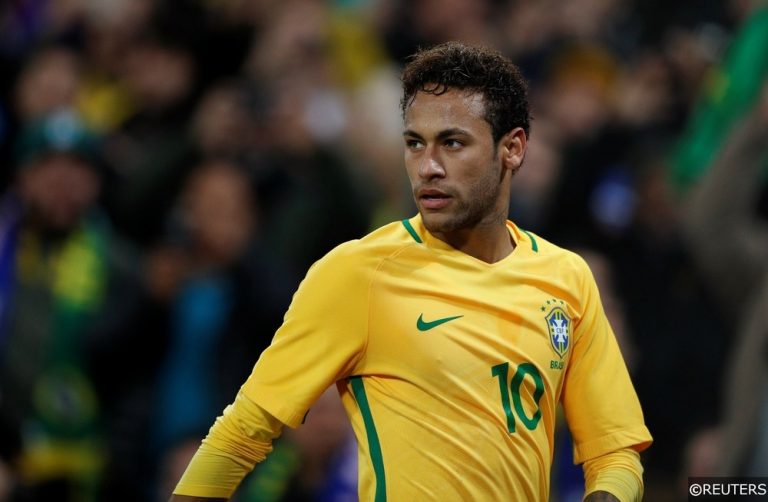 Content Editor at Free Super Tips, Alex was born in the shadow of Old Trafford and is an avid Man Utd fan. After graduating from university he combined his love of football, writing and betting to join FST and now closely follows goings-on in all of the top European leagues.
Every World Cup seems to come complete with a lingering injury saga surrounding a global star and the 2018 tournament is no different with the old metatarsal fracture again to blame. England fans will remember well how preparations for the 2002 and 2006 World Cups were hampered by metatarsal injuries to David Beckham and Wayne Rooney respectively. This summer, it's Brazilian talisman Neymar who is nursing the very same injury and he faces a race against time to be fit for the group stage.
The injury itself is actually pretty common and generally takes between four and eight weeks to heal but the recovery process can take a good deal longer with rest generally viewed as the best form of treatment initially. Therefore it can take players several months to build up their fitness again to the level required to compete at the top level and that really is the concern for Neymar.
As a point of reference, Beckham endured his injury in a Champions League match on 10th April 2002, just a couple of months before the start of the World Cup but would still go on to play a full part in the tournament, starting England's first group game against Sweden on 2nd June. Meanwhile Neymar's international team-mate Gabriel Jesus suffered the same injury for Man City last season and missed ten weeks of action.
On that basis, Neymar should in theory have already recovered from his injury, which was suffered in late February whilst playing for PSG. However it is worth noting that every fracture is different and Neymar appears to have suffered a particularly bad one. While he has been doing work in the gym, secrecy remains over the exact state of his progress, which has certainly been slower than expected.
Neymar will be aiming to one day be considered a contender for Brazil's Best Ever World Cup XI.
Neymar – Resting up for Russia or in a Race against Time?
As their key man, Brazil were always going to name Neymar in their squad even if he was unlikely to be fit for the start of the tournament so we shouldn't really read anything into his inclusion. As was the case with Rooney and Beckham, the question isn't as much whether he will be able to take part but whether he will be able to perform at the same level that has seen him rise to the very pinnacle of his sport.
Brazilian fans will certainly be hoping so and one theory is that PSG have simply agreed to hold him back and play it safe given they had already clinched the Ligue 1 title and had been eliminated from the Champions League by mid-April. Neymar has already shown the power he holds at the club and on a personal level, his sole focus ever since the injury would have been on trying to ensure he was fit for the World Cup as he bids to truly write his name amongst the list of Brazilian greats by leading the country to a sixth world crown.
The first real indicator of where he is at fitness wise will come on Sunday 3rd June when Brazil are scheduled to take on Croatia at Anfield. If Neymar is involved in some capacity then he would clearly be on course to be fit enough to start Brazil's opening World Cup match a fortnight later against Switzerland. However even if he does play in that friendly, it will be an anxious time for the striker as the bone could still be weak and any relapse would leave him in real danger of missing the tournament altogether.
Assuming he comes through that game unscathed, there will still be the pertinent question as to whether he will be match-sharp. He will after all be heading into the intensity of a World Cup finals match having not played competitively since February. Brazil will also face Costa Rica and Serbia in the group stage and while they should have no trouble progressing from it, all three games will provide a genuine test for different reasons so it's unlikely that Tite will simply be able to wrap up his star man in cotton wool and protect him ahead of the knock-out stage.
There is also a question over whether Neymar will be mentally in the right state, particularly given his 2014 World Cup was ended by a back injury suffered in the Quarter-Finals against Colombia. Opposing teams are clearly going to target him and he will need to get the fear of getting injured out of his head if he is to be the same player that has excelled for club and country in recent years.
Neymar's importance to Brazil and their chances of success at this World Cup cannot be understated. While the likes of Gabriel Jesus and Philippe Coutinho have emerged since their abject failure four years ago, so much of Brazil's attacking threat is still reliant on Neymar. By the standards of the great Brazilian sides of yesteryear, this is a functional outfit with a solid defence and a host of midfield players that are more combative than creative.
Read about Brazil's 23-man squad here.
The PSG forward gives this side that spark and even at 80% fitness, he would still offer more than his likely replacements. In terms of the sheer volume of goals he scores, Neymar is also key. He already has 53 for his country and has time on his side to surpass the record figure of 77 set by Pele.
Having netted 28 times in just 30 appearances for the French champions, Neymar was unquestionably at the very peak of his powers when he picked up the injury. While at the time of his subsequent surgery, Brazil fitness trainer Fabio Mahseredjian suggested his inclusion in the tournament was not in question, doubts do continue to linger and they will most likely overshadow the Seleção's build-up.
Certainly from a neutral perspective as well as a Brazilian one, it will only add to the spectacle of the World Cup if we get a fully-fit Neymar in Russia this summer. However not until the opening exchanges in Rostov when Brazil lock horns with the Swiss on 17th June will we truly get a picture of how capable Neymar is of simply picking up where he left off when his domestic season was abruptly ended back in February.