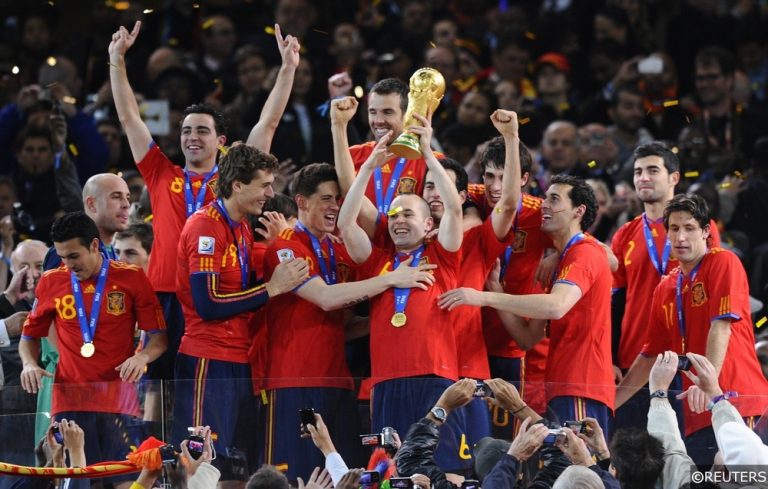 Content Editor at Free Super Tips, Alex was born in the shadow of Old Trafford and is an avid Man Utd fan. After graduating from university he combined his love of football, writing and betting to join FST and now closely follows goings-on in all of the top European leagues.
Spain will take on Russia in the last sixteen of the FIFA World Cup this weekend and they will do so as strong favourites to overcome the unfancied hosts and reach the last eight. However the omens aren't particularly good for La Roja, who have certainly had their problems against the host nation in major tournaments down the years.
In total, Spain have participated in the World Cup or European Championship on 23 different occasions now and 7 of those times have resulted in them exiting at the hands of the hosts. Given Spain themselves hosted two of those events, they've been knocked out by the home side in a huge 33% of the major competitions they've entered on foreign soil.
Therefore Spain will certainly have to exorcise a few demons on Sunday when they take on Russia in Moscow. Here are all the times Spain have been sent packing by the hosts at major tournaments:

Read more: Spain win group but Morocco expose vulnerabilities
Italy 1-0 Spain, World Cup 1934 Quarter-Final Replay
Spain's struggles against host nations date back all the way to their first World Cup in Italy back in 1934. Having impressively seen off Brazil, big things were expected of a talented Spanish squad as they prepared to take on the hosts in Florence in the last eight.
120 gruelling minutes produced a 1-1 draw between the sides but in the days before penalty shoot-outs, a replay was needed to decide who progressed and it took place in the stadium the very next day. A single goal from Giuseppe Meazza sealed a 1-0 victory for Italy who went on to win the World Cup in Rome nine days later while La Roja were left to lick their wounds after the narrowest of defeats.
Brazil 6-1 Spain, World Cup 1950 Final Round
July 13 1950, Spain suffered a 6-1 defeat to Brazil. We look back at what went so wrong. 🙈😳https://t.co/RCc5bJLleA pic.twitter.com/2KRoyIPD5u

— MARCA in English (@MARCAinENGLISH) July 13, 2016

The 1950 World Cup featured a ridiculous format whereby there was no official Final with the destiny of the trophy determined by a final four-team group phase. Spain had reached it by winning all their matches in the first phase with the legendary Basque striker Telmo Zarra scoring all the goals.
However they could only draw 2-2 with Uruguay in their first match of the final phase meaning they had to get a result against host nation Brazil in their next match to stand any chance of lifting the trophy. However in front of an enormous crowd of over 150,000 at the Maracanã, Spain were blown away losing 6-1 against the rampant South Americans. It was only Spain's second World Cup but it ended in the same fashion as the first with La Roja eliminated by the host nation.
Read more: Brazil's World Cup Journey
France 2-0 Spain, Euro 84 Final
You have to move forward 34 years for the next time Spain were knocked out of a tournament by the hosts. During that timespan La Roja won Euro 1964 on home soil but were fresh from a dismal showing at the 1982 World Cup in Spain where they won just one of their five matches.
Two years later, under considerably less pressure, Spain performed better as they won their group before seeing off Denmark in the Semi-Finals of Euro 1984. That set up a Final showdown with neighbours France in Paris. However again Spain ran into trouble against the host nation, losing 2-0 to goals from Michel Platini and Bruno Ballone.
West Germany 2-0 Spain, Euro 88 Group Stage
17 June, 25 years ago Rudi Voller scores a brace as #Germany down #Spain 2-0 at Euro88 #onthisday pic.twitter.com/Db3J9AcuxI

— On This Day-Football (@thisdayinfootie) June 16, 2013

Spain made a bright start at Euro 88 in Germany by beating Denmark 3-2 in Hanover. However defeat to Italy once again left them with a make or break game against the host nation at a major championship. Spain knew they would almost certainly have to win to make the knockout stages but the odds were stacked against them and it was no great surprise what happened next.
Dealing with a hostile home crowd in Munich, again Spain crumbled to a 2-0 defeat with German forward Rudi Völler grabbing both goals. While Marco van Basten made sure there would be no happy ending for West Germany, Spain were left to reflect on yet another disappointing exit and by this point, a trend was developing in terms of their struggles against host nations.
England 0-0 Spain (England win 4-2 on Penalties), Euro 96 Quarter Final
Eight years later, the problem haunted them again at Euro 96 in England. They'd not set the world on fire in the group stage and only advanced courtesy of an 84th minute winner against Romania at Elland Road. That set up a Wembley date against England and it was a familiar tale as far as Spanish fans were concerned.
A tense game produced no goals over 120 minutes leading to a penalty shoot-out and a chance for both sides to banish recent bad memories. However for once it was England that kept their cool from 12 yards while David Seaman denied both Miguel Ángel Nadal and Spain's current World Cup coach Fernando Hierro. As 'Football's Coming Home' rang out around Wembley, Spain were left to reflect on yet another missed opportunity.
South Korea 0-0 Spain (South Korea win 5-3 on Penalties), World Cup 2002 Quarter Final
If Spain were going to end their barren run against host nations, the 2002 World Cup Quarter-Finals appeared to present them with the perfect opportunity to do so. Paired with South Korea who had already exceeded all expectations by making the last eight with a controversial win over Italy in the previous round, José Antonio Camacho's side fancied their chances of making the last four at the World Cup for only the second time.
However six years on from Euro 96, there was a case of deja-vu as a goalless 120 minutes led to a penalty shoot-out. There was a better start this time as Hierro converted Spain's first penalty, as he had done in the previous round against Ireland. Ruben Baraja and Xavi did likewise but a youthful Joaquín, who was carrying an injury at the time, was the strange choice to take the fourth spot-kick. His attempt was saved by Lee Woon-jae. The hosts converted all their penalties to seal a remarkable Semi-Final place as Spain once again fell short.
Read more: World Cup's Greatest Shocks
Portugal 1-0 Spain, Euro 2004 Group Stage
Portugal also hasn't beat Spain in a major tournament since the Euro 2004 group stage match where Portugal won 1-0 with a goal from Nuno Gomes. #PORESP pic.twitter.com/p8B3XWfgnI

— Seleção Portuguesa (@PortugalTalks) June 15, 2018

Two years later and Spain were by this point sick of dealing with host nations so they probably weren't best pleased to be paired with Iberian neighbours Portugal in their group at Euro 2004. With both sides dropping points against surprise package Greece, the final group game between Spain and Portugal in Lisbon had the feel of a knock-out tie and you can probably guess what happened next.
Again Spain appeared to crack under the pressure of taking on the host nation in front of a passionate home crowd. Nuno Gomes' solitary goal sent the Portuguese through at Spain's expense as apathy towards the national team hit new heights.
Of course Spain have won two European Championships and a World Cup since then but their meeting with Russia this weekend will be their first against a host nation at a major tournament since their defeat to Portugal 14 years ago in Lisbon and their first at a World Cup since that fateful clash with the Koreans in 2002. The omens might be about as good as their performance against Morocco the other night, but surely if any Spanish generation is going to end this awful run of results against host nations, it is this one.
Follow Free Super Tips on Twitter to stay up to date with our daily tips and predictions or browse more football content on our website: