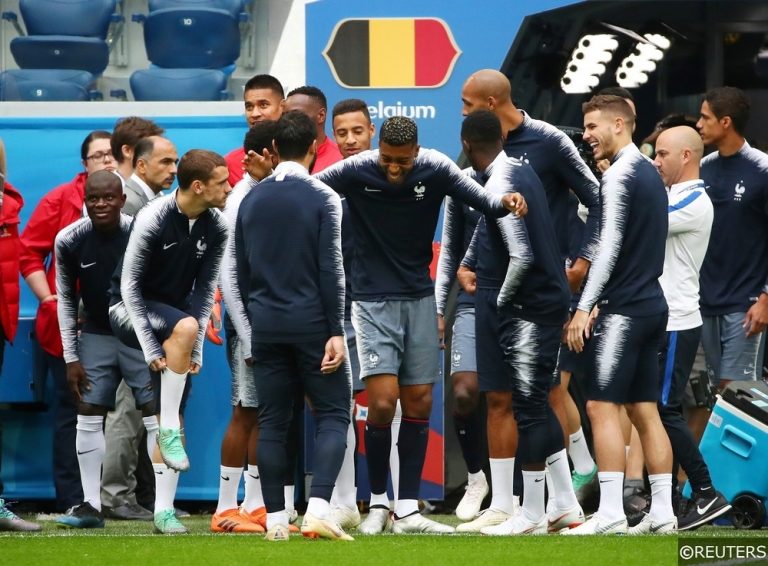 Having entered the World Cup as 13/2 third favourites, France are the only one of the "big boys", according to the ante-post betting, left in the tournament. Each of the other three semi-finalists went to Russia at odds of 10/1 or bigger in the outright market. Belgium, who'll be looking to send Didier Deschamps' men packing on Tuesday night, were sent off as 11/1 sixth favourites.
Have France performed as their pre-tournament odds suggested they would? Below we look at what the stats say for both Les Bleus and the team that stands in between them and a place in the coveted final.
Read More: World Cup 2018: Les Bleus look to maintain their 100% tournament record against Belgium
Odds:
Outright odds pre-tournament: France = 13/2, Belgium = 11/1
Outright odds as of 09/07/2018: France = 2/1, Belgium = 11/4
Average pre-match odds (bet365 SP): France = 5/6, Belgium = 13/10
Number of times sent off favourites: France = 5 out of 5, Belgium 4 out of 5
France have unsurprisingly been sent off favourites in each of their five matches at the World Cup, and as they're in the semis, have clearly justified market support on every occasion, though they shouldn't underestimate the Belgians, who defied the odds when knocking out Brazil, who were as short as even-money in places, in the last round.
Attacking Stats:
Goals scored: France = 9, Belgium = 14
Goals from open play: France = 5, Belgium = 7
Set-piece goals (excluding penalties): France = 1, Belgium = 2
Shots taken: France = 55, Belgium = 85
Shots on target: France = 18, Belgium = 33
xG (expected goals) for: France = 6.3, Belgium = 11.7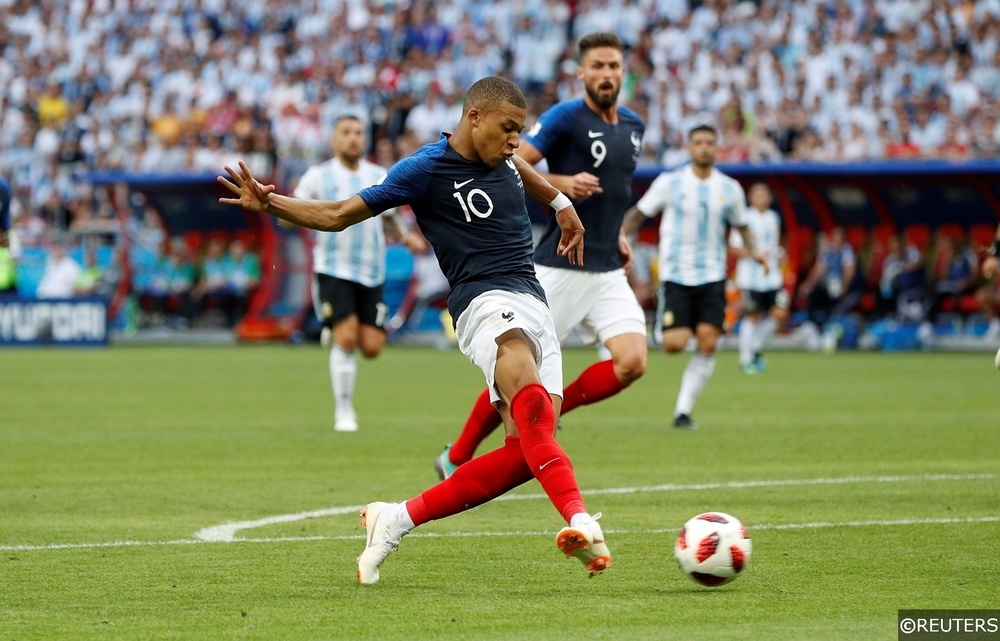 Defensive Stats:
Goals conceded: France = 4, Belgium = 5
Goals conceded from open play: France = 2, Belgium = 3
Set-piece goals conceded: France = 1, Belgium = 1
Shots conceded: France = 28, Belgium = 71
Shots on target conceded: France = 12, Belgium = 21
xG (expected goals) against: France = 3.7, Belgium = 6.7
Check out our predictions ahead of Tuesday's semi-final: France vs Belgium Predictions
Did you know?
France are yet to concede more than four shots on target during a match at the 2018 World Cup.
Belgium have taken less than ten shots at goal in just one of their five matches in Russia this summer.
At these finals, no team has focused their attacks down the middle less than France, whose efforts to get forward through the centre of the pitch account for just 20% of their overall attacks in Russia this summer.
Summary:
What do these stats tell us? Well, they're not exactly conclusive, while they're by no means an indication of how either one will fare in the semi-final. What's more, it's important to remember that France and Belgium have faced different opposition at these finals; had France played Panama and Tunisia during the group stages, then their offensive stats may well make for better reading.
Nevertheless, given what the pair have produced overall, especially during the knockout rounds, it's not overly difficult to draw the conclusion that Belgium have outdone France offensively. The Red Devils have delivered superior performances both in terms of chances created and end-product. However, it's also fair to say that Les Bleus, by conceding less goals, less expected goals, less shots and less shots on targets have been tougher to break down than their Belgian counterparts.
 Follow Free Super Tips on Twitter to stay up to date with our daily tips and predictions or browse more football content on our website: