France go to Russia having played three warm-up games recently, while they also tested themselves against two nations (Russia and Columbia) who'll be at the World Cup back in March. During those five matches, Les Bleus delivered contrasting performances; at times they impressed and at times they weren't too good, but what did we learn about the current Les Bleus crop?
Check out more of our World Cup articles! World Cup 2018: Deschamps' Selection Headache
Attacking approach
Attack, attack, attack. If it wasn't already known that France are a team intent on playing attacking football, Didier Deschamps has ensured that his team have alerted everyone to their intentions in recent times. Even some of the bigger nations will opt for a balanced, more measured approach, though it appears that the current French side are going to adopt a proactive, explosive and forward-thinking approach in Russia.
Some of the great France teams over the years have been built on intricate play around intelligent, incisive passing players such as Michel Platini and Zinedine Zidane, though this time around, France are all about pace, power and attacking intent. With real athletes right throughout the side, alongside plenty of raw pace, especially out wide, Les Bleus look set to execute a game-plan that relies heavily on getting the ball forward quickly.
In each of their recent friendly fixtures, the French wasted no time in possession; they avoided dwelling on the ball for lengthy periods, kept the square passes along the back-line and in midfield down to a minimum and instead got forward at every opportunity. With the players at Deschamps' disposal, coupled with such attacking intent, it would be a disappointment if France failed to rack up the goals in Russia this summer.
Width is the key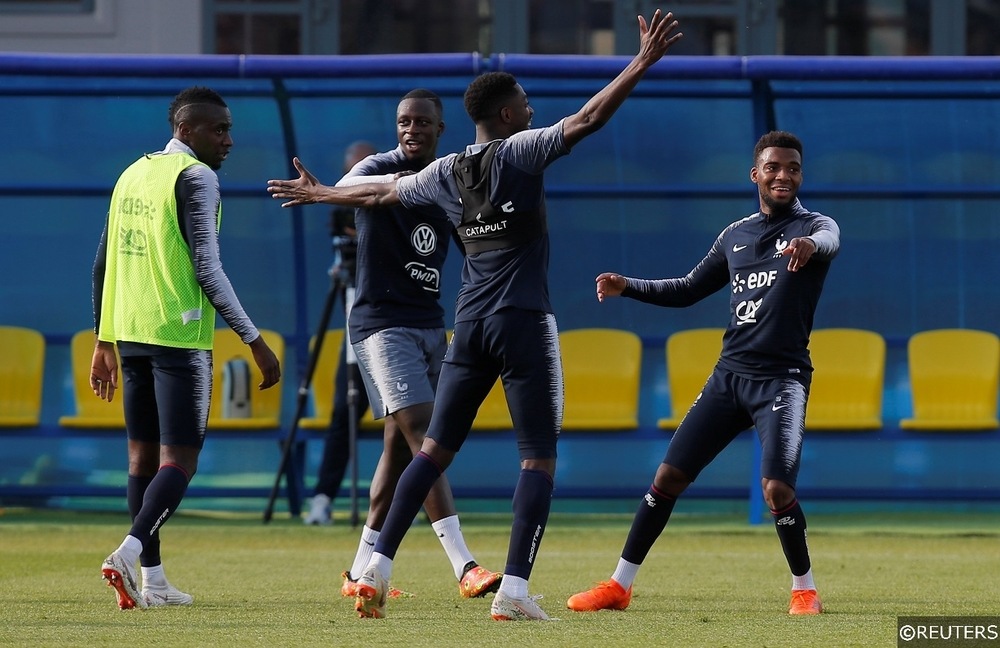 With their attacking philosophy, the wide areas were key during France's recent friendlies. Against Ireland, Italy and USA, Deschamps men focussed heavily on getting the ball wide, and it is the wide areas that are going to be key for France over the next few weeks. With a handful of wingers who're all quick, athletic, adept at running with the ball and more than capable of either getting deliveries into the box or working an angle for a shot at goal, Les Bleus are likely to channel a lot of their attacking play down the flanks.
N'Golo Kante, Paul Pogba and Blaise Matuidi, as a good as they are, aren't exactly the most creative players, so with a trio of that nature likely to fill the midfield roles, it's important that Deschamps' utilises the wide talent at his disposal. If recent matches are anything to go by, the France boss should have no problem whatsoever doing just that.
In Kylian Mbappé, Ousmane Dembélé, Thomas Lemar and Nabil Fekir, all of whom can operate as either wingers or wide forwards, France have players capable of delivering real quality from the wide areas. These are the players who will be tasked with making things happen in the final third; whether that's getting on the ball and providing service for strikers such as Antoine Griezmann and Olivier Giroud or scoring goals themselves.
What's more, not only does Deschamps have the above players to provide width, but the Frenchman has also displayed a keenness for playing attacking full-backs. Both Benjamin Mendy and Djibril Sidibé, who look set to be first choice in the wider defensive positions, are attack-minded full-backs and are both adept at bombing forward and delivering quality service into the box.
Read More: Have France found the missing ingredient in Kylian Mbappé?
Teenager a key player 
Aside from the fact that France are going to play on the front foot and focus heavily on getting the ball wide, what also became evident during the warm-up matches is that teenage sensation Kylian Mbappé is going to be a key player in Russia. The youngster burst onto the scene a couple of seasons ago and, having delivered several explosive performances at club level, was always likely to head to Russia as part of Deschamps 23-man squad, though people may not have expected the 19-year-old to feature prominently from the outset.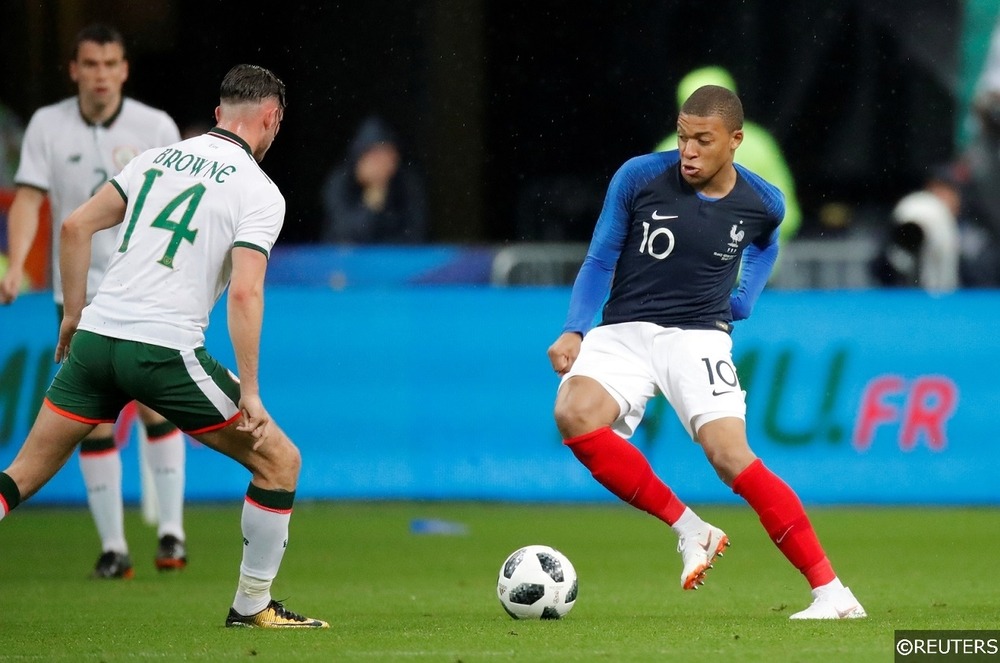 By scoring and generally giving the Republic of Ireland back-line a hard time in France's first warm-up match, Mbappe staked his claim for a place in the starting XI in Russia, while he was also heavily involved, causing defenders all manner of problems, against Italy after that. The teenager continued to stand out against when scoring France's only goal of the game against USA last time out.
With his fearless, explosive approach, Mbappé is exactly the sort of player who can strike fear into the hearts of defenders, while he's also capable of turning a game on its head in an instant. As the only attacker to start each and every one of France's three preparation friendlies, it's clear that Deschamps is a huge fan of the PSG youngster, who shone in all three of Les Bleus' recent fixtures.
Guarding against the counter-attack
With such an attacking style, France created lots of opportunities and caused their opponents lots of problems during their warm-up games, though by adopting such an attack-minded approach, the French have often left themselves open to the counter. A weak Republic of Ireland side couldn't advantage, but both Italy and USA breached Les Bleus' rear-guard, despite been the less threatening side.
France's forward strength may be able to carry them through any tough tests in Russia, though it will be interesting to see if Deschamps men can guard against the counter in big matches. Interestingly, France have conceded at least once in four of their last five matches against teams ranked inside the top 20 according to FIFA, while comments from French talisman Antoine Griezmann, who said: "We know that we can hurt teams at any time, but we must also be strong defensively", suggest that the players are aware that defensive solidity has been a bit of an issue previously.
Follow Free Super Tips on Twitter to stay up to date with our daily tips and predictions or browse more football content on our website: