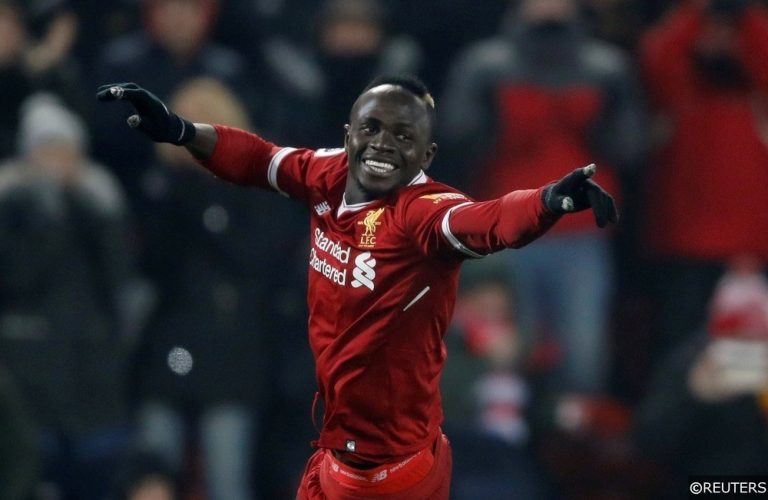 Simon Winter
@simonjwinter
Born in the south east of Ireland, Simon put his life-long love of football to good use when he started a successful independent blog in 2010. That opened up an alternative route to a career in journalism, and having had work published across a number of sites and publications, Simon joined the staff at Spotlight Sports Group in 2018.
From prolific tactical foulers and elbow swingers to aerial aggressors and less than subtle hatchet men, every Premier League club has a dusting of players that tread the line between competitiveness and downright dirty play.
Some of the players who fall into the aforementioned nefarious categories have reputations and records that reflect their on-the-pitch personas, though others have such a profound mastery over the game's dark arts, that they can throw their weight around with relative impunity.
Below, we we've turned the spotlight on the Premier League's most potent merchants of misconduct, and our research has returned some pretty intriguing results.
If you're on the look out for cards tips, make sure to check out our Premier League cards and corners predictions for Wednesday with our 21/1 acca here!
Highest Number of Fouls Committed 2019/20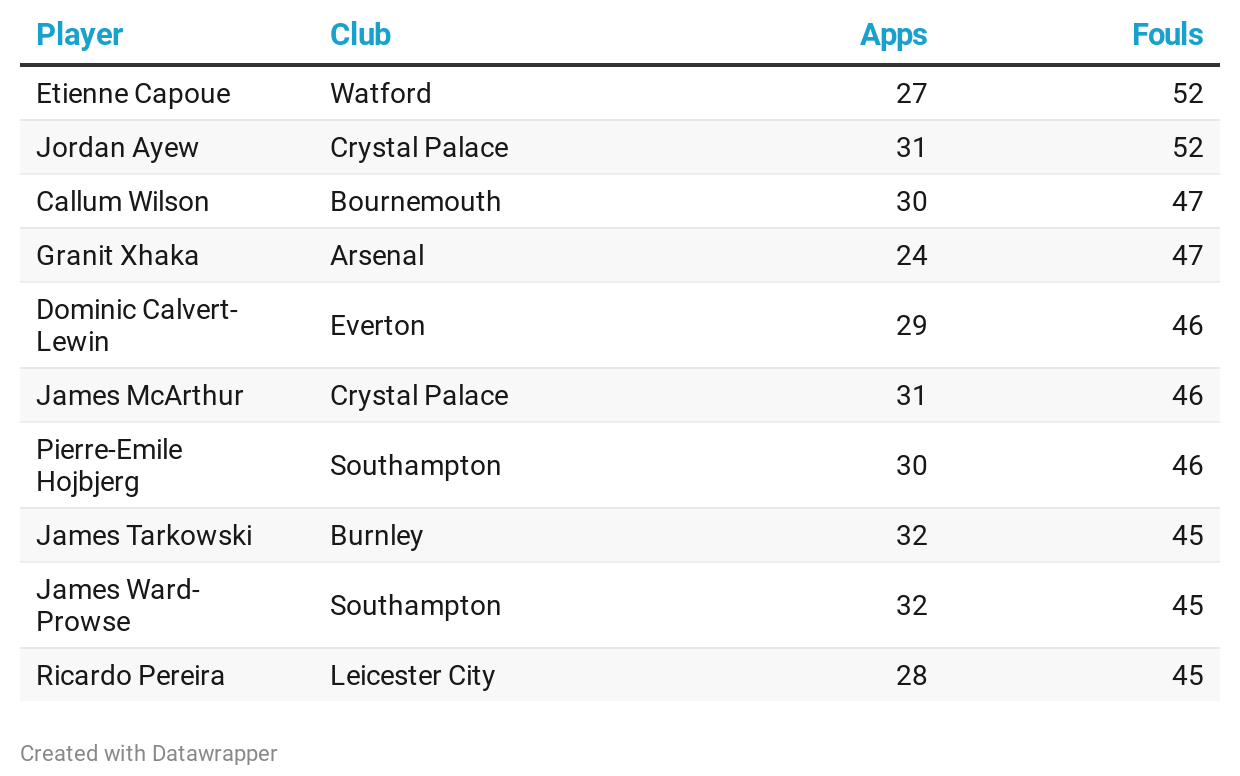 Hard-hitting Watford anchorman Etienne Capoue and Crystal Palace goal-getter Jordan Ayew top the charts for most fouls committed so far this season, though the Hornets' marauding midfielder has racked up his 52 infringements in fewer appearances than the Eagles forward.
Interestingly, controversial Arsenal character Granit Xhaka's 1.95 fouls per game average from 24 appearances makes him the mis-timed tackle master per 90 minutes played, though the Swiss international is also eclipsed for that metric by Chelsea's N'Golo Kante, who doesn't make the top 10 total fouls list despite averaging 2.5 indiscretions per game this term.
In terms of the positional break-down, two defenders and three attackers make the list, though somewhat unsurprisingly, 50% (five) of the other players are combatants from the Premier League's midfield battleground.
League wide statistics show that centre-halves generally make far fewer tackles than their midfield teammates in the modern game, which in turns, usually keeps their foul count much lower than their comrades further up the pitch.
Highest Number of Yellow Cards 2019/20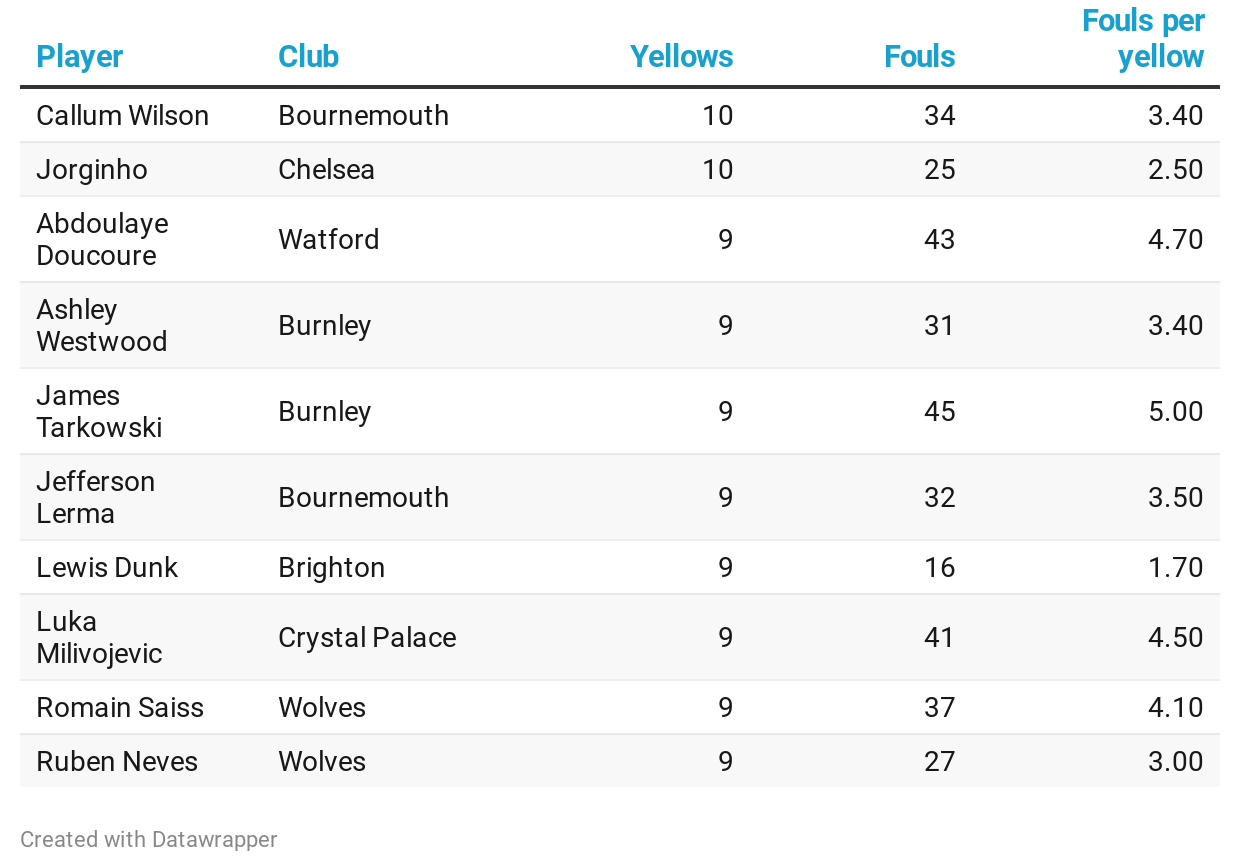 Now, here is where things get a little more interesting…..
On the list of the Premier League's most booked players of 2019/20, just two of the division's most frequent foulers make an appearance.
Bournemouth hitman Callum Wilson and Burnley defender James Tarkowski's numerous transgressions have been suitably punished by referees this season, though the rest of their cynical counterparts seem to have got off scot-free, in terms of cards at least.
Towering Brighton centre-back Lewis Dunk has every right to feel a little aggrieved having amassed the same number of bookings at Tarkowski, despite committing far fewer fouls per game than the Clarets stalwart, while Watford's Abdoulaye Doucoure must be wondering why referees seem intent on reprimanding him while his midfield partner Etienne Capoue kicks everyone around him without reproach.
Chelsea's deep-lying playmaker Jorginho deserves an extra special mention. The 28-year-old is one of just two Premier League players to break through the double digit cautioned ceiling this season, but ranks 90th in the division for total fouls committed. Quite an achievement.
Ok…..but who is getting away with it?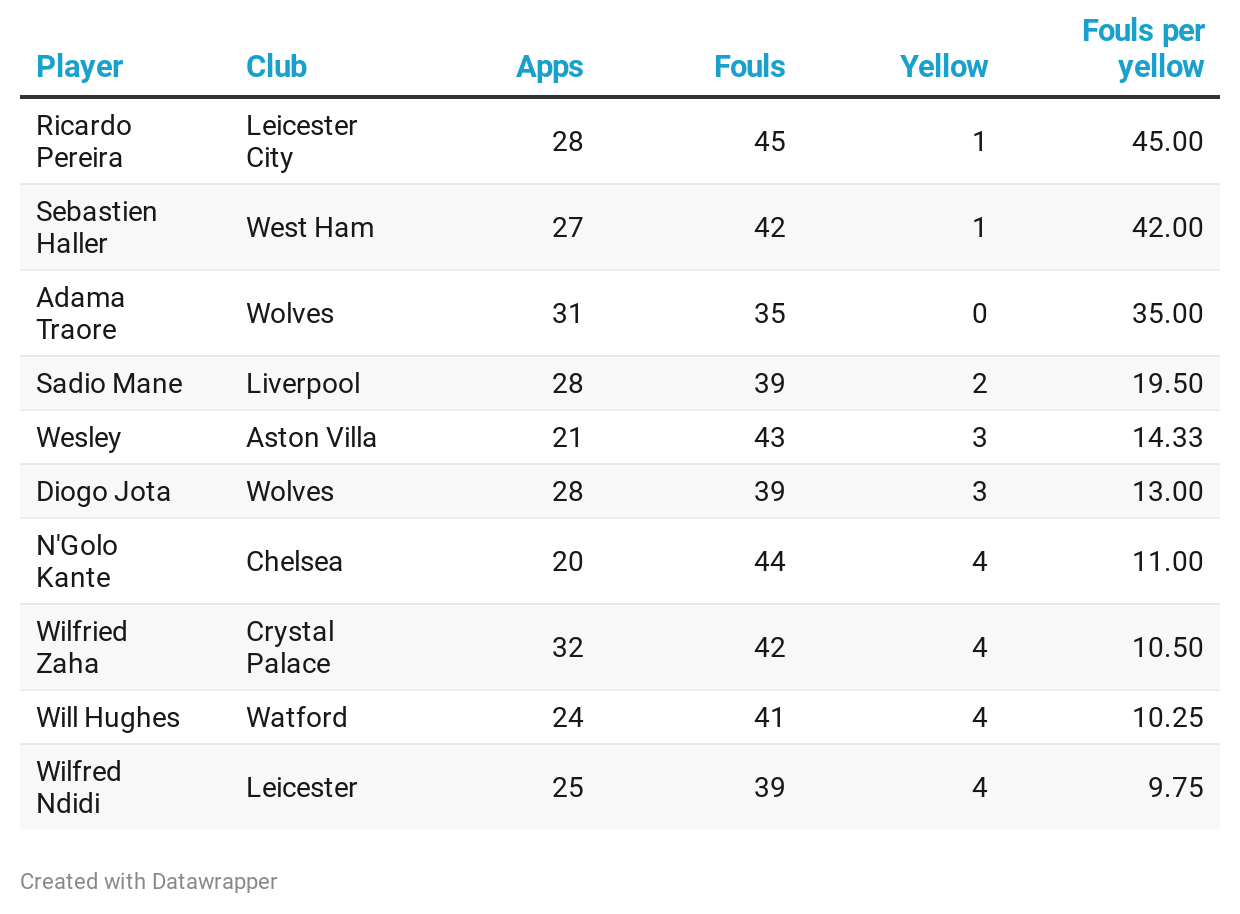 Before we get stuck into our naming, shaming and general grassing up of the Premier League's most unpunished offenders, it would be remiss of me not to acknowledge that some fouls are obviously worse than others, and that one dreadful, dangerous tackle is far more damaging than 10 little infringements.
Some players on the list above are probably guilty of being annoying rather than filthy. Still, the rate at which some of them commit fouls is undoubtedly worth more punishment than the reprimands they have received so far this season.
Right – on with the finger pointing!
Highly-regard Portuguese fullback Ricardo Pereira has been out of action since March, and Leicester have massively missed his raiding runs down the right-flank.
But apart from being one of the best players in his position in the Premier League, the 26-year-old also wields the division's stealthiest methods of misdemeanour.
Incredibly, Pereira, who ranks 10th in England's top flight for total fouls committed in 2019/20, has been booked just once since August.
Similarly, West Ham's hit and miss striker Sebastien Haller has been landing regular blows with plenty of licence from referees this term, and has picked up just one yellow card all season despite dishing out 42 fouls.
Maybe the most surprising entry on the list however, is technically gifted Wolves winger Adama Traore, who ranks among the league's most fouled players. The wider attacker with a reputation for drawing challenges, has doled out plenty of punishment of his own this season with 35 illegal challenges – though the teflonic 24-year-old has yet to have his name taken by an official.
Liverpool superstar Sadio Mane has also been happily kicking his way around the league without reprisal, collecting just one yellow card for every 19.5 fouls committed. What must Lewis Dunk be thinking?
So, there you have it – the complete list of the Premier League's "Unpunishables". Next time you see one of these players smiling just after they were collared for a foul by the referee, you'll know exactly why.
More FST news
Improving on perfection: Where do Liverpool go from here?
Are Leicester dangerously over-reliant on Jamie Vardy's goals?
How to watch all remaining Premier League games and which games are free to air?