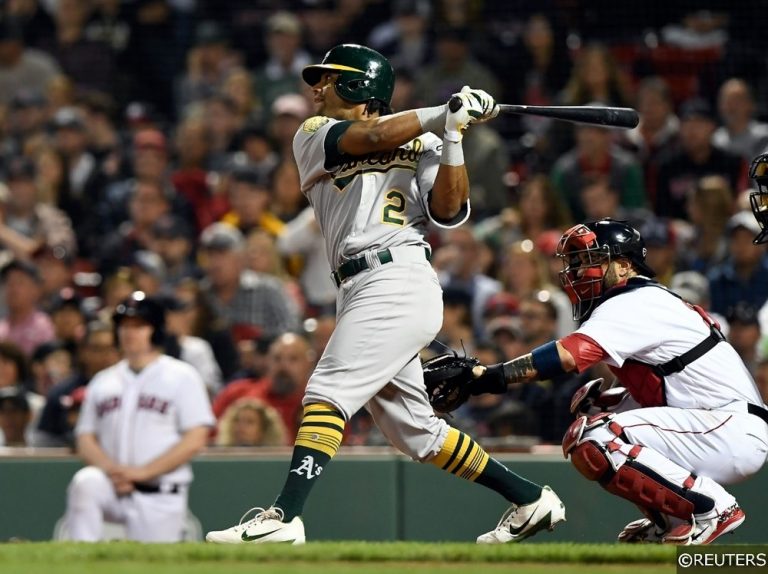 The incredible start to the month of June continues!!
In the first 13 days of the month so far we've landed:
19/1 Thursday Tennis Acca Lands
10/1 Football Accumulator Lands on Monday!
6/1 Both Teams to Score Treble lands on Tuesday!
269/1 BTTS & Win Treble lands on Friday night!!
6/1 Both Teams to Score Treble lands on Thursday!
14/1 MLB Accumulator lands on Friday night!
Last night our MLB Analyst was successful yet again as he brought us another winner! We've woken up to a 15/1 Accumulator winner, just in time to fill up the betting bank for the World Cup!
Here's how it went:
15/1 MLB Accumulator Lands
OVERNIGHT WIINNNEEEERRR!!!

15/1 MLB Accumulator LANDS!

Buzzing to land an ACCA just before the #WorldCup to boost the betting bank!!

How's that for a start to your day?? pic.twitter.com/s5XDqIxaU2

— Football Super Tips (@FootySuperTips) June 13, 2018
We started off in Baltimore where the struggling Orioles hosted the Boston Red Sox. After a slower start in the first inning, the Red Sox bounced back with 5 runs of their own in the next three innings and the home team just never recovered. Eduardo Rodriguez won his 5th straight start for Boston handing Baltimore their 6th straight defeat.
The NY Yankees were up next at home against the Washington Nationals. It was the first time in a month they played a team with a winning record, but that didn't stop them in recording their 10th win in 12 games. It finished 3-0 to New York with runs coming in the 2nd and 6th inning.
The Chicago White Sox hosted the Cleveland Indians in the 3rd game of the acca. Prior to this game James Shields hadn't won a game since opening night. Home runs from Yoan Moncada and Yolmer Sanchez helped him end that poor run as the White Sox took care of business 5-1 last night and our Under 9.5 Game Total prediction came in!
Up next it was the KC Royals hosting the Cincinnati Reds and it was a very unusual game. We backed Under 9.5 Game Total here and extra innings were needed in this one to decide the winner after it finished 1-1. The bases were loaded and Joey Votto hit a triple to decide the game in the Reds' favor. It finished 5-1 but it wasn't as convincing as the result might indicate. After this result we were down to just 1 leg on the acca!
And finally we were waiting on the Houston Astros to get the job done against the Oakland Athletics. Coming into this one Houston had won 5 games in a row and we really liked their chances at Oakland. They fell behind early 1:0 in the opening inning, but quickly bounced back scoring 4 runs of their own in the 2nd. Later on they built up that lead to 6-2 and in the end it was enough for their 24th road win of the season and most importantly another Accumulator win for us!
Free Baseball Predictions
Although our focus will be on the World Cup in the coming month, that doesn't mean we'll neglect MLB games. We've been in really good form in the past couple of weeks, so be sure to bookmark our Free Baseball Predictions page of the website so you don't miss out any more winners!
Followers' betslips
Here are some of the betslips sent in to us by our followers over on twitter:
Thanks guys pic.twitter.com/SFnTCkUWo0

— David Hirst (@AfisuDavid) June 13, 2018
Cheers fellas ! pic.twitter.com/Wepp7N5ngj

— JAYCEE (@radburn75) June 13, 2018
Boooom nice to wake up to cheers pic.twitter.com/VQPuUC8OMl

— Steven Hemsley (@stehems) June 13, 2018
Good morning FST.. pic.twitter.com/nAofBx87Tx

— Richard Moore (@Richard15288645) June 13, 2018
That should pay for breakfast pic.twitter.com/htAFtZexLK

— Ricksta (@Only1RL7) June 13, 2018
Some of that pic.twitter.com/2GvOTwxjeU

— England (@leeUkUfc) June 13, 2018
@FootySuperTips boom #mlb winner pic.twitter.com/h4LByQTH8H

— Antoine O' Hara (@jackban1984) June 13, 2018