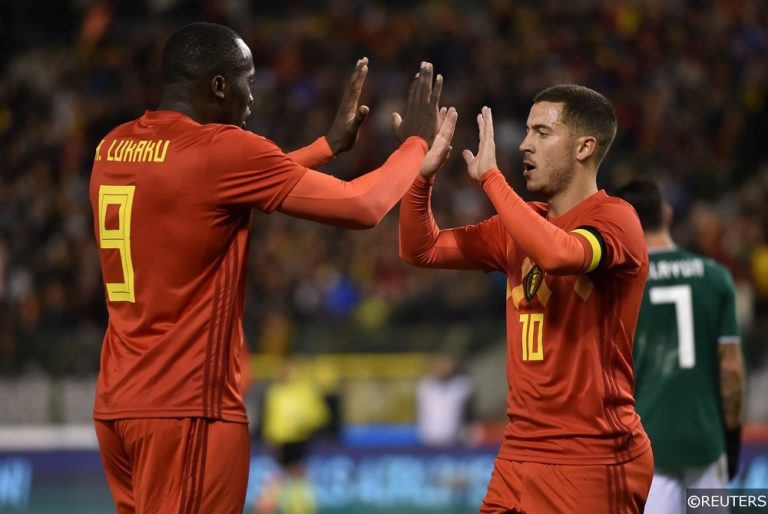 Before becoming a Sports Journalist for Free Super Tips, Aaron spent three years studying Sports Journalism at the University of Sunderland while taking in the Black Cats' 'glory years' under Martin O'Neill. Now back in Northern Ireland he turns niche stats into predictions for FST, while he's one of the few people on this island who is equally comfortable at Windsor Park and the Aviva.
Ahead of the 2018 World Cup, few sides boast as much talent as this Belgium squad. Roberto Martinez may have tough decisions to make, but they are the envy of almost every national manager at this tournament. Ahead of the Red Devils' meeting with Group G rivals England, Gareth Southgate is mulling over much different problems.
The Three Lions are taking a youthful squad to this tournament, as they look to finally move on from their own Golden Generation. With several successful youth sides, England do have a promising future. However, how would Sven Goran Eriksson's Golden Generation fare against Belgium's class of 2018? We're comparing the two sides before the two nations meet in Russia.
Also see: Belgium's Summer Schedule and Potential Route to the World Cup Final
Belgium's Golden Generation (2018 World Cup)
The Red Devils have an incredible array of talent at their disposal. Some within the country claim that this burst on to the international scene has been a long time coming. However, like most Golden Generations, there's an element of luck with all this talent coming together. Players like Eden Hazard and Kevin De Bruyne can't solely come from hard work.
They ended a 12 year wait for a World Cup place when they qualified for Brazil in 2014. That tournament saw them not just qualify, but they entered as genuine contenders for the first time. Now they're hitting their peak, so there's huge expectation on Roberto Martinez and his team this year. Going from an Everton reject to a world champion would have seemed like a huge leap, but it's possible when you look at the Red Devils' talent.
See our Detailed Belgium Squad Analysis
Hazard, De Bruyne and Thibaut Courtois will all be the wrong side of 30 by the next World Cup. Jan Vertonghen, Vincent Kompany and Dries Mertens are already there. The 2018 tournament is a huge one for Belgium, also they're going up against incredible sides from Spain and Germany. Would they be able to see off the strongest England side in recent years?
England's Golden Generation (2004-2006)
We now glance back at the infamous English golden generation, back in the wonderful days before Michael Owen picked up a microphone. This era for the Three Lions is said to have stretched from Eriksson's tenure through to the 2010 World Cup. However, we're focusing on the side who impressed at Euro 2004, who then were talked up in the summer of 2006.
England went in to the draw for that World Cup ranked second in the world behind Brazil. There was so much promise in the team, especially with the Arsenal Invincibles, Liverpool's European champions and Chelsea's back to back title winners making the up the backbone of the squad. Throw in a few Man United stars and two Galacticos, and you have a pretty impressive side.
However, we all know how this one ended. Quarter-finalists in 2002, 2004 and 2006. England have failed to win a knockout game since beating Ecuador in Germany 12 years ago. However, our 11 amassed 46 Premier League winners medals and 11 more in the Champions League. They may not have topped the international game, but the majority peaked for their clubs.
Generations Compared
While we want to pit these two talented squads against each other, there are a few similarities between them. Belgium have been eliminated in back to back quarter-finals, a staple of England's time under Eriksson. Both sides were based off Premier League talent, with seven of our Belgian line-up featuring in the 2017/18 campaign.
One staple of these kinds of sides is that they're flooded with players in certain positions. Sol Campbell, Jamie Carragher and Ledley King were left out of our England side. We had to shunt Paul Scholes out left, while Owen Hargreaves and Joe Cole didn't fit in midfield.
Belgium have the same issues, with all of their number 10s. Radja Nainggolan was left out of the squad for this tournament, showing the Red Devils' strength. He'd have been a key figure in any other generation. While they're also strong at centre-half, Belgium lack full-backs. Meanwhile, England were low on options out wide, with only a declining David Beckham available.
Why Was Nainggolan Dropped by Belgium?
What Can Belgium Learn From England?
The Red Devils seem to have made changes to avoid England's fate. While the Three Lions stuck rigidly to a 4-4-2, both Steven Gerrard and Frank Lampard were too constrained without a holding midfielder. With no real width, Wayne Rooney and Michael Owen were stranded.
Roberto Martinez has moved to a 3-4-3 to combat those problems. He's dropped De Bruyne deep – partnering him with the defensively minded Axel Witsel. That's allowed room for the Man City man to flourish along with Hazard; supplying Romelu Lukaku with plenty of ammunition. Belgium are let down by their wing-backs, but they have a strong trio at centre-half to compensate.
Would They Beat Eriksson's Side?
Belgium lost to Wales in the quarter-finals of Euro 2016. That showed the benefit of a united side, as the Dragons were more than the sum of their parts. If Belgium were able to do the same, they'd be trophy contenders. That's what Martinez is trying to do, and with their current set up they'd likely see off an England side who were always tactically naïve.
England's side were arguably more successful. Our England 11 had four Champions League winners by 2005, while Belgium's 28-man squad don't have one. Nine of the 10 Three Lions outfielders eventually won Europe's biggest trophy, it's tough to see Belgium matching that. However, the Red Devils are learning to improve as a team, and that could see them impress this summer.
We think Belgium would beat England's impressive club stars. The Three Lions did always come up short against elite opposition, and the Red Devils are certainly at that level. However, beating the perennial quarter-finalists is one thing, Martinez needs to do more if the Belgians are to make it all the way.
Follow Free Super Tips on Twitter to stay up to date with our daily tips and predictions or browse more football content on our website: