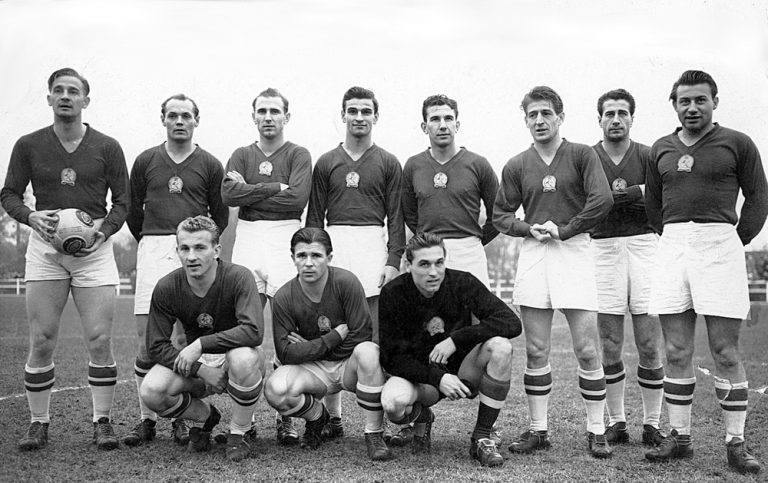 Simon Winter
@simonjwinter
Born in the south east of Ireland, Simon put his life-long love of football to good use when he started a successful independent blog in 2010. That opened up an alternative route to a career in journalism, and having had work published across a number of sites and publications, Simon joined the staff at Spotlight Sports Group in 2018.
Although World Cup winners are forever remembered, there is also a certain special reverence saved for football's nearly men. The great teams that come within a hair's breadth of lifting the trophy are often talked about with more romantic retrospection than the winning side.
Of course, the best team in the tournament doesn't always win the World Cup. Football doesn't work like that. Sometimes fate conspires to deny those deserving of success the chance to achieve it.
Glorious failure can mutate into sporting immortality just as quickly as success. The losers of a World Cup Final might not want to be remembered as the gallantly vanquished, but like football, life doesn't work like that. It's human nature to ponder over what could have been.
One international team that falls into that category is the Hungarian side of the 1950s.
Gusztáv Sebes' "Mighty Magyars" were tactical innovators and gluttonous goal scorers, who played a brand of football that would overwhelm and raze defences like stems of grass under a stampede of wild horses.
While the majority of teams deployed the now defunct WM tactical system at the time, Sebes' tore up the traditional blueprint and formulated a revolutionary flexible 2-3-3-2 formation that left his managerial counterparts floundering.  The set-up also allowed Hungary's key personnel (Ferenc Puskas, Nandor Hidegkuti, Sandor Kocsis, Zoltan Czibor and Jozsef Bozsik) to flourish.
Hungary went thirty-six games unbeaten between 1950 and their 1954 World Cup Final loss to West Germany in Switzerland. They were Olympic champions in 1952 and the following year they were crowned Central European Champions – a competition that was the forerunner to today's European Championships.
The Hungarians put thirteen goals past a much-lauded England side over two games inside of a year during their unbeaten sequence, taming the Three Lions at Wembley in November 1953 and again in Budapest in May 1954.
Described as the "Match of The Century" in London, Hungary ran out 6-3 winners, inspired by a hattrick from the incomparable Nandor Hidegkuti. They went one better six months later, rampaging to a 7-1 win in their homeland and this time five different goalscorers got in on the brutal act.
At the 1954 World Cup Finals in Switzerland, Hungary continue to trample mercilessly over their opponents. They put nine goals without reply past South Korea in their opening group game with Sandor Kocsis helping himself to three. In their second fixture, Kocsis hit the net another four times in Hungary's 8-3 annihilation of West Germany.
In the Quarter Finals, the Magyars rattled four past Brazil in a 4-2 win and though they needed extra time to see off Uruguay in the Semi Finals, they eventually found the net four times again in another 4-2 victory.
Read more: Brazil's Best Ever World Cup XI
Hungary were paired with West Germany again in the Final and after the countries' Group Stage encounter, the outcome of their second contest was viewed as a formality before kick-off.
However, fate, kismet or just downright rotten luck – call it what you like, events conspired to throw Hungary's World Cup winning destiny firmly off kilter. From missed buses, to noisy hotels Hungary's preparation for the Final was impacted by forces beyond their control.
Heavy rain on the day of the Final also served to weaken Hungary's hand. Adidas had provided the German team with the first football boots with interchangeable studs. The new footwear could be adapted for use in all manner of weather conditions and it certainly handed the West Germans the edge.
Nevertheless, Hungary raced into a two-goal lead inside the first eight minutes of the Final at the Wankdorf Stadium in Bern. Ferenc Puskas prodded home from close range after just six minutes and Zoltan Czibor added a second just two minutes later after he capitalised on an error in the West German defence.
The West Germans hit back quickly, scoring twice though Max Morlock and Helmut Rahn to equalize before the twenty-minute mark. Hungary carved open the West German defence a number of times before the interval, but were denied by the woodwork and some fine goalkeeping from Toni Turek.
The second half was a familiar story, with a succession of clear opportunities to score passed up by the wasteful and increasingly nervous looking Magyars. Again, the Hungarians struck the frame of the goal and any shots they could turn on target were cast aside by Toni Turek.
When Rahn scored his second after a rare foray into enemy territory with just six minutes to play, giving West Germany the lead for the first time, it felt as though Madame Destiny had dealt her final blow to the Magyars. There was still time for Hungary to have a Puskas equalizer ruled out for offside by English referee William Ling after he consulted his Welsh linesman Benjamin Griffiths.
At the final whistle, the Wunder von Bern (or Miracle of Bern) was complete and the Hungarians were denied the prize that their football deserved. Some fairy tales have sad endings.
The fallout from the defeat was severe and the impact far reaching. While West Germany rejoiced, the Hungarian people took to the streets in protest. Their ire was directed in part at their team, though much of it was reserved for the country's Communist regime led by Mátyás Rákosi.
The General Secretary had piggy backed on the Hungarian football team's success to consolidate his own political standing, though popular opinion was shifting. While political and socioeconomic factors provided the tinder, Hungary's 2-3 loss to West Germany certainly provided the spark and historians point to the World Cup Final defeat in 1954 as a catalyst for the Hungarian Revolution just two years later.
The Golden team had gone on another fabulous eighteen-game unbeaten stretch between their Final defeat and 1956, though the upheaval in their homeland led to the displacement of many of the Magyars team, with Puskas, Czibor and Kocsis fleeing to Spain.
With the Magyars disbanded and scattered across Europe, Hungarian football never really recovered. Although they qualified for the 1958 World Cup in Sweden, they were eliminated at the Group Stage, beaten to a place in the knock out stages by the hosts and Wales.
Ultimately history remembers beaten finalists The Magical Magyars with much more fondness than most if not all of the teams that have won the World Cup. Hungary might not have had their name etched onto the base of the Jules Rimet trophy, but the Magyars legacy will be forever enshrined in football folklore.
Read more: World Cup Fact File: Record Holders, Interesting Statistics and Trivia
The Magical Magyars in Quotes:
"When we attacked, everyone attacked, and in defence it was the same. We were the prototype for Total Football." – Ferenc Puskas
"They were the greatest national side I played against, a wonderful team to watch with tactics we'd never seen before." – Sir Tom Finney
"They are the best team I ever faced. They were the best ever." – Sir Stanley Matthews
"We saw a style of play, a system of play that we had never seen before. None of these players meant anything to us. We didn't know about Puskás. All these fantastic players, they were men from Mars as far as we were concerned" – Sir Bobby Robson
Stats and Records:
World Record: (June 4, 1950 to Feb 19 1956) 42 victories, 7 draws, 1 defeat ("Miracle of Berne") – 91.0% winning percentage ratio.
World Record: most consecutive games scoring at least one goal: 73 games (April 10, 1949 to June 16, 1957).
World Record: longest time undefeated in 20th and 21st centuries: 4 years 1 month (June 4, 1950 to July 4, 1954
World Record: most collaborative goals scored between two starting players (Ferenc Puskás & Sándor Kocsis) on same national side (159 goals).
World Cup Record: 27 goals scored in a single World Cup finals tournament.
World Cup Record: 5.4 goals-per-match in a single World Cup finals tournament.
World Cup Record: highest margin of victory ever recorded in a World Cup finals tournament match ( Hungary 9, South Korea 0 – July 17, 1954).
World Cup Precedent: Sándor Kocsis, first player to score two hat tricks in a World Cup finals tournament (Hungary 8, West Germany 3 – July 20, 1954 & Hungary 9, South Korea 0 – July 17, 1954).
Precedent: first national side from outside the British Isles to defeat England at home since the codification of association football in 1863, a span of 90 year
Precedent: first non-South American national side to defeat Uruguay (Hungary 4, Uruguay 2, semi-final — July 30, 1954), breaking a 17-game Uruguayan unbeaten run against non-South American competition dating from May 26, 1924.
Precedent: first national side to defeat the Soviet Union at home (Hungary 1, Soviet Union 0 – Sept. 23 1956).
Follow Free Super Tips on Twitter to stay up to date with our daily tips and predictions or browse more football content on our website: