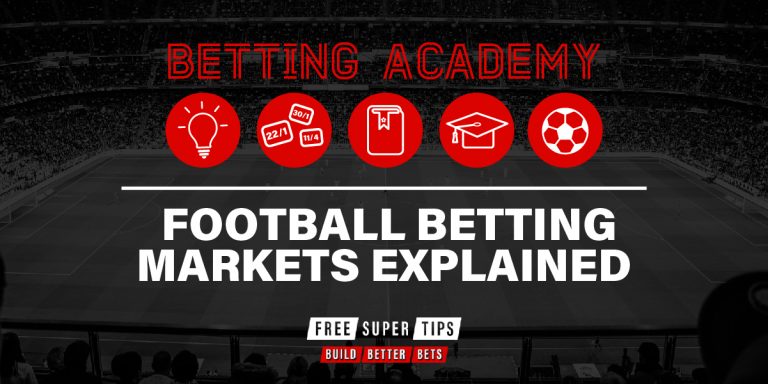 Before becoming a Sports Journalist for Free Super Tips, Aaron spent three years studying Sports Journalism at the University of Sunderland while taking in the Black Cats' 'glory years' under Martin O'Neill. Now back in Northern Ireland he turns niche stats into predictions for FST, while he's one of the few people on this island who is equally comfortable at Windsor Park and the Aviva.
Thanks to the ease of online betting, we've seen a big change in how people bet on football. When you click on any major fixture on a bookmaker's website you'll find a massive range of markets, meaning you can cover a game from all angles.
Even if you just want to back a match result or number of goals there are different ways to go about it, so we're put together a guide covering the most popular football betting markets.
For some background, head back and see our introduction to football betting article.
What are football betting markets?
There are so many ways to try to call the outcome of a football game that bookmakers use markets to split them up to make them easier to handle. Within each market are a number of bets, which the bookie will offer odds for. These markets can be limited to just two options – the only possible outcomes of betting on whether both teams will score are yes or no – but they can also get much bigger. Backing the first player to score requires the bookie to price up all members of both squads ahead of the game.
Which betting markets are the most popular?
The most obvious betting market is match result or full-time result. It holds three options, home win, away win or draw. Picking a winner of a game is an age-old way of predicting the outcome, so it's little surprise that it still remains the way people tend to bet on football.
However, it's not the best position to be in when you've backed a team to win and they're 3-0 down. At that point, you'd have been better off with a both teams to score bet or even better an over 2.5 goals bet.
Both teams to score – often shortened to BTTS – has gone from a novelty coupon to a major market, largely down to the fact that your fortunes can change in an instant.
The same goes for backing the total number of goals in a game. Bookies tend to offer plenty of lines on that market, allowing you to set the threshold yourself. You can take the very short price available on there to be at least one goal in the game, while there's bigger risk and potentially more reward by backing over 5.5 goals in the same match.
Alternatively, if you think it'll be a dull affair you can back no in the BTTS market, or under a certain number of goals too.
How does match result betting work?
For league games, betting on the match result is pretty straightforward. You can back a home win, away win or a draw. You simply select the outcome you want to back, add them to your betslip and place your bet.
However, in cup competitions, things get a little trickier. A winner usually needs to be decided on the night, but that might not result in a winning bet for you.
Backing a team to win will only pay out if they claim a victory within 90 minutes. However, in these games there's usually an option to back a team to win in extra-time or penalties, while the to qualify market allows you to back a team to progress to the next round by any method.
If you're not planning on backing the favourites, there are ways to get a little insurance against your bet. The draw no bet market returns a refund if the game finishes level, while double chance allows you to cover two of the three possible outcomes.
Other popular betting markets
Betting on the final result of the game remains the most popular, but it's not always the most appealing. Given that backing the Premier League's top teams at home to a weaker side rarely brings much of a return, it's worth looking at the other types of bets you might want to consider.
Handicap betting
When backing a heavy favourite, it's often not a surprise to see that team win by a considerable margin. That pushes punters towards handicap betting, which aims to even the playing field in one-sided matches.
There are a wide range of handicap options available, but they tend to work best when offering a head start to the underdog. The handicap is simply subtracted, or added, from the score and the bet is judged from there.
If a team is a heavy favourite, you can back them with a -1 handicap at improved odds, wagering that they will win by at least two goals. If you think a big underdog can keep things tight and lose by one goal at worst, then you might want to back them with a +2 handicap.
Given how Man City and Liverpool tend to rack up big wins, you could find yourself backing them to win with a -3 handicap, which means they'd need to win by four clear goals.
Correct score betting
You could try to predict the correct score of the game, as we do in each of our match predictions. Like the full-time result market, a correct score bet is only relevant for the first 90 minutes of a game, not extra-time.
Half-time/full-time betting
This market describes itself, you're backing the result at the end of each half. If you expect a team to dominate from the off, you might want to back them to be leading at the end of both halves. However, teams who tend to click later in games can be backed as draw/win in this market, often for pretty good returns.
Can I back a result and the number of goals?
In addition to the main goals markets, it is possible to pick a full-time result mixed with a goals bet. An incredibly popular one is the both teams to score and win market, which combines the match result and BTTS markets, usually significantly boosting the price of a team to win.
You can also back a team to win a high-scoring game in the full-time result and total goals market. This allows you to back a result and over or under a certain goal-line. If you back a home win and over 2.5 goals you're taking them to win by any score other than 1-0 or 2-0.
Are there more markets I should know about?
These markets tend to be the most popular, meaning punters can often edge out a little more value by going with something a little more obscure. To know more about all the ways to do that, read our guide to the best niche betting markets to consider.
What else do I need to know?
Before you start betting, it's important to be aware of the dangers around gambling. We are committed to responsible gambling and want to ensure that you remain in control of your gambling and keep it safe and enjoyable.
For more information around safer gambling and the problems to watch out for, you can see our guidelines here.
---

Build better bets with our free betting tips, predictions and accumulators, every day.
Betting Academy Directory:
Introduction to Football Betting
Betting Markets explained
Best niche football betting markets
Best football betting resources
Football outrights betting guide