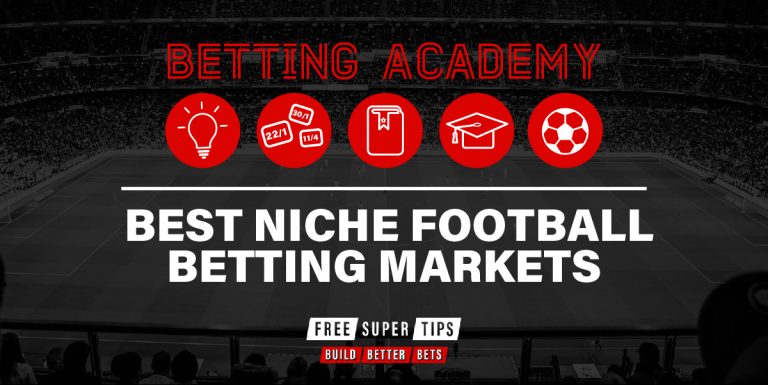 Before becoming a Sports Journalist for Free Super Tips, Aaron spent three years studying Sports Journalism at the University of Sunderland while taking in the Black Cats' 'glory years' under Martin O'Neill. Now back in Northern Ireland he turns niche stats into predictions for FST, while he's one of the few people on this island who is equally comfortable at Windsor Park and the Aviva.
There's no shortage of ways to bet on football. A day or two ahead of a game – or even 80 minutes into one – you'll find that most bookmakers cover basically every angle imaginable.
We've already covered the standout ways to bet in our football betting markets explained article, but now it's time to delve a little deeper and view the more niche ways you can bet on football.
How many football betting markets are there?
It's hard to put a number on it between all the available bookies, but there are hundreds of different types of markets out there. The scale of it can be overwhelming at times, but it does mean that whatever way you want to bet, you're likely to find it somewhere.
Why should I use niche markets?
Obviously, the main betting markets tend to be straightforward, that's a part of the reason they're so popular. However, that popularity means the bookies tend to scrutinise the odds in those markets a lot more.
Niche markets can offer extra value to punters willing to look beyond the first few markets presented for each fixture. While they're a little harder to find and more difficult to build accumulators for, they can be worth it.
Suggested niche betting markets
Team total goals
This is a popular market for many FST tipsters, but it tends to be hidden away on most bookies' sites. In many ways, it's similar to backing a team to win, but you can occasionally get a better price on a team to score over 1.5 total goals than backing them to win. You're backing against a 1-0 victory with that one, but on the other hand, you do get a return from a high-scoring draw.
For heavy favourites, you can back them to score over 2.5 goals to get a price around evens, that's usually a handy bet when backing sides like Man City and Liverpool who tend to claim big wins.
First team to score
This is a market we've tried out quite a bit here on FST, as it's a fun alternative to a both teams to score bet. There are a lot of statistics available to help you find the teams who tend to score or concede the opening goal, which gives you great insight into an undervalued market.
You are likely to see a boost in the match result odds by backing a favourite to score first. When you get a busy day or night of fixtures, you can take your pick of first team to score bets and watch the goal updates roll in – as long as you're okay with your bet potentially being ended at a second's notice.
Winning margin
While we've covered match result and handicap bets in the last article, there's a more specific way to back the outcome of a game. While it's harder to call the exact winning margin for a side, there's a good boost in odds in this market.
Like the previous example, this is another one which has a lot of statistics which can help you pick out some common winning margins.
Corners & cards betting
These two markets have really opened up in recent years, with plenty of options for backing both cards and corners in most football matches. The best way to build an accumulator on them would be to back over or under in the total cards or total corners markets.
Given how common both are, these bets give you something to watch out for over the full 90 minutes, while they make usually mundane events interesting. Backing over seven corners in a game leaves you willing on a defensive block, while you might even find yourself cheering each corner as they're awarded!
If you're ready to go sign up with a bookmaker and start using these markets, then take a look at our guide to claiming betting offers.
What else do I need to know?
Before you start betting, it's important to be aware of the dangers around gambling. We are committed to responsible gambling and want to ensure that you remain in control of your gambling and keep it safe and enjoyable.
For more information around safer gambling and the problems to watch out for, you can see our guidelines here.
---

Build better bets with our free betting tips, predictions and accumulators, every day.
Betting Academy Directory:
Introduction to Football Betting
Best niche football betting markets
Best football betting resources
Football outrights betting guide