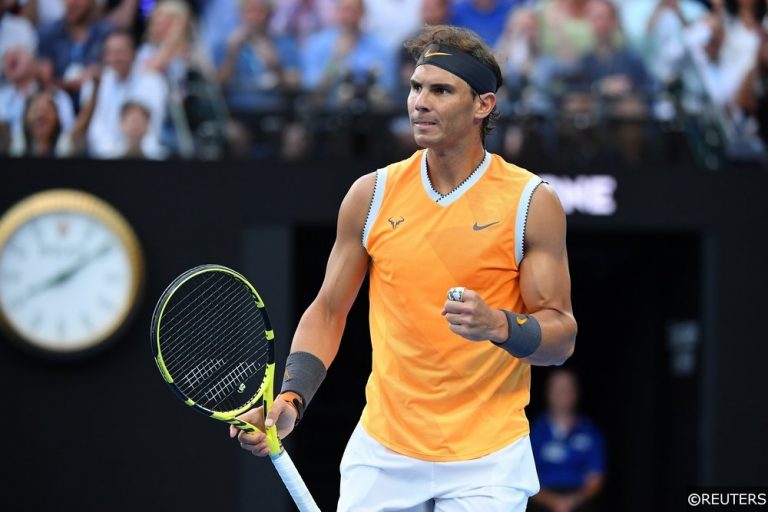 Rafael Nadal has won the US Open title three-times throughout his career, and the Spaniard is in the kind of form to win it again in 2019.
Rafael Nadal has loved New York throughout his career, and this has been the Spaniard's 2nd most successful grand slam event. Nadal holds a 58-11 record at the US Open, an 84% win-rate, while he's being playing well here over the last couple of years too. The world number two first won this title back in 2010, to complete the career grand slam, and he's also won the title in 2013 and 2017 since. Nadal has only been beaten prior to the semi-final stage twice here in his last nine appearances, while his only defeat here over the last two years was due to an injury that forced him to retire against Juan Martin del Potro during their semi-final last year.
Rafael Nadal Last 5 US Open Appearances
2018 – Semi-Finalist (Retried due to injury)
2017 – Winner
2016 – Fourth Round
2015 – Third Round
2014 – DNP
2013 – Winner
While Rafael Nadal will be one of the favourites for the title this year, we've picked out 5 outsiders who could challenge for the title in New York.
Rafael Nadal is enjoying a great season, and he's particularly been in fantastic form over the last few months. Nadal has won three titles so far this year, including the Rome and Canadian Masters. The Spaniard's biggest title of the year came in Paris, as Nadal won a record-extending 12th French Open title, and his 18th grand slam title in all. The number two seed is coming into this year's tournament having won 21 of his last 22 matches, which includes winning his last 4 in succession, courtesy of his run to the Canadian Masters title last time out. Nadal also holds the best win-rate on the ATP Tour this season at 87.23%, while his hard court win-rate of 88.24% is also the best of anyone in 2019.
The eighteen-time grand slam champion has also been extremely consistent at the grand slam events over the last fourteen months. The Spanish ace has not been beaten before the semi-final stage at any of the last 6 grand slam events, while this season he's reached two grand slam finals. Nadal has won 35 of his last 39 grand slam matches, with one of those defeats being a retirement due to injury.
Rafael Nadal Last 4 Grand Slam Results
2019 Wimbledon Championships – Semi-Finalist
2019 French Open – Winner
2019 Australian Open – Finalist
2018 US Open – Semi-Finalist (Retired due to injury)
However, Nadal is going to have to be at his absolute best if he's to win this year's tournament. The two biggest challenges Nadal might have to overcome in New York is Novak Djokovic and his own body.
In regards to Djokovic, Nadal has really struggled against the world number one off of a clay-court for years now. Nadal's last victory against Djokovic on a hard court was actually the 2013 US Open final, and so Nadal will have to overcome a huge mental barrier if he does face Djokovic at this year's tournament. Despite Djokovic's recent dominance over Nadal on this surface, Nadal actually leads the head-to-head between these two at the US Open 2-1. All three of their previous meetings at this tournament have come in the final, and that's the only stage they could meet at this year.
The other problem for Nadal is his body. It's no secret that Nadal has struggled with injuries when playing on a hard court, and he's already had injuries this year at hard court events. Nadal was also forced to retire from his semi-final here twelve months ago due to an injury, and those memories will be fresh on Nadal's mind. However, Nadal has had enough rest heading into this year's tournament, after skipping the Cincinnati Masters, and he seems to be fully fit right now.
The draw was made for the US Open on Thursday afternoon, and Rafael Nadal will have been very pleased with the draw he was given. The big question ahead of the draw was whose half would 3rd seed Roger Federer end up in, and fortunately for Nadal, Federer was drawn in Novak Djokovic's half. Looking at Nadal's potential draw on paper, his first tough test shouldn't come before the fourth round, where he could face either Marin Cilic or John Isner, although neither are playing well right now. Nadal has a potential quarter-final with Alexander Zverev, another out-of-form player, while Dominic Thiem or Stefanos Tsitsipas could be a potential semi-final match for Nadal.
All-in-all it's a very good draw for Nadal, and he'll be happy to have avoided the likes of Nick Kyrgios and Stan Wawrinka in the early rounds. The Spanish ace will need to get his early round matches won with minimal fuss this year, as last year the Spaniard was pushed in a number of matches, and that didn't help his injury problems at the time.
Rafael Nadal is the 2nd favourite for the US Open this year, and he's heading into the tournament in a great place right now. If he can remain fit, we believe he has as good a shot as anyone at walking away with the 2019 US Open title, and that's why Rafael Nadal is our 7/2 pick for the tournament!
Free Tennis Predictions
We're going to have Tennis Betting Tips and Predictions for all of Rafael Nadal's matches at the 2019 US Open!