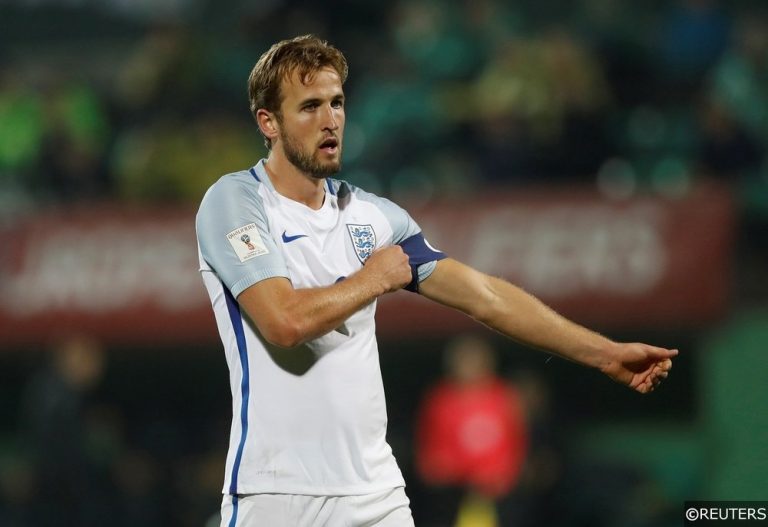 Content Editor at Free Super Tips, Alex was born in the shadow of Old Trafford and is an avid Man Utd fan. After graduating from university he combined his love of football, writing and betting to join FST and now closely follows goings-on in all of the top European leagues.
Once every four years the entire nation is whipped into a football frenzy as the World Cup rolls around. The Premier League season is drawing to a close this weekend and kickoff in Russia is just over a month away, so it's almost time for the hype train to depart the station.
The armchair managers will be out in force and football fans who are otherwise completely rational people will start to believe that this is the year to buck the trend. Could this be the year that Baddiel and Skinner were actually singing about?
Let's take a look at England's expected timeline in Russia.
Take a look at our thoughts on the full England squad and how they will line up.
Warm Up Friendlies
2nd June – England vs Nigeria
The first of two schedule pre-tournament friendlies takes place at Wembley just over two weeks before their first competitive kick of a football. It will be their first tie with Nigeria since a goalless draw in the 2002 World Cup group stages, and will allow Gareth Southgate to take a good look at where he is with the squad.
Nigeria may not be the most world renowned footballing nation, but they have beaten both Poland and Argentina in the last year. A 4-0 defeat to Morocco in February shows that they are lacking in areas though. England have won eight of their last ten pre-tournament friendlies too, so we're expecting a narrow win at Wembley along with a cautious performance.
7th June – England vs Costa Rica
Shortly before they fly out to their training camp in Saint Petersburg, England make the shorter journey up to Elland Road to continue their World Cup preparations.
Costa Rica are another team bound for the World Cup group stages next month, but their recent form hasn't filled the fans with hope. They have lost four of their last five games and were thrashed 5-0 by Spain. Panaman, Hungary, and Tunisia have all beaten them too, and with them failing to score a goal in three of their last four games we're expecting another win for the Three Lions, potentially with a clean sheet to boot.
World Cup Group Stages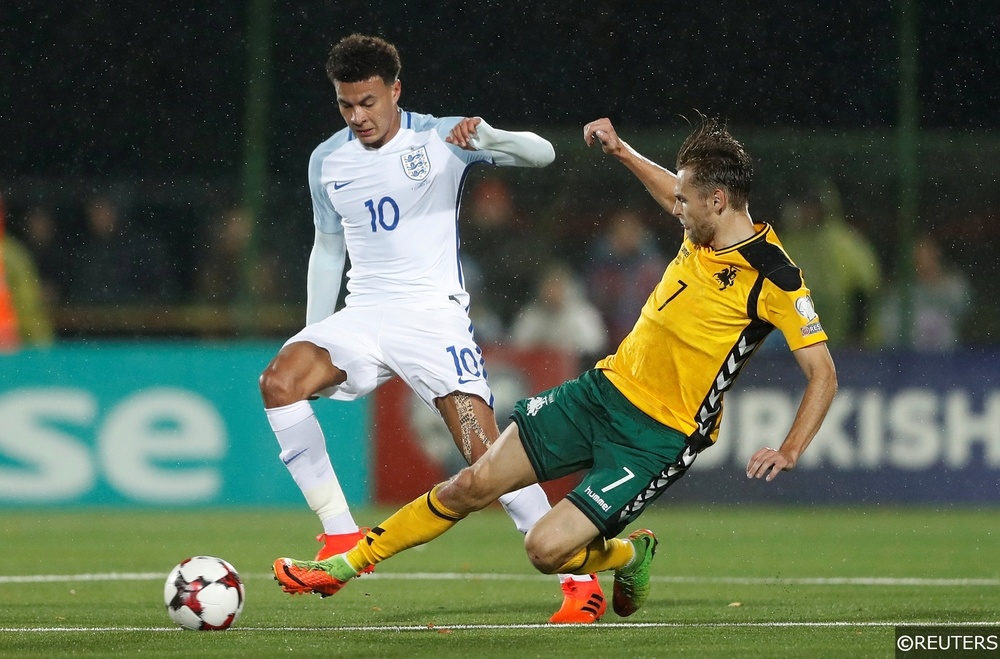 18th June – Tunisia vs England
England make the 1,700km trip to Volograd for their World Cup opener on the 18th June, facing off with a Tunisia side taking part in their first World Cup since 2006.
Considering one of their standout players is former Sunderland winger Wahbi Khazri we're not expecting much from them, but with them coming into the tournament period on a seven match unbeaten streak they won't be an easy team to break down. This is generally where England's big freeze begins. They haven't scored more than a single goal in their opening game of a major tournament since a 3-2 loss to Portugal in Euro 2000, so a typical 1-0 win for The Three Lions doesn't look out of the question.
24th June – England vs Panama
England's major tournament openers may be lacking in the entertainment department, but they generally manage to improve in the second round of group games. They have scored almost double the amount of goals in their second group game than their first in major tournaments since 2002, and given Panama's quality we can expect a similar outcome here.
Panama lost 6-0 to Switzerland in March and have never beaten an European team. Admittedly they haven't played many, but a 2-0 victory for England doesn't sound too far fetched.
28th June – England vs Belgium
This is the big one. The match that is likely to determine the winners of Group G and potentially shape how the rest of their tournament goes. Both England and Belgium make a 1,000km plus journey to Kaliningrad from Saint Petersburg and Moscow respectively, and we're expecting England to have the pressure on here.
The star studded Belgium were the joint top scorers in qualifying with 43 goals in ten games, so it bears to reason that they will be more capable than England of knocking a few past Tunisia and Panama. This boost in goal difference means that England would require a win to claim the group top spot, and given the quality of the Belgium squad that looks an unlikely prospect. A draw does seem the most likely outcome here, meaning that England finish 2nd in the group.
Read our World Cup Fact File for more interesting trends to take note of this summer.
World Cup Knockout Rounds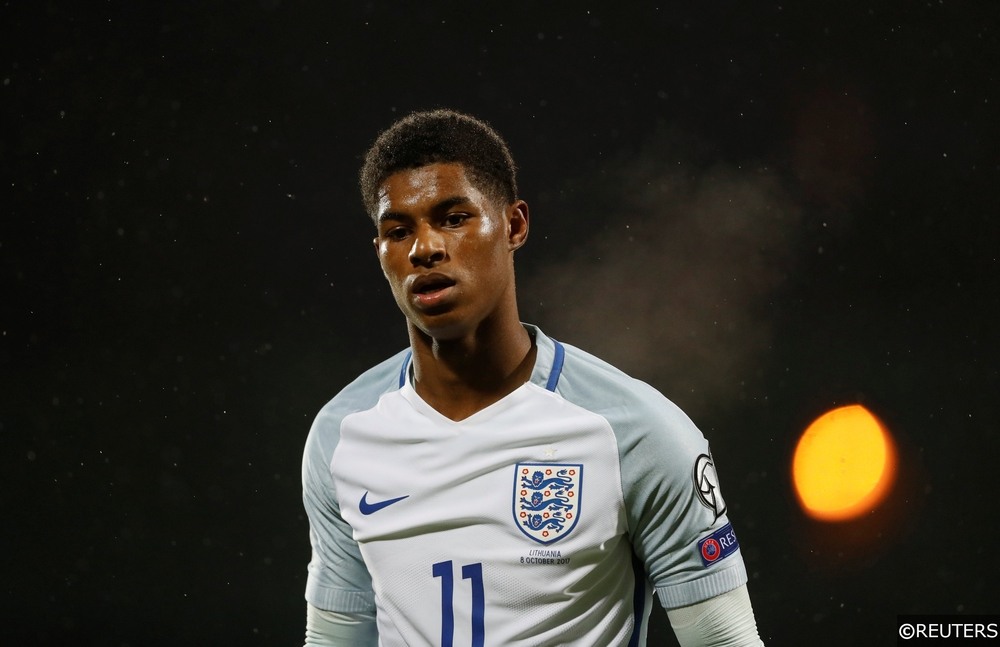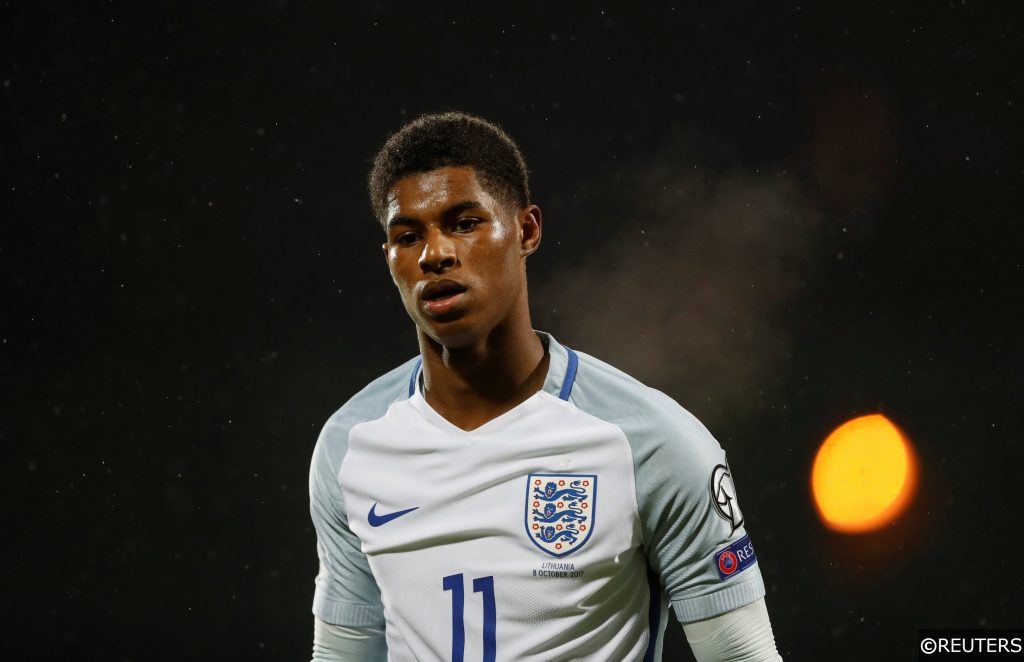 3rd July – Poland vs England
A runners up position in the group stages would hand England a Last 16 tie with the winners of Group H, who we expect to be Poland. The Robert Lewandowski reliant Poles topped their qualifying group thanks to the heroics of the Bayern Munich striker, but in recent friendlies they have lost to both Mexico and Nigeria.
This is by no means the toughest draw in the World Cup, and the fact that England have only lost once against Poland is a positive sign. That defeat came back in 1973, and three of the last four meetings between the nations have ended in England wins, so a Last 16 victory does look likely.
7th July – Germany vs England
This is where it could all come crashing down for those England fans who have dared to dream. With Germany hot favourites to top their group and get past expected Group E runners up Switzerland, a quarter final clash with the old rivals looks a good possibility.
England haven't made it past the quarter finals of a major tournament since Euro 1996 and have been knocked out in the last eight in four of their nine appearances since then. Their last competitive match against the reigning world champions was in the Last 16 of the 2010 World Cup, ending in a disastrous 4-1 thrashing. Something of a miracle will be required to get past this stage.
We're predicting that the story ends for England here. But on the off chance it doesn't…
11th July – Spain vs England
If a miracle does take place and England get past Germany to book their place in their first semi-final in over two decades Spain are likely to be the side waiting for them.
Hot favourites to win Group B ahead of Portugal, they are likely to beat possible opponents Russia and Croatia in the knockout stages. They are our favourites to lift the trophy come July thanks to their impressive attack and rock solid defence. England and Spain kept the joint tightest defence in European World Cup qualifying with just three goals conceded apiece, but the Spaniards scored twice as many as England in the process and look back to their best under Julen Lopetegui.
Spain have also won four of their last six meetings with England, so this is another giant mountain to climb for Gareth Southgate's men. Should they do the unthinkable and scale that mountain they will book their place in their first international final since 1966.
15th July – England vs Brazil
Things don't get any easier for England should they overcome all the odds and make it to the final in Moscow just under a month since they kicked off in Volograd. Brazil are the pre-tournament favourites to lift the trophy, looking to atone for their humiliation four years ago and seem like the most likely option to find their way to the final.
The South American giants have won the World Cup a record five times and are the only team to appear in all 20 tournaments. They have won 70 of their 104 World Cup matches and scored 221 goals in total, appearing in seven finals along the way.
Five wins from seven World Cup Finals goes some way to illustrating how difficult they would be to beat in Moscow. The only thing going in England's favour is the fact that of the ten World Cups held in Europe, nine of the winners have been European. The one exception? Brazil in Sweden 1958.
It's already an incredibly long stretch for England to make it to the final, but once they are there it's hard to see them having the quality to take out the most successful nation in World Cup history.
Follow Free Super Tips on Twitter to stay up to date with our daily tips and predictions or browse more football content on our website: