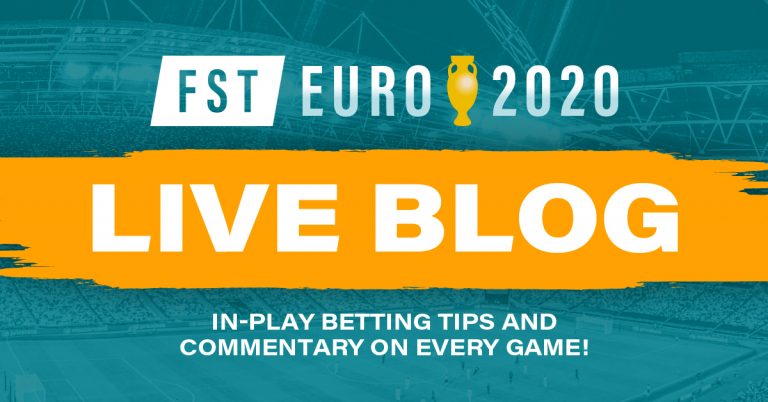 Before becoming a Sports Journalist for Free Super Tips, Aaron spent three years studying Sports Journalism at the University of Sunderland while taking in the Black Cats' 'glory years' under Martin O'Neill. Now back in Northern Ireland he turns niche stats into predictions for FST, while he's one of the few people on this island who is equally comfortable at Windsor Park and the Aviva.
Join us for live tips, commentary and insights from Euro 2020 below. No need to refresh; the page will update automatically.
---
23:19 – That's all from me!
Thanks for joining us tonight and throughout Euro 2020! Hopefully we'll be back with more in-plays for you before Qatar '22.
We finished tonight with three in-play winners, two out of three pre-match predictions landed and we have our 11/1 outright winner. With 13 bets landing from our team guides it has been a successful tournament from us, while it's been one of the best European Championships in recent memory.
Hopefully you all enjoyed it despite the result. We've had a great month of live coverage and we hope you'll stick with us for free tips this summer ahead of the return of the Premier League next month.
23:14 – Donnarumma wins Player of the Tournament
Italy prepare to lift the European Championship trophy, with Donnarumma celebrating the Player of the Tournament award.
After a brilliant run from the Italians their 34-game unbeaten run rolls on and they'll head into next year's World Cup as European champions.
23:04 – The Euros draw to an end
The tournament draws to a close and Italy are set to lift the trophy shortly at Wembley. We backed them at 11/1 before the tournament in our Euro 2020 outright predictions.
As for England, that's a bitter blow and an incredibly tough moment to end on with three young stars missing in the shootout. This tournament has seen the Three Lions grow and they'll hope to build on this at the World Cup next year.
22:55 – Saka misses and Italy win the Euros
Saka is inconsolable after that miss while Italy celebrate their trophy.
You have to wonder why Grealish and Sterling weren't picked ahead of a 19-year-old to take the fifth penalty.
22:54 – Donnarumma saves! Italy win the Euros!
22:53 – Jorginho misses! 
22:52 – Sancho's shot saved by Donnarumma! 3-2 to Italy still
22:51 – Bernadeschi scores straight down the middle! 3-2 to Italy 
22:50 – Rashford for England… misses! He slams the ball against the post! 2-2 still
22:49 – Bonucci scores for Italy – 2-2
22:49 – Maguire is England's second choice – he scores! 2-1 to England 
22:48 – Belotti for Italy… saved by Pickford!
22:47 – Kane scores! 1-1
22:46 – Berardi to take the first penalty for Italy… he scores!
22:43 – IN-PLAY TIP! OVER 7.5 PENALTIES CONVERTED
Italy were impressive from the spot in the semi-finals, while England have won their last two shootouts. Both sides have some good finishers so we're backing at least eight penalties to be scored in this shootout.
FULL-TIME IN EXTRA TIME – ITALY 1-1 ENGLAND – PENALTIES TO FOLLOW
120 + 2 – Last throw of the dice!
A minute to go until penalties in the Euro 2020 final, but there's no sign of a winner. Will we have a repeat of Portugal's heroics in 2016?
120 – Penalty subs!
Henderson is off for Rashford and Sancho comes on for Walker as Southgate gets some penalty takers on the pitch. However, Italy have a corner first…
But that comes to nothing.
115 – YELLOW CARD (Jorginho)
A booking for the Chelsea midfielder after a late tackle and some Grealish theatrics. He looked to be buying some time for his teammates to catch their breath.
111 – Under 10 minutes left in this clash
This is certainly a better extra time to watch than either semi-final. Will we get the goal we've backed before the clash goes to penalties? There have been plenty of chances for both sides in the last six minutes.
107 – Pickford panic
Scary moment for England there as Pickford spilled an Italian free-kick. There must be something in the air, as Donnarumma just dived nervously at the ball and missed it!
106 – Back underway for the final time at Euro 2020!
HALF-TIME IN EXTRA TIME – ITALY 1-1 ENGLAND
Just 15 minutes separate us from a penalty shootout. England aren't doing enough to avoid it so far, while the Italian fans seem quite happy with their players in control of the game.
105 – No clear chances so far
Italy are dominating extra time so far with England still rocked by the equaliser. Southgate has three subs left and he needs to use them.
99 – IN-PLAY TIP! OVER 0.5 EXTRA TIME GOALS
England won their semi-final in extra time in midweek and they are bringing on Grealish here to try and do the same. That added creativity could open the game up, but Italy have the edge in terms of freshness and they remain a threat. We see another goal in this before the end of extra time.
96 – Another Italian change
Verratti is off, with Locatelli on. England players should remember his two-goal haul against Switzerland, with the Sassuolo man likely to make some box-to-box runs as the fresh pair of legs against a tiring England side.
91 – Extra time underway!
No changes from England despite their lethargic end to the second-half. Italy have taken off Insigne – who has had a quiet night – with Belotti on now as their central striker.
22:01 – Latest odds
England are now 11/4 to win this in extra time and they're a 11/5 shot to win a shootout. Meanwhile, Italy are 15/4 for an extra time win and they're 9/4 to win from spot kicks.
FULL-TIME! ITALY 1-1 ENGLAND – EXTRA TIME TO FOLLOW
Two of our three pre-match predictions have landed, including our 11/2 correct score prediction.
How, how about that 10/1 shot on England to win in extra time? We'll find out over the next 30 minutes!
90 + 4 – Italy pushing for their second!
We're getting a strong end to this match, with Italy going for a second and taking the game to England.
It feels almost like the full-time whistle will take the edge out of a game which has opened up in the last 15 minutes.
90 + 1 – Six more minutes at Wembley!
There's still time left for a winner, with another six minutes at least to play before full-time!
87 – Extra-time is looming again!
Both semi-finals finished 1-1 and the bookies price it up at 2/9 for this one to finish the same way.
That's good news for anyone who backed our correct score prediction before the game!
84 – IN-PLAY WINNER! OVER 2.5 CARDS
84 – YELLOW CARD! (Insigne)
A booking for the Napoli man, so there's another winner for us!
79 – Can England find a winner?
Pressure is on these two to find the third goal of the game, with both sides pushing forward and getting chances.
It's likely to be tougher for England, who must feel like they have to win it all over again.
75 – Italy looking sharp
The Italians have taken a boost from that goal and they're in control here. They're creating more chances and they're looking the most likely to snatch a winner. Good news for anyone who backed them at 11/1 at half-time.
68 – IN-PLAY WINNER! ITALY 4+ SHOTS ON TARGET
68 – IN-PLAY WINNER! OVER 1.5 GOALS AT 4/6
67 – GOAL! ITALY 1-1 (Bonucci)
Moments after I say that England are a threat from set pieces, they go and concede from one! That's a quick winner, but it wasn't the only one!
62 – IN-PLAY TIP! OVER 1.5 GOALS
Italy are growing into this game and they've had a couple of shots on target in this second-half. They seem to be creating openings and their substitutions have been dangerous, so we can see them getting a goal in this clash.
The Italians have scored in 14 of their last 15 matches so we can see them getting a goal. However, with England proving to be a threat on the break and from set pieces, we think backing over 1.5 goals is the best bet for the remainder of this game.
56 – YELLOW CARD! (Bonucci)
That's the second yellow card and we're one away from an in-play winner after the Juventus elder statesman gave away a free-kick. England wasted the chance, with Maguire heading over.
55 – Italian changes
Barella and Immobile are off for Italy, with Berardi and Cristante both coming on. Those are two good attacking changes for the Italians, as Cristante will surge forward from midfield and Berardi will get involved more than the anonymous Immobile.
51 – Insigne swings a free-kick wide!
Italy had a great chance from a close-range free-kick but Insigne's effort went wide. Some England fans in agony followed on our screens, I'd like to see the full range of emotions they go through for the next 40+ minutes.
49 – Penalty appeal waved away!
A burst of pace from Sterling troubled the Italian defence and the Man City winger appealed for a penalty. It doesn't seem that his luck from the semi-final has carried over to tonight.
47 – YELLOW CARD! (Barella)
The first booking of the game is here, with Barella taking down Kane inside the England half. We did say there were bookings to come in this game, hopefully another couple are on the way!
46 – Back underway!
England kick us off looking for another flying start to a half, can they get it?
21:04 – Second-half to come!
There's been a bit of break, but the players are back for the second-half. England are 4/11 favourites to win it, while Italy are 11/1 for a turnaround and the draw is 10/3.
20:54 – HALF-TIME IN-PLAY TIP! CHIESA TO SCORE
Chiesa has scored in both of his appearances at Wembley at this tournament and he's scored twice in his last three games for Italy. The Juventus winger has looked the most dangerous man in Blue tonight and we're backing him to be the man to break England's resolve in the second half.
HALF-TIME – ITALY 0-1 ENGLAND
Despite my lazy attempt to tempt fate (43) England lead at the break at Wembley! It's been quite comfortable really, with England calmly going about their business.
The second-half is to come, but first is our half-time in-play tip!
45 + 2 – Verratti tests Pickford
Italy have their first shot on target of the night with Verratti firing a shot from the edge of the box. They're slowly growing in confidence, but they are leaving opportunities for England to break.
Looks like there's more goals to come in this one, with over 2.5 priced at 7/4.
43 – Arise, Sir Gareth
The switch to the back five has been massive for England here, with their two wing-backs the stand outs having combined for the only goal of the game so far.
The positioning of the entire defence has been perfect, another masterstroke from Southgate based on what we've seen so far.
39 – IN-PLAY TIP! OVER 2.5 CARDS!
This referee gave eight yellows across two matches in the group stage and he has handed out an average of 3.33 yellows in his three knockout matches. There have been 10 fouls so far tonight and we expect that to translate into bookings in the second-half.
35 – Great interplay from England!
A good move between Sterling and Mount set up an opportunity, but the Italian defence reacted at the last minute to keep them out.
Meanwhile, Chiesa just strode forward and fired a shot narrowly wide. The game is opening up!
33 – England pressing well
We're seeing more from the Italian midfield, but whenever they venture into the final third there's just no way through England's back five.
28 – Italy out of sorts
Italy aren't looking their usual, fluent selves tonight and a tame shot from Insigne shows how blunt they are going forward at the minute.
There's been a bit move in the both teams to score market as a result, it's now priced near evens despite there being plenty of time for Italy to get into the game.
23 – Jorginho down for Italy
Italy have a concern over midfield fulcrum Jorginho and the Chelsea man is limping off as the game restarts. That would be a major blow for Italy if he can't return. They're playing with 10 men at the moment which isn't great either.
16 – England in control so far
We've had the first quarter of an hour and it has been an impressive start from England. Italy can't get into their rhythm so far and there's a lot of threat from Southgate's men.
They're now 1/4 favourites to win the trophy as a result.
11 – IN-PLAY TIP! ITALY 4+ SHOTS ON TARGET
Italy are behind and they need to get forward in order to get back into this game. The Italians have had at least four shots on target in five of their six games at this tournament and they've had at least four in each of their last four games.
Expect Italy to get their own period of domination here and we're backing them to trouble Pickford quite a bit within the 90 minutes.
6 – England on cloud nine
Any pre-match nerves must have been banished by that brilliant opener. We know England have a past record of defeats which follows them around, but that strike will have put many of those players at ease.
2 – GOAL! 1-0 ENGLAND (Shaw)
Shaw's first ever goal for England comes at the perfect time as the Three Lions lead!
Looks like they did make that flying start I mentioned earlier!
0 – KICK-OFF!
The Euro 2020 final is underway, here we go!
19:57 – Teams are out at Wembley!
Hopefully you're all ready, as we're moments away from the final kick-off of Euro 2020! Expect a tiny car on the pitch shortly, while are in-plays aren't far off either!
19:54 – Final call for tonight's tips!
Here's our last push for our huge 400/1 Bet Builder tip for tonight. We have tips ranging from 20/1 to 400/1 in our same-game multis so there's plenty there to enjoy.
19:50 – A long night ahead?
We're 10 minutes out from kick-off and we could easily be here for another two-and-a-half hours.
I can see extra-time tonight and I tipped it up earlier (19:02). We've sat through a few long nights at this tournament and given what I said earlier (19:38) I'd bite your hand off for another 30 minutes right now.
19:46 – Golden boot watch
Both Patrick Schick and Cristiano Ronaldo will be watching on tonight hoping for a low-scoring game. They both have five goals, with Harry Kane behind them with four.
Kane is a 10/3 shot to win the trophy (or at least share the spoils with a goal) while you can get 20/1 on Raheem Sterling, who needs at least two.
19:42 – On a brighter note…
Negativity aside, we've got a great final in prospect and it will be interesting to see how the two sides start.
England were intense from kick-off against Denmark, while Italy will want to slip back into their possession-heavy approach. Will they take the sting out of the match early on or will the Three Lions delight the home support? I'm excited to find out.
19:38 – A night to savour
That's not just aimed at England fans. After tonight we're all getting by on transfer rumours and pre-season friendlies. Let's enjoy competitive, top-class football while we have it.
Don't forget we're just shy of a month away from the start of the Premier League season. That might sound like a positive, but just remember the endless VAR reviews, painful BT Sport ads and watching Newcastle vs Burnley.
Can we invite the other 22 teams back and start again?
19:34 – Players to watch
There's no shortage of stars on the pitch tonight, but who are the key men to watch? Below you can see the key attacking individuals for the pair, which should help with your bet builders.
19:30 – 30 minutes to go!
Yes, it's that part of the night were I needlessly tell you the time. We're closing in on kick-off and that means you're running out of time to see our full array of Italy vs England tips.
19:26 – Commentary 'choice'
Following up my Clive and Ally anger from earlier (19:12) it's worth mentioning that tonight you have a choice of Guy Mowbray and Jermaine Jenas on BBC, with Sam Matterface and Lee Dixon on ITV. 
Then there's my additional third option. It's called mute.
19:19 – Italy can dominate tonight
What I'm most looking forward to tonight is seeing the midfield possession battle. It could be that Mount drops deep into a central three, which is probably Southgate's best response to Italy's midfield.
Italy have looked great on the ball in every game bar the semi-final, but then again they were outpassed by Spain. No real shame in that. I don't think Southgate has the tools to tiki-taka his way out of this one.
19:16 – An Italian Job pun
The increasing laziness of my headings aside, let's talk about the other team in the final. It's Italy, in case you'd forgotten.
Roberto Mancini picked up this job with Italian football at its lowest since 2006 (pre-World Cup win, obviously). Having failed to make the 2018 World Cup with a regressive, prehistoric style the former City boss has transformed Italy into a possession hungry, modern side.
19:12 – Pick your side for tonight
Two evenly matched teams, plenty of weaknesses on both sides and many star names who have failed to deliver at international level. Picking which channel to watch the final on tonight is hard.
The BBC or ITV conundrum is even more difficult for England fans who have to make a choice between the two for probably the first final of their lifetime. Personally I still haven't settled on my choice, but that's because I'm still wishing we had a Clive Tyldesley and Ally McCoist option on ITV2.
19:07 – Biggest test for England's defence
The Three Lions have made the final based on their fantastic defensive record, but that will be put to the test tonight.
As you can see in the graphic below, the Italians have the strongest attacking threat of the two sides.
England have been getting progressively stronger going forward, which has prompted us to back both teams to score tonight at 6/5.
19:02 – My best bet for the final
Personally, I've got a feeling that England win this one in extra time. I included that 10/1 shot in our Italy vs England predictions and I think it's a great price when you consider how extra time went for the pair in midweek.
Italy's impressive starting 11 slowly lost its shine through substitutions, while Gareth Southgate has so many options to choose from. England have gone from strength to strength this summer and I think over the course of 120 minutes they should overcome Italy.
18:57 – How is the game shaping up?
We've also covered the advantage which comes with playing at home in Euro 2020, something which is evident in the betting. 
England are 29/20 favourites for the victory within 90 minutes, while you can get 12/5 on an Italian success in normal time.
18:51 – 400/1 final tip
How about a tip for tonight's game which clocks in at over 400/1? Our Ultimate Bet Builder guide contains a massive same-game multi for Italy vs England which is certainly worth a look!
18:48 – Which startling lineup is strongest?
You can see my best XI made up from these two sides right here, which is something to argue over before the match begins.
On paper, the Italians look to have the strongest defence and midfield, but Southgate has dropped star names in favour of team balance, so that doesn't tell us very much!
18:44 – What is in store tonight?
Any European Championship final is a big deal, but it's even bigger when England are involved. We've gone big as a result tonight, so we have every betting angle covered.
You might want to start with our Italy vs England predictions, which is our full lowdown and home of our best bets for the Euro 2020 final.
18:40 – TEAM NEWS
Italy (4-3-3)
Donnarumma; Di Lorenzo, Bonucci, Chiellini, Emerson; Barella, Jorginho, Verratti; Chiesa, Immobile, Insigne
England (3-4-3)
Pickford; Walker, Maguire, Stones; Trippier, Phillips, Rice, Shaw; Mount, Kane, Sterling
Gareth Southgate has made his biggest switch of the tournament so far, with a move to a back-three a massive shock following two good wins with a back four.
We'll cover this approach in more detail ahead of kickoff, but you have to feel for Bukayo Saka who misses out. 
As for Italy, the big question was over Chiesa's fitness with the rest of the team basically picking itself as Mancini had his gameplan set ahead of the tournament and his players have delivered. 
18:36 – Great expectations
After a solid tournament with some highs, the final is a chance to really step up and deliver a moment which will last forever.
I'm course talking about Roy Keane, who will surely try to outdo himself with some kind of viral moment before kick-off. Like England, he's been growing into the tournament after a dull start.
18:31 –  A broad church
I know that tonight many of you fit into two categories: Baddiel and Skinner's barmy army and those who are busy googling the Italian for Football's coming home. (A quick translate job tells me its Il calcio sta tornando a casa).
I'm sure much of tonight's coverage will be aimed towards the former, but I'm aiming to be as neutral as a non-Englishman with money on Italy can be.
18:27 – Good evening! I'm Aaron Rogan, thank you for joining me one last time in our live coverage of Euro 2020.
In case you haven't heard, it's the UK's biggest night in football for decades with over 30million expected to tune in for Italy vs England. I don't think I'll get quite the same following for tonight's in-plays, but I'm glad you're following along.
We're here with analysis and build-up for the next 90 minutes ahead of the 8pm kick-off.