It's been a rough year for everybody, but amidst all the doom and gloom there has been plenty to cheer about in the footballing world, depending on which side of the fence you sit on.
In fact, 2020 has been a year of remarkable achievements and long waits ended. Liverpool ended their 30-year wait for a league title while Leeds finally returned to the Premier League after a 16-year hiatus.
Neither of those were particularly welcome for Manchester United fans like myself, but other (less painful) achievements were plentiful as well.
Bayern Munich won every single Champions League match en route to their sixth European title, with FIFA Best Mens Player winner Robert Lewandowski scoring a sensation 55 goals in 47 competitive games.
Celtic and Juventus lifted their ninth consecutive league title, with the Scottish champions also completing the quadruple treble. Meanwhile, also in Scotland, the national team ended their 23-year wait for a major international tournament as they beat Serbia in the Euro 2020 playoffs.
And, of course, Lionel Messi and Cristiano Ronaldo continued to dominate the record books. Messi scored his 700th career goal and Ronaldo hit the century mark for Portugal.
But a new year awaits, and there's plenty of action forecast for what will (hopefully) be a better year on a global scale. Let's take a look at some of the major events that could happen:
---
Most Premier League penalties in a season record to be broken
Let's start with an easy one.
The introduction of VAR and the host of controversial new handball laws has seen more penalties than ever in the Premier League so far, and the record for most penalties awarded in a single season is likely to be broken come the end of the campaign.
The current record sits at 112 awarded penalties in the 2006/07 campaign. Now, with more than half the season yet to play, the current tally is at 62 penalties.
And while we're on the subject, maybe you think there could be a huge step towards that record in the coming year?
Leicester were awarded three penalties at Manchester City earlier this season, so 50/1 for five penalties to be awarded sounds pretty generous.
VAR to be scrapped
Or, maybe you're sitting on the other side of the fence and expecting the villainous VAR to be scrapped in the coming year.
It's been the cause of countless arguments, debates and upsets, but there's no denying it has its uses. Let's be honest though, it's not showing any signs of going anywhere, so the chances are it will just be improved on rather than thrown to the scrapheap.
Non-Premier League team to win the FA Cup
It's a bit early to be calling this, but the 2020/21 campaign has certainly seen its fair share of upsets so far.
Aston Villa demolished Liverpool, Leicester thrashed Manchester City at the Etihad and Spurs put six past Manchester United at Old Trafford.
If there's any year calling for a return of the FA Cup magic, it's this one.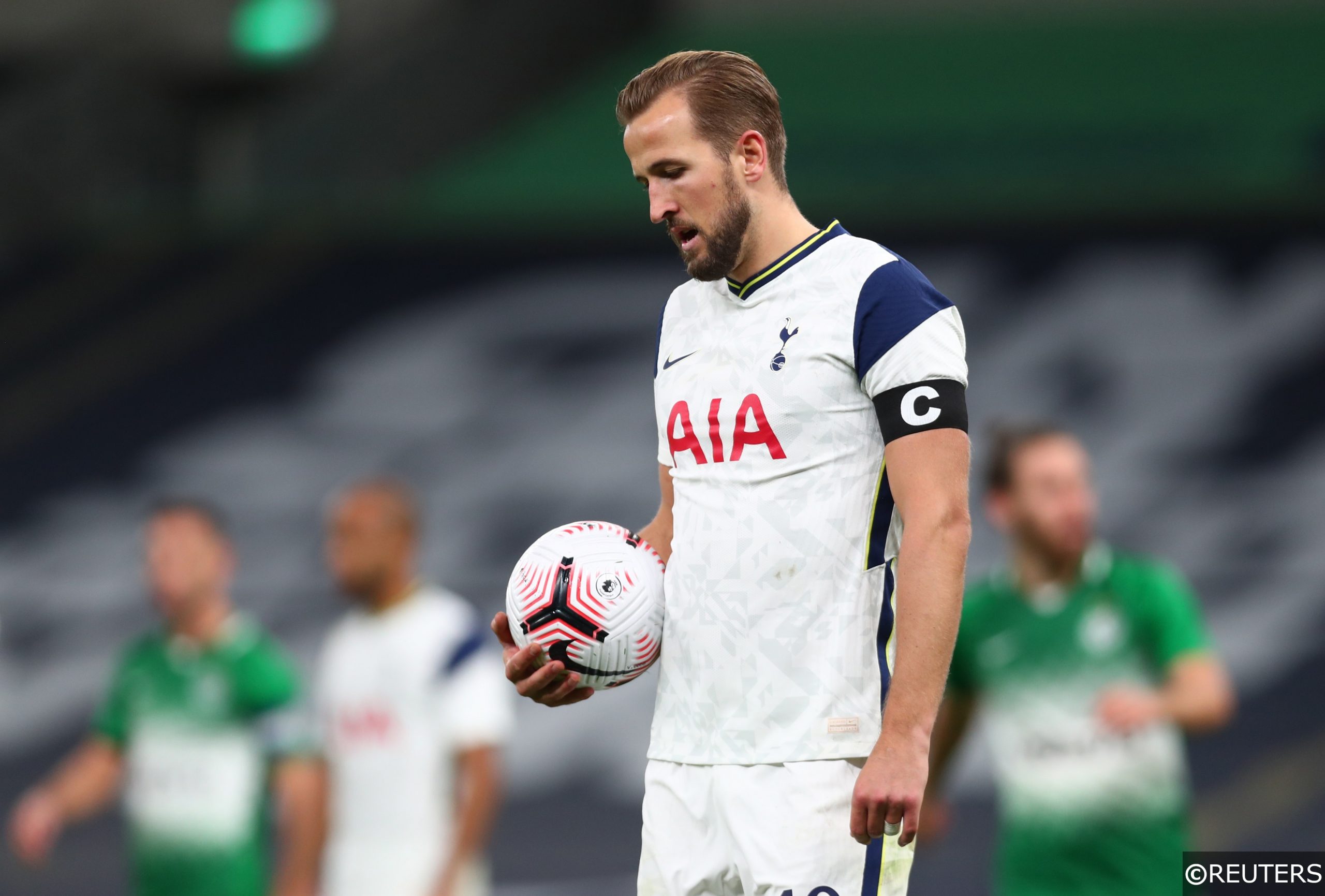 Premier League Golden Boot record to be broken/ Player to score 40+ Premier League goals in 2021
Could we see the end of a 25-year plus record this season?
Andy Cole and Alan Shearer are the joint-holders of the record for most goals in a Premier League season with 34 apiece, but that was when there were 40 or more games in a season.
However, with Mo Salah (13), Dominic Calvert-Lewin (11), Jamie Vardy (11) and Son Heung-min (11) all racking up the goals in the early stages of this season it would only take one of them to hit a hot streak to make that record seem a lot more achievable.
40 in a calendar year might be pushing it a bit though…
Ronaldo and Ramos eye international milestones
Two of the most influential players of the last 15 years, Sergio Ramos and Cristiano Ronaldo are both closing in on breaking international records.
Sergio Ramos broke Gianluigi Buffon's European record for international caps in November and now needs just seven more to break the world record, which sits at 184 by Egypt midfielder Ahmed Hassan.
Cristiano Ronaldo, meanwhile, is looking to become the deadliest goalscorer in international football history. He needs just seven more goals for Portugal to break Ali Daei's record of 109 goals for Iran.
He's also eyeing up a few more records, as you would expect from one of the greatest players to ever play the game. Ronaldo needs just one goal at Euro 2020 to become the top scorer in the tournaments history and two assists to become the top provider. If Portugal reach the final and Ronaldo plays he would become the first player to appear in three Euro finals.
Back at club-level, if he guides Juventus to the Champions League he would become the joint most successful player in European Cup history and would join Clarence Seedorf as the only players to win the competition with three different teams. Domestically, a Golden Boot in Italy would make him the first player to win the price in Italy, Spain and England.
Maybe time for a return to his Manchester roots after that?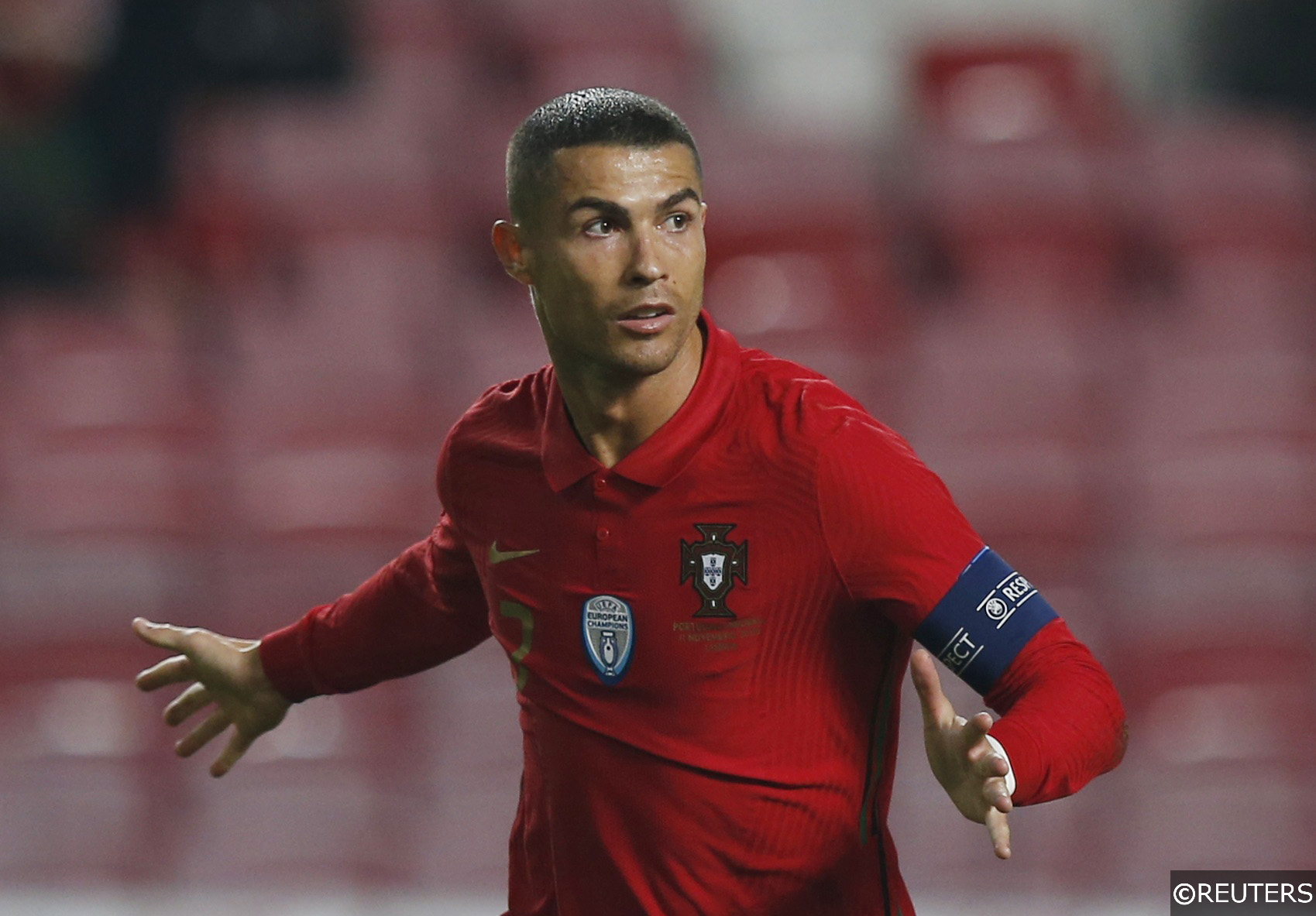 An English player to win the 2021 FIFA Men's Best Player award
If Ronaldo achieves all that there is no doubt he would be named the best player of 2021, but maybe you're backing English talent to rise to the top?
So far, in the four years since it's return, an English player hasn't even appeared in the top three of the FIFA Men's Best Player award. The previous iteration of the FIFA World Player of the Year award didn't see a single English winner in its 18-year history.
Frank Lampard (2005) and David Beckham (2001 and 1999)came the closest with runners-up medals, while Alan Shearer and Gary Lineker have bronze earlier on.
Realistically, only a couple of English players could even come close to the price. Jordan Henderson might be considered if Liverpool win both the Premier League and Champions League, while Harry Kane is another nominee. However, with Spurs not in the Champions League, it would likely need Kane to lead England to the Euro 2020 trophy for him to be in the running.
Clubs aim for a decade of dominance
Elsewhere in Europe, three clubs are looking to complete an incredible decade of dominance in their domestic leagues. Can you name them all?
Celtic are obviously the most widely known in this part of the world, but it's not looking promising for Neil Lennon's side. They may have weathered the worst of the storm earlier this month, but the Bhoys now find themselves some 16 points off the pace. They do have three games in hand on Rangers, but the leaders have dropped just four points all season and look utterly unstoppable right now.
Juventus's charge for their tenth in a row isn't going smoothly either. The Old Lady are currently third in Serie A with a seven point deficit on surprise leaders AC Milan. In fact, both the Milanese giants are above Turin's finest.
Finally, we head over to Bulgaria to check on Ludogorets progress. Unlike their fellow nine-in-a-row teams, Ludogorets are in fine shape to make it a decade. They have a six point lead over Lokomotiv Plovdiv in the Bulgarian First League and entered the winter break on a 15-match unbeaten streak in the league.
---
More FST News:
FST's betting highlights of 2020
Sky Super 6 predictions and betting tips
Premier League predictions and betting tips