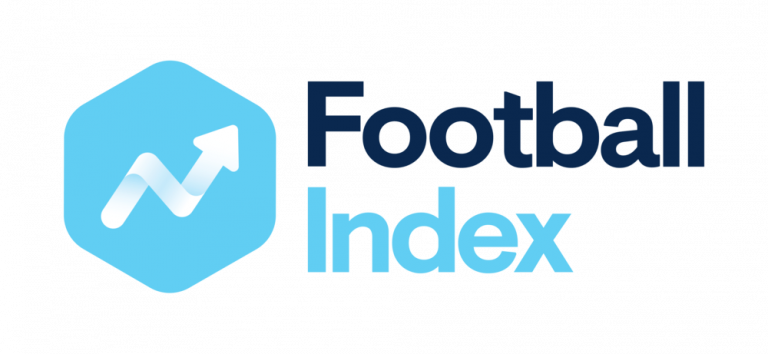 Content Editor at Free Super Tips, Alex was born in the shadow of Old Trafford and is an avid Man Utd fan. After graduating from university he combined his love of football, writing and betting to join FST and now closely follows goings-on in all of the top European leagues.
Unless you've been living under a rock for the past few years, you'll no doubt have seen the various Football Index advertising splashed around on billboards, websites and your TV. However, like many newcomers interested in the platform, you probably have a few burning questions that need answering. What is Football Index? How does Football Index work? Can you make money on it? And what's all this I hear about dividends and Performance Buzz?
We're here to answer those questions as part of our new series on Football Index.
If you're interested in getting started on Football Index, have a read through and make sure to check out our weekly Football Index tips from successful FI trader The Ginger Pirlo! You can also read up on these three underrated gems on Football Index with Zach Lowy.
What is it and how does Football Index work?
To put it in its simplest form, Football Index is a stock market for footballers. You can buy shares in (at the time of writing) over 3,000 different players, and the value of these shares can then increase or decrease depending on the popularity of these players with other Football Index users.
It's best explained using an example: Let's say you buy 50 shares in Olivier Giroud after his excellent performance against Spurs at the weekend. Maybe you think he can finally nail down that starting berth at Chelsea and he has a good chance of bagging a goal against Bournemouth. As you can see, at the time of writing Giroud is sitting at £0.87 per share.
Now, let's say he starts vs Bournemouth and bags himself a brace, which causes his share price to increase to £1 (hypothetically speaking.) Your 50 shares in him are now worth £50 instead of their previous £43.50, leaving you with a £6 profit (plus dividend earnings, which we'll talk about later.)
Alternatively, maybe Giroud starts the game but picks up a serious knee injury 20 minutes in. This is likely to cause his share price to drop, making your investment decrease in value.
There are dozens of different factors that can have an effect on share price, such as transfer speculation, media attractiveness, age, upcoming fixture list and many more. We'll get on to how to take advantage of these in the future, so make sure to keep an eye out!
How do I buy and sell shares?
Buying shares on Football Index
Once you've signed up to Football Index, you'll find the whole layout is very intuitive. All you need to do is search for a player you want to purchase and then click on the blue "Buy" button. This prompts a popup box to appear where you can select the number of shares you want to purchase, as shown below. Confirm the purchase with the "Buy" button and you're all set!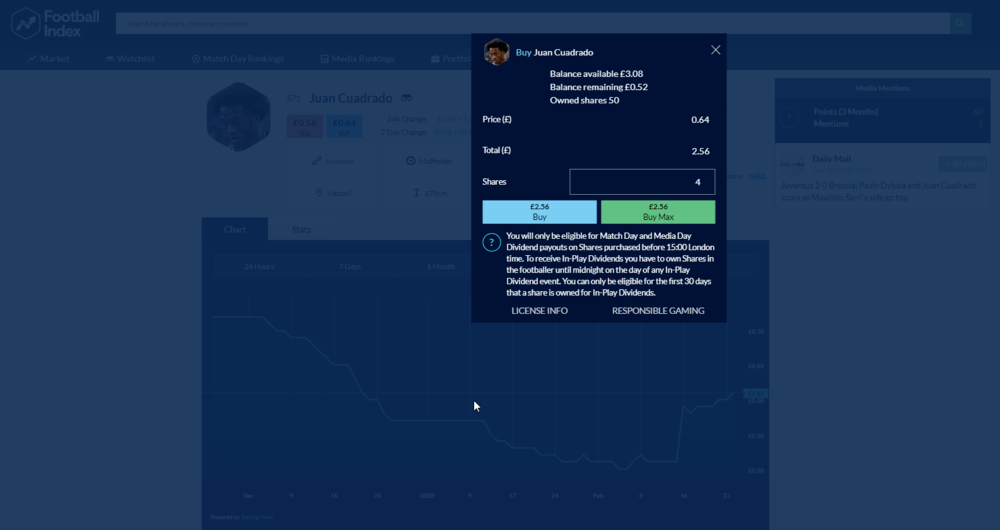 Selling shares on Football Index
Selling shares is almost as straightforward. Click the "Sell" button on a player you currently own shares in and then select how many shares you would like to sell. You then have two options:
Click "Add Sell Order" to place your player in the sell queue. This offers your shares to other traders, so you have to wait for somebody to purchase shares in that player at market value. You can also add a reserve price here, which means your shares won't be sold if the market price dips below a certain figure.
Use "Instant Sell". This sells your shares back to Football Index at a lower price. This is to be avoided where possible because taking a lower price obviously eats in to your profits. The difference between the Buy and the Sell price is known as the Spread.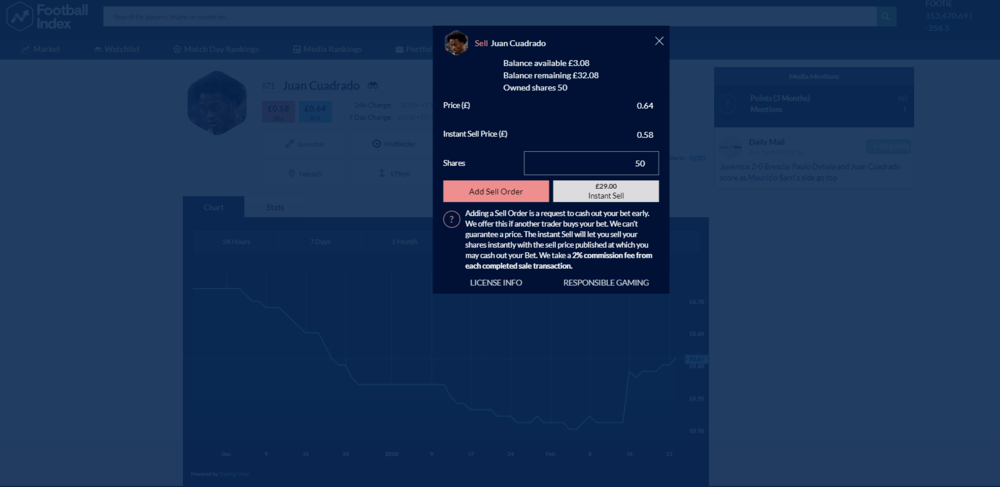 How to make money on Football Index?
Yes, of course! However, it's important to remember that this is a gambling platform, so obviously you can also lose money. Remember to Gamble Responsibly and never invest more money than you can afford to lose.
There are two ways (and countless strategies) to make money on Football Index, and they're intrinsically linked with one another:
Capital Appreciation – Also known as Cap App or CA, this is when you buy shares in a player, wait until they rise in value and then sell them at a higher price than you paid for them. You can use the handy price graphs on Football Index to get an idea of how a player is trending in value. For example, as you can see below if you'd bought shares in Bruno Fernandes three months ago you'd have paid £2.95 per share, and after his first Manchester United goal at the weekend he's now worth £6.12!
Dividends – This is the lifeblood of Football Index. You're awarded dividend payouts for top performing players, which are paid out on a per-share basis. These are split into Performance Buzz, Media Buzz and Inplay Dividends, and the dividend winning potential of a player is a major factor in determining their share price. We'll discuss Dividends in detail more below.
What are Dividends on Football Index?
As we previously mentioned, Dividends are the lifeblood of Football Index. A player's potential to earn Dividend rewards has a major impact on their share price, so they really can't be ignored. Dividends are split into three categories and paid out at midnight every day for every share you own in a Dividend winning player.
Performance Buzz and Media Buzz dividends can only be earned on shares purchased before 15:00 on that day, while In-Play Dividends are eligible for the first 30 days after purchasing shares.
Performance Buzz
Performance Buzz Dividends are awarded to the top performing players from the previous day. Points are awarded (or deducted) for things such as goals, game-winning goals, clean sheets, passes, attempted crosses, red cards, yellow cards and many more (which you can find out here). The Dividend winners are split into Star Player, Top Defender, Top Midfielder, and Top Forward.
The amount of money paid out per share depends on how many eligible fixtures (Premier League, La Liga, Bundesliga, Serie A, Ligue 1, Champions League, Europa League, Euro 2020 games) were played that day.
Bronze Match Day (1-4 matches) – £0.02 per share
Silver Match Day (4-14 matches) – £0.04 per share
Gold Match Day (15+ matches) – £0.08 per share
Media Buzz
Media Buzz is awarded to the player who gets the most positive media attention in any given day. Football Index monitor news stories posted by 20 different publications and compiles a Media Buzz score to each of the Top 200 priced players on the Index. These dividends are then paid out in the following way:
Media Day – On days where there are no eligible Match Day fixtures, Media Dividends are paid out to the top three ranking players. 1st place gets £0.05 per share, 2nd place gets £0.03 per share and 3rd place gets £0.01 per share.
Match Day – If there are eligible matches being played, only the top player in the media rankings is awarded, picking up £0.03 per share.
In-Play Dividends
In-Play Dividends reward short-term traders on Football Index by awarding you dividend payouts on shares purchased in the last 30 days. These are scored a lot more simplistically than the standard Performance Buzz Dividends:
£0.01 per Goal scored by a forward or midfielder
£0.02 per Goal scored by a defender or goalkeeper
£0.01 per Assist provided by any position
£0.01 per Clean Sheet for a starting goalkeeper over the full game
The fact that In-Play Dividends have no cutoff point means you can actually buy shares in players after they've already scored or assisted and still receive dividends at the end of the day. You have to act quickly though, because other traders know this too and this can drive the price up.
Another big part of In-Play Dividends is planning ahead by looking at potentially easy fixtures for high potential players.
What leagues are on Football Index?
There are players from dozens of different leagues included on Football Index, but not all of these are eligible for Performance or In-Play Dividends. In fact, speculation of players moving from non-PB leagues to PB leagues can have a huge impact on the share prices. Leagues that are eligible for Performance Buzz and In-Play Dividends are below:
Premier League
Bundesliga
La Liga
Serie A
Ligue 1
UEFA Champions League
UEFA Europa League
UEFA Euro 2020
How do I sign up to Football Index?
Simple – Just click on the banner below and you'll be taken to the sign up page. There you'll find FST's exclusive £1,000 money back guarantee offer, which you can only claim if you sign up with the code FST20. With this offer, Football Index will refund any losses of up to £1,000 after your first week on the platform, so if you make a loss and decide FI isn't for you, no harm done!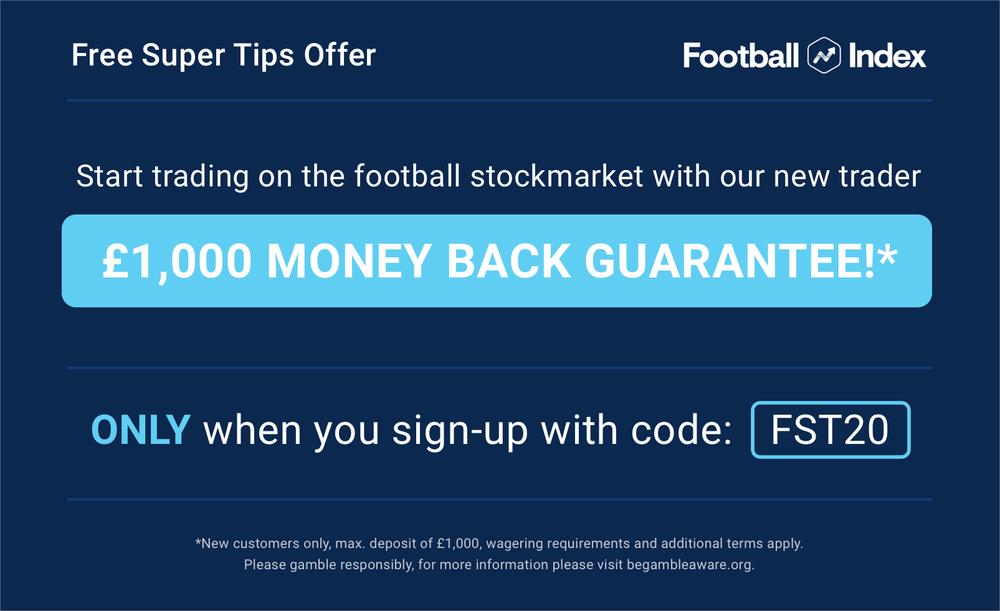 Will Football Index keep growing?
This is a question that gets asked a lot, and to be honest nobody really knows the answer. Football Index is already 500,000 members strong and that number is growing every day, and in 2019 there was over £600 million traded on Football Index.
However, nobody can honestly say that they know this growth is going to continue. That being said, Football Index have already launched some massive marketing campaigns in 2020, so it's clear they're serious about sustaining this growth. There has also been a lot of talk about opening the market up to different countries, so the future definitely looks bright for Football Index.
What else do I need to know?
Plenty, if you want to be a successful Football Index trader that is. Fortunately, there's a fantastic beginners guide below from the very reputable Football Index Guide. Have a watch and you should be ready to go!