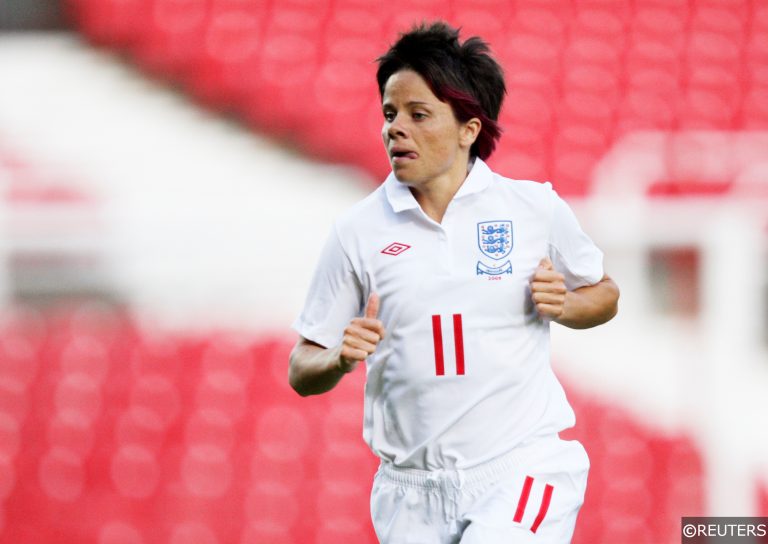 Content Editor at Free Super Tips, Alex was born in the shadow of Old Trafford and is an avid Man Utd fan. After graduating from university he combined his love of football, writing and betting to join FST and now closely follows goings-on in all of the top European leagues.
England women have broken many records so far in the Euros, how do you see the team progressing? 
I said it at the beginning of the tournament, but I probably think it more so now, that they've got a great chance of getting to the final. I just look at their group stage games, looking at their opening game against Austria, the difficult opponent, the pressure and the expectation of the big crowds, everybody thinking they're going to be successful. Austria were a difficult team to break down, but England managed to get that win, not the best performance, a little bit nervy but they got the win, and I think that was the most important thing.
Then moving onto Norway, where I was a little bit worried going into that game, looking at Norway's forward line, it was going to be a real test for England, and they [England] absolutely blew them away. It was probably one of the best performances I've seen, in terms of the way they attacked and how ruthless they were. There were lots of standout performances, but I thought collectively they were so, so good.
Northern Ireland was a different sort of test, was the manager going to rotate, was she going to keep the same team. Northern Ireland put up a really good fight, but once they [England] got that first goal you could see there was more coming.
I think Spain is going to be a difficult test for them, and a different sort of test, in terms of how they're going to play without the ball as Spain will have a lot of possession. But I think the way they're playing – I'm actually a bit worried about how confident I am, I'm so confident in this England side. The way they're going in, listening to them speaking in interviews, they just seem so relaxed. I think Sarina Wiegman has instilled this winning mentality in them, they all believe that they can go all the way. She seems to have taken the pressure off them, she's got them to embrace everything. We see at the end of the games dancing with the crowd, and they're just embracing it all, which is a good place to be, they don't seem like a team under pressure. They seem like a team enjoying football.
It's Leah Williamson's first big tournament as Captain, has she impressed you so far? 
It's a massively daunting task. She's just taken it all in her stride. When she was named as Captain she spoke so well, it's a huge honour, something she's dreamt of as a youngster. She's probably had help with some of the experienced players, she can talk to Scott and White, who's been there and been at major tournaments, they're very personable players she can chat to.
I think she's taken on the role so well, the other question was where she's going to play, is she going to play midfield, is she going to play centre half, and that can sometimes put a bit of doubt into a players mind, as you're not sure the position you're playing. She's just adding to that calmness to the back line, she's very good on the ball, she reads the game really well, and she's really led by example, I think she's done brilliant, any body that has played or coached her from a young age has said she's always had leadership qualities, she's always been somebody who's wanted to help others, whether that's how she plays or speaks to them. I'm really impressed with her and how she's spoken before and after the games.
Beth Mead currently has the most goals so far in the tournament, is there anyone you think could challenge her for the golden boot? 
The way Beth Mead is playing, her confidence that she's showing, she's not only scoring goals but she's creating chances for people as well. She's certainly got a great opportunity to go for the golden boot. 
Geyoro for France, who scored three in the opening game, she's going to be up there challenging. 
Ellen White could be there as the further we go into the tournament, she's known for coming up with big goals in big games, and you just think that the way England are going to play against Spain, if they do play on the counter and get deliveries into the box, Ellen is going to be the one on the end of them, so she could put in a few more. But Beth Mead has been absolutely brilliant. 
Do you think we will see many more high scoring games? 
I think so. What's impressed me, I know we have seen some big score lines, the 8-0 against Norway which surprised everybody because Norway are a good team, but we haven't seen that Norway team at all, they've been poor all tournament. I watched them against Austria and thought they were poor then as well. They've got brilliant players that play for top teams, they just haven't quite reached the levels.
What has impressed me is the gap between weaker teams and the better teams such as France and Germany, I think it's really lessened. Portugal coming in – after Russia got expelled – some of the performances they've put up were gutsy, really giving it a good go, you can see the levels are getting closer. 
Looking at Northern Ireland too, they're a team full of players that don't play professional football, and you just think if they go back now and suddenly they can all play professionally, whether it's different leagues or the NI FA do something within their infrastructure, you just think the next time if they do qualify, that gap will reduce again.
I don't think the knockout games will be tight, the Germany – Austria game, both teams don't concede many. It will be more cagey, it is real pressure then, this is a different level, there's no room for error. We have to perform because otherwise we're out.
Have you been impressed by the different atmospheres and crowd sizes in the tournament so far? 
I've loved it. I think the opening game at Old Trafford where the players walked out to a sell out crowd, you can hear the noise, you just thought 'wow'. It was a real wow moment for everyone who's been involved in women's football for a long time, whether you've been a player, coach, or a volunteer. 
If you've been involved in women's football, it's brilliant to see. As the tournament has progressed, it's not just the England games which have been great.
I was at the Iceland – France game, and the Iceland fans were just so good. I wished they got through just because their fans are brilliant, the thunder clap, the atmosphere they generate. You can see England fans who have just come to the game to watch and supporting Iceland, they just loved it. The atmosphere has been great.
The Netherlands has brilliant fans, and everybody has gone, whether they have been a fan of that team or not, they've really got encroached in it and want to go back. England might be their first team, but they support the Netherlands now too. It's been nice chatting to everyone and the interaction and fans, it's been really nice.
I just love it, the standard of football has been brilliant. Often goalkeepers standards get spoken about, but this time it's a positive aspect. The standard of refereeing has been great. The fact there's an appetite for women's football and fans are coming out in force to support that is great.
In Sarina Weigman, do England have the best coach in the tournament? How impressed have you been with her since she took over? 
I think she's brilliant, in terms of her on the field stuff, tactically, what she believes in, the way she can change things, she's got the luxury of having strength in depth and doesn't need to change things, but she can. She brings in top quality players that don't weaken the team at all. But it's about bringing in the right players at the right time.
 I love how she knows her mind, and she won't be swayed. If she thinks leaving Steph Houghton out is the right decision, she'll do that. There was lots of talk about should she change the team against NI and rest and rotate, but she sticks with exactly what she wants to do, and that is I'm going to stick with consistency and stay with my best eleven, and I love that. 
I think she's so meticulous in her planning, the team knows exactly what's expected of them in every game, the thing that really strikes me is her communication skills. It's how she talks to the players off the field, whether you're playing or not, she's very to the point, she'll tell you why you've played well or haven't played well, they know exactly what she wants from them. That's all you want as a player, you just want honesty, and I think she's a very honest manager. 
She's tactically brilliant, but she knows how to get the best out of the players, we see that with Beth Mead. She had a great season with Arsenal, but I just think she's taken her game to the next level. Coaching staff have to take some plaudits for that as well as Weigmann. 
Ahead of tomorrow night's game against Spain, you said the squad was 'scary', do you think the same now they've reached the knockout stages? 
It's going to be England's toughest test to date in terms of the tournament, and that's just because it's a different challenge for them. It's a side that we know love to have possession, we know they're all technically gifted players, they can hurt any team but I do think that they're missing Putellas and Hermoso, and we've seen this through the tournament. 
Against Germany, Spain played some lovely football, but I felt that Germany were in control. That they had a game plan they managed to execute, I think England when they've played Spain in the past, they've done well in terms of they know they're not going to have the ball, but when you get the moment you take them and you're ruthless. I think they can certainly punish Spain, you look at the mistake against Germany, the likes of Ellen White will put that sort of pressure against the goalkeeper. 
But at the same time, you can't underestimate the quality of the Spanish side, they will test England's back line. I don't feel like they've been tested a lot through the tournament, and Spain certainly will. They've got those technical players that can open up defences, but I don't feel they've got that out and out goalscorer, they're missing the quality of Putellas and the goal scoring ability of Hermoso. Those are two massive leaders of the side, it's not going to change the way Spain play, but they're going to miss those links and combinations that those two provide. 
They're scary players, but I don't think England will be scared. They'll respect them, they'll go and play their own game, have a tactic to play against them, they'll have to watch how Germany did it.
What should England be focusing on ahead of Spain? 
It's a case of you play to your strengths, and England's strengths are definitely out wide with Mead and Hemp. I think a lot of play will go through Keira Walsh, she's been one of the stand out players of the tournament who doesn't get the headlines she deserves. 
We're all talking about White and Mead, and rightly so because how well they're done in front of goal, and the chance they've created, but it all starts from Walsh, she's the one who gives the ball out wide, her interceptions have been brilliant, quality passing, she's been right up there with the best. I think they'll stay playing the way they play, but I just think this is where respect comes in, you have to be mindful of what Spain can do. 
There are other options if Weigman wants to play two holding midfielders in there, or if she wants to stay with the same team, just make sure Stanway and Kirby are disciplined in their role. It's knowing when to go and also knowing when to sit and make sure that Spain don't play round them, because we know they're capable of. The press in the game is brilliant, but it's choosing when to do it, and I think they've done that really well, but they know if they don't get the press right, Spain will play around you.
I'm sure it's something they've worked on after their last game, it's going to be how we're going to beat Spain. I'm sure the game plan will be spot on.
What is your prediction for the game?
It's so hard. I think England are going to win, they haven't conceded in the tournament, which has been brilliant, as with the number of goals they've scored. I think Spain will score. I'm going to go 2-1 to England.
I think when we get to knock out stages, it's all about winning. It doesn't matter if it's not pretty, or if they score eight goals, it's about winning, and however they do that isn't the most important thing. Weigman at the end of the 8-0 game said we've won the game, whether it's 1-0 or 8-0, but we haven't won anything yet. I love it, it just keeps everybody's feet on the ground and now it's knockout football, now it's that pressure, if you don't win, you're going home. That's the reality of it.
Of the remaining teams in the Euros, who else should we keep an eye on?
I can't look past Germany, I can see an England – Germany final, which would be amazing, at Wembley, sell-out crowd. They're a team that I maybe naively overlooked a bit at the start of the tournament. I watched them in the Arnold Clarke cup, and I should've taken too much notice as they had a lot of players out due to COVID or injury, but they didn't really look at their peak. 
That opening game, I just looked at Germany and thought that they were so efficient in everything they did, they were solid going forward, defensively where I thought maybe they might have been a little bit weak, they haven't looked weak. Their goalkeeper has done brilliantly. 
Against Spain, I was really looking forward to it, and they just showed that they were a team to be feared. They look really strong to me; I think their midfield area looks good.
I think the other team is France. The opening 45 minutes in the opening game was probably the best I've seen a team play, apart from England against Norway, they just looked so good. France always seems to struggle when they get to quarter final stages, but I think if they click, they certainly could be a team to fear. 
I am still going to go with Sweden because I said them at the start, I think they're building throughout the tournament, they seem to be getting better and better. 
Germany is certainly a team I wouldn't want to face based on their last few games, and I'm glad that England will only face them in the final now, if they're both there. 
Questions have been raised over the England women's teams' lack of diversity, what are your thoughts on the comments made, and is the squad representative? 
I was listening to Anita Asante's comments, who said it's about wanting to see people who look like you, because that can inspire you. There's probably a lot of young kids out there looking at the England team, and not seeing that diversity, and then you could worry they're questioning if they can do that – can I actually be an England footballer? 
I think there is a lot of work being done to try in all areas of the game, not just on the playing side but also with the coaches. Visibility is so important.  
I know research is being done into the demographics where scouting systems currently are and looking at younger teams – in terms of where they are based. Is it difficult for some players to get to clubs? You need player development centres in different areas so it's accessible, so there's an opportunity there. Football is for absolutely everybody, and we need to make sure that that is the case and there's an opportunity there.
Sir Alan Sugar also spoke about the lack of male pundits on the Euros coverage, and that it is not equal. What are your thoughts on this? 
There have been so many high-profile men and women that have come out and really supported the game, and it's been great. They come on and speak about the standard of play, how they've been enjoying watching the tournament, they're really getting behind the team. 
I thought what Lord Sugar said was disappointing, it showed me that actually he wasn't watching the coverage. Ian Wright's response was brilliant. Of course, he was booked for the last year, he's one example of many male former footballers, who has shown passion and interest in the Women's game over many years. The fact he [Alan Sugar] thought that made the BBC get more male commentators is just ridiculous.
---

Build better bets with our free betting tips, predictions and accumulators, every day.
More betting news:
EFL winners predictions combine for huge 974/1 treble!
FST's 2022/23 outright predictions hub
Experts' select huge 622/1 acca for the EFL opening weekend!
Key dates for the 2022/23 season
Be sure to check out our Free Bets page to get the best value possible from our Football Predictions for today as well as Tomorrow's Football Predictions.