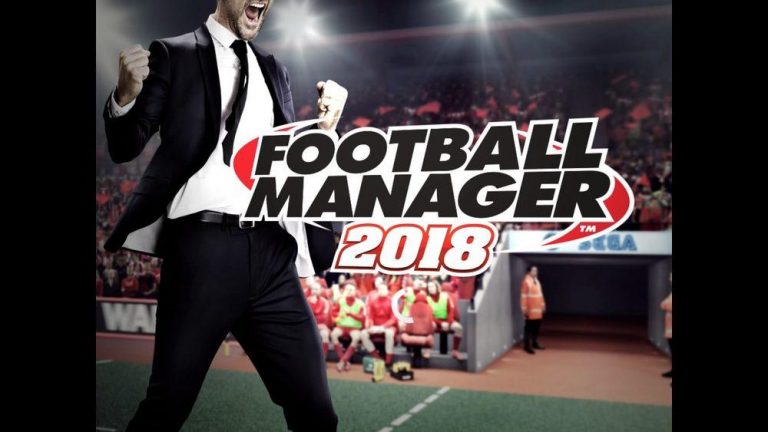 Content Editor at Free Super Tips, Alex was born in the shadow of Old Trafford and is an avid Man Utd fan. After graduating from university he combined his love of football, writing and betting to join FST and now closely follows goings-on in all of the top European leagues.
This is Part 10 of our Road to Moscow Football Manager series. You can read the previous instalments below:
World Cup Semi Final – England vs France
There's been just three days of rest for the players after that gruelling win over Germany, and I'm disappointed that there isn't an option to just send the entire squad to bed for three days to recuperate.
There is some good news emanating from the France camp though. N'Golo Kante has torn his hamstring and is ruled out. As the commentators always say, he's like 11 players all at once, so it's an huge blow for them.
Keith's obviously caught wind of my plan to send him to the Tower of London to be beheaded too. He's come to me with an in depth scout report of our next opponent. Better late than never I guess, but I still want him imprisoned at the very least.
Kante being sidelined is a big bonus, but apart from that I want to focus on attacking them down the flanks. Mendy and Corchia are by far their most vulnerable players, whilst Rashford and Sterling are proving to be England's saviours. Almost half of their goals have come from through balls as well, so I'll be sitting by defensive line nice and deep to try and counter this.
Read about France's real defensive issues here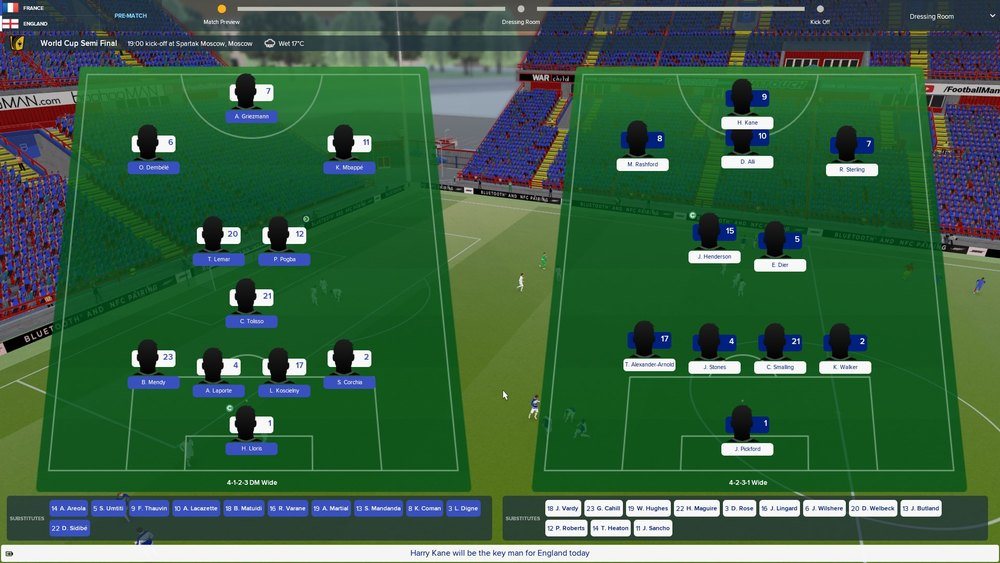 Despite the levels of tiredness in the squad I'm trying to it similar, mainly because we just don't have the strength in depth to risk rotating in a World Cup semi-final. I've had to bite the bullet and take Danny Rose out though, and Alexander-Arnold will have to adopt an unfamiliar role. Not the best time to learn the left back position when you're up against Kylian Mbappe.
I give the lads a final pep talk, urging them to do this for the fans. To my surprise most of them 'listened passionately'. It seems that now we're a step away from the final my squad have finally found their patriotic streak.
Kick off.
We pass the first test as France launch a counter attack just four minutes into the game. Stones manages to push Griezmann out side but the bugger still manages to force a corner. They almost score from that as well, so it's not the best of starts.
We make it to the break level, but I'm not feeling very optimistic. The talented French attack are blistering on the counter attack, and our players look terrified to misplace the ball in case we have to defend another one. I pull the defensive line back even deeper to try and nullify the threat.
It looks like it's worked. We don't get threatened by any counter attacks in the second half, although that could be down to the fact we barely make it out of our own half. However, France aren't really threatening our goal, and it looks like it's heading to a goalless draw and another spell of extra-time.
Until the 85th minute that is. Kingsley Coman whips a poor ball into the box, but Pickford makes an absolute hash of everything. He could have just catught the thing (you know, his job?), or even tipped it over for a corner. He decides that isn't the best course of action though. Instead, he pushes it straight back into the six yard box and falls over in the process, allowing Alexandre Lacazette an empty net to tap into.
Read about how the real England have performed so far here. [link]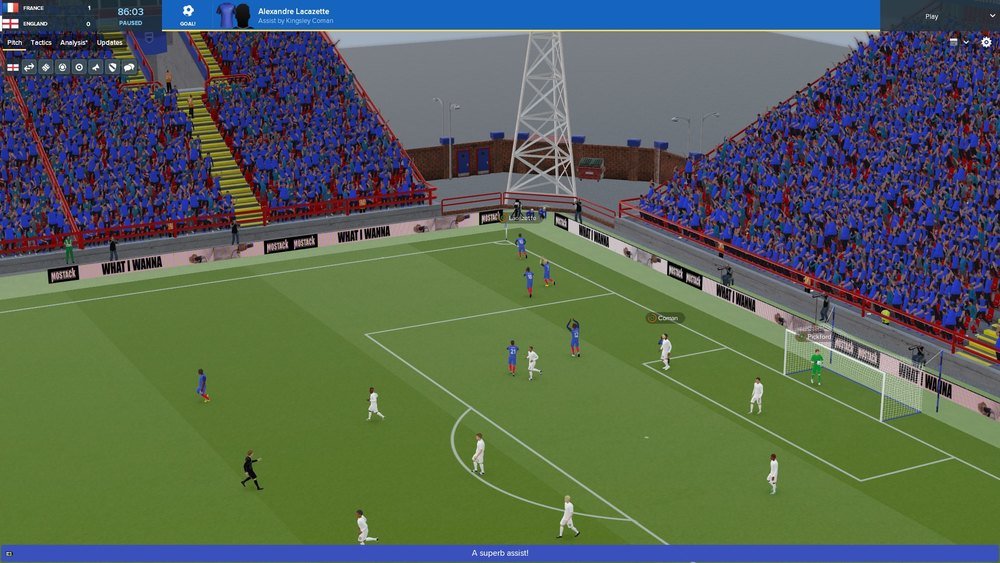 The dream is coming to an end. I throw caution to the wind. If I lose I may as well go down fighting tooth and nail.
Lingard comes on for Dier and pushes further forward and Jamie Vardy comes on for the ineffectual and booked Dele Alli. I push the defence up, instruct them to pump the ball into the box and go overload on them.
"PUSH FORWARD" I scream from the touchline. Three minutes left.
It's no good. We don't even threaten to attack them, and in the 2nd minute of extra time insult is added to injury. Walker is sent off and Lacazette tucks the penalty away to seal the game.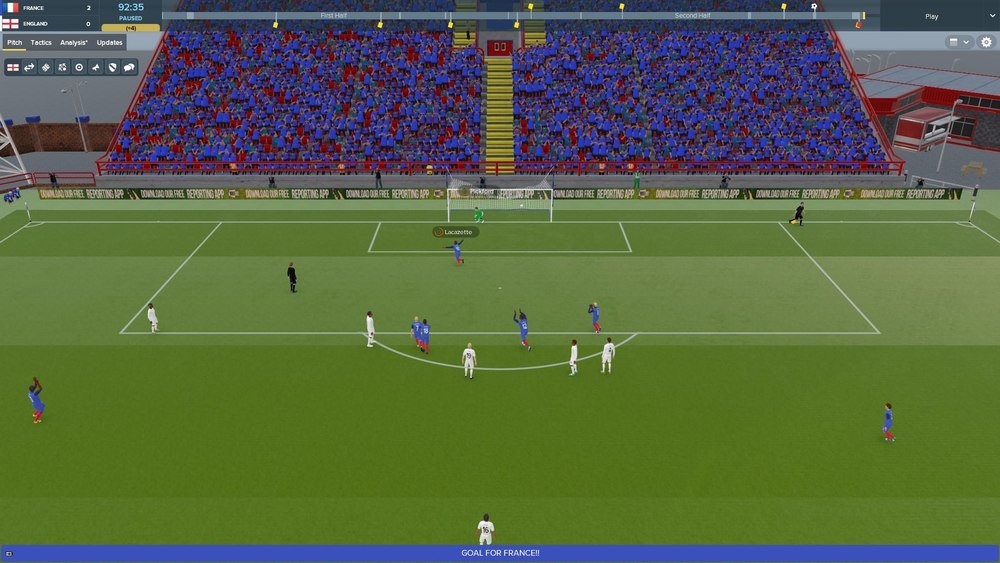 Dream over.
I can't be too hard on the players. We were beaten by a better team, and they've done magnificently just to make it to the semi-finals. I tell them I appreciated all their efforts, and got literally no reaction from any of them. I can almost see their glum little faces in the dressing room.
I imagine there will be plenty of the finest Russian vodka consumed by them tonight. And me.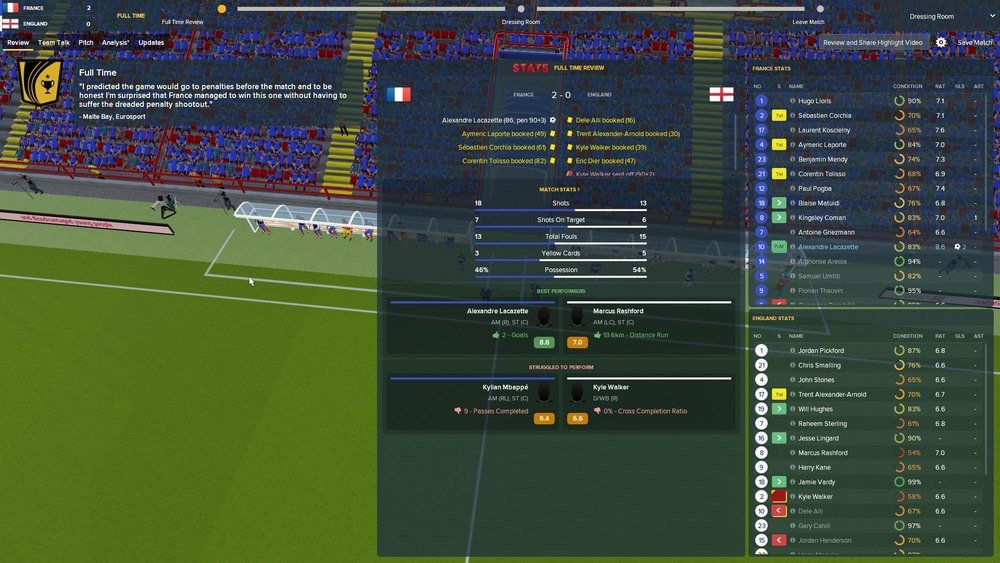 It's time for the dreaded post-match press conference, and while we might have gotten rid of the devious Daniel Ibanez we've got his replacement in our ranks. I'm not sure what Mark Bird is thinking to be honest.
"Hmmm, they've just lost the World Cup semi-final late on, what should I ask him about? Ahh I know! The future of Trent Alexander-Arnold as a left back."
Arsehole.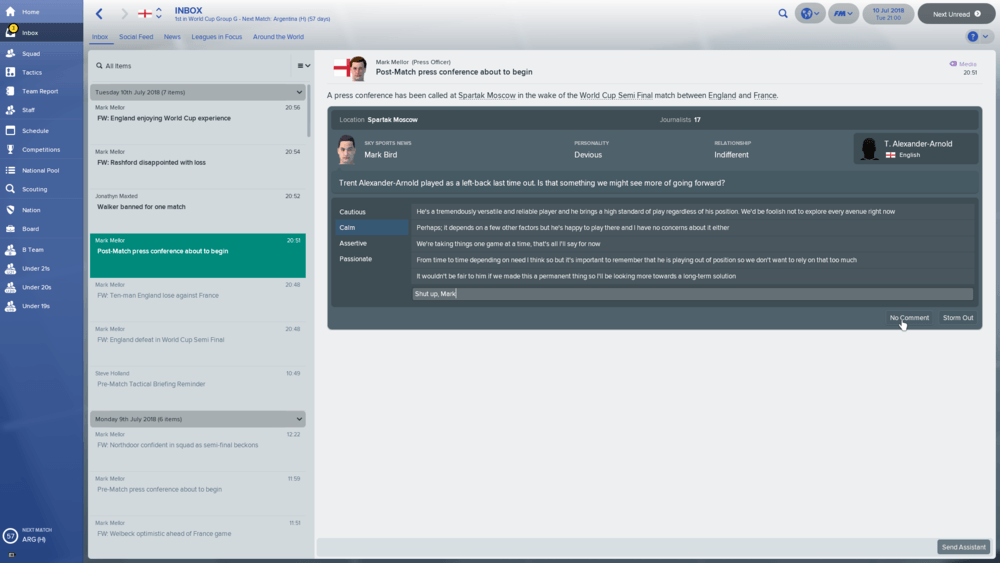 World Cup 3rd Place Playoff – England vs Brazil
Ahh who cares?
Neymar was injured. They played Dani Alves at right midfield. Dele Alli got a hat-trick (really). We won 3-0.
Nobody remembers the bronze medalists.
Northdoor's Reign Ends
We overachieved, but that's that as far as Gary Northdoor is concerned. A 3rd place finish in the World Cup is nothing to be disappointed about, but equally it's nothing to celebrate wildly about.
Gareth Southgate has been returned to the FA battered and bruised from his time in Middlesbrough, and I'll humbly resign and let him take the helm again.
For what it's worth, Argentina won the World Cup, beating France 4-2 in the final.
Marcus Rashford took the Golden Boot with six goals, narrowly beating Paulo Dybala. Raheem Sterling stunned the critics by winning the World Cup Best Player award. He didn't celebrate much, probably because he knows that The Sun will somehow spin the achievement into a derogatory headline. I can see it already:
"OBSCENE RAHEEM FLAUNTS AWARD DESPITE EARNING MORE MONEY THAN I DO"
A fitting end to my tenure as England manager.
Follow Free Super Tips on Twitter to stay up to date with our daily tips and predictions or browse more football content on our website: