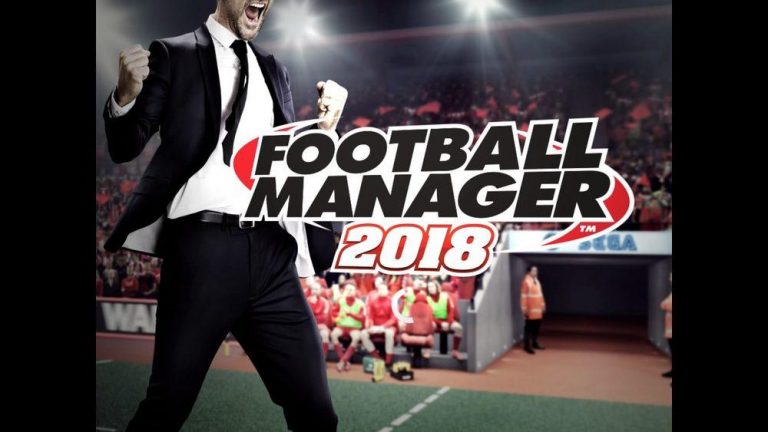 Content Editor at Free Super Tips, Alex was born in the shadow of Old Trafford and is an avid Man Utd fan. After graduating from university he combined his love of football, writing and betting to join FST and now closely follows goings-on in all of the top European leagues.
This is Part 2 of our Road to Moscow Football Manager series. You can read Part 1 here.
My first squad is selected and we're at the team hotel preparing for an onslaught of the Scottish blue and white. There are some anxious looking faces around the breakfast table on the morning of the game. From the look on his face it seems like we might be seeing Jadon Sancho's continental breakfast make a reappearance soon. That'll teach him to snub the full English the rest of the lads are having.
Kickoff time approaches. It's game time!
Check out our analysis on the real England squad here.
England (1st) vs Scotland (3rd)
It's first versus third at Wembley Stadium, and it's time to start thinking about my tactics for the match. Scotland are dreadful going forward, as is made evident by their meagre return of five goals in six qualifying games. Away from home they have scored four, and while that doesn't seem a bad return from three games it's important to remember that two of those were against the dreadful Malta and Lithuania.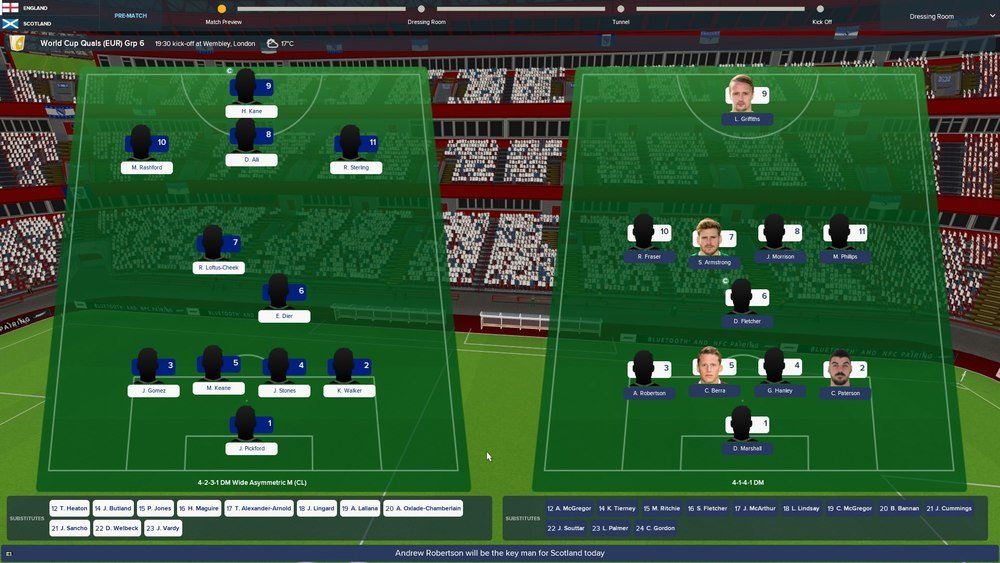 Surely our defenders won't have too much of an issue dealing a strikeforce of Steven Fletcher, Leigh Griffiths, and Jason Cummings. If I'm lucky Griffiths and Cummings will start taking chunks out of each other on the sidelines before the first whistle has even been blown. Poor Cummings is the only Rangers player in the squad, so it's not beyond the realms of possibility that he could be forced into an early retirement after a week away with four Celtic lads.
Scotland's midfield actually has some decent options, but their centre back pairing is expected to be Grant Hanley and Christophe Berra. They should be ours for the taking, so I'm leaning towards an attacking selection.
Okay, I'm not leaning towards it, my hand is being forced. Jordan Henderson managed to pull his groin half an hour after meeting up with the squad, so I'm struggling for midfielders. He should be fine for the Malta game, but for now I'll have to allow Loftus-Cheek to deputise alongside Dier.
Joe Gomez isn't an ideal option at left back, but with Danny Rose out injured and my stubborn refusal to call up an unfit Luke Shaw he'll have to do. Michael Keane gets a reward for an outstanding opening game of the season and partners John Stones, and I'll start Kyle Walker despite him being unhappy at my perfectly reasonable comments to the media. Apparently Kyle thinks we should get complacent for our final four qualifying matches. Idiot.
At the other end of the pitch Harry Kane is the obvious choice, with his club teammate Alli sitting just behind him. Rashford gets the nod ahead of Sancho for now, but only because I don't want Sancho's first moments as an England player to be spent lying on the ground with a broken leg.
Alex McLeish looks to be shutting up shop already. Griffiths is up top completely isolated and they've completely packed the midfield. We'll see how the first 20 minutes pans out, and if necessary we might just have to bypass the midfield altogether and go direct.
The whistle sounds, Wembley roars. A new era dawns.
We're on the front foot from the off. Kane nearly scores inside 30 seconds and my well crafted corner setup almost pays dividends straight away. It takes 20 minutes for this high pressure tactic to pay off, when Sterling glides past Andrew Robertson for the umpteenth time and whips the ball in to Alli, who flicks it on for a completely unmarked Rashford at the back post to thrash it in at the near post. Rashford does a cartwheel in celebration and I see Sterling on the phone booking a celebratory tattoo.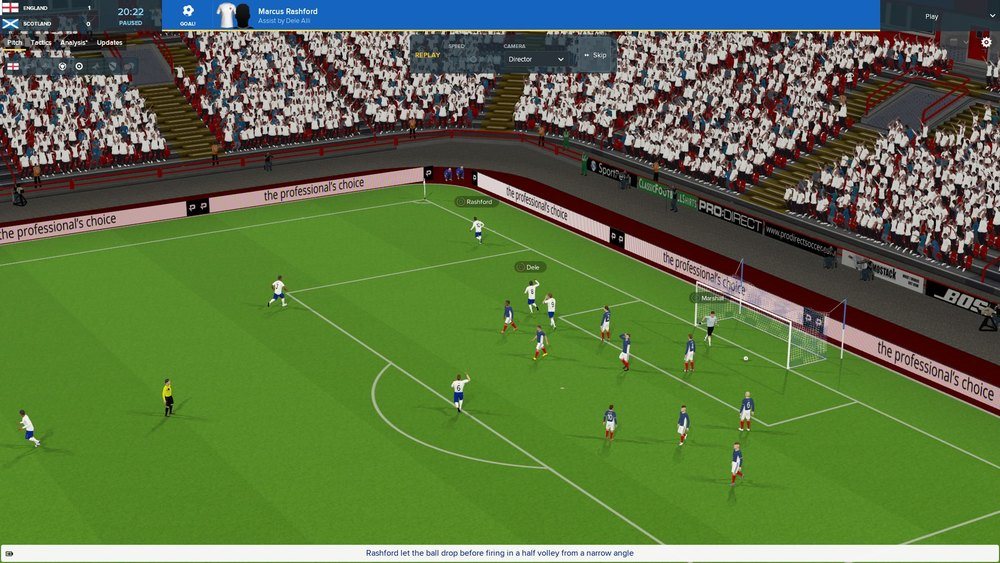 The first half ends without further incident, but the stats make for pleasant reading. 13 shots to Scotland's two, six of them on target. We've dominated them all over the pitch, and with them needing to come out and be more adventurous in the second half there should be plenty of space to exploit. The lads are delighted at my team talk ("You did well out there, keep it up."), and after replacing a tired Loftus-Cheek with Oxlade Chamberlain we head out into the fray once more.
Three minutes later and we've got another! Again, Sterling destroys a weeping Robertson on the right and whips a ball in. This time Alli isn't needed as Rashford dashes in front of Hanley to nod home. No cartwheel this time.
It doesn't end there though, and it's the dream team who do it again. Plying their trade on opposite sides of Manchester and opposite wings, Sterling launches a counter attack from Scotland's first corner of the match, thrashing a ball out to Rashford, who takes advantages of Calum Paterson's pathetic attempt at defending, rounds a distraught Robertson, and slams it past David Marshall. Dreamland.
I decide that I'll seek out Roberton at the end of the match and tell him that this is great preparation for the Champions League Final defeat he'll suffer at the end of the season.
I take Rashford off to a standing ovation and give Sancho his debut, with Alexander-Arnold following him on in place of a tiring Kyle Walker.
With 13 minutes to play Robertson tries to make amends for his shambolic performance, scoring via a deflected cross to make it a slightly more respectable 3-1. The writing was on the wall from the first minute though, the damage has already been done… Wait a minute. It's 3-2.
Jesus Christ. For some reason Keane, Stones, and Gomez flock around Leigh Griffiths as if he's Maradona, leaving Matt Ritchie with about three square miles of space out on the right. He slots it past Pickford with three minutes left on the clock. Time to shut up shop.
Fortunately the remainder of the game passes without any further shocks. A disallowed goal for a rather disappointing Harry Kane is the only moment of note. Kane's poor showing can be glossed over though – Rashford was sensational, and despite a pathetic rating of 6.6 (It must have been The Sun conducting player ratings that day) I was very pleased with Sterling's efforts too. A thrilling 3-2 win against our oldest rivals is a great way to start my managerial career.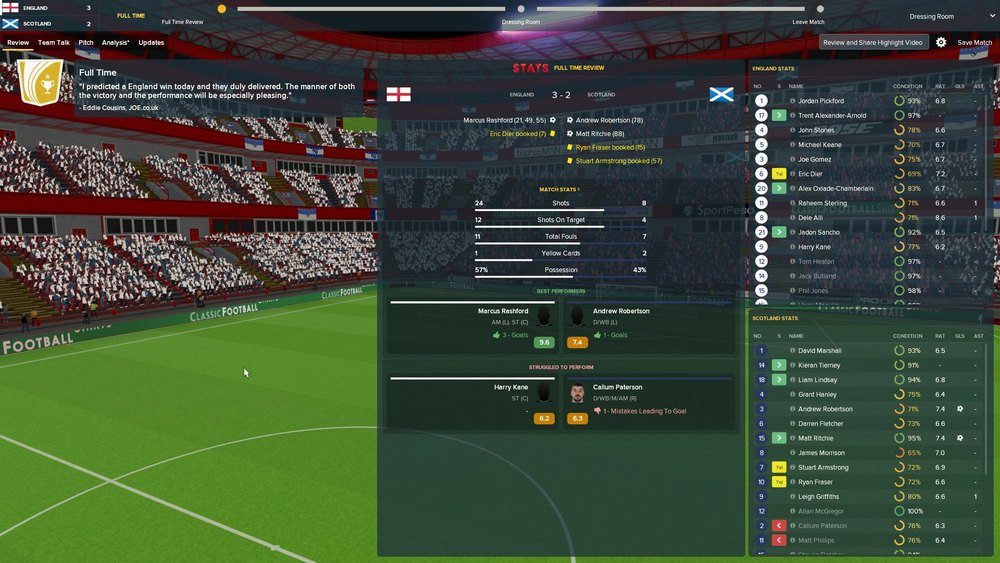 Malta (6th) vs England (1st)
Next up is what should be an easily winnable game. My coach, Keith Downing, has singled out Zach Muscat as their best player. He plays for Serie C/A side Arezzo. I'm not expecting many problems.
Rashford's confidence is sky high after he single-handedly demolished Scotland. He comes out to the press and calls for a demolition job, seemingly unconcerned with the threat that Zach Muscat poses.
Tactically I'm going to keep things the way they are, but a few personnel changes are required. Michael Keane is shattered so Harry Maguire gets the nod, whilst Alexander-Arnold gets his first start. I'd love to do the same for Sancho, but dropping Rashford after his hat-trick would be criminal. Henderson comes back into the fray too after recovering from injury, with Loftus-Cheek remaining in place of a tired Eric Dier.
It takes a minute and a half for Alexander-Arnold to release himself down the right, crossing in to Jordan Henderson to slot past the amateur goalkeeper. Nerves settled now, let's batter them.
Bang! A slight switch to Harry Kane's role and he bursts into the box late, leaping like a mating salmon to meet Loftus-Cheek's ironically lofted cross and head in. Six minutes later and it's Alli adding to the festivities with a simple finish.
I replace Loftus-Cheek with Adam Lallana at half-time and give Sancho another chance to impress me after an underwhelming first half showing from Rashford. I'm forced into my final substitution ten minutes later as Sterling picks up a knock. Lingard comes on and we switch to a narrower attacking formation.
Kane adds another from a well worked corner to further bolster my confidence in his tactical shift, and then my faith in Sancho is repaid as he darts around the back of star player Muscat to get his first goal for England, making him England's youngest ever goalscorer. He adds a second a few minutes later from just outside the area.
If you're losing count, it's 6-0.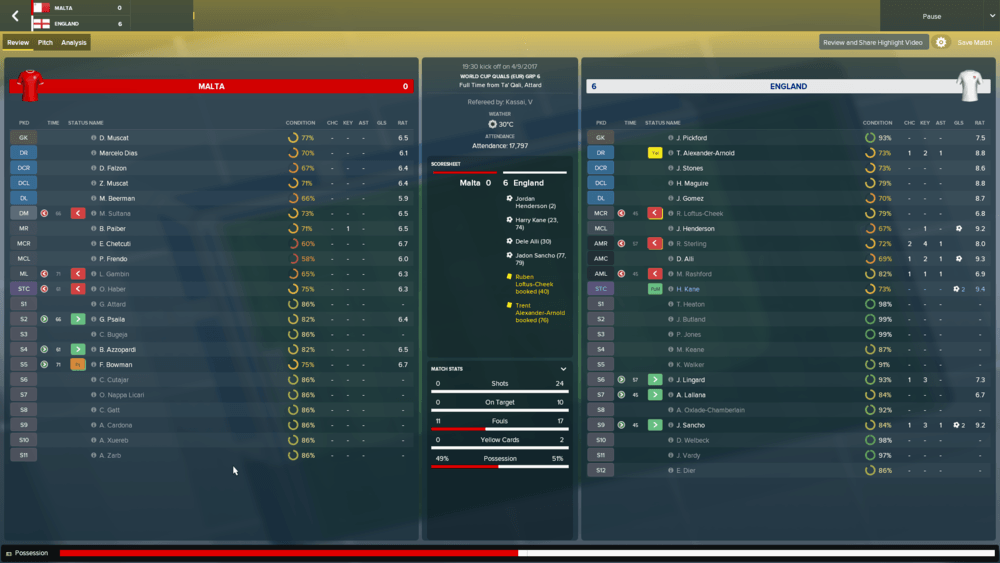 I mean, I know it's only Malta, but that was a fantastic performance. Now just a month of preparations before our hosting of Slovenia. We're six points clear with two games remaining and a huge advantage in goal difference, so all we need is a draw. I don't want a draw though, I want another scintillating attacking performance to get the hype train rolling for Russia!
Read Part 3 of our Football Manager Journey here.
Follow Free Super Tips on Twitter to stay up to date with our daily tips and predictions or browse more football content on our website: