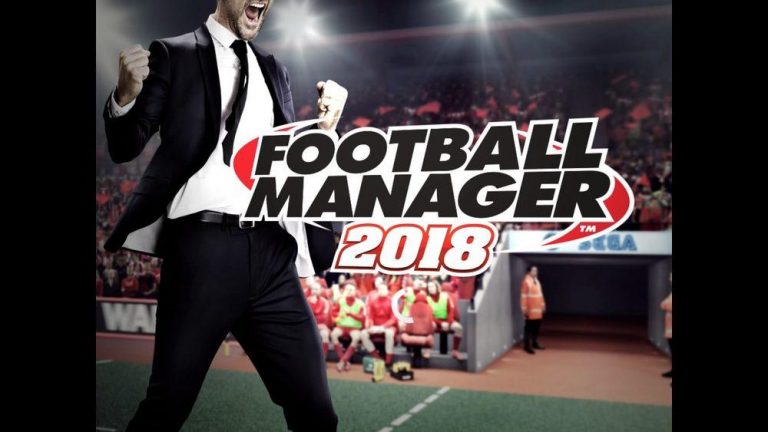 Content Editor at Free Super Tips, Alex was born in the shadow of Old Trafford and is an avid Man Utd fan. After graduating from university he combined his love of football, writing and betting to join FST and now closely follows goings-on in all of the top European leagues.
This is Part 8 of our Road to Moscow Football Manager series. You can read the previous instalments below:
Okay, so the thrashing of Panama was undoubtedly a confidence booster, but let's not get ahead of ourselves. It was Panama for crying out loud, of course we should be smashing five past them.
Here is where the real test begins. Colombia await us after finishing second in Group H, and their attacking prowess is a concern. They actually failed to beat Poland and Senegal in the group stages, but they've scored two goals in every game so far and we haven't kept a clean sheet yet.
Harry Kane needs to get over this fear of finding the back of the net sharpish. There's only so far that Sterling and Rashford can carry us.
Read More: Who Remains from England's 2014 World Cup Campaign?
World Cup Last 16 – England vs Colombia
Time to delve into some tactics. I'm missing Kyle Walker after he managed to pick up a booking against Panama. He only played for 45 minutes and Panama were barely in our half, so I'm not too sure how that happened. I guess that was after I dozed off.
This is a real concern though. Colombia's main attacking threat is down their left flank when James Rodriguez drifts out there. I'll give Alexander-Arnold a chance, but if he's struggling I'll have to shift Stones across. Colombia's frailties are on the same flank though, so ideally I want some attacking runs from the full back to allow Sterling to really exploit their weakness down there. That's if he can find that end product that he so often misplaces.
The morning of the game I receive an email from Derek Wright, who seems to think that now is the perfect time to tell me about England U19s injury problems. I vow to sack him as soon as I'm off the plane at Heathrow.
Things aren't all doom and gloom though. After berating the devious reporter Daniel Ibanez at every opportunity in my press conferences he finally seems to have taken the hint. He hasn't asked me a question in any of the last three press conference. Just sits at the back of the room looking like a sheep carrying a grudge.
I bring Chris Smalling in for the shattered Harry Maguire at the back, but apart from that it's an identical lineup to the one that hammered Panama. Eric Dier is almost out on his feet, but we desperately need him to keep James Rodriguez under wraps. I tell him to man mark Mr. Colombia and hold to his position, hopefully preserving some of his energy.
Read about Colombia's actual strengths and weaknesses here.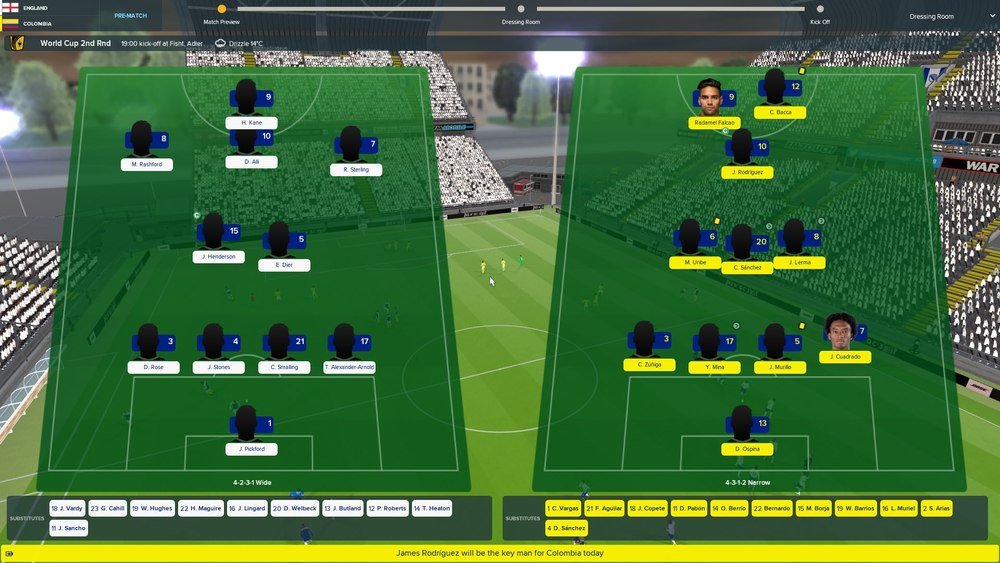 They're playing Juan Cuadrado at right back… It looks a dreadful decision. The former Chelsea winger lacks any outstanding defensive skills at all, and he's coming up against a Marcus Rashford who could be on for the Golden Boot at this rate. I tell the players to focus all their attacks down that left wing and pray that I'm not hopelessly wrong about the whole situation.
Kick off. I shake the hopefully mistaken Colombian managers hand and the game gets underway. Defeat here would mark my short managerial career down as a failure. Victory would mark me as average with the potential for greatness.
It takes just two and a half minutes for the players to blatantly ignore my instructions, launching an attack down the right wing instead of the left. I'll let them off though, mainly because Sterling absolutely skins the ageing Camilo Zuniga and plays it in to Harry Kane. He's three yards out and unmarked, so not even his poor form can stop him hitting the back of the net. Lift off.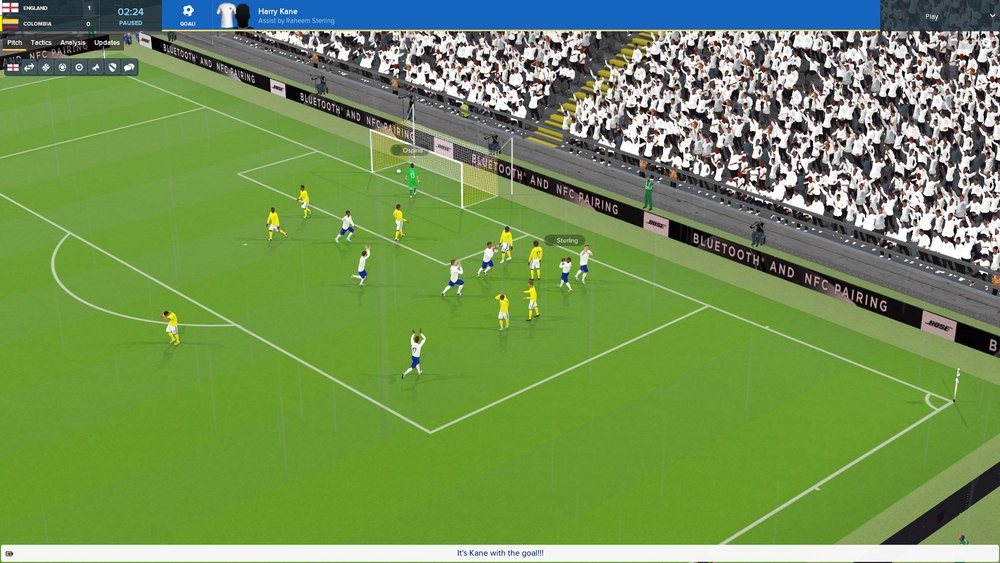 Dreamland. Surprise surprise it's Juan Cuadrado who's caught out of position. The makeshift right back is about 15 yards ahead of the rest of his defensive line, leaving Rashford completely free to do whatever the hell he wants.
If I was on for the Golden Boot I'd be shooting, but young Rashford is smarter than that. He squares it to Sterling to finish the move. Two shots, two goals. One foot in the quarter finals.
I switch to a counter attacking style of play to try and hold out lead. If we concede before half-time I would put money on Colombia getting back into the game. Fortunately we hold them off without too many problems, with only a long range striker from Carlos Bacca stirring Pickford from his slumber.
Alexander-Arnold has played his part. It's past the poor lad's bedtime so I bring Gary Cahill on in his stead, the fatherly figure that he is. Stones moves out to right back instead, and I decide to preserve Alli's legs as well, bringing Lingard on to team up with his best mate Marcus.
I was expecting Colombia to come out all guns blazing like something out of Narcos, but they're shocking. Again Sterling rips Zuniga to shreds down the right (I'm still pleading with them to try down the left) and cuts it back to Kane for his second goal and England's third.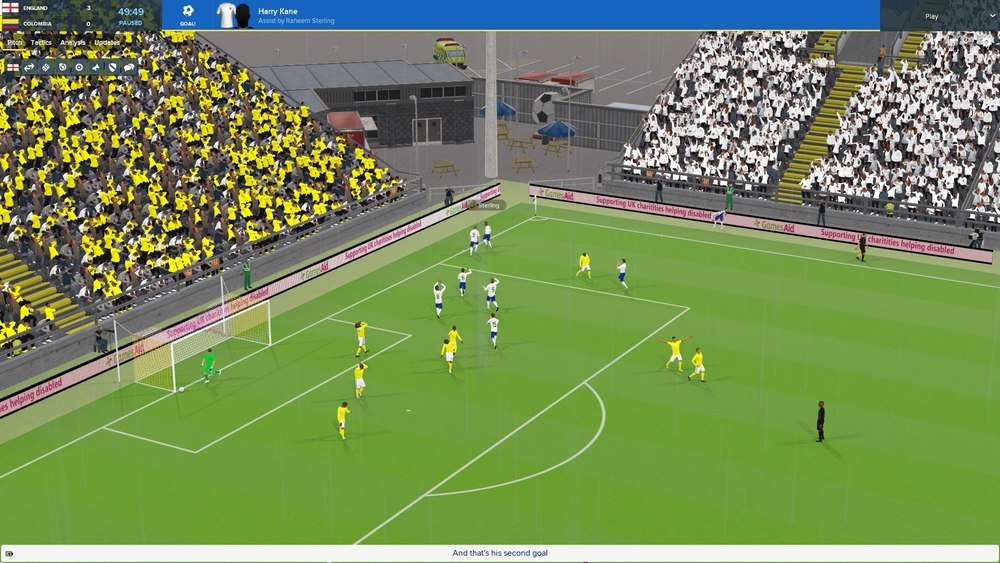 I'm not sure if there's some sort of strike going on in the Colombian ranks. Zuniga isn't happy about his humiliating performance and naturally tries to take it out on Sterling, launching in with his studs raised and instantly getting sent off.
So, what does the Colombian manager do in this situation? Down to ten men and 3-0 down in the World Cup. He takes off James Rodriguez, Radamel Falcao, and Carlos Bacca. Seems to make sense…
Well, what do I know anyway? Bacca's replacement rises above Gary Cahill to nod one past Pickford a few minutes later. I'm so confused at everything that I'm on the verge of walking away from football forever and taking up something with some semblance of logic behind it.
Ahh, order is restored. Rashford wins a free kick, dusts himself off, and dispatches it into the top corner. Ospina didn't have a chance, and that should be the tie settled. I instruct the lads to take a breather and try to conserve some of our limited energy for the quarter finals.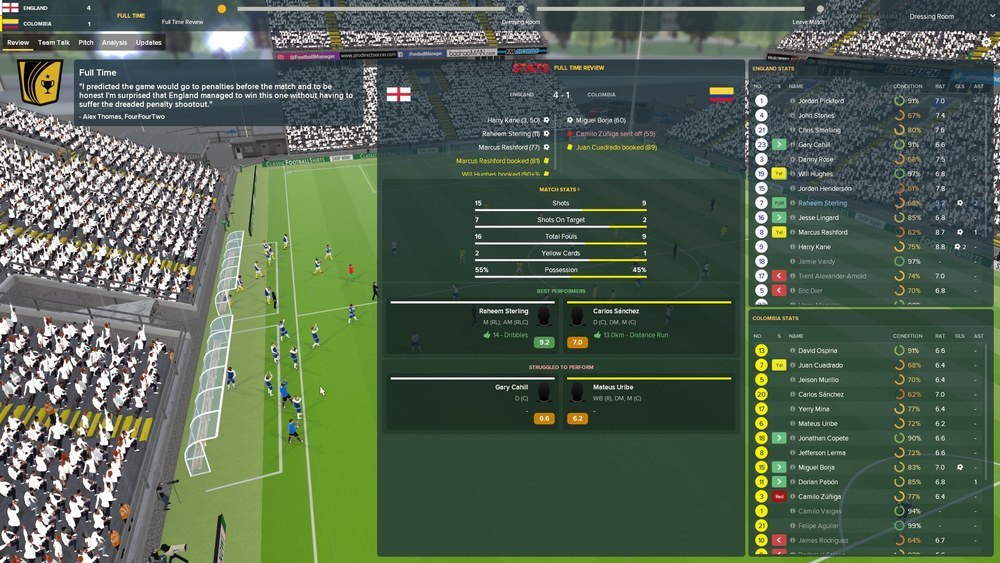 I passionately tell the players that I'm 'very pleased with the result and your performance.' Gary Cahill and Chris Smalling are delighted with my team talk, but despite having just booked their place in the World Cup quarter finals the rest of the boys don't even crack a smile. Nothing specific noted reads the analysis from my assistant.
I wonder if any of them will dare to celebrate should we win the damn thing?
Read Part 9 of FST's Football Manager Journey here.
Follow Free Super Tips on Twitter to stay up to date with our daily tips and predictions or browse more football content on our website: