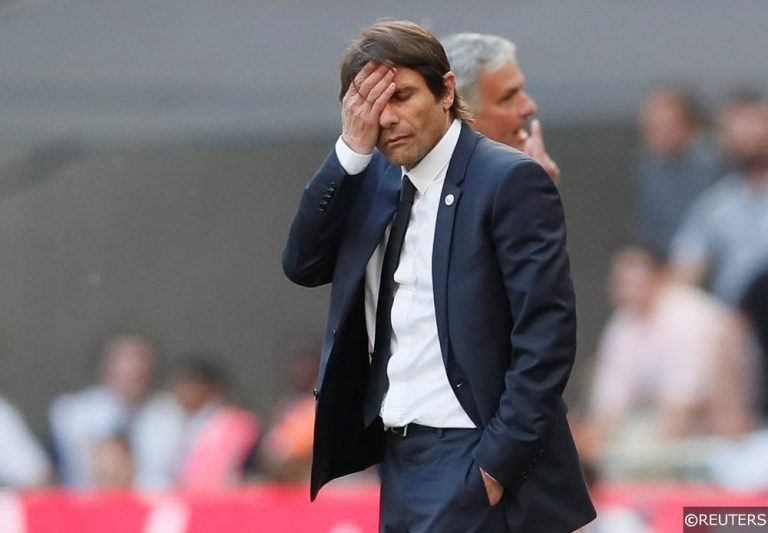 Gareth Freeman
@TheGFreeman
Sports Journalist at FST, Gareth qualified as a journalist after graduating from university and spent over a decade as a freelance broadcast journalist, commentator and tipster before joining FST. Now living in Manchester, he is a long suffering Bolton Wanderers fan who also enjoys boxing, the NBA, tennis and rugby league.
In The Mixer is FST's weekly column where we catch up with seven experts in football betting and get their opinion on the hot topic of the week.
This week, the big talking point is the new managers at Tottenham and Newcastle.  Former Juventus, Chelsea and Inter Milan boss Antonio Conte has made the move to Spurs, while Eddie Howe is the first man in the hot seat at St James' Park under the club's new owners.
Are these the right appointments for these two ambitious Premier League clubs?  Read on to see what our team of experts think.
---
Conte backed to land Spurs silverware
Chris Rivers
Sports journalist at Racing Post
Eddie Howe flopped in his only other managerial stint outside of Bournemouth and there's already a perception in certain corners of the media that he's doomed to fail at Newcastle. Howe is a dependable, likeable character though and should steady the ship at St James' Park in the short-term. Taking the team to the next level when the big-money signings roll in is another matter.
Conte would probably relish Howe's position once the Newcastle owners open their cheque book and he could become frustrated with Spurs' more limited finances in the long term. For now, all Tottenham want is a trophy after going over 5,000 days without one and in that regard Conte should deliver with Spurs still fighting on four fronts this season.
Alex Wrigley
Sports editor and journalist at FST
Eddie Howe is remembered as a failure by some but he took Bournemouth through the the EFL and kept them in the Premier League for five years on a shoestring budget. He has experience in relegation battles and while I don't think he's a long-term solution he can definitely do a job at Newcastle.
Antonio Conte will have his sights set higher at Spurs. The Italian wins wherever he goes and a trophy certainly isn't out of the question this season, nor is a top-four finish. The only questions that remain are how long he'll stay and what state he'll leave the club in when he does leave.
Tom McGarry
Sports journalist at ICS
There is more than an element of short-termism to the appointments of both Antonio Conte and Eddie Howe, but for different reasons.
Conte's arrival at Tottenham raised a few eyebrows, but based on his record at previous clubs we can guarantee two things, he will quickly lead the team to silverware but then leave soon after.
The appointment of Howe at Newcastle would have previously felt like a long-term approach, but the Magpies are a team in need of upheaval both on and off the pitch, while previous history tells us that the first manager appointed after a club is taken over by a big money investor rarely lasts for too long – Mark Hughes at Manchester City being just one example.
Bobbie Jackson
Sports journalist at ICS
The appointments of Eddie Howe and Antonio Conte strike me as short-term solutions but both have the ability to complete the task laid in front of them.
Howe's primary task is to keep Newcastle in the Premier League but I don't see him being at St James' Park beyond a couple of seasons. Amanda Staveley boldly suggested they want to be challenging for the title within a decade and they'll likely have to look for a bigger name to deliver that.
Again, I don't believe Conte will be around at Tottenham for the long-term but he is a serial winner and should be able to finally end the club's long wait for silverware. The Italian isn't afraid to speak out against the board in pursuit of backing in the transfer market and that could prove to be his undoing with Daniel Levy.
Howe a short-term Toon option
Henry Hardwicke
Sports journalist at Racing Post
I think there will be an initial upturn in Tottenham's performances and perhaps some success but I wonder if Conte will have the desired long-term effect. It remains to be seen what sort of financial backing the Italian will be given at Spurs and Conte's success has generally come hand-in-hand with big spending. Talking of money it will be interesting to see what calibre of player Newcastle can attract to help Howe lift them away from the relegation zone.
Howe worked wonders on a small budget at Bournemouth and I think he will give things a good go at Newcastle. The trouble for the Magpies is the January transfer window is still a while away and Howe doesn't have a great hand to play as things stand.
Joe Casey
Sports journalist at Racing Post
For both Eddie Howe and Antonio Conte, their success will be measured by the expectations of their respective fans and owners.
Given the attacking talent already at his disposal and the amount of money available to spend in January, Eddie Howe should really be keeping Newcastle up. The Magpies are 19th but aren't seriously detached from the rest and are likely to throw money at their dodgy defence in a few months time.
What happens next season may be more interesting, with Howe likely to depart if the results aren't quite where the new owners want them, particularly if big name managers are available.
For Antonio Conte, who is a dedicated tactician and probably in the top ten coaches in world football, he has all the raw materials to produce a side that can challenge the top six. However, Spurs are still a few players away from a team to trouble the big three at the top of the division. A cup win may be a more realistic aim in the short term, given that Tottenham haven't won one since 2008.
Aaron Rogan
Sports journalist at FST
For all of Newcastle's new ambition, it's Tottenham who have landed a world-class manager this week. Antonio Conte's arrival means the Premier League is home to the best four managers in the world.
However, Guardiola, Klopp and Tuchel aren't as demanding of their board as Conte. He isn't shy to publicly call out a lack of investment in the squad, making him an interesting fit with Daniel Levy and Spurs. How his return to the Premier League pans out will depend on how willing Levy is to spend.
That's unlikely to be a problem for Howe early on, but long-term it's clear the former Bournemouth man wasn't first-choice. I wouldn't be surprised to see Howe hang around longer than Conte, but it's the Italian who will make the biggest impact.