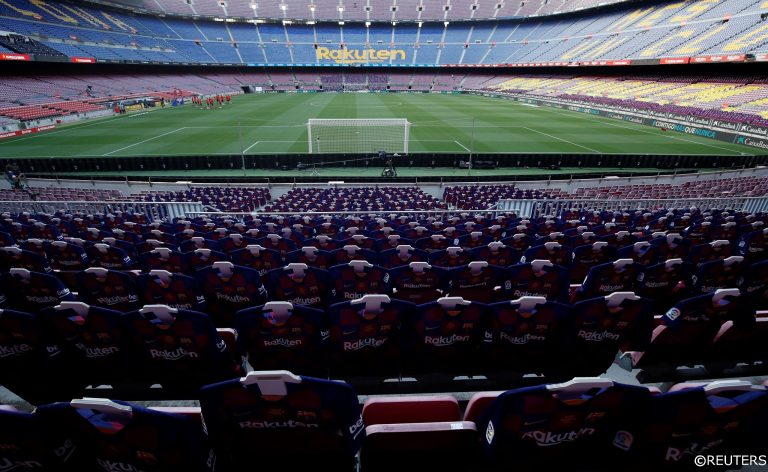 Gareth Freeman
@TheGFreeman
Sports Journalist at FST, Gareth qualified as a journalist after graduating from university and spent over a decade as a freelance broadcast journalist, commentator and tipster before joining FST. Now living in Manchester, he is a long suffering Bolton Wanderers fan who also enjoys boxing, the NBA, tennis and rugby league.
In The Mixer is FST's weekly column where we catch up with seven experts in football betting and get their opinion on the hot topic of the week.
This week we've asked our team of experts for their thoughts on the prospect of Xavi taking charge at Barcelona.  The move is yet to be confirmed but it seems as if the club legend is about to depart Qatari club Al-Sadd to return to Camp Nou as the Catalan giants new head coach.
Is this an inspired move by Barca, or is their decision to hire unproven manager an unnecessary risk in what is already a challenging period for the 26-time Spanish champions? Only time will tell, and you can see what our experts think on the matter below.
---
Cautious optimism on Xavi arrival
Joe Casey
Sports journalist at Racing Post.
The success of Pep Guardiola with no real experience has perhaps meant that clubs are more open to bringing in an inexperienced club legend as manager. However on the whole this is often misguided, as Frank Lampard and Andrea Pirlo proved last season.
Xavi will have his work cut out at Barcelona with such a short managerial track record to fall back on. The Catalan club's squad is still strong though, and given the position the club are currently in, their former midfielder will be given time before he is judged too harshly.
Perhaps the most important thing is to get an experienced back room staff around him and in the right circumstances, it's possible that Xavi could flourish.
Liam Flin
Sports journalist at Racing Post
Appointing Xavi as manager would feel like acceptance on Barcelona's part that their problems cannot be fixed overnight and that would be refreshing.
The legendary midfielder will not turn his old club into European champions in a season or two but he could certainly achieve long-term success at the Camp Nou if he is helped by those higher up.
Barca's future lies in the likes of Pedri, Gavi and Ansy Fati and as a product of La Masia himself, Xavi knows what it takes to rise through the ranks at the Catalan club. His arrival would only help their growth and, compared to a lot of more high-profile managers available, fans would likely be far more patient with a former legend. Although, try telling that to Ronald Koeman.
Aaron Rogan
Sports journalist at Free Super Tips
Given how much time Ronald Koeman was given despite the results on the pitch it seems like Barca have lowered their ambitions in the short-term at least. Xavi isn't expected to have a Guardiola-like impact, simply because the squad is nowhere near the level of 2008.
However, Koeman still wasn't getting enough from the good players Barca do have, while he was clearly a stopgap appointment. There will be tough days ahead as Xavi tries to develop stars of the future, but he can stabilise things and bring success long-term.
Gareth Freeman
Sports journalist at Free Super Tips
Great players don't always make great managers but Xavi really was a class apart in his playing days and it would be a surprise, and a disappointment, if he was unable to make the transition to a top level coach.
Taking charge of Barcelona is clearly a huge task, they are stuck with what looks like an average squad and with little money to spend – but that may ultimately work in his favour as he clearly needs time to turn their fortunes around and no one is expecting instant success.
He is inexperienced as a coach, but so was Pep Guardiola when he took charge at Camp Nou and that isn't the only similarity between the two club legends. There isn't much to base any solid opinion on here, but my gut feeling is that this is the appointment the Catalan giants and their fans needed at what looks to be the club's most challenging period in nearly 20 years.
Xavi needs time and patience at Camp Nou
James Milton
Sports journalist at Racing Post
Anyone who watched Xavi's peerless performances for Barcelona and Spain could see the sharpness of his footballing brain and Pep Guardiola is on record as saying he will become a top-class manager.
Given Barcelona's dismal financial situation, it makes sense for them to build their future around talented youngsters such as Ansu Fati, Pedri and Gavi and Xavi would be a terrific mentor for the club's up-and-coming stars. However, simply changing the coach is not going to solve Barca's problems and until their off-field situation improves they will struggle to compete with Europe's elite clubs.
Rob Eddy
Sports journalist at ICS
Xavi has been ear-marked for the role for some time and would certainly have the backing of the fans in spades, given his legendary status as a player, while he knows the club inside out.
Inexperience is not necessarily a hindrance, given the success of Pep Guardiola, while being a player who knew exactly how to control a game can only be a good thing.
The biggest problem appears to be Barca's financial mess and whether he is given enough time to put his own stamp on the squad. Football is a fickle business, as many can testify.
Tom McGarry
Sports journalist at ICS
Xavi enjoyed an illustrious playing career with Barcelona, but his managerial experience is limited and the rebuilding job that awaits him at the Camp Nou appears daunting, particularly given the financial restrictions surrounding the club.
It may well be a case of the right appointment at the wrong time for Barca, with an experienced head perhaps needed to steer the club through this difficult period.
Barca's expectations may also need to be adjusted for whoever comes in as Ronald Koeman's successor, as even a top-four finish in La Liga would have to be considered a success this season given their poor start to the campaign.
Safer Gambling Week runs from November 1-7 and is an initiative that Spotlight Sports Group fully supports. Free Super Tips will be playing its part in ensuring the messages of this important week are conveyed to all our customers. If you are concerned about your gambling, more details on actions to take can be found at safergamblinguk.org.