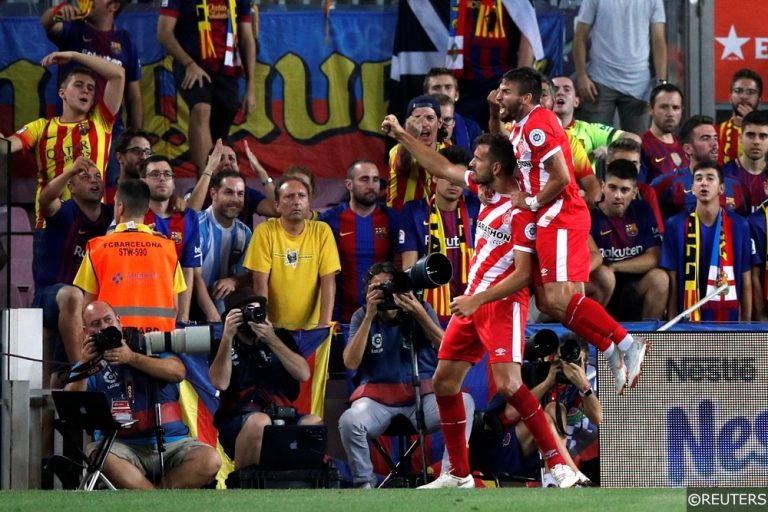 November 30, 2018
Show Bio
Content Editor at Free Super Tips, Alex was born in the shadow of Old Trafford and is an avid Man Utd fan. After graduating from university he combined his love of football, writing and betting to join FST and now closely follows goings-on in all of the top European leagues.
In a little under two months time, Girona will take on Barcelona in La Liga however we are still none the wiser as to which continent that match will be played on. If La Liga gets their way, it will be the first regular season match in one of Europe's big five leagues to played overseas with Miami's Hard Rock Stadium the proposed venue.
However they face fierce opposition from the Spanish Football Federation (RFEF), which remains intent on preventing the game from being moved five thousands miles to sunny Florida. Things took a new twist this week as La Liga took the RFEF took court in Madrid as they continue to seek their approval for an ambitious plan to boost the Spanish top flight's global appeal.
A Controversial Plan
Big advertisement by La Liga trying to convince Madrileños of the benefits of a game in Miami.
"There is a league that beats around the world. Why not keep growing?" pic.twitter.com/R3DFCRrupS

— The Spanish Football Podcast (@tsf_podcast) November 29, 2018
This is a story that has been rumbling for several months now but when the news first broke, it came almost completely out of the blue. With no consultation of the clubs, players or supporters, La Liga unexpectedly announced their intention to start taking matches overseas at the start of this season. The announcement was initially greeted with a fair deal of anger and while many were outright opposed to the idea, others were simply irritated by their lack of a say in the process. Players from all 20 Spanish top flight clubs met in Madrid in August in an attempt to put on a united front against plans for the overseas game.
At that point details were sketchy with the proposed game and indeed location unknown. Real Madrid have been fairly forthright in their opposition to the plan but La Liga ultimately managed to present a tempting enough deal for Girona and Barcelona to agree in principal to moving their Catalan derby, initially scheduled for the Estadi Montilivi to Miami. Compensation and even free transatlantic flights were offered to Girona season ticket holders who were set to miss out on the biggest home game of their season.
While to some extent, La Liga simply 'bought off' any relevant parties, they at least showed they were serious about the idea and had a plan to make it attractive to the clubs and their supporters. However La Liga president Javier Tebas still faced stiff opposition in the form of the Spanish Football Federation and their recently appointed boss Luis Rubiales. In a further blow to plans for the Miami game, FIFA president Gianni Infantino came out in support of Rubiales in late October and a month on, the stalemate essentially remains with 26th January 2019 drawing ever nearer.
The Battle goes to Court
La Liga takes Spanish FA to court over battle to play Girona-Barcelona in Miami https://t.co/7wwqFeGEvL pic.twitter.com/5FI5dGy0yO

— Ultrasports.tv (@UltrasportsT) November 30, 2018

In an attempt to break the deadlock, La Liga took the Spanish Football Federation to court this week, filing a lawsuit at a Civil Court in Madrid to try and force the RFEF to approve the controversial plan. This could just be the start of a legal battle that may see a final decision on the location not come until the new year, leaving the two clubs as well as their players and supporters in a state of limbo with just weeks to go until the match is scheduled to take place.
Even if La Liga managed to ultimately get the blessing of the RFEF, they still have bigger battles to win. For the game to take place in Miami, the approval of FIFA, US Soccer and CONCACAF is also required and that could mean a trip to the Court of Arbitration for Sport if those bodies resist.
The deal, which is supposed to take take at least one game a season to the United States for the next 15 years was signed between La Liga and the media company media company Relevent rather than any of the football federations concerned. Increasingly there is the feeling that La Liga has simply been too ambitious in trying to get this plan up and running this season but whether it happens this year or at some point in the future, they seem committed to the concept and in time may well get their way.
Hypocrisy – Spanish FA agrees to host Libertadores Final
It seems River and Boca have at least managed to agree on one thing: neither club is best pleased about Conmebol's decisions regarding the Libertadores final and River are also to appeal against playing in Madrid: https://t.co/xfZkQBEjKg pic.twitter.com/RzCRJw73Gw

— AS English (@English_AS) November 30, 2018
It's certainly true that many people in Spain and in the wider football world support the Spanish FA's opposition to this game being moved to Miami. However it's also hard to avoid the impression of hypocrisy in a week when the Copa Libertadores Final has been moved to Madrid, with the Spanish Football Association's full blessing.
The RFEF now looks set to essentially organise the biggest game in South American club football and its staging in Europe will clearly deny thousands of Boca and River fans the chance to attend one of the most important matches in the history of either club. It completely contradicts the notion that the Spanish FA somehow has the supporters best interests at heart when it comes to the staging of La Liga games overseas and it's by no means the first time the organisation has been accused of hypocrisy. The Spanish Super Cup (organised by the RFEF rather than La Liga) took place in Morocco this year, a decision which wasn't universally popular either but was pushed for by the Federation. La Liga is hopeful that both instances will aid the chances of their lawsuit succeeding.
The outcome of this protracted battle to take a Catalan derby to Florida looks set to run and there will most likely be a few twists and turns before we finally know the outcome. If this game does ultimately take place in Miami it will set a real precedent and on the assumption that the fixture is well attended and largely viewed as a success, it could be a real sign of things to come. La Liga is desperate to get closer to the huge revenues of the Premier League while the likes of Serie A and the Bundesliga will also be keeping a close eye on how this one plays out.