The 2016/17 NBA season tips-off on the night of Tuesday 25th October and we will continue right where we left off last season with our free NBA predictions, picks and betting tips for every single day that games are scheduled which, you'll be pleased to hear, is nearly every day (even Christmas day!) of the regular season, right from October through to April – when they playoffs start.
We made a total profit of £637 on our NBA accumulators alone last season so let's cut to the chase and start looking at some more ways to lock in profit on the upcoming season.
NBA Championship Winner
When it comes to picking the NBA Champion for the 2016/17 season, you cannot look past the Golden State Warriors. This record-breaking team went 73-9 in the regular season last year before giving up a 3-1 lead in the finals and eventually losing 4-3 to Lebron James and the Cleveland Cavaliers. If you thought the Warriors had one of the best rosters in the league last year, then there's certainly no doubting that they do this year. They have only gone and added 4 x NBA scoring champion Kevin Durant to their ranks meaning they have a potential starting line-up of Durant, Curry, Thompson, Green & Pachulia. Now that's a scary team.
But for me, there is absolutely no value in backing them to win the NBA Championship at odds of around 5/6. The season is a long 82 games (+ playoffs) and anything can happen along this stretch and I'm mainly talking about injuries – something which Durant, Curry & Thompson all missed gametime for last season. Green was another that missed gametime last season but this came about due to his controversial style of play which saw him being suspended by the league – perhaps Green will have changed his ways and will avoid missing any games this year but there's always the risk. Add these points to the fact that there are 29 other teams all chasing the same dream and I urge you not to back the Warriors to win the NBA Championship at short odds of 5/6 but to back a Cavaliers-Warriors finals at odds with way more value of 11/8 with Betfred.
I just can't see anything other than these two teams meeting in the finals for a third consecutive time. Lebron has appeared in the finals for the last 6 years in a row so it'd be no surprise to see him there again and the Warriors have only got better through the off-season with the addition of Durant. These teams only lost a combined total of 7 playoff games (Warriors 12-5, Cavs 12-2) on their way to the 2016 NBA Finals and I can see a similar scenario this time around.
The East
The Cleveland Cavaliers are best price 4/6 with Betfred to win the Eastern Conference which is again very short for such a long season but it seems there just isn't a team in the East that's got what it takes to dethrone 'King James' and his Cavaliers. At 57-25, they may have finished just a game ahead of the second-placed Toronto Raptors but they absolutely wiped the floor against the other Eastern Conference "contenders" in the playoffs winning 12 games and losing just 2 on their way to the 2016 NBA Finals. I'm predicting a similar feat this season but this time, the Boston Celtics will become the Cavs victim in the Eastern Conference Finals.
If you did fancy taking some bigger prices to win the East, then Boston (15/2), Indiana (25/1), Chicago (33/1) & Milwaukee (50/1) all have squads capable of making a decent playoff run as pretty much anything from 2nd to 8th seed in this conference will be up for grabs come the end of the regular season.
The West
The Golden State Warriors are even shorter to win the Western Conference at odds of around 1/3 and it seems the bookies can't see any other outcome as the San Antonio Spurs are priced up as second-favourite at huge odds of 11/2. The Spurs ended up 6 games back from the Warriors last season and eventually crashed out of the playoffs in the Western Conference semi-finals to the Oklahoma City Thunder. This season they will be going for a 6th NBA title but they will be without 15 x NBA All-Star and perhaps their best ever player in franchise history, Tim Duncan. Golden State however, have added an All-Star. They won the West by beating OKC 4-3 in the Western Conference Finals and now they have taken Durant from them. I can't see any team ruining their chance to make it a hat-trick of Western Conference titles this year.
Other teams worthy of taking a look to win the West are San Antonio (11/2), Minnesota (40/1), Memphis (50/1) & Portland (66/1) who I all expect to feature in the NBA Playoffs this season and perhaps one of them could do the 'unthinkable'.
This is how I am predicting the 2017 NBA Playoffs to play-out: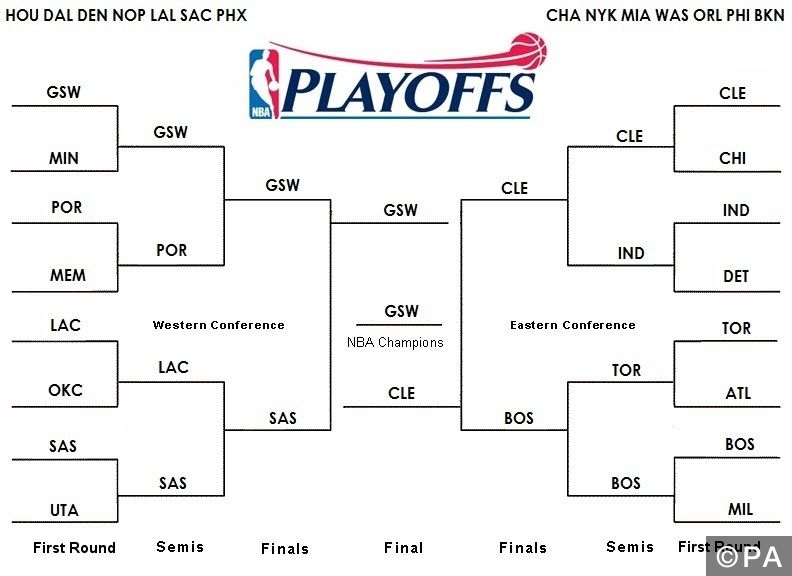 Regular Season MVP
Apart from the top 3 of Westbrook (3/1), Curry (4/1) & James (5/1), everyone in this year's MVP market is 10/1 or above meaning we have tonnes of value to work with. Even though the previously mentioned players are the favourites for the award, I am not going to persuade you to back any of them and here's why…
Expect Westbrook to be on a one-man-mission this season now that Durant has left his side. Yet again he's going to be a triple-double-machine and he will likely be the sole reason that OKC make the playoffs but I just can't see this team winning nearly as many games as other teams with potential MVP candidates on their side. Over the past 5 seasons, teams containing the eventual regular season MVP have won at least 54 games – OKC won 55 last season with Durant on their roster – and the bookies are touting the Thunder to win around 45 this year. For me, there is no value in backing Westbrook at very short odds of 3/1 for the award.
I will also not be backing any of the Golden State Warriors to win it. This year they are just too star-studded for one man to stand-out so much (perhaps it will be the first time ever they do a joint MVP award as they did when the Hawks starting 5 shared the Eastern Conference Player of the Month award back in February 2015 as they went 17-0 on the month!). Even though Curry has won back-to-back MVP awards, now with Durant on his team, I expect his numbers to go down a bit and my thinking is the same with the other Golden State stars. You can find Draymond Green as big as 100/1 for MVP and Klay Thompson an even bigger 125/1 but I won't be backing either of those to scoop the prize this time.
Instead I will be backing Cleveland Cavaliers' Kyrie Irving at 50/1 with Paddy Power. Irving had an awesome season last year and he was one of my favourite players to watch in the playoffs. At 24 years old we are beginning to see peak Kyrie and I believe he has what it takes to carry this Cavs team to another ring as Lebron begins to age and perhaps slow down after another year on the hardwood.
I will also definitely be backing Kawhi Leonard at 14/1 with BetVictor. The San Antonio Spurs will be there or there-abouts when it comes to the playoffs and they are one of the few teams that could actually knock-off the Warriors in the West. Leonard will be key to the Spurs run now that Tim Duncan has retired and that Tony Parker is perhaps less integral to what they are doing in San Antonio.
A couple of other players worthy of a look are Giannis Antetokounmpo (50/1) for the Milwaukee Bucks who could, with good playoff seeding, go on a deep run in to the playoffs and 'The Greek Freak' will certainly be a major player if the Bucks are to make some noise. The Boston Celtics' Isaiah Thomas (90/1) is another option with plenty of value as he is capable of winning games for this team that is expected to be at least number 2 seed in the East and could perhaps takeover the Cavs as number 1.
NBA Predictions, Picks and Betting Tips
We will provide free NBA predictons, picks and betting tips every day from 6pm so make sure you boookmark our NBA tips page to join in and make yourself some profit!